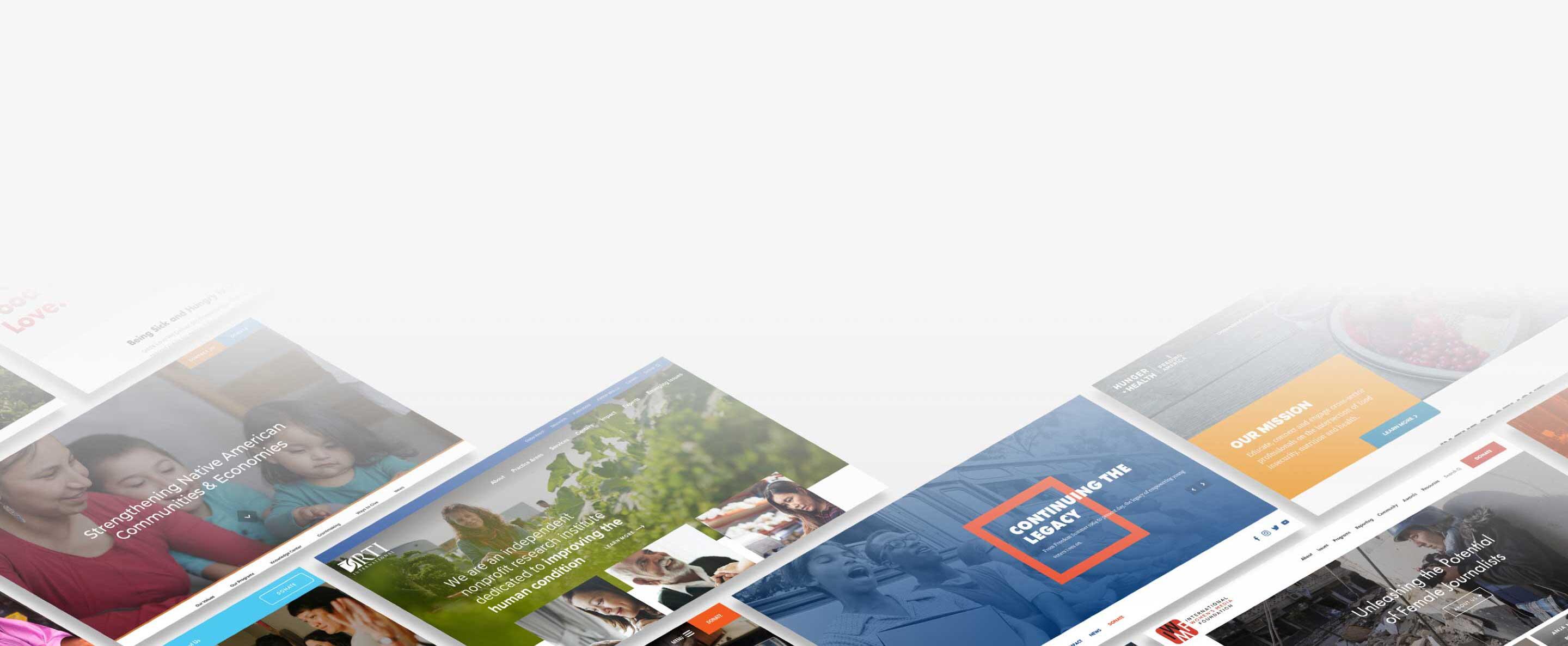 Award Winning
Nonprofit Web Design
Designing and developing purpose-driven nonprofit websites for organizations around the world since 2006.
Get Started Now!
We'll be in touch right away.
Nonprofit Website Design and Development
New Media Campaigns has helped hundreds of nonprofits around the world plan, design, build, and scale nonprofit websites. We're a full service digital agency, helping our clients in all manners of design, development, and marketing, and we do all of the work with our in-house team.
Projects range from international organizations with complex development and database needs to local nonprofits working to impact their community. Our nonprofit work has won Webby Awards and more, and it has been featured by groups like NPR, Inc. and the BBC.
With our deep and specialized experience in nonprofit web development, we're able to educate you on best practices, recommend the best nonprofit donation tool for your needs, advise you on software, and guide the process to make sure your nonprofit website engages, educates, and excites your stakeholders. Get in touch through the form or read more about our work and process below.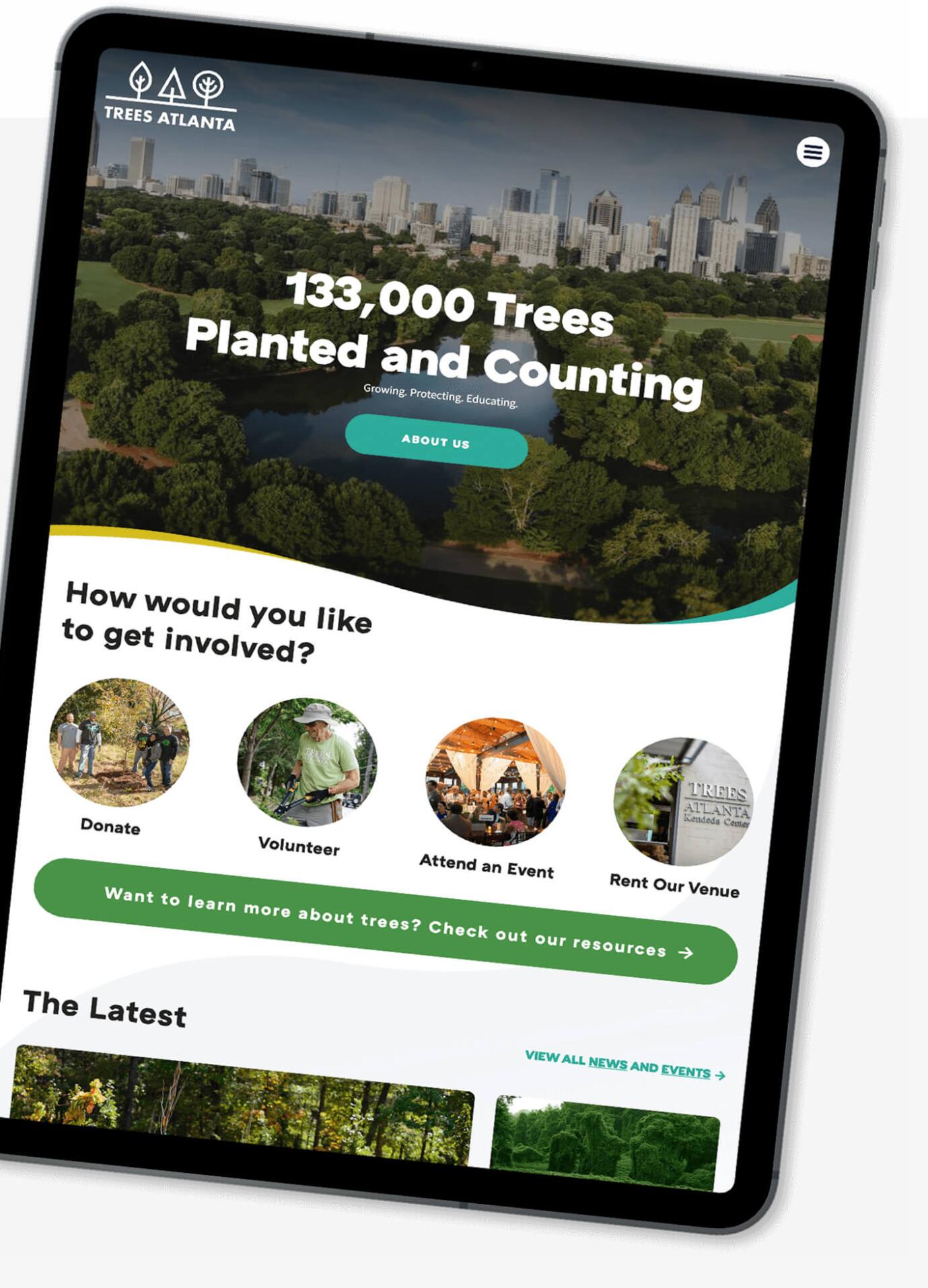 Inspiring Visitors to Action
A nonprofit website needs to quickly educate visitors on your mission, engage them with the organization, and excite them to take action. We custom design each nonprofit website we work on, striving to differentiate the organization, highlight key calls to action, and impress visitors with beautiful design. Each site is built on a Content Management System to make it easy for the organization to continue growing and refining the nonprofit website over time, and we continue to partner with a large portion of our clients after the launch of their site.
How Can We Help Your Organization?
We have been partnering with nonprofits since 2006 to help them design, build, and scale custom digital brands.
Upfront Strategy
Strong planning is essential to great results. We help reach your goals through discovery work, analytics research, UX design, information architecture planning, and more.
Branding & Design
Our award-winning designers will help you break through with purpose driven design aimed at exuding the essence of your brand and focused on converting visitors on your site.
Web Development
An in-house team of developers brings projects to life, whether best practices frontend development for Content Managed websites or custom developing digital tools and products.
Digital Marketing
Our strategists can help scale your web presence to achieve your goals through tactics like Search Engine Optimization, content creation, conversion strategy, ad buying, and more.
Recent Nonprofit Website Designs
Nonprofit Values & Website Experience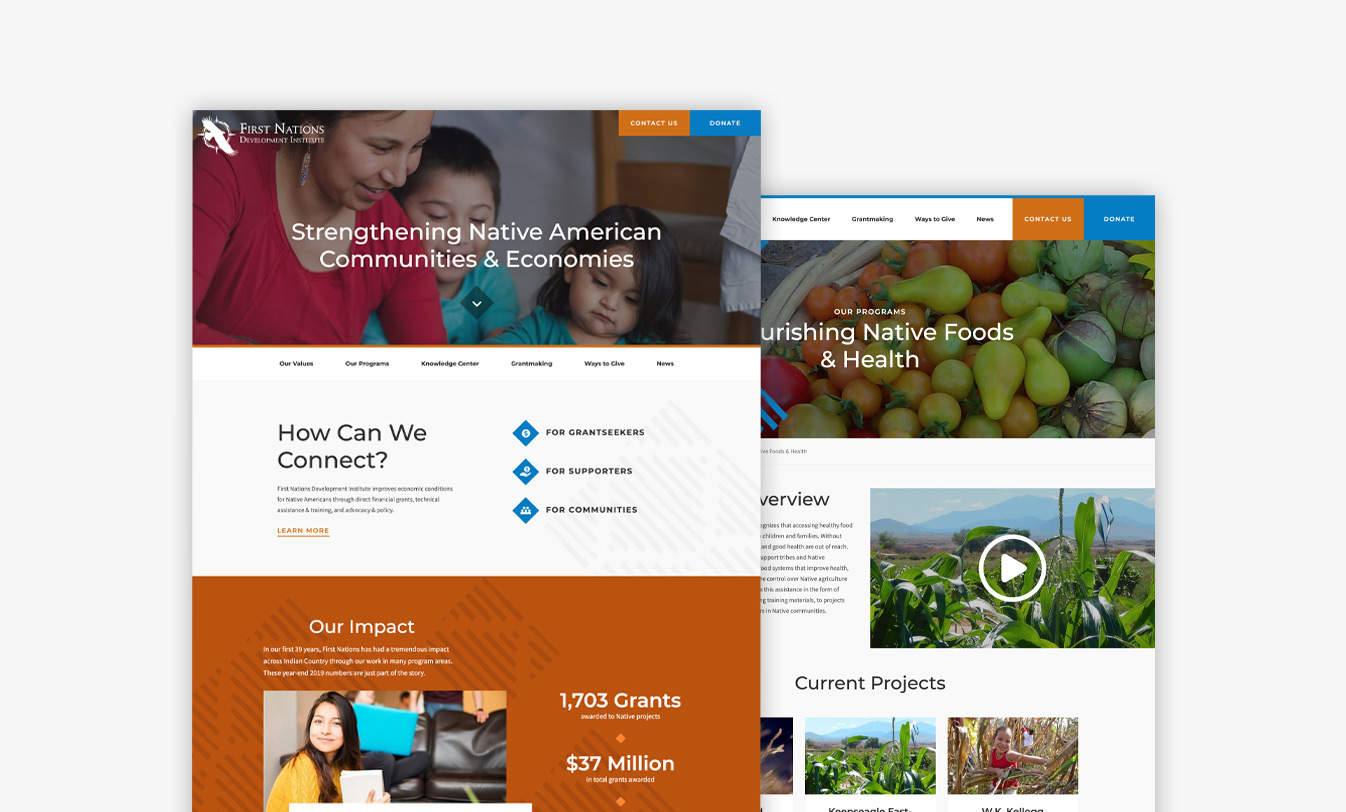 Having designed and built more than 100 nonprofit websites around the world, we don't just understand nonprofit values, we live them, too. We offer nonprofit discounts on hosting and build fees and also donate services to local nonprofits annually.
Our experience working with nonprofits of all sizes, ranging from international organizations to local efforts and everyone in between, helps us understand the unique tools, tactics, and techniques that lead a nonprofit website effort to success.
Purpose Driven Design: A nonprofit website needs to both legitimize your broader purpose and mission while also directing visitors towards clear action. Custom, modern design plays an essential role in highlighting your nonprofit's work while also having clear calls to action that move visitors up the ladder of engagement. We also know and prioritize ADA website accessibility best practices, and we'll work to incorporate them into your site and educate you on the features and strategies to use as you grow your online presence. Upfront, we work to understand who you visually admire online, your different audiences, the individual conversions for each of them, and the themes you want your site to project in order to design a custom, conversion focused website that is unique to you and motivating your stakeholders to action.
Improve SEO, Track Analytics, and React: A new site should not only visually reposition you, but also reposition your digital efforts by helping your ranking across search engines and attracting more web traffic. Our sites are built with web performance, SEO, and ADA best practices baked in, helping your perform well for all audiences, rank well in search engines, and attract new organic traffic. Each site is setup with Analytics to help you monitor performance and leverage the CMS to react with new content.
Content Management System to Easily Scale: Each of our nonprofit websites is built on a Content Management System that gives you easy and intuitive control over all of the content on your site. Our team works with a variety of platforms, including WordPress, Drupal, Craft, Expression Engine, Shopify, HiFi , and many more. We choose the solution that's the right fit for you and your organization, and we custom build each CMS setup so it lines up with your content and makes it extremely easy to manage and grow every aspect of your site.
Nonprofit Web Tools Experience
We have worked with more than 100 nonprofits over more than a decade, helping them not only design and build stellar websites, but also to integrate powerful suites of tools aimed at nonprofit needs. We can help you navigate the nonprofit technology ecosystem to find tools that best fit your needs (and budget!) or help you integrate your existing platforms into your new site, and chances are extremely good we already have firsthand experience with the tools you're using.
Nonprofit Fundraising Technology Integration: We have experience with more than a dozen nonprofit fundraising tools, including Blackbaud/Raiser's Edge, Classy, Salsa, Network for Good, Stripe for nonprofit donations, Bloomerang, DonorPerfect, and many more. If you have an existing platform you're happy with, we can help you integrate it into the new site. If you're wanting to choose a new tool, we can help guide you in assessing which is the best fit for you and your budget.
Custom Development Team: Our in-house development team features backend developers that can custom develop tools and solutions specifically suited to your needs that integrate with your existing platforms. Whether that's using APIs to dump data into your CRM, building custom grants database search tools, developing custom interactive maps, and more, our team can help you use design and custom development to highlight your impact, show your work, track supporters, and more.
Gather Data and Grow Your Supporters: Similar to the fundraising solutions, NMC works with a number of different CRM, volunteer management, and email marketing tools for nonprofits. We can set forms up to seamlessly integrate and record data to help you build your lists. We have helped build Salesforce CRM integrations for nonprofits, built out Blackbaud tools, leveraged Salsa CRM, and many others. Additionally, if you don't have a CRM or use it sparingly, the CMS will be setup to allow you to create new forms to capture data, post events to register stakeholders, and more.
Plenty More: We have more than a decade of nonprofit experience, a full service in-house team, and absolutely love helping nonprofits promote and advance their missions through the web. Get in touch with us today to see how else we can help and support you, whether that's through a partnership or just some friendly advice.
Nonprofit Website Resources & NMC Updates