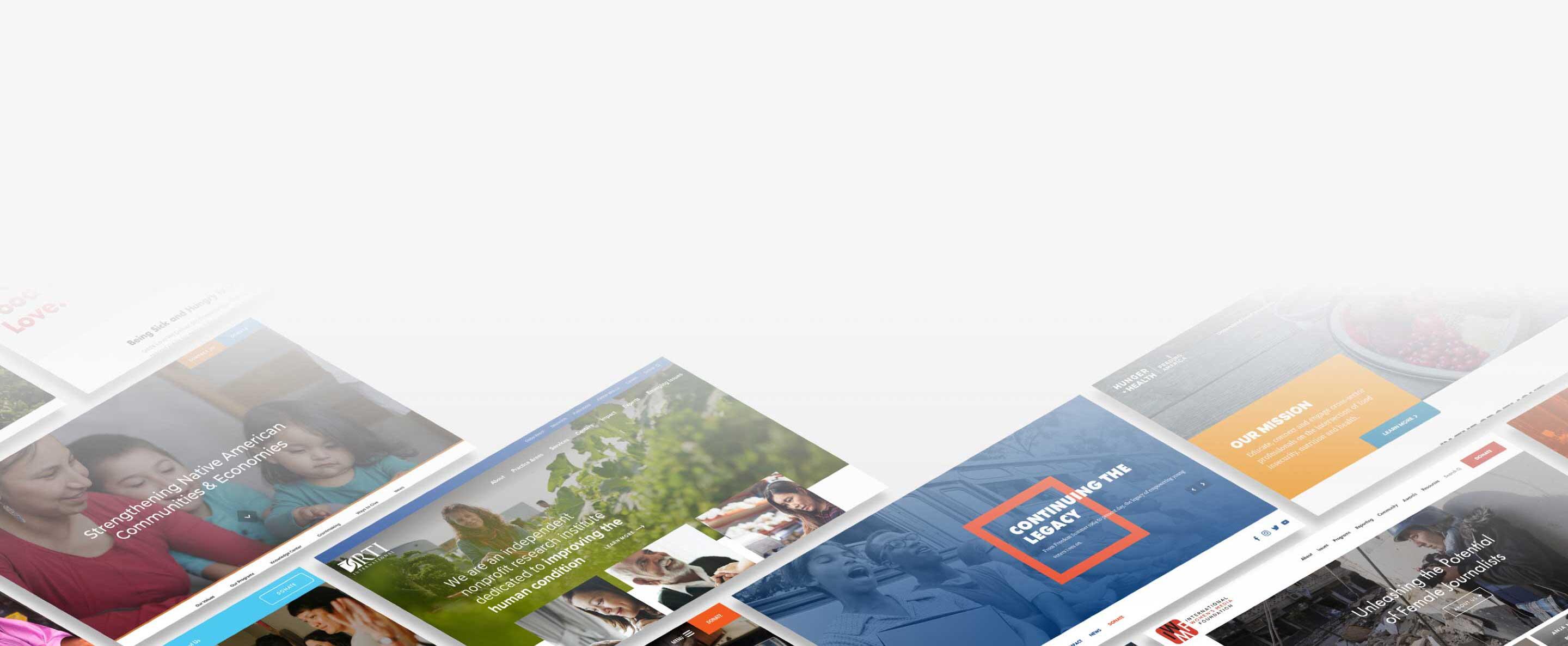 Award Winning
Nonprofit Web Design
Designing and developing purpose-driven nonprofit websites for organizations around the world since 2006.
Get Started Now!
We'll be in touch right away.
Nonprofit Website Design and Development
New Media Campaigns has over a decade of experience in designing, building, and scaling dynamic websites for nonprofits of all sizes. Whether you're a small community organization or an international force of change, our experienced team of in-house designers and strategists is prepared to create a digital presence that fits well with your needs and goals. Along the way, we'll also be able to advise you on important topics like web accessibility, SEO for nonprofits, nonprofit fundraising tools, and general best practices that will allow you to make the most of your new look.
Our nonprofit work has been recognized with a Webby Award and featured by NPR, Inc., and the BBC. We're always excited to begin new relationships with passionate changemakers, so don't hesitate to reach out to us with questions or ideas for your next digital project. We look forward to hearing from you.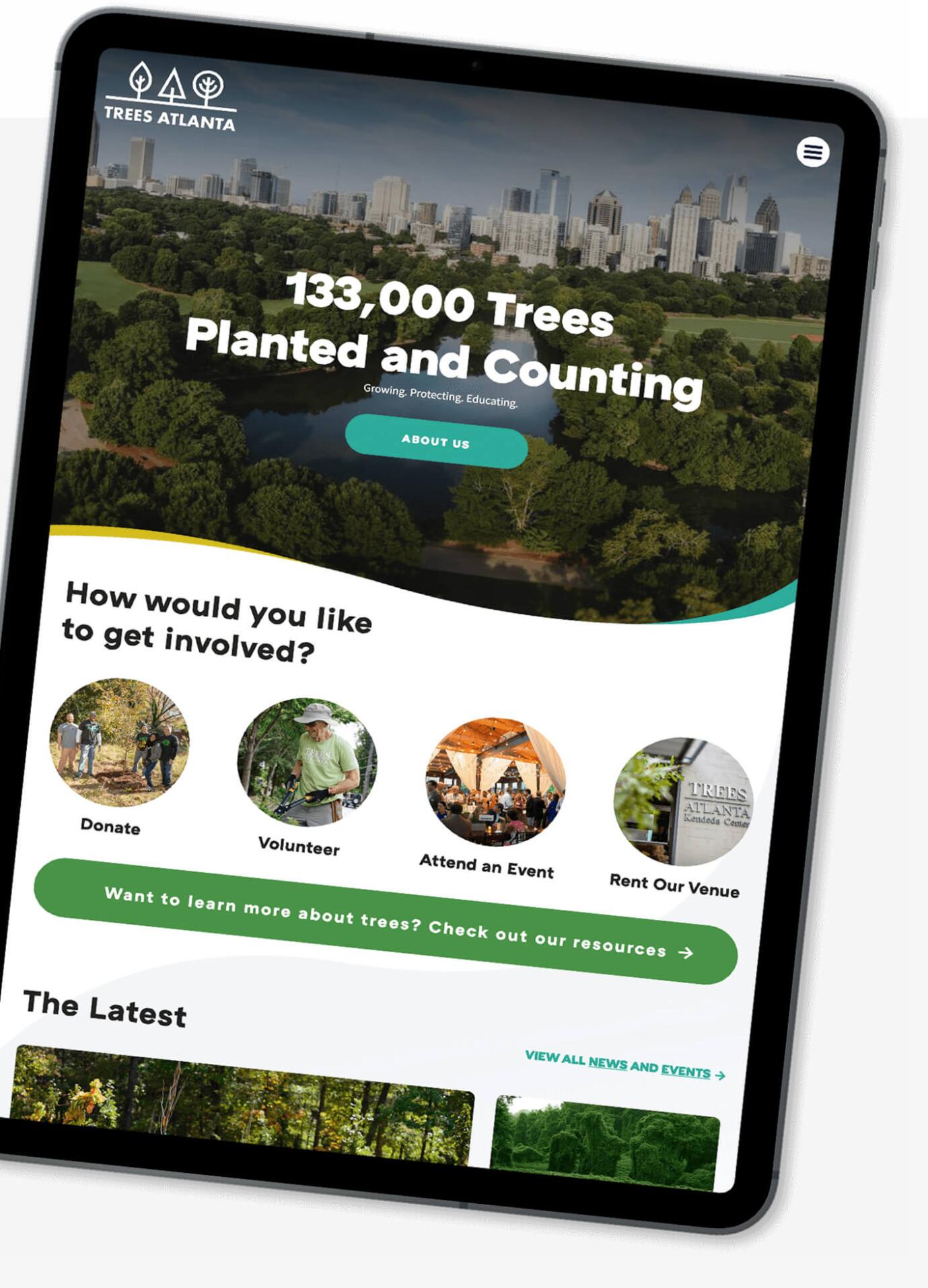 Inspiring Visitors to Action
We build compelling digital experiences that raise awareness and spur action. In addition to covering the basics – who you are, what you do, and why it matters – our websites utilize rich layouts, custom graphics, and top-notch tool integrations that build enthusiasm and bring your organization's story to life.
As a full-service digital agency, we can take things a step further and refine your entire identity with the same expert eye. Beyond websites, our versatile team is equipped to reimagine your nonprofit's marketing materials, dream up share-worthy social media posts, create memorable email campaigns, and more.
How Can We Help Your Organization?
We have been partnering with nonprofits since 2006 to help them design, build, and scale custom digital brands.
Upfront Strategy
Strong planning is essential to great results. We help reach your goals through discovery work, analytics research, UX design, information architecture planning, and more.
Branding & Design
Our award-winning designers will help you break through with purpose driven design aimed at exuding the essence of your brand and focused on converting visitors on your site.
Web Development
An in-house team of developers brings projects to life, whether best practices frontend development for Content Managed websites or custom developing digital tools and products.
Digital Marketing
Our strategists can help scale your web presence to achieve your goals through tactics like Search Engine Optimization, content creation, conversion strategy, ad buying, and more.
Recent Nonprofit Website Designs
Nonprofit Values & Website Experience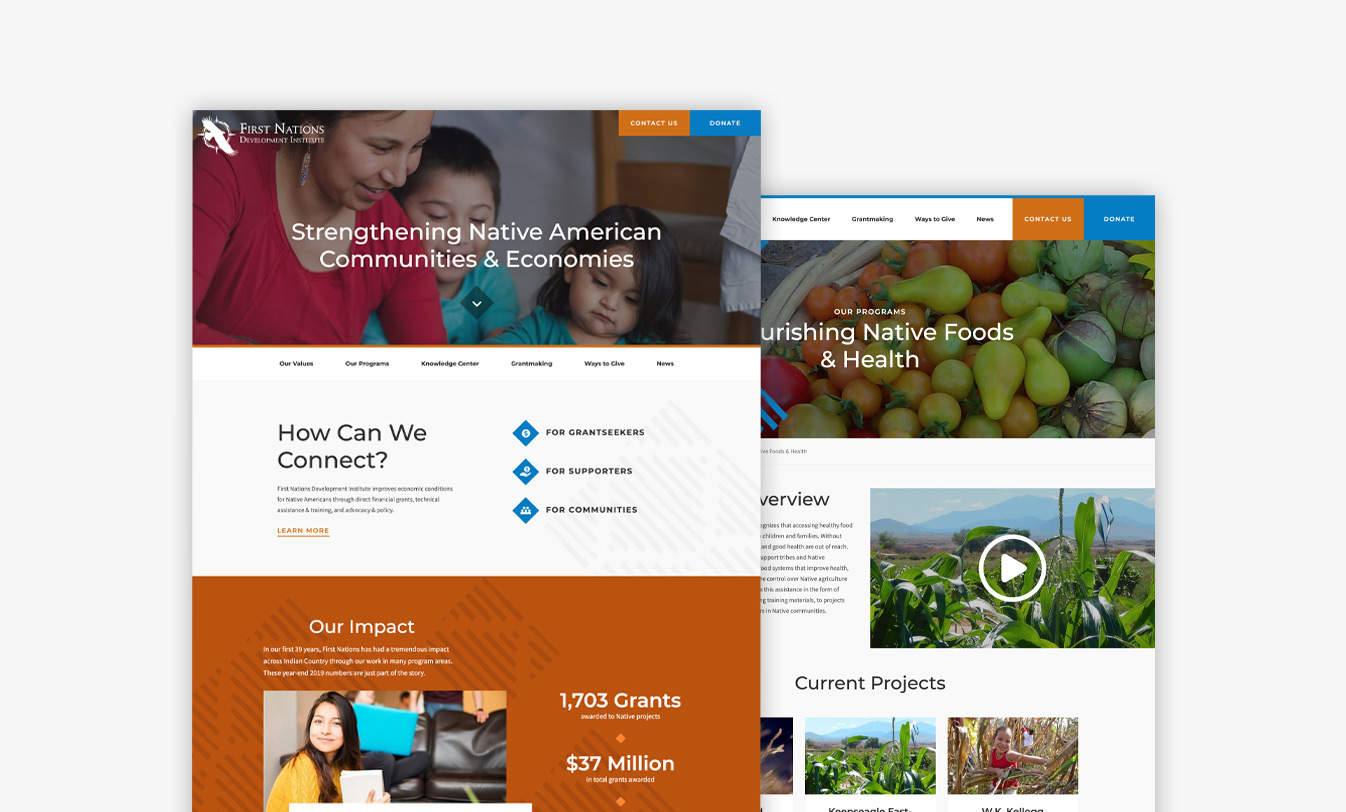 The nonprofit vertical is one of our favorites. We're honored to partner with organizations that are bringing about change in the world, and we're proud to do our own small part in supporting each of their important causes. That's why, along with donating services to nonprofits that we believe in, we always offer a nonprofit discount on hosting and build fees.
Through our work with organizations varying in size, location, and mission, we've developed a thorough understanding of the unique strategies and features that lead a nonprofit website to success.
Purpose Driven Design: A custom design is an integral part of highlighting your nonprofit's character, mission, and impact online. In addition to incorporating on-brand colors and visuals, we use eye-catching features like ambient video, clear calls-to-action, bold statistic bars, and polished illustrations to capture visitors' attention and move supporters up the ladder of engagement.

Comprehensive Creative Process: But before we even start the design process, we'll work with your team to get a deep understanding of your target audiences, conversion goals, and the look and feel that you envision for the new site. This holistic approach ensures that the finished designs will capture the meaningful details and concepts that set your nonprofit apart.
Built With Accessibility in Mind: We take care to design and build each site according to ADA accessibility standards and best practices. This means adjusting colors, sizes, and technical settings to make it possible for visitors of all ability levels to consume information and navigate your site with ease. Post-launch, we'll also advise you on content editing accessibility and offer tips for making the most of the features that we've put into place.
Primed for SEO & Performance Tracking: Aside from looking great and working well, the strongest nonprofit websites attract organic traffic and perform well across search engines. We position our clients for SEO success by building in features like solid metadata, logical organization, and analytics tracking that allows for ongoing performance assessment. Read more about SEO for nonprofits on our blog.
Flexible, Growth-Oriented Content Management: Each of our nonprofit websites is built on a flexible content management system that gives you the publishing freedom to update your site as you see fit. We're prepared to work with platforms like WordPress, Drupal, Craft, Expression Engine, Shopify, and HiFi. And if you're not sure what you're looking for? We'll help you to choose an appropriate system and teach you how to leverage each feature to grow your site over time.
Nonprofit Web Tools Experience
Thanks to our deep experience in the nonprofit space, our team is well-versed in the nuances of industry-specific tools and software platforms. We'll help you to navigate the technology ecosystem to find and implement the systems that will best fit your budget while meeting each of your organization's needs.