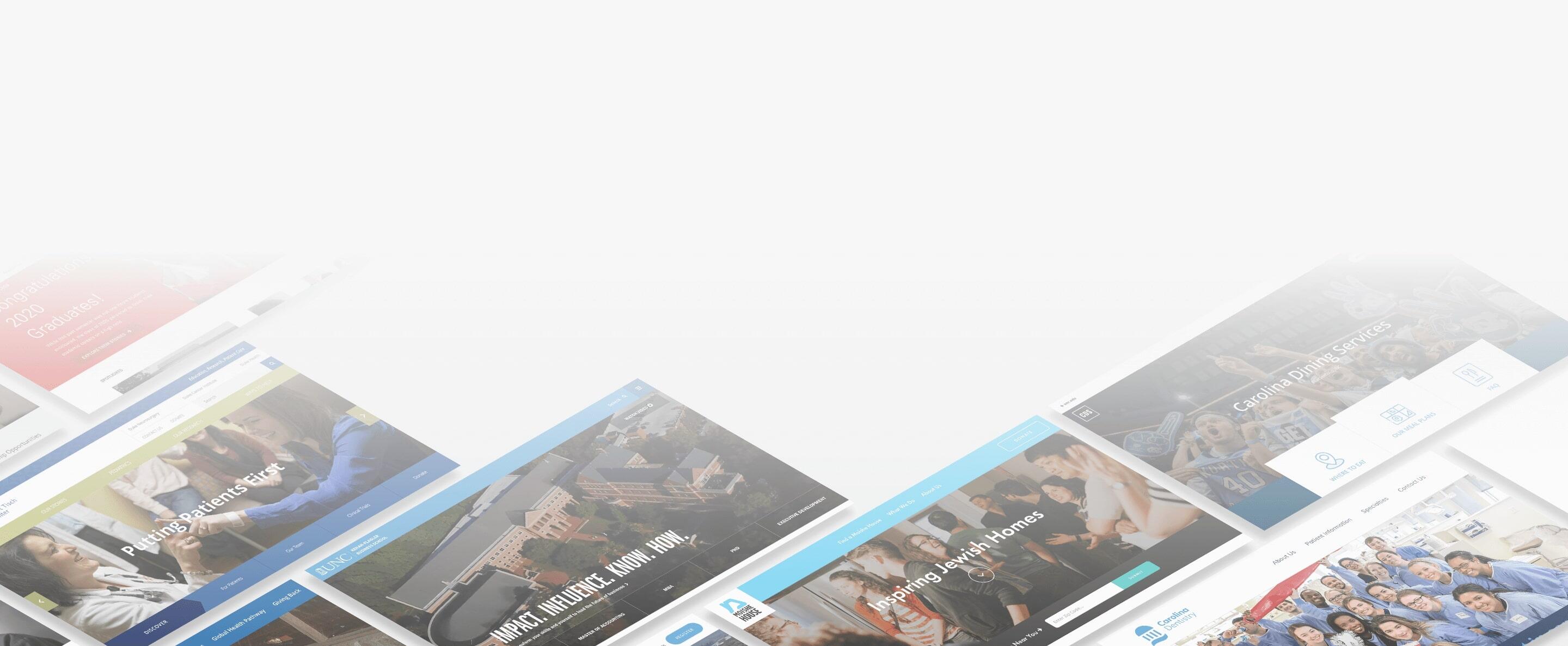 Higher Education
Website Design
Designing and developing effective higher ed websites since 2006
Get Started Now!
We'll be in touch right away.
Compelling Websites for Learning and Growth
With an office in the heart of the Triangle, we're surrounded by world-class universities and lifelong learners. We embrace it. Our team has built dozens of websites for educational institutions near and far, and we're always on the lookout for the next opportunity to partner with schools and organizations in need of powerful digital platforms or nonprofit website designs.
We know that universities, programs, and departments have a wide range of target audiences and needs, so we custom-design each site to meet and exceed your specific goals. Within this collaboration, we're able to apply years of experience and industry best practices for a product that supports your mission while engaging visitors online.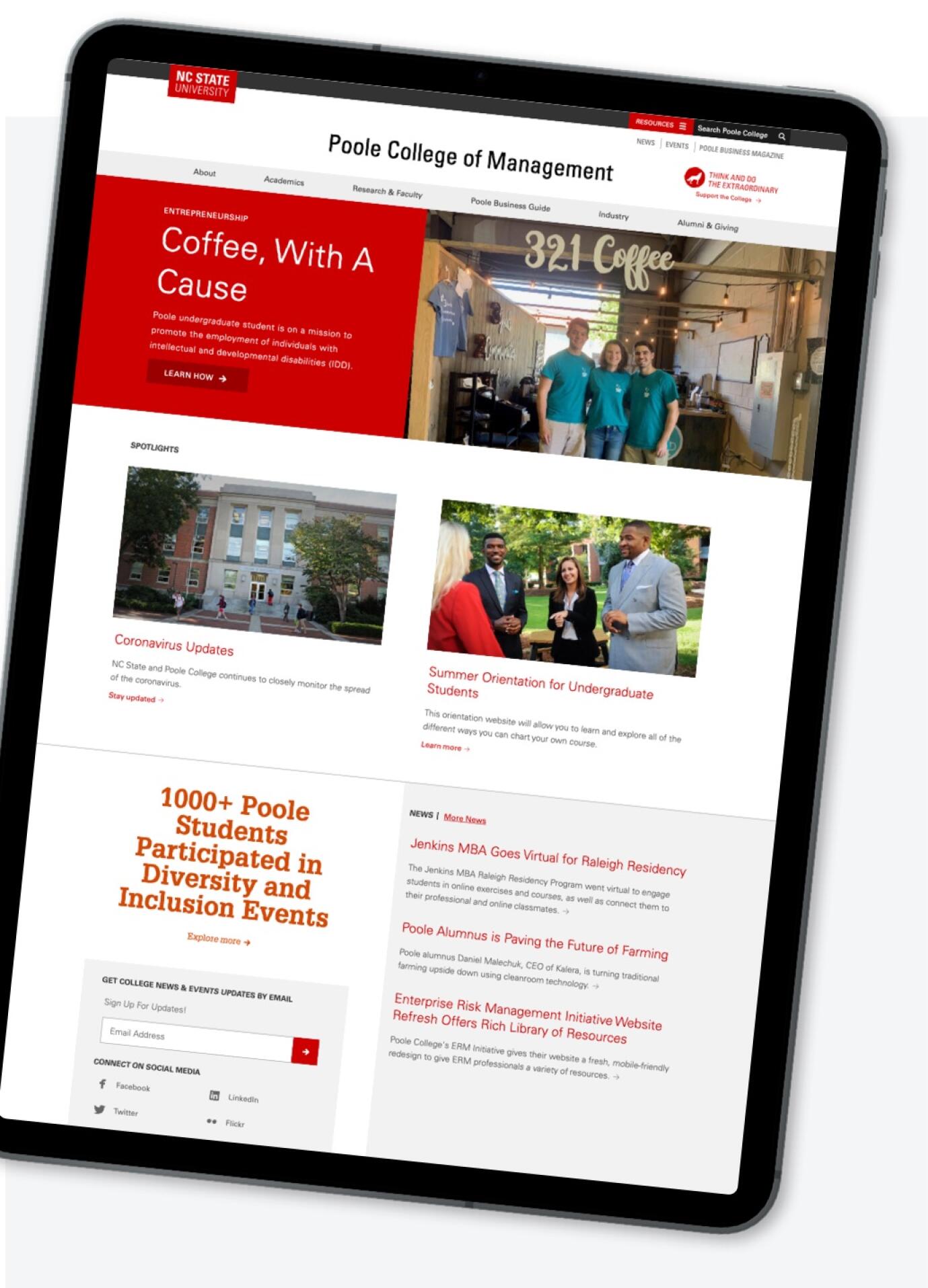 Higher Ed Design & Development Experience
Since our founding in 2006, we've taken on projects for niche academic departments, nationally recognized business schools, and everything in between. We've learned that the best higher ed sites utilize a few simple strategies to set themselves apart online, and we've even documented them in our guide on the best examples and features for higher education and university websites.
Rich Visual Storytelling: Whether you're a business school or a campus recreation department, your site needs to bring your program to life through design. We'll work together to dream up a dynamic combination of colors, textures, fonts, and images that reflect your university's unique character.
An Easy-to-Use Interface: To guarantee a smooth experience for site visitors, we'll make sure that your site has an intuitive navigation system, neatly organized content, custom forms, and more. On the administrator side, we'll set up a content management system that makes it effortless to add and update site pages. Many of our clients choose a familiar WordPress base, but we're also equipped to work with Drupal, HiFi, Craft, and other platforms. But don't worry – we'll work together to find what's right for you.
Built for Accessibility: We know that web accessibility is especially important for university and higher education websites, so we'll be strategic about technical features and design choices as your website takes shape. Post-launch, we'll also work with your team to make sure you're up-to-date on content editing accessibility and best practices for making the most of the accessibility measures that we've put into place.
How Can We Help Your Company?
We have been partnering with companies since 2006 to help them design, build, and scale custom digital brands.
Upfront Strategy
Strong planning is essential to great results. We help reach your goals through discovery work, analytics research, UX design, information architecture planning, and more.
Branding & Design
Our award-winning designers will help you break through with purpose driven design aimed at exuding the essence of your brand and focused on converting visitors on your site.
Web Development
An in-house team of developers brings projects to life, whether best practices frontend development for Content Managed websites or custom developing digital tools and products.
Digital Marketing
Our strategists can help scale your web presence to achieve your goals through tactics like Search Engine Optimization, content creation, conversion strategy, ad buying, and more.
Recent Higher Education Website Designs
Maximize your Potential
The most effective higher ed sites set themselves apart with engaging features, convenient tools, and informative content. We'll work with you to develop a thoughtful plan that will position your site for an excellent outcome.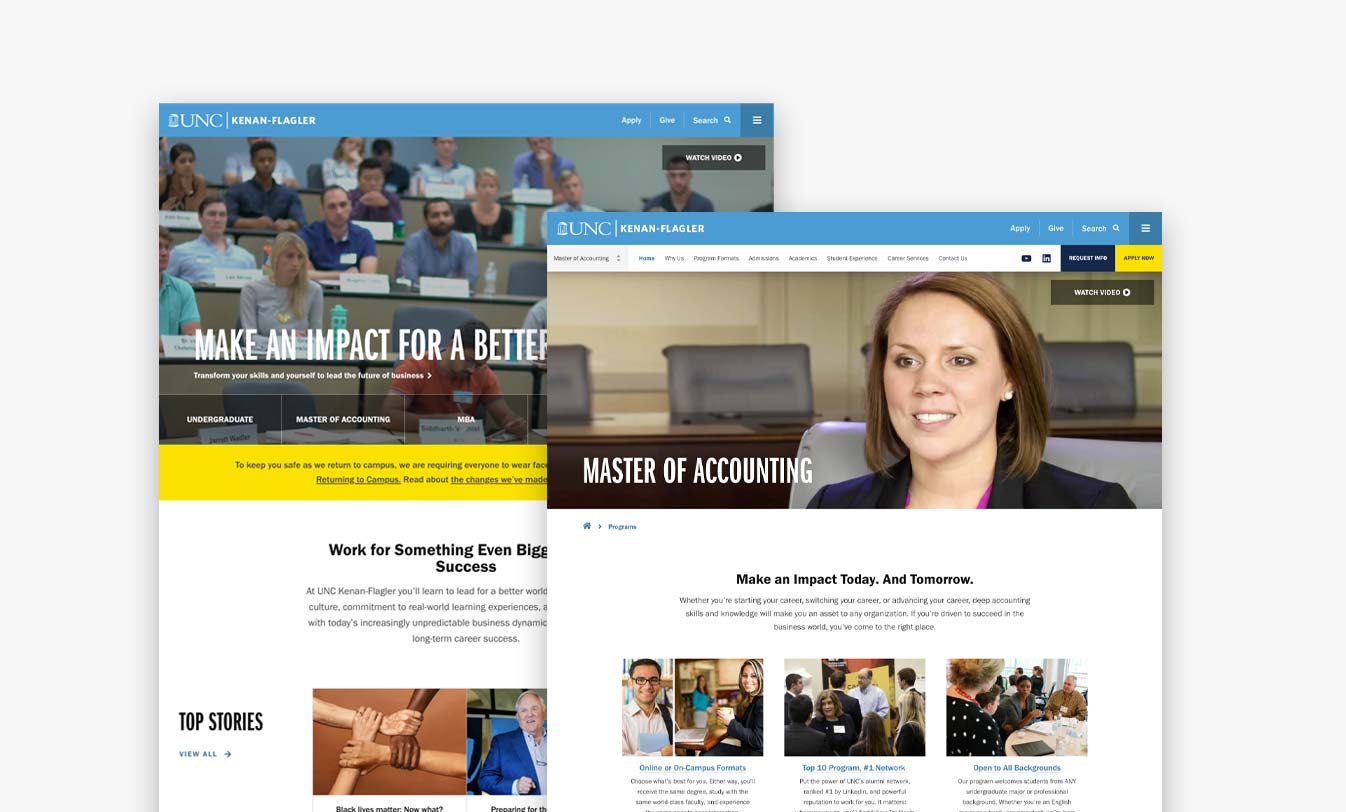 Showcase Top Programs: One of the most important functions of a higher ed website is its role as an information hub. Considering that most of your site visitors arrive looking for information, strive to give it to them in a digestible format that leaves nothing uncertain. Many of our higher ed clients do this by creating comprehensive pages for each program, initiative, or course of study.
Highlight Success Stories: Don't expect your site visitors to know what makes your university special. Use your website to show off a little! Profile a student who won a prestigious award. Blog about a scientific breakthrough that was made in your lab. Post a video of your most popular on-campus event. The possibilities are endless! We'll support you with the appropriate layouts and technologies to make your vision a reality.
Provide Resources for All: We know that you're constantly juggling groups that are approaching your university from different angles. Appeal to them all by separating your content into dedicated areas directed towards students, parents, donors, and faculty members. This way everyone can quickly find what's relevant to them or choose to explore other areas.
Offer a Clear Path to Involvement: Whether you're appealing to prospective students, donors, or educators, don't make it hard to take the next step. Successful higher ed sites include forms throughout that make it easy to volunteer, donate, contact a staff member, or request more information.
Optimize for Success: Search engine optimization can be daunting, but it doesn't have to be. We'll make it easy by building in a strong foundation of SEO features that will drive organic traffic and boost your ranking over time.
Integrate with Existing Tools or Requirements: We get it – you may not have as much flexibility as you'd like. Plenty of universities use set style guides, web platforms, and tools that are non-negotiable. We'll collaborate on the best ways to use what's available to make a site that you love.