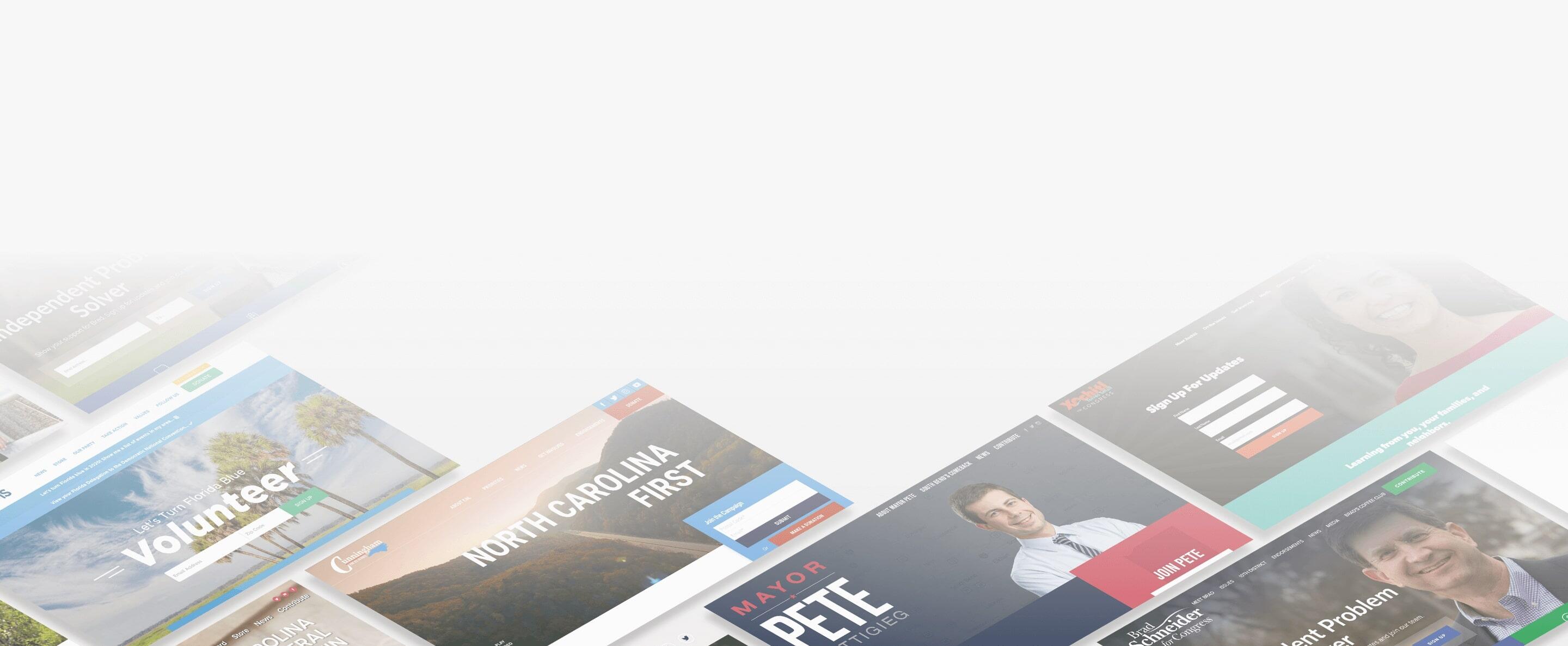 Political
Website Design
Building inspiring political campaign websites since 2006
Get Started Now!
We'll be in touch right away.
We Build Winning Websites
We got our start in political campaign web design – you could call it our original niche. We've grown into plenty of other industries in the decade since, but we're still passionate about supporting dynamic candidates and helping campaigns succeed online.
Our clients range from aspiring city council members to congressional hopefuls. We've learned something new from each campaign we've taken part in, and over time we've applied these best practices to the hundreds of political sites that we've brought to life.
Political Campaign Website Design & Development Experience
Needless to say, each of our campaign websites is unique to its candidate and their platform. But across all political sites, we've noticed some core strategies that are beneficial to any campaign.
Compelling Design: Whether you're running for Congress or for mayor, your site's design should reflect your campaign's unique character. We'll work with you to choose colors, textures, typefaces, and imagery that match with your messaging and existing campaign brand.
Unintimidating Technology: Our sites are powered by intuitive content management systems that make it easy for campaign staffers to edit content, add media items, and issue press releases – all regardless of technical ability. We most often use WordPress, Drupal, and Hifi, but we're skilled in many platforms and can work with you to find something that's just the right fit.
Positioned for Search Engine Success: A great website doesn't do much good if supporters can't find it online. We'll build in top-notch SEO features like effective metadata, streamlined URLs, and analytics tracking that will help your site to rank well and attract organic traffic over time.
How Can We Help Your Campaign?
We have been partnering with campaigns since 2006 to help them design, build, and scale custom digital brands.
Upfront Strategy
Strong planning is essential to great results. We help reach your goals through discovery work, analytics research, UX design, information architecture planning, and more.
Branding & Design
Our award-winning designers will help you break through with purpose driven design aimed at exuding the essence of your brand and focused on converting visitors on your site.
Web Development
An in-house team of developers brings projects to life, whether best practices frontend development for Content Managed websites or custom developing digital tools and products.
Digital Marketing
Our strategists can help scale your web presence to achieve your goals through tactics like Search Engine Optimization, content creation, conversion strategy, ad buying, and more.
Recent Political Website Designs
Strengthen Your Campaign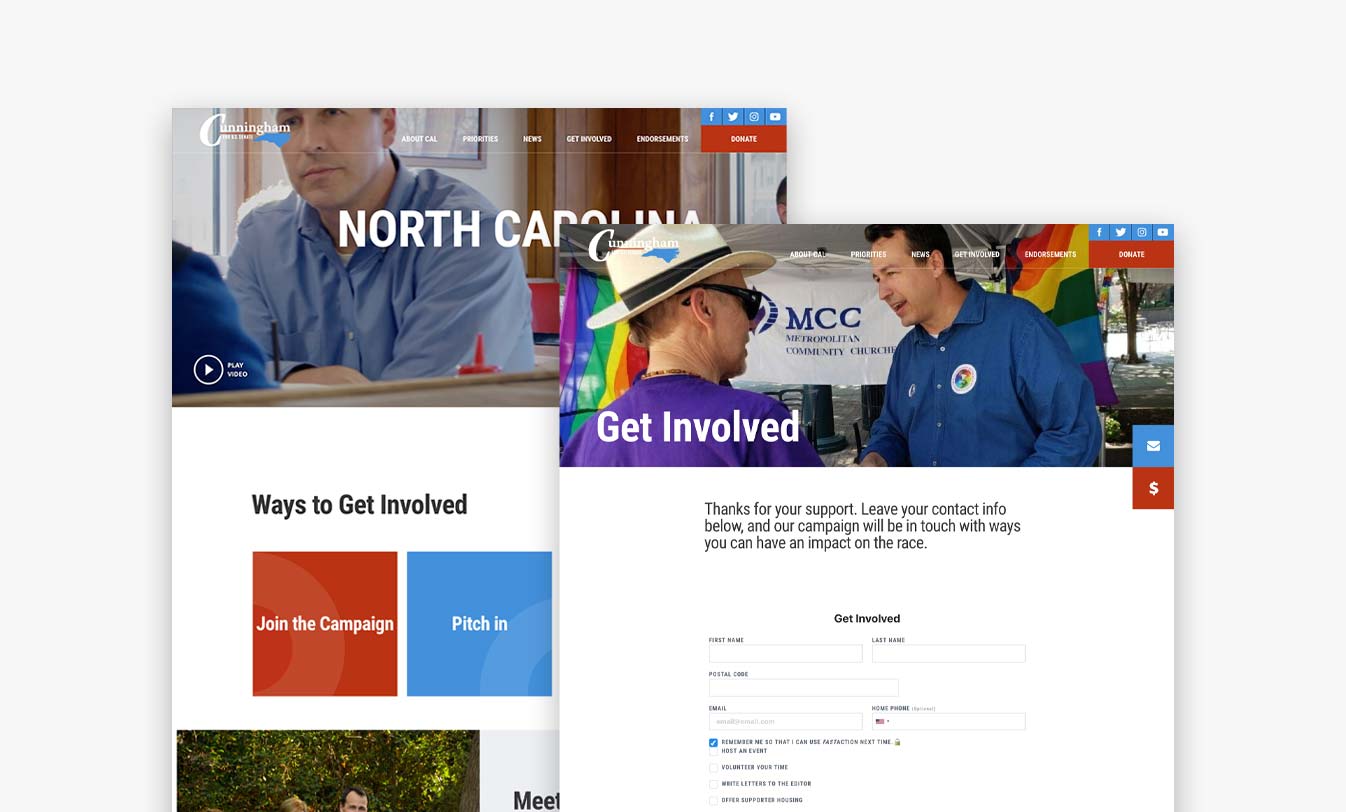 The best political campaign websites go the extra mile with features that engage and inform site visitors. We'll leverage our years of experience in digital campaign strategy to develop solutions that will set your campaign apart from the competition.
Engage Visitors: For any campaign website, it's essential to grab site visitors' attention from the get-go. A great way to do this is by creating a strong visual narrative that begins on your homepage. Interested yet? We routinely use ambient video, strategic video messaging, and dynamic calls-to-action to help our clients connect with casual supporters and passionate advocates alike.
Highlight Key Issues: Your website is an opportunity to show off what you care about. What are your priorities? How will you accomplish your goals? Taking the time to unpack your platform allows your visitors to learn what drives you as a politician. It's also a great way to explain specifics that you may not have time to cover on the campaign trail.
Encourage Donations: The best political campaign websites are effective tools for driving monetary donations. We'll make it easy for your supporters to contribute by incorporating dynamic calls-to-action and prominent buttons throughout your site. Best of all, we're equipped to work with a number of third-party donation softwares that make every transaction straightforward and secure.
Connect with Supporters: For site visitors who may not be ready to donate yet, we'll also make it easy to join mailing lists or sign up to volunteer. Our sites are all built out with custom forms that can be modified and tailored to meet your needs. We'll even style them to match with the rest of your site's design.
Share Relevant News: We know that political campaigns move quickly. Things can change in an instant, and your supporters always want to be kept in the loop. Many of our clients use a News or Media section to push out featured articles, campaign developments, or topical blog posts. We'll partner with you to find the best way to keep your supporters in the know.
Cultivate Support Across Platforms: In this increasingly digital age, social media plays an undeniable role in drumming up enthusiasm about elections and candidates. We'll help you to make the most of your platforms by adding custom feed integrations and social sharing buttons to your new site. This way, supporters will be able to like, follow, and share about your campaign throughout the election cycle.
Build a Strong Team: Successful political campaigns really do take a village. Team unity is the key to establishing your campaign's professionalism and polish, so we'll create email accounts for your crew that are hosted at your website's domain.
And More: Do you have a wild design idea? A site feature you've dreamt up in your head? No matter what you need, our team of in-house designers, developers, and strategists are up for the challenge. We have a track record of success, and the portfolio to prove it. We're looking forward to hearing from you.
Political Website Resources & NMC Updates