Across industries and professions, membership associations bring together a community of peers for networking, education, and career development. These associations play an important role in building connections throughout a field and often, advocating for members' shared goals and industry best practices.
Since members are usually dispersed throughout a large geographic region, an association's website is an essential tool for promoting upcoming opportunities, offering membership or renewal information, and distributing members-only content and resources. That said, the website should be up-to-date technically and easy for users to navigate and explore.
In this post, we'll explain what every association website should include and offer some examples of sites that check all the boxes.
---
What Should My Association Website Include?
Any strong website should highlight information that users are likely to look for online. For association websites, this means paying extra attention to presenting content about your group and what benefits come with being a member. Some essential features are:
About Us – The best association websites include a comprehensive About section that goes beyond the basics. In addition to outlining who your association serves, your website should feature information about your organization's values, history, leadership team, and staff.



How to Join – A good portion of site visitors may be interested in learning how to join your group. That said, your site should make it as easy as possible to access membership information and any requirements for being part of your association. As you'll see in our examples, it often makes sense to include a "Membership" or "Join Us" item in your site's main navigation bar. You can also incorporate calls-to-action throughout the site to engage users at multiple points in their browsing experience.



Upcoming Events – Many associations regularly host events for members. Whether the events are educational or social, it's helpful to list them on your website so that members can quickly see what's coming up and how to register or RSVP. You can take your events setup to the next level by adding category filters or by incorporating a dynamic calendar integration.



News – Association websites should also include a prominent and user-friendly news section. This section can house member news (think: promotions, awards, certifications), association news (annual conference, leadership changes, etc), and even big-picture industry news, if that's something that your team is prepared to curate or write. As we mentioned with events, the best news sections are filterable by topic and may even include a dedicated keyword search bar.



Members-Only Area – Your association likely reserves some content and resources exclusively for members. In order to streamline the process for accessing this information, your website should include a password-protected member portal where users can manage their membership, download exclusive resources, and sign up for trainings or continuing education courses. While it can be tempting to create a separate microsite to house training modules or members-only content, managing multiple websites is tricky – not to mention time consuming – in practice. Utilizing a single, robust website will be easier for your team and more straightforward for members in the long run.

One question that comes up frequently is whether to buy a membership platform or build one from scratch. Our clients have had success with both approaches, but we typically recommend going the "buy" route for convenience and reliability. Finding a platform provider with an off-the-shelf membership software is usually more affordable upfront than building your own system, however, costs can be higher in the long run as pricing is often based on a subscription model. The higher costs can be justified by the benefit of having a provider that constantly updates, maintains, and improves their service. Since premade platforms are 100% focused on the space – it's their business, after all! – you'll also know that you're getting tested, proven features that have value to numerous associations. Building your own system requires an ongoing budget of time and resources since you'll have to research and build any updates and new features down the line. Some good vendors we recommend checking out are Growth Zone, Wild Apricot, and Fonteva.



Accessible Design – Not only is web accessibility important for ensuring a stellar user experience, but it's mandated by law under the Americans with Disabilities Act. So, any new web project should be guided by ADA standards for design and functionality.

Accessibility is a broad topic – far too broad to cover in this post – but it generally refers to creative and technical choices that allow people of varying abilities to use a website. This can mean designing with enough contrast between text and background color, coding the site in a way that allows for efficient keyboard navigation, and even structuring content so that it's logical and skimmable. We encourage you to consult the official Web Content Accessibility Guidelines for more information. You can also read through our blog posts on design accessibility and content accessibility for a reader-friendly breakdown of some of the most important things to consider.



Mobile-Friendly Layouts – With nearly half of all web traffic coming from mobile devices, it's hugely important to consider how your association's website will function on smaller screens. Ideally, each layout should smoothly transition to a format that users can easily navigate on the device of their choice. Something like an image grid might change to a row of stacked images, and a content-heavy main nav would likely scale down to a compact hamburger menu.
Aside from all this, your association's website should cover all of the standard website best practices like utilizing a clear sitemap, visually prioritizing important information, and developing a style that reflects your organization's goals and values.
Maximize Your Association Website With Strategic Marketing
In the context of your organization's overall marketing plan, your website should function as a hub for all things digital. Ideally, that means that it should introduce any other online platforms that your organization uses. Most often, that includes:
Social Media - Your association's social media channels are an excellent medium for engaging with members and encouraging active participation within the group. While your profiles probably incorporate your branding and logo already, it's worthwhile to take a closer look to make sure that graphics, images, and even the tone of the content is consistent with the look and feel of your website.

On the website itself, you can bring in your social media presence with header and footer buttons that link to your profiles. If you post frequently, you may also think about adding an integration that shows the latest social posts on a dedicated site page or block.



Email Newsletter - If your organization distributes an email newsletter, you'll want to make it as easy as possible to sign up online. Most of our clients do this by featuring newsletter calls-to-action and simple embedded forms throughout their association's website. The forms can be set up to send data directly to email providers like Mailchimp or SalesForce.

In addition to including a newsletter CTA on your site's homepage, you should think about adding a signup option in other places where users may be open to receiving more information. That could mean adding a newsletter block on the Membership overview page, providing an opt-in box on an event registration form, or offering a signup at the end of a high quality resource post. If you have multiple newsletters for topics like education, advocacy, or member news, you could also plug those where it makes sense.



Merch Shop - For associations that offer merchandise, it can be helpful to build a shopping experience into your website. This way, members can quickly find and order products that reflect their involvement in your group. Check out the American Bar Association's online store to see how a large organization structures their shop.

If running your own online store seems like too much to take on, you might instead consider creating a page that highlights outside vendors who offer a discount to your members. AIGA, an association for designers, does this on their Bookshelf page. Industry discounts are often a perk that comes along with membership, so this is a great way to highlight some products without taking on the burden of running a merch store yourself.
Examples of Successful Association Websites
Now that we've outlined some of the most important best practices for association websites, we're bringing in some examples to show what a successful result looks like in real life.
About the Association:
PAEA, the Physician Assistant Education Association, provides resources and networking opportunities for accredited PA education programs in the United States. The organization came to us to revamp their brand and consolidate three web presences into one comprehensive hub for members and stakeholders.
Website Highlights:
PAEA's website engages users with meaningful statistics, dynamic design elements, and a clear megamenu structure that makes it easy to navigate to interior pages. One of the most unique features is an interactive program map that allows site visitors to explore member programs and associated costs and requirements.
Other notable features include custom subnavs for content-heavy assessment sections, landing pages for each target audience, and a substantial library of filterable news and resources.
Read more about the project in our case study.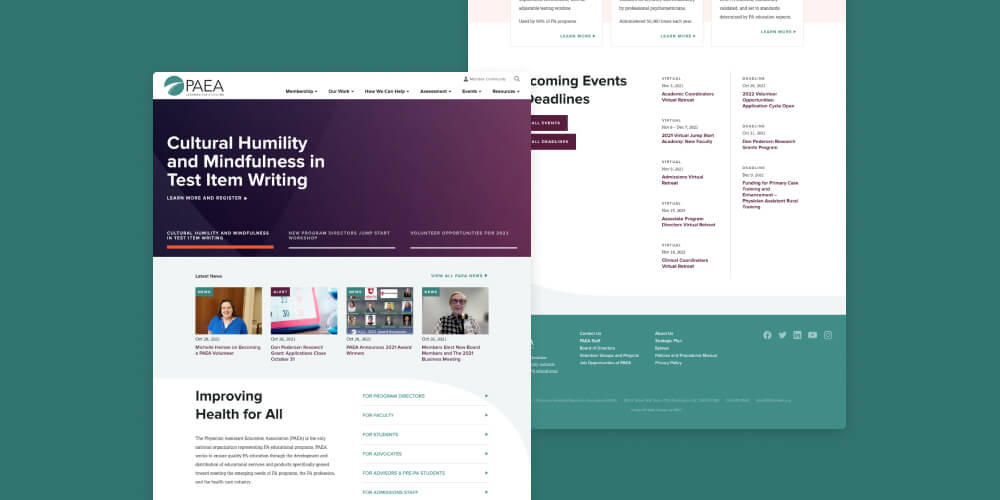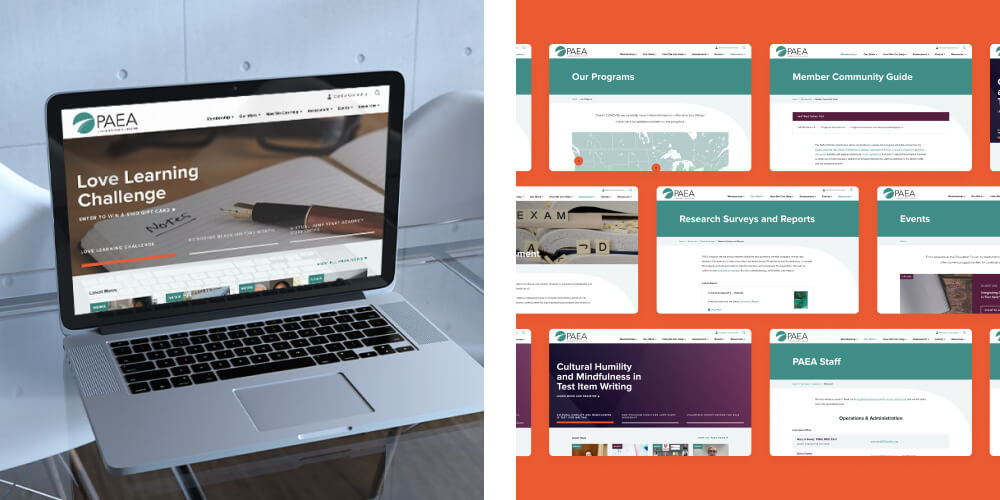 About the Association:
North Carolina Advocates for Justice is a nonpartisan, nonprofit association that supports trial lawyers with continuing education resources, networking opportunities, and guidance on advocacy efforts. We worked with NCAJ to develop a new visual identity and a sophisticated web presence.

Website Highlights:
NCAJ's website is defined by a modern look that feels polished and professional while still distinctly fresh. Design elements like professional photography and custom-styled testimonials keep the focus on NCAJ's members, while prominent calls-to-action encourage qualified visitors to join the association.
In terms of best practices, we particularly like how NCAJ chose a news setup that includes two category filters and a dedicated keyword search bar.
Read more about the project in our case study.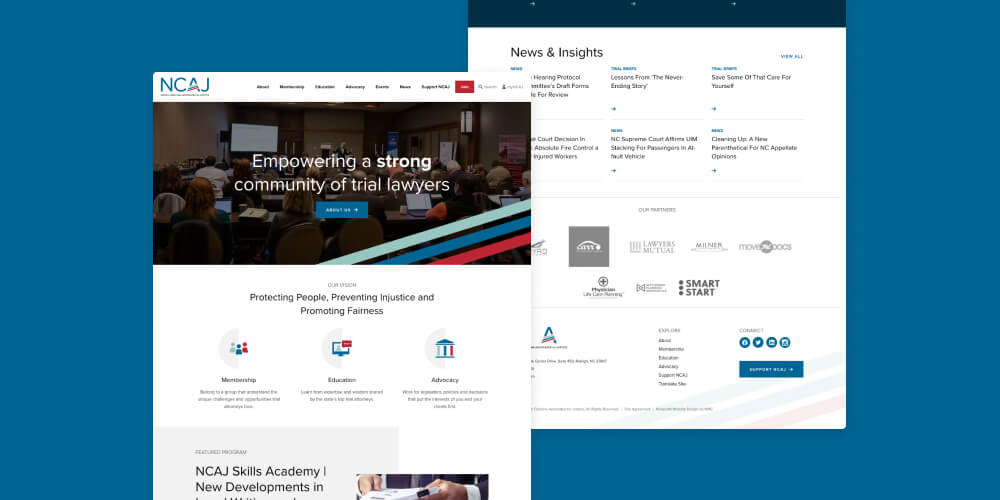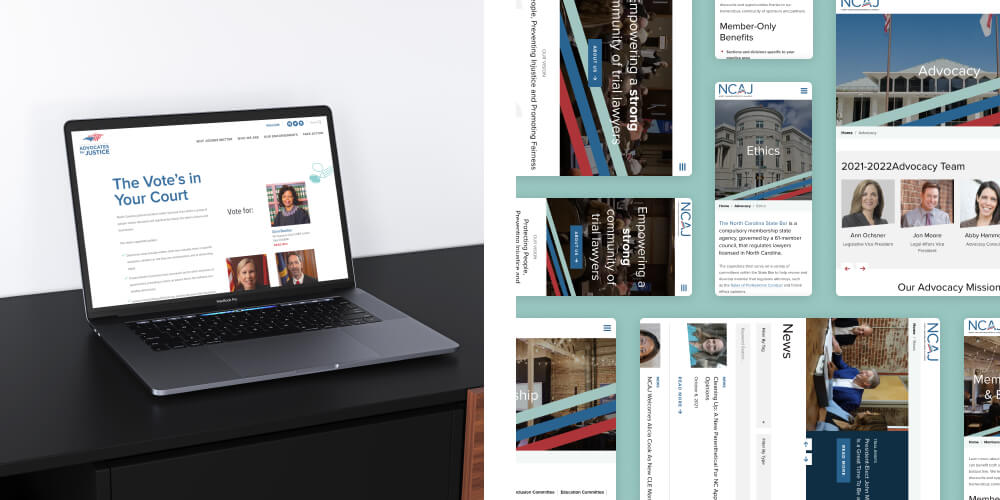 About the Association:
The North Carolina Bar Association is a membership organization for the state's large legal community. We worked with the NCBA on two websites – one for the NC Bar Foundation, and another for the association's primary property, ncbar.org.
Website Highlights:
The main NCBA website contains a significant amount of content for a variety of stakeholders, so a defining element is the full-screen megamenu that outlines key topics and resources. The megamenu's clean design and clear segmentation options streamline the navigation process and improve overall user experience.
Other helpful elements are a comprehensive landing page for the public, a searchable calendar, and quicklinks to the member login and Join pages in the upper right corner of the header.
Read more about the project in our case study.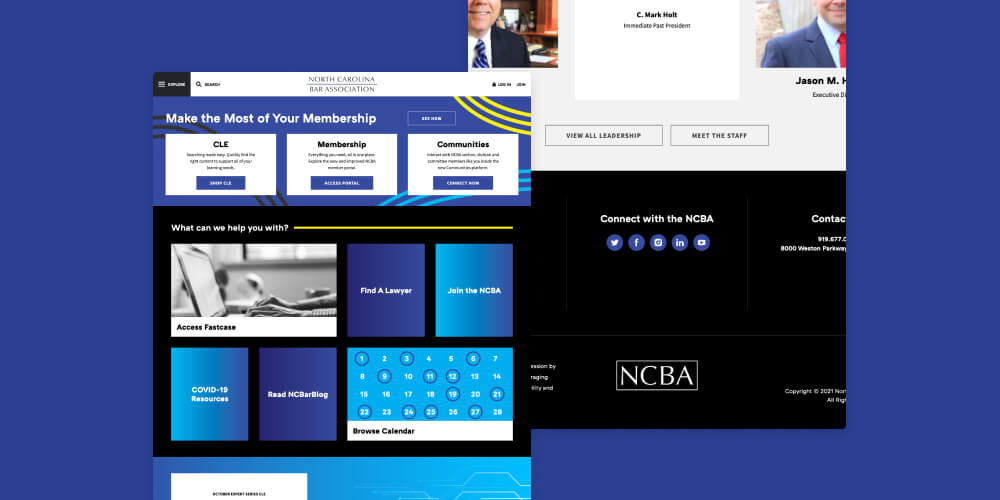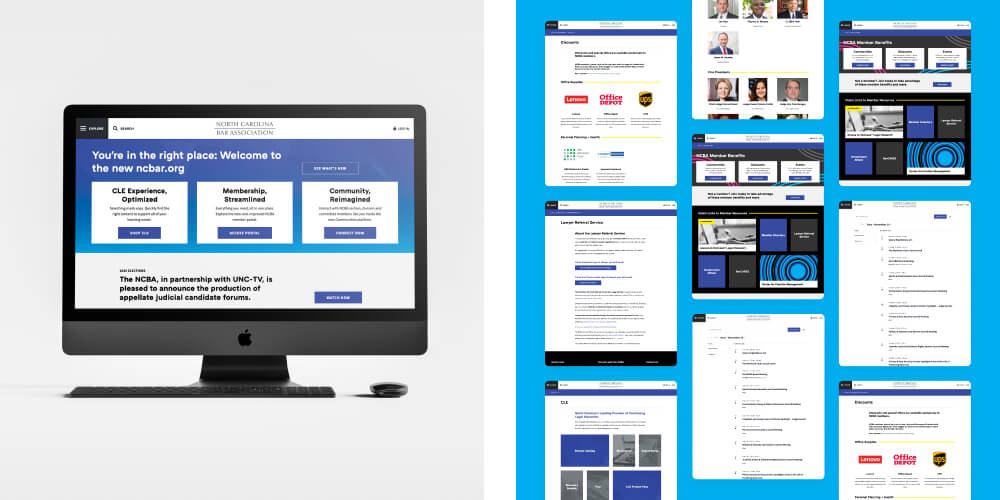 Conclusion
Considering the ongoing shift towards virtual gatherings and digital organizing, it's more important than ever to make sure that your association's web presence is professional, informative, and user-friendly. By incorporating some of the best practices mentioned in this post, you'll be well on your way towards giving your association a leg up online.
Not sure where to start? Feel free to reach out to us if you'd like to chat through specific suggestions for making the most of your association's website. And if you'd like to start fresh, we're also happy to help you prepare for a new web design project!