With over 2,500 members, North Carolina Advocates for Justice is one of the largest state trial lawyer associations in the United States. Known more familiarly as NCAJ, the organization is a nonpartisan nonprofit that supports trial lawyers with community-building events, CLE programming, resources, and opportunities to connect with fellow industry professionals.
Having seen our work with the North Carolina Bar Association and large local law firms, NCAJ approached us to lead a three part project that would include developing a polished visual identity, building a microsite, and launching a fresh take on the organization's main nonprofit website design.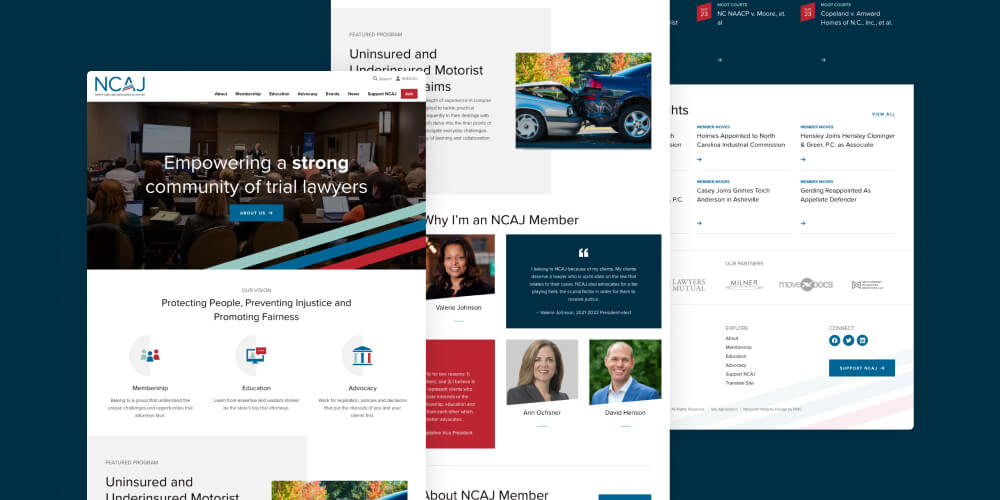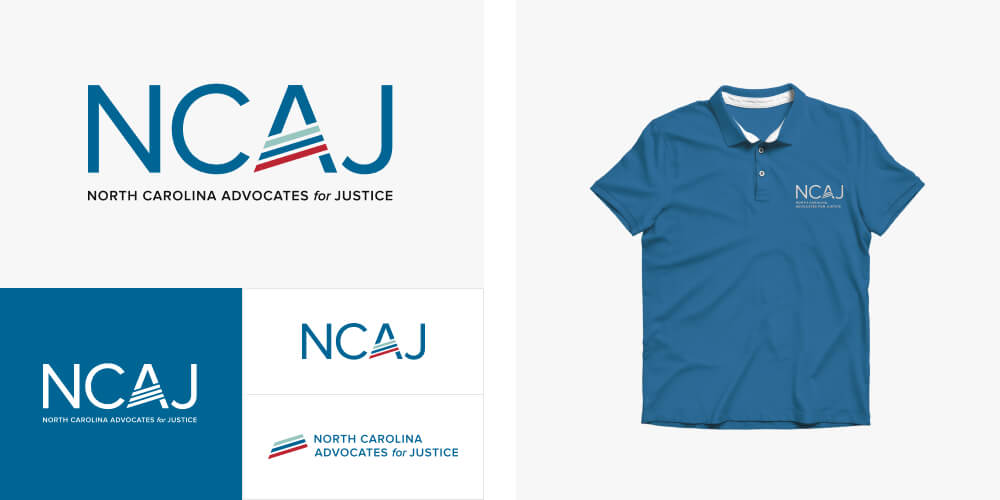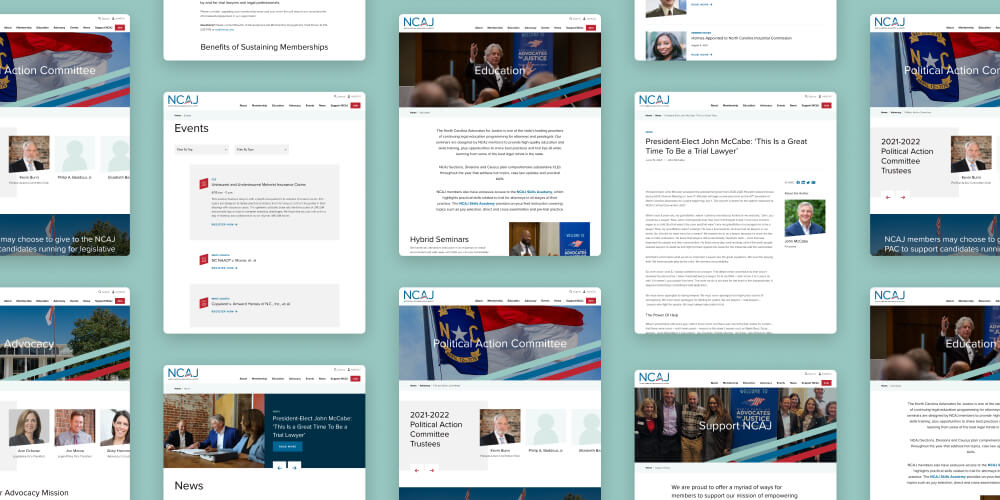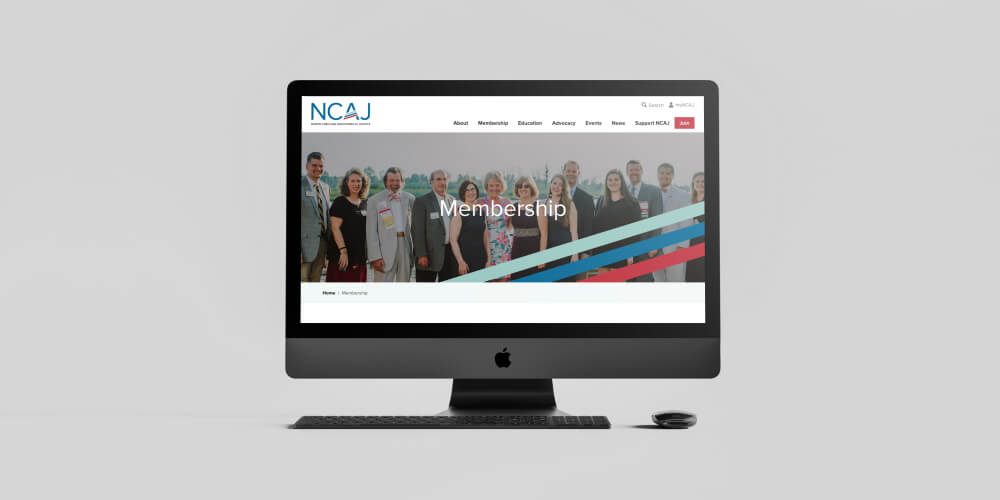 Creating a Vibrant Brand
After almost 50 years of serving the legal community, NCAJ decided that their entire visual identity was due for a refresh. Not only would a new logo standardize their look across platforms, but it would offer the opportunity to create a versatile and recognizable mark tailored specifically to NCAJ's current goals and trajectory.
The final lockup centers on a modern sans serif wordmark with an illustrated letter "A." The "A" is intentionally crafted to feature several upward-tilting bars that evoke progress, momentum, and the three branches of government. In addition to appearing in the wordmark, the three-bar motif can stand alone as a graphic element on digital assets, print materials, and promotional items. This allows for maximum flexibility as NCAJ grows the brand.
The rest of the identity stems from the modern style established by the logo. Typefaces are clean and highly legible, shapes are geometric and crisp, and the color palette meshes with sub-brands that NCAJ had already rolled out for a number of programs and special events.
As a whole, the new look reintroduces NCAJ as a sophisticated organization with a commitment to remaining current and visually up-to-date.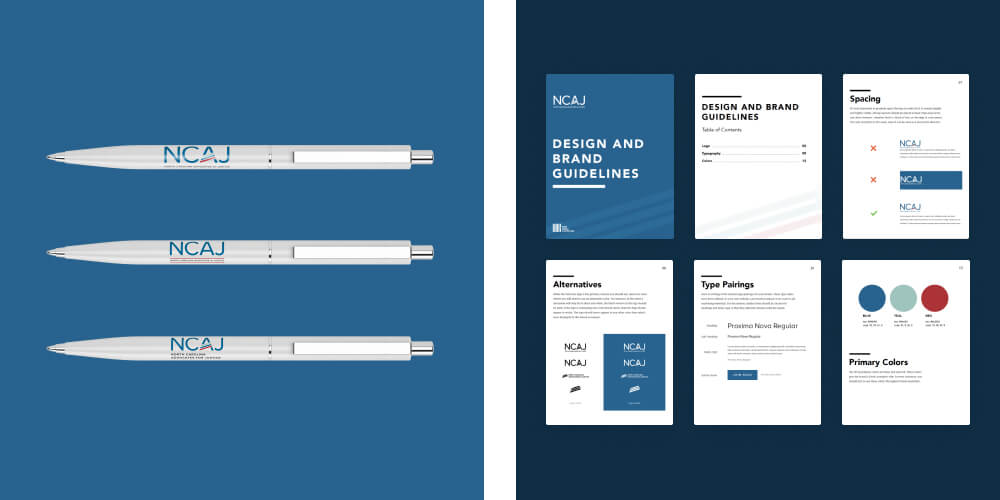 Building a Timely Microsite
While the logo process was underway, we took on the second portion of the project: a microsite to house NCAJ's judicial candidate endorsements for the 2020 election cycle.
Microsites can be a helpful tool in a variety of digital situations. They're great for big moments like special events and annual reports, and can (in some cases!) provide necessary breathing room for individual parts of a business like law firm practice areas. For NCAJ, the microsite was meant to create a dedicated space for explaining each judicial endorsement in a level of detail that wouldn't have had a place on their main website.
The microsite, informally branded as "The Vote's in Your Court," was live in the leadup to Election Day and featured the endorsements, information about NCAJ, and guidance for taking action. Design highlights included customized illustrations, fun icons, prominent calls-to-action, and a detailed pop-up overview for each featured candidate.
In addition to advertising the endorsements, the microsite allowed for a gradual transition towards NCAJ's modern new look.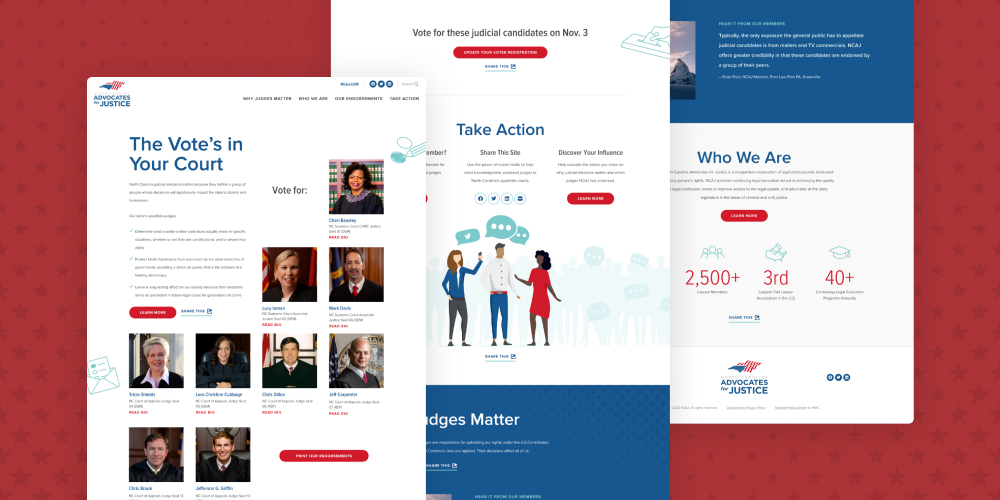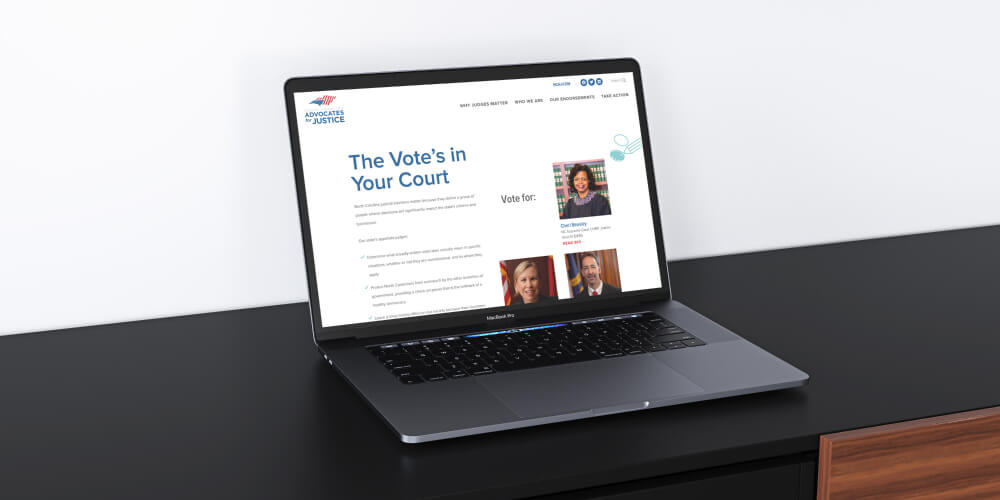 Applying the Brand to NCAJ's Web Presence
With the visual identity complete and the microsite project checked off, it was time for the grand finale – redesigning NCAJ's primary web presence.
Like all of our projects, the website process began with our comprehensive creative brief and multiple conversations with the NCAJ team and key stakeholders. This in-depth discovery phase allowed us to approach the new site with a deep understanding of NCAJ's priorities, target audiences, and overall design vision.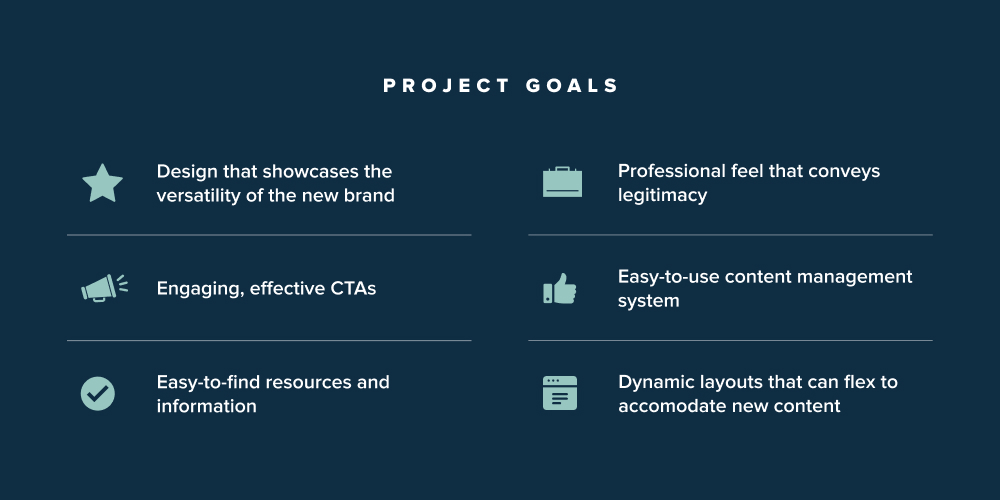 The final designs are characterized by a polished and professional style that brings in distinctive brand touches through color and graphics. Some of our favorite features include:
People-Focused Homepage – The site's homepage grabs users' attention with a strong focus on people and impact. This is accomplished with an eye-catching image masthead, a clear and prominent vision statement, and a unique feature block that showcases individual members and quotes.


Interior Hubs for Key Content Areas – Interiors are centered around NCAJ's three pillar topics: membership, education, and advocacy. These landing pages each provide a full look at what NCAJ has to offer in terms of support, programming, and relevant resources. Membership, for example, pairs an informational blurb with member testimonials, upcoming events, a staff slider, and CTAs that point users towards additional content.


Filterable News & Events – Robust news and event feeds allow users to quickly see what NCAJ has going on. Both feeds are filterable by tag and post type, making it even easier to hone in on particular topics of interest.


Mobile Responsive Layouts – The entire site has been built to transition smoothly from desktop to mobile. Each layout automatically adjusts to the user's screen size, ensuring that the design looks great and works well in any format. On mobile, for example, the main nav scales down to a compact hamburger menu and grid items stack vertically to make the most of the smaller space.


Accessibility Focused – Like all of our sites, NCAJ's web presence has been designed with ADA accessibility guidelines in mind. This means that the site caters to users with varying levels of ability. How? In terms of design, the site's colors and backgrounds are carefully selected to meet the WCAG's 4.5:1 contrast ratio. Layouts are also structured with a distinctive hierarchy to ensure that users can quickly navigate through sections and topics. On the technical side, the site fully supports keyboard navigation, zoom, and assistive technologies like screen readers.
Perhaps the best part of the site is that all content can be managed in-house by the NCAJ team. The site's intuitive WordPress CMS gives admins access to a library of custom "blocks" – i.e. designed elements like featured statistics, CTAs, related news, image sliders, etc. – that can be edited, reordered, or used to create entirely new layouts as needed. This means that NCAJ will be able to scale the site over time without sacrificing the bespoke look and feel.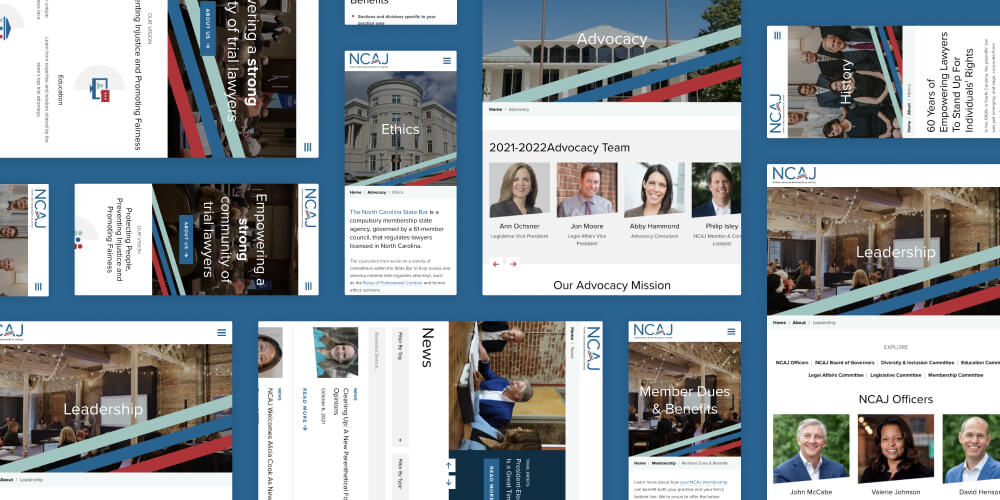 A Versatile Platform for Growth
The launch of the website and brand marked the beginning of an exciting new chapter for NCAJ. Their team is pleased with the result, and above all else, loves the fact that their external appearance now reflects NCAJ's reputation as a leading legal association and resource for industry professionals.
We loved being a part of the process, and look forward to supporting NCAJ as they utilize the site to expand their reach and grow their membership.