Whether you're a law firm or a nonprofit, a higher education institution or a retailer, your organization likely hosts events from time to time. And all for good reason – events like fundraisers, conferences, trade shows, and webinars are ideal for sharing information, raising awareness, and connecting with like-minded community members.
It's common knowledge that events – regardless of size – require a lot of behind the scenes planning and coordination. Marketing is one of the biggest pieces of the puzzle. Successful event promotion leads to ticket sales and positive outcomes, while lackluster efforts can pave the way for disappointment and empty seats.
Publicizing events online is a no-brainer. Websites are easily accessible, wide reaching, and relatively easy to maintain and update in the leadup to an event. But instead of locating event info on your organization's main website, we've found that many of our clients prefer to develop a separate event-specific microsite that centralizes key details and resources.
In this post, we'll explain what a microsite is (in case you need a refresher!) and why they're a great choice for event promotion. We'll also offer some best practices that we've identified over the years and show off some awesome examples of event microsites done right. Read on if you're interested!
---
Microsites Explained
A microsite is a standalone web presence that focuses on a narrow topic, program, initiative, or in this case, an event. The information on a microsite may have been too substantial for the organization's primary website, or the organization may have wanted to highlight it on a more independent platform (more on this later).
Microsites may look and feel completely different from the organization's primary site, but they typically have some connection to their parent, either through a link in the header or footer, common colors, or shared design elements.
In terms of technical considerations, microsites can exist on either a subdomain or a unique domain. What that means: If your primary site is example.com, a subdomain would be event.example.com (notice how this is attached to the main domain) while a unique domain would be something completely different like event2020.com. There are SEO implications for both choices, which we'll discuss in our Best Practices section below.
Now that we've covered the basics, let's move on to how a microsite can help to promote your event.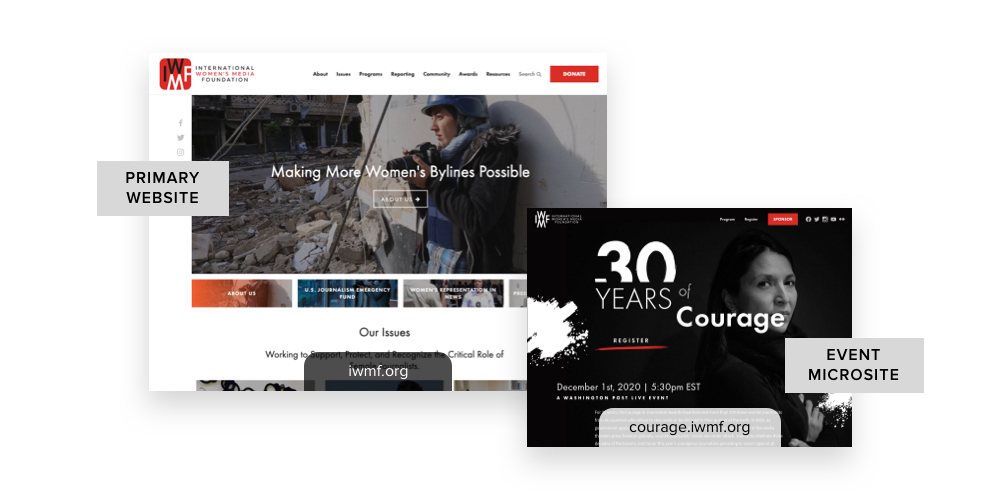 How Microsites Maximize Event Planning Efforts
Robust, substantial feel. Microsites offer a number of benefits for event planning and promotion. One of their biggest contributions is the fact that, thanks to their independent nature, they make any event feel more substantial and autonomous online. Think of it like using a spotlight to direct attention towards a focal point. Instead of including the event on your main site (where you already have a lot of other content), a microsite allows your event to shine on its own, free from distractions like everyday donation requests or simultaneous marketing campaigns.
Room for deeper content. Similarly, the independence of an event microsite means that you can fill it up with deeper content that your main site may not have been able to support. Depending on the event, it could make sense to add sections for event history, past photos or outcomes, frequently asked questions, or itineraries and schedules. In addition to being genuinely helpful to site visitors, resources like these may also increase the odds of visitor participation or registration. Why? Informed visitors are more likely to take the next step – it's that simple.
Event-specific branding. Design-wise, microsites are effective because they make space to show off your event's branding. Event graphics can be fun, bright, and exciting, but they're so often limited to t-shirts, small advertisements, and banners at the event itself. Make the most of your team's hard work by using your event brand to build excitement for the big day.
And for events without a distinctive brand? You can still use your microsite to feature event-specific images and videos that might not have made an appearance online otherwise.
Naturally sharable. Word-of-mouth publicity can create a powerful snowball effect, but it can be difficult to get the momentum started organically. With an event microsite, interested site visitors can easily share direct links to event content on social media, via email, or even by text message. Specificity is what makes this a better option than sending a link to your organization's broader website.
Convinced yet? Read on for our best microsite tips and advice.
Best Practices for Event Microsites
So you're ready to take the plunge and create a microsite for your organization's next event. You may be wondering what kind of content to include or what features will make the biggest impact. Luckily for you, we've pulled together a list of recommendations based on the event microsites that we've created and others that we've encountered across the web.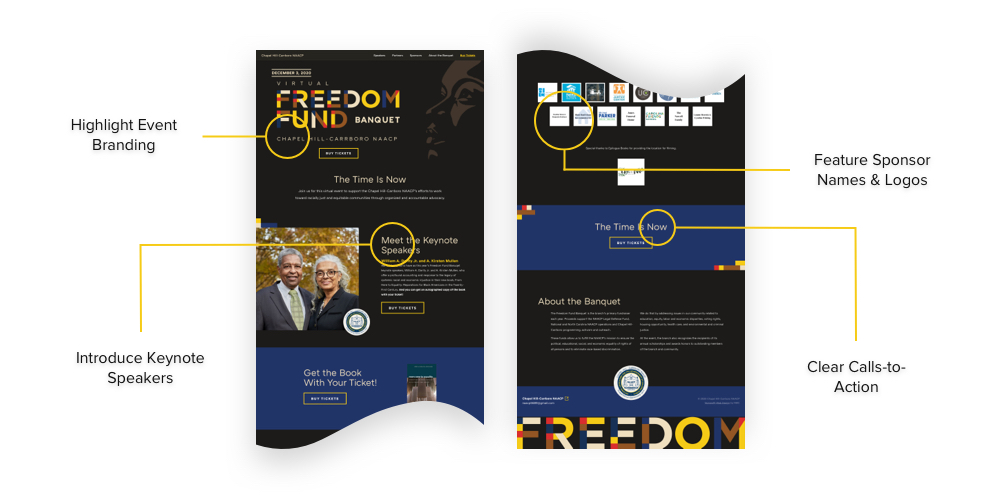 1. Highlight Multiple Sponsorship Levels
Sponsors play an important role in making many events possible. One great way to thank them for their contribution (of financial support, volunteers, supplies, etc) is to feature them prominently on your event's microsite.
Since event sponsors are typically grouped into levels, there are a number of natural ways to display their names or logos online. For events with a lot of sponsors, we love a logo grid or a neatly sectioned list. Elements like these can even be placed on a dedicated Sponsorship page, like this one used by the AIGA Design Conference.
Events with fewer sponsors might consider an interactive slider or a fixed logo bar attached to each page's footer.
2. Utilize Clear Calls-to-Action
Calls-to-action are an essential part of activating site visitors and guiding them towards a desired next step. For most events, this means directing traffic to a registration page or signup link.
The strongest event microsites sprinkle CTAs throughout their content and incorporate signup buttons into fixed elements like page headers and footers. This makes it easy for site visitors to sign up for your event at any point during their time on the site.
You can take your CTAs a step further by pairing them with early-bird discounts and a countdown to the next price increase. It never hurts to add a touch of urgency – especially as your event date gets closer.
3. Introduce Speakers and Presenters
Site visitors are likely exploring your microsite to get a sense of what your event has to offer. Set aside some space for background information on keynote speakers, featured presenters, and any other special guests that make your event stand out.
You've probably selected these folks for their expertise and knowledge on a particular subject, so you'll want to make sure to explain who they are, what their talk will be about, and why they're qualified to address the topic at hand. Not only will this (hopefully) drum up excitement for the event, but it will also give site visitors an idea of what they can expect to learn about and take away.
4. Incorporate a Digital Program or Guide
To give site visitors an even better idea of what they can expect, it's helpful to round out your event microsite with a digital program or guide. By providing this information ahead of time, you'll make it easy for visitors to evaluate the event and decide whether or not it's worth their time and money to attend.
Digital programs are particularly important for multi-day events, but they also add a lot of value to half- or full-day functions when they show how the day will be broken up.
5. Boost SEO by Using a Subdomain
As we mentioned earlier in the post, your microsite can exist on a subdomain of your organization's primary website or on its own unique domain. Our recommendation: use a subdomain.
Why? Subdomains are a great choice for several different reasons. Here are a couple of the main benefits:
Brand consistency. Let's return to the example that we gave earlier. For an organization with the main website example.com, a microsite could be set up on a subdomain like event.example.com. Since the subdomain is connected to the primary domain name, it's clear to site visitors that the event is closely affiliated with the given organization.

But even though the microsite maintains ties to the primary site through the domain name, it can still be completely separate in terms of design and functionality. The microsite can (and most do) include a custom nav and menu structure, a unique design, and event-specific tools like a registration form or payment processor for ticket sales.
SEO. If you're not familiar already, search engine optimization is the technical process for positioning your website to rank well on Google and other search engines. It involves things like keeping your content deep and recent, building a clear and crawlable sitemap, and researching keywords to target in your writing.

Good SEO takes time – it sometimes even takes years to build up a site's strength, authority, and link equity. So if your microsite is on a unique domain, you'll need to treat it like what it is – a fully separate website – and commit to the serious SEO work that it takes to develop a site's reputation.

Subdomains, however, can piggyback on the SEO credit of your organization's main website. This is huge. It means that Google evaluates your microsite's content as if it were hosted on your main domain (i.e. event.example.com gets the same SEO benefits as example.com/event). There's no need to come up with a new SEO strategy because your microsite will be carried by the credit that your main domain has accumulated over the course of the site's entire digital existence.
Interested in learning more about subdomains? Check out this blog post: Should Your Law Firm Use Separate Practice Area Microsites? While the examples are specific to law firm content, the base information applies to any type of microsite.
Examples of Successful Event Microsites
Now that we've established why event microsites are beneficial and what features make them great, it's time to put it all together in a series of examples that demonstrate what we've talked about. Some of these are our own projects, and others are sites that we've found and admired online.
We recently designed and built this microsite to promote the Chapel Hill-Carrboro NAACP's annual fundraising event, the Freedom Fund Banquet. The site showcases the event's keynote speakers, multiple levels of sponsors, background information, and several links to the ticketing page on Eventbrite.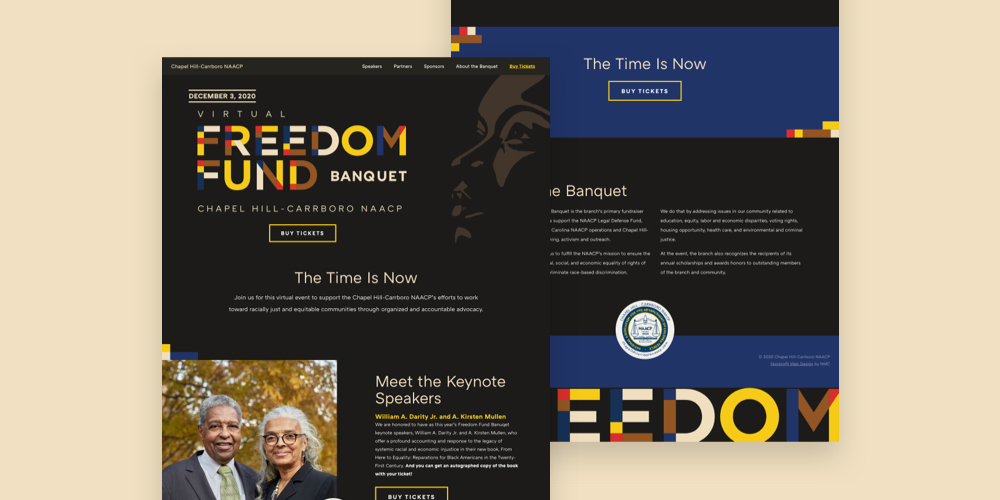 The International Women's Media Foundation (an existing nonprofit website design client) approached us earlier this year to build a microsite for their annual Courage in Journalism Awards. The site is effective because it includes bios for the event's honorees and hosts, a categorized list of sponsors, numerous registration links, and a digital program that features sponsor ads and videos.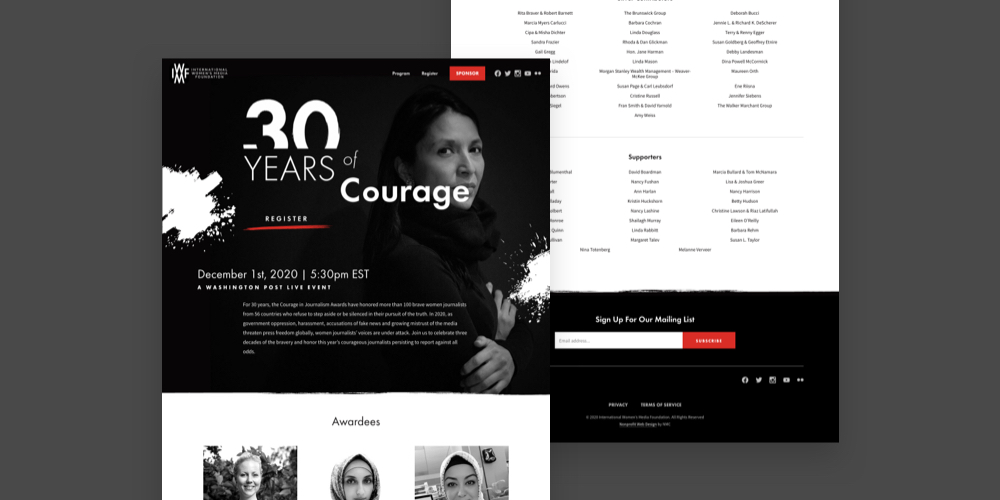 This isn't a website that we created, but it's a great example of how a microsite can be an asset to a large event. In particular, we love how AIGA incorporates an FAQ section, a filterable speaker directory, and detailed information about the conference and how attendance can help design professionals.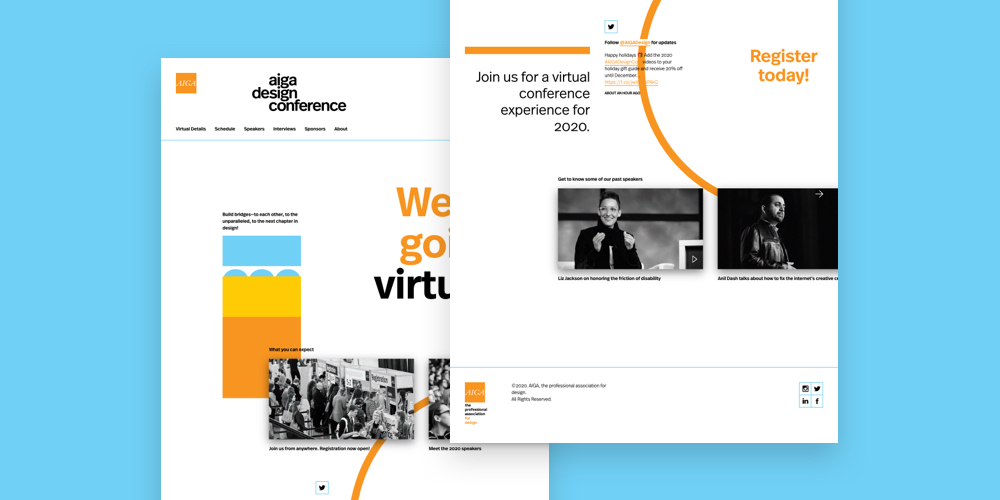 We're not involved with this conference either, but their website offers some strong examples of event microsite best practices. Highlights include a clear outline of conference topics, a prominent sponsor block, and full adoption of the event's unique brand.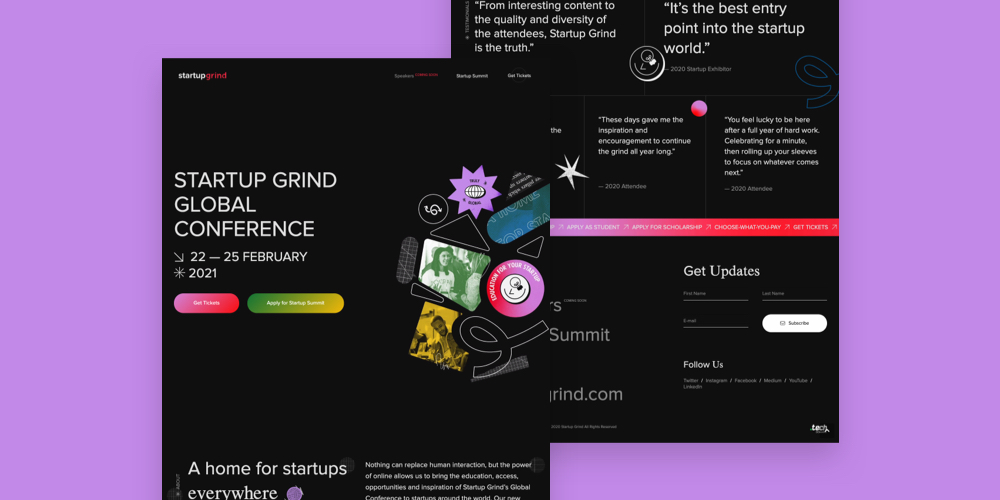 Ready to Get Started?
So as you can see, microsites can be used in a variety of different ways to promote events and boost attendance or ticket sales. Unlike a single page on your organization's main site, microsites make room for deep content about event programming, offer a dedicated space for your event's brand, and cultivate a robust and independent feel that can't be achieved on a subpage.
Now that many events have gone virtual, it's even more important to utilize resources like microsites to create meaningful experiences in the digital space. If you're interested in chatting about what a microsite might be able to do for your next event, we hope you'll reach out to us or leave your questions in the comments below.