New Media Campaigns has worked as a nonprofit web design firm for more than a decade. About half of our total projects are nonprofit and advocacy sites, so needless to say, it's a space that we're very passionate about. We love collaborating with such dedicated and driven individuals, and we feel honored to work together to make a positive impact.
When we take on a new nonprofit website project, one of our first tasks during the scoping process is to determine what fundraising software and tools are being used, and if the client is happy with their current vendor. There are dozens of tools on the market, so choosing the right approach can be tricky for clients who lack significant technical or digital experience. Luckily, we've worked with many of the available programs in the past, so we're able to advise and guide each client towards the solution that will best meet their needs.
In this post, we'll explain what to consider when looking for a fundraising tool and offer our own review of several popular platforms. Our opinions are our own, especially because we don't have formal partnerships with any of the tools or companies that we're looking at below. Additionally, we don't receive any compensation for referring clients to particular products, so our reviews are objective, fair, and based entirely on our own experiences. We hope you find this helpful!
Jump ahead with these links:
What to Consider When Looking for a Nonprofit Fundraising Tool
Nonprofit Donation Platform Reviews
What to Consider When Looking for a Nonprofit Fundraising Tool
There are a number of different factors to consider when evaluating nonprofit fundraising tools and platforms. I often like to say that, when selecting a tool or choosing to remain with an existing partner, personal preference comes into play in a big way. You may find a certain interface and setup to be completely intuitive, but it may seem entirely foreign to someone who has never used the platform before. So, I always caution my advice with the caveat that different folks may have different standards for each of these elements.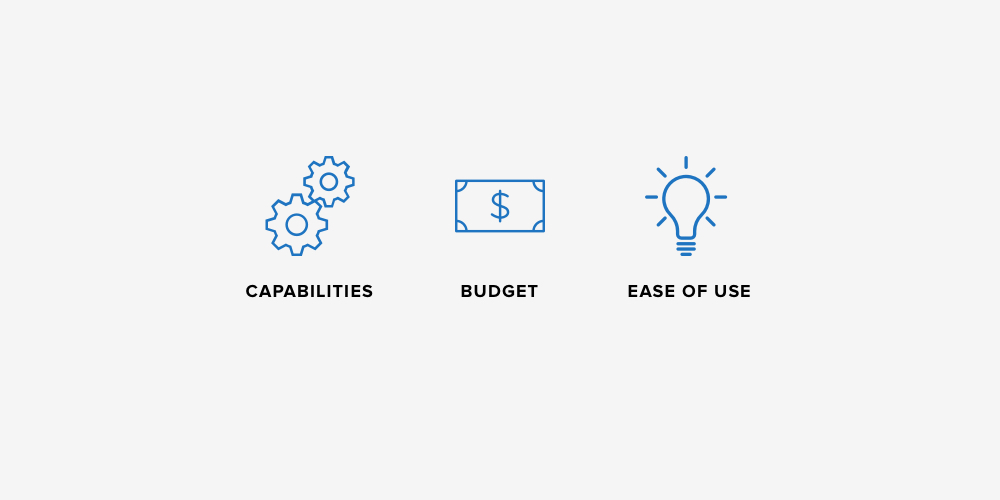 Capabilities
The first factor to consider is a list of overall capabilities that you'll use on a regular basis. When you're thinking about this, it's important to put a particular emphasis on the "regular basis" portion of the statement. Why? It's common (and tempting!) to imagine yourself growing into certain features and tools over time that aren't an urgent need in reality. You can always upgrade to a different platform in the future, so there's no need to invest in tools that aren't part of your short term objectives and goals. With that in mind, I would look 6 to 12 months out, develop an understanding of what features you think you'll use regularly, and then make the decision based on that assessment.
Let's look a little closer at some examples of capabilities. These are core features that matter to you, your in-house team, and the stakeholders that you're trying to fundraiser through. Examples include:
Peer-to-Peer Fundraising. Do visitors and donors need their own fundraising pages that they can share with friends?
Email Marketing. Do you want your email fundraising to be tightly integrated into the tool? Are you fine using a third-party program like Mailchimp?
Donor Records and Data. What kind of records and data are you going to associate with each individual donor?
Event Management. Does the tool need to support events and ticket information?
Custom Design. How many distinct donation pages are you planning to set up? Do you need the ability to design custom layouts? How many?
I recommend creating a list of all of the features and elements that you want your donation fundraising software to include. Once you've solidified what you're looking for, you can then share the list with the firm or development partner that you're working with.
PRO TIP: When you're talking to different companies, remember that you're dealing with salespeople who are very inclined to tell you that they can easily handle all of your requests. They may well be able to, but you should make sure to set up an online demo to see the software in action. During the demo you can ask about each of the capabilities that you're looking for to see if the functionality lines up with your expectations and anticipated needs.
Budget
The next most important factor to consider is budget. Some organizations may even put this at number one. Just like when you're preparing an RFP for a new website design, you should have a clear idea of how much you're willing to spend on your new fundraising program.
Most of these companies will lock you into an annual contract that will be paid in monthly increments. So, one good way to determine your budget number is by considering what you're willing to spend annually on the donation tool functionality.
When it comes to the tools themselves, there's a huge amount of variety depending on how much your organization can afford to spend. Some tools cost tens of thousands of dollars per year while others are essentially free if you're willing to put in the time to cobble together the features that you need. Thus, understanding your budget is an easy way to filter through your list of tool contenders.
DON'T FORGET: As you're forming your budget, remember to think about transaction fees. Each system may charge you differently per transaction and donation, so you'll want to factor the typical rate into the amount that you're setting aside for the project. If one tool is going to charge you 7% and another 2.9% of the difference based on the amount of value volume you do, transaction fees can add up quickly.
Ease of Use
The last thing I would encourage you to look at is the ease of use of the software. This is a tool that you and your team will be using almost every single day. Some questions to think about:
Are you comfortable with managing the software yourself?
Will your team members and future team members be able to learn how to use the program?
Can the platform scale smoothly with your organization?
Ease-of-use is important because, at the end of the day, you want to spend your time using the tool to drum up support and donations. It doesn't make sense to invest in a new setup that will cause headaches and confusion as you fight to utilize basic functionalities.
In my opinion, ease-of-use is also an indicator on the quality of the tool. If a tool has a clunky appearance, inefficient flows for simple tasks, and isn't optimized for mobile, it's fairly likely that the platform isn't actively maintained and cared for. You should be wary of the red flags and understand that if a company can't even maintain the core functionality of their tool, they probably aren't paying much attention to their clients/partners either. User experience isn't everything, but I think it's often a reliable way to judge a company's outlook, quality of software, and customer relationships.
Nonprofit Donation Tool Reviews
As I mentioned earlier in the post, there are dozens and dozens of tools out there and we've been lucky to have experience integrating with most of them. If you do your research well, you can find anything from niche tools for specific nonprofit segments to large public companies that try to service the entire industry. While we encourage clients to explore all of the options that appeal to them, the purpose of this post is the focus on some of the bigger names in the space at a variety of budget points. No matter the size of your organization, we can hopefully help you to find a tool that will meet your needs.
Jump to a specific review with the following links:
Blackbaud/Convio as a Nonprofit Fundraising Tool Review
Blackbaud is the eight hundred pound gorilla in the space. They're a public company with around a billion dollars in revenue who acquired one of the other big players in the space, Convio, nearly a decade ago. Blackbaud is probably the company that our clients have us integrate with the most. Their size and dominance brings both pros and cons for partners.
First, the pros. In terms of raw capabilities and functionality, Blackbaud will likely have the most features available of any tool that you look at. Due to the number of different clients that they serve, they've built a series of tools and features that are available to meet a wide range of needs. These tools are tightly integrated together, helping to provide a one-stop shop where you can raise money, launch a store, send micro-targeted emails, build peer to peer campaigns, launch a mobile text effort and more. Blackbaud also provides an iFrame and a hosted form that you can link to, making it straightforward to integrate with, too. I think it's fair to say that, as a one-stop shop, Blackbaud is the most powerful of all the tools we work with.
Now, the cons. That functionality and power carries a price – both financially and emotionally. Every single feature carries a cost and it's usually higher than competitors'. Also, to get to that billion dollars of revenue, Blackbaud relies on a sales team (your main point of contact) that works to upsell you on additional features and tools. In my experience, the average Blackbaud client is typically paying $8,000-$20,000/year with some paying even more.
Additionally, as is typical with most big companies, the support can be lacking and frustrating as you get transferred to different teams, depending on your request. If you're wanting to do a lot of customization to your setup, be prepared to spend extra time and money dealing with the various corners of Blackbaud's support team. The API is not particularly modern or enjoyable to use, so you may also find yourself stymied if you're looking to have a lot of development control.
Furthermore, the software is not very intuitive and the interface comes across as a bit dated. They don't provide a great user experience from the person to person dynamic or on the actual platform.
Overall, for those nonprofits wanting to do a lot of different things on a single platform that gets it all done, Blackbaud is a solid fit if you have the budget. I'd recommend using their hosted forms and having your web designer customize the tool with its own wrapper. This way you can link directly to the tool. It looks solid and offers a straightforward way to integrate that also bypasses some of the headaches of navigating Blackbaud's internal dynamics.
Much in the way that the old saying says "no one ever got fired for hiring IBM," Blackbaud is going to be able to do what you need on a powerful platform, but it'll just take some extra time and money to reach your desired result. You'll also lose some of the modernity and creative independence of other tools.
Related Case Studies: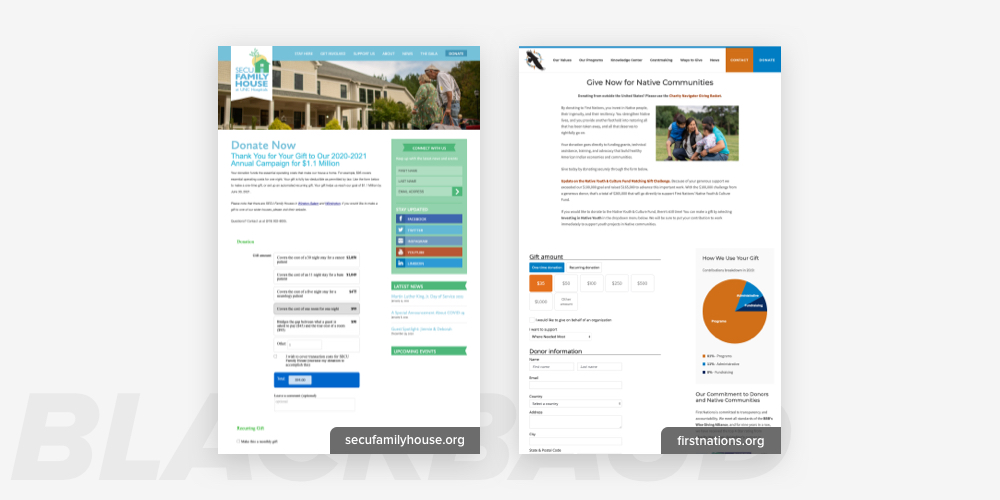 Classy Nonprofit Fundraising Review
I intentionally placed Classy's review right after Blackbaud, as I feel these two are an interesting and useful contrast. While Blackbaud is the 800lb gorilla, Classy is the techy newcomer wanting to disrupt the space a bit. The current incarnation of Classy has been around for less than a decade, is headquartered in California, has attracted a number of big name investors, and seems to really consider itself the tech world's solution to nonprofit fundraising.
Classy is not a holistic solution like Blackbaud. It does bake in many features, but it also leverages other tools – like MailChimp for email marketing and Salesforce for database management – to power many of its functions. This clever arrangement helps Classy users to benefit from industry leaders in different verticals rather than relying on one company to build everything. We often see benefits in this approach when it comes to email marketing, as email deliverability is a whole industry on its own and it's very hard to just be one facet of what a company does. While the approach lets you take advantage of other platforms, that also requires additional effort from you to work with other tools and make sure all the integrations are working right. These are the pros and cons of a more distributed approach, but Classy makes it about as easy as it could be.
Classy's features, whether powered by its native tools or through partnerships like those above, are impressive. It can handle just about anything a nonprofit would want to take on, and we've found their peer-to-peer fundraising tools to be particularly impressive. And befitting its West Coast tech roots, the design and interface of Classy feels very modern and it can be a joy to use.
In terms of budget, Classy isn't cheap, but it's much more affordable than Blackbaud. I would say that our average client commitment for Classy is in the $4,000-$9,000 range, depending on which features are enabled.
Overall, we often see Classy and Blackbaud as two of the finalists when medium and large scale nonprofits are evaluating tools. Classy seems to be winning more and more, and we've seen a number of clients moving over to them recently. They lack some of the historic elements and built-in features of Blackbaud, but for those looking for a modern tool in a medium budget, Classy is my go-to recommendation.
Related Case Studies: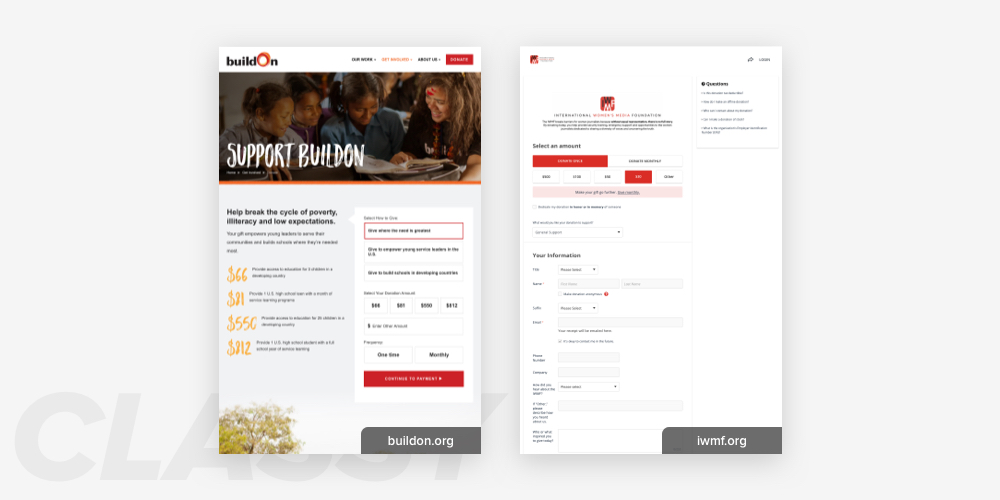 Salsa Nonprofit Fundraising Review
Salsa has been around since 2003 and offers a suite of tools with a particular focus on advocacy. In my experience Salsa doesn't seem to have the brand awareness of some of the other popular platforms, but it's worth including in the same group for a few reasons.
Salsa's philosophy is similar to Blackbaud's in that it's a one-stop shop that has built a holistic tool to support all the needs of a nonprofit within one platform. However, Salsa's look and feel is more similar to Classy's (i.e. modern) and also has a more open sense where it's easier to integrate with and dump data into than Blackbaud.
So, Salsa is trying to offer Blackbaud functionality with a Classy look, and I think it comes up a bit short in each regard. It's not as robust as Blackbaud and lacks the big company resources to throw at different issues. Meanwhile, at this point in time, its software has aged to a point where it's not quite as intuitive and modern as Classy. While that sounds negative, it's a testament to Salsa that it even gets close in each of those areas. And in some features, particularly around Advocacy and Membership, it can really stand out.
When it comes to budget, I find Salsa being pretty comparable to Classy. Prices tend to be in the $4,000-$8,000 range for the full year, but it depends on a conversation with their team to nail down the details.
For these reasons, I feel that Salsa is definitely worth a look – especially because it probably doesn't get the attention it deserves. Salsa provides a better look and price than Blackbaud, and its offerings might check all of the boxes for your organization depending on what you need. But make sure to have your requirements list handy – you'll want to use it to assess whether or not Salsa really does cover everything that you're looking for.
Related Case Studies: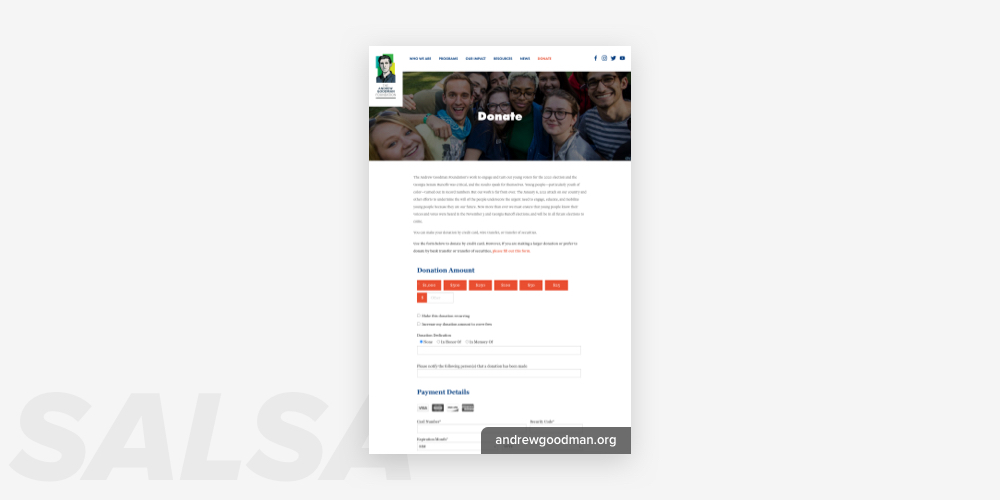 Network for Good Fundraising Platform Review
Founded in 2001, Network for Good is a Certified B Corp that provides donor management and fundraising software to nonprofits. It received some serious technical and funding backing early on, and has since grown to become one of the more popular platforms that's available to nonprofits today. I like to consider it as Blackbaud's younger sibling since it has a similar all-in-one approach to feature offerings.
I'll start with the pros. Network for Good is a well known and authoritative company. Their experience in the space means that their platform is reliable and refined, and it's also fairly easy to set up and manage. Better yet, Network for Good keeps their fees and subscription costs affordable ($200-400 per month, depending on number of contacts) so they can be a good fit for small to midsize nonprofits that don't have the budget for Blackbaud, Salsa or Classy.
In terms of capabilities, Network for Good boasts an impressive list of features that covers many things that a nonprofit typically looks for in a fundraising tool. Their software offers a robust donor database, the ability to create peer-to-peer donation pages and event ticketing pages, an email management tool, and a flat processing fee of 3%.
The cons begin if you're looking for customization or the extended features and additions of a bigger Blackbaud-type program. In my experience, the level of customization flexibility isn't quite as high as some of the other programs. This isn't a major issue for every nonprofit – some don't need a lot of custom options, after all– but it's definitely something to note as you're exploring different options.
Feature-wise, the main con is that Network for Good isn't going to go significantly beyond traditional fundraising tools. While they do offer a lot of options, their platform simply can't match the quality and functionality of what Blackbaud brings to the table. Again, this isn't necessarily a bad thing since many nonprofits prefer their fundraising tool to focus primarily on raising and collecting funds. It's just something to be aware of, particularly if you see your organization wanting or needing additional features in the near-future.
Related Client: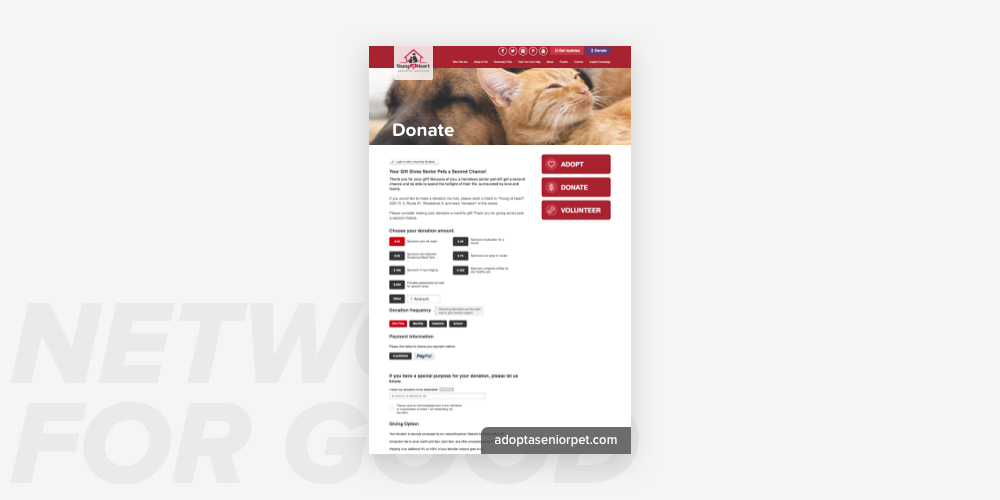 Form Builders like Donorbox, Donately, and Fundly Nonprofit Fundraising Tool Reviews
Over the years, a number of form builders have popped up that focus on one primary service – taking money and getting it into your bank account. They're stripped down in terms of functionality – eliminating big databases, email marketing, and advanced features – and are strictly focused on giving nonprofits an easy way to add a donation form to their sites and process transactions online. It's very similar to the approach that ActBlue has taken in the world of political donations.
Some of the most popular examples include Donately, Fundly, and Donorbox. Each of these services varies in terms of monthly fees and transaction costs, they're all largely doing the same thing by letting organizations process transactions quickly and easily.
For a new nonprofit or a quick campaign, I think these tools are quite effective and helpful. They eliminate the need for technical knowledge, and they're also quite affordable. They're likely not going to meet the needs of a larger nonprofit or someone who wants to have more robust capabilities in a platform, but they will make it easy to start collecting donations quickly.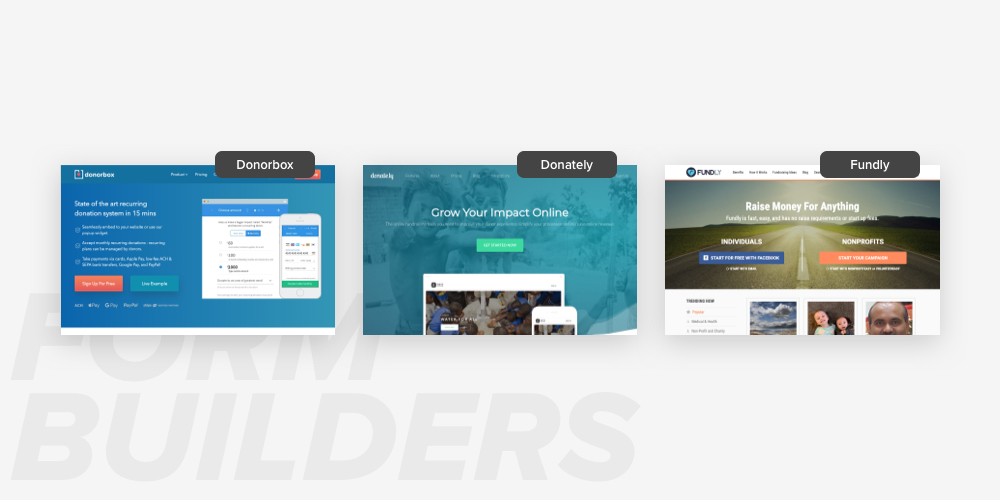 Homegrown Solution like Stripe and Paypal for Nonprofit Donations
For organizations that are limited by a tight budget (or those with in-house developer capacity), DIY solutions like Stripe and PayPal are popular programs for payment processing. Both tools are strictly processors, meaning that they let you accept donations without offering any additional services or donor management capabilities.
In the past, using a Stripe or PayPal-style solution meant that you would need a decent amount of developer capabilities to be able to build a secure form and host it on top of the processors. But more recently, both companies have made it easier to build hosted forms on top of them, eliminating much of the technical overhead and democratizing the process for teams without developers.
The pros are that these tools make it quick and affordable to set up a form and begin processing donations on your own. Stripe has hosted forms (and even a WordPress plugin) that will allow you to leverage their technology to quickly build a secure form while the company handles the tricky elements around hosting, processing, and securing data. And PayPal is similar.
The simplicity of the tools, while helpful in many ways, is also their greatest limitation. Since the tools work exclusively to process money and send it into a bank account, any donor database or marketing efforts will need to be managed separately. Additionally, Stripe and PayPal don't offer much room for customization, meaning that any features beyond the most basic page elements will likely require a developer's help and some work within the code of the page.
The bottom line: payment processors like Stripe and PayPal are great for getting a donation page up and running quickly (and you can't beat their fair rates), but they're not a good long term solution for teams hoping to use their donation forms as part of a more sophisticated operation and platform.
Related Case Studies: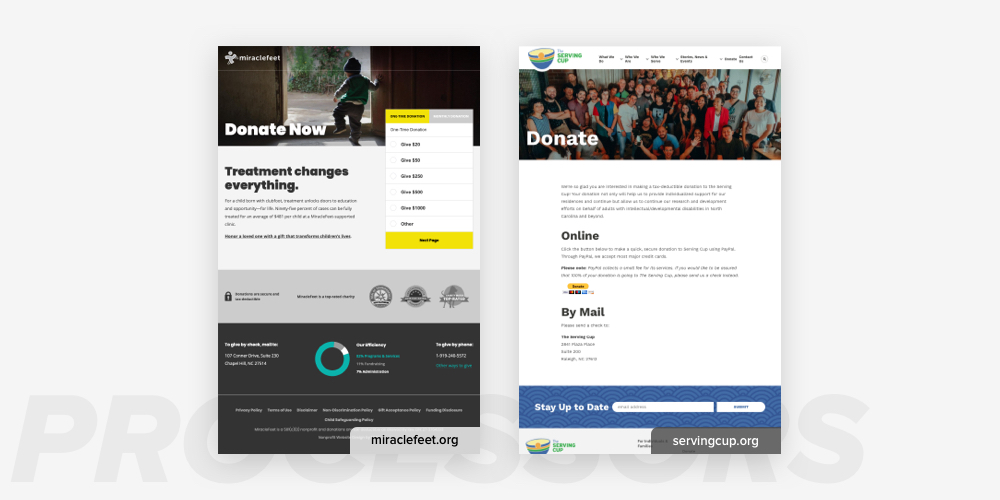 Conclusion
When it really comes down to it, choosing a nonprofit fundraising tool is a personal choice for the organization in question. Our clients have been successful with every one of the tools that we've reviewed here along with plenty of others that we didn't get to cover.
At the end of the day, the choice is best made by assessing what your organization needs, looking closely at the platforms that your vendor/partner is most comfortable with, and determining which features and tools will add the most value to your fundraising efforts.
As you're thinking through the various options, please let us know if you have questions or need a little extra help with your online fundraising strategy. We'd be glad to share our knowledge and work together to find the right digital solution for you.