12/30/2020 – Looking for the sites we launched in 2020? Make sure to check out the 2020 edition of to our year-end spotlight post. Or read on to see what we worked on in 2019!
Well, just like that, our thirteenth year of business is in the books! It was a banner year for NMC, and we're incredibly proud of the projects we got to launch for our partners this year. Projects ranged from international nonprofits doing work across the world and global brands introducing new offerings to startup businesses getting their first site and our hometown community arts & culture committe publicizing local events, and all manner of nonprofits, businesses, and political efforts in between. The diversity in our projects helps keep our team sharp and up to date on the latest best practices across different industries, allowing us to bring a unique perspective and background to each new client.
We're so proud of the web projects we designed, developed, and helped, and we really appreciate all of those who trusted us to launch these very public representations of themselves. Below are some of our favorite projects from the past year, and please get in touch if you want to join this list next year :)
We designed and built out a new nonprofit website design for our friends and clients at RTI International – a research powerhouse headquartered in Research Triangle Park. This site is one of our largest projects to date, with more than 20 unique templates and a components library that they can add in any order to any page, giving them an infinite amount of layout possibilities. The site also features large images and ambient video throughout to help bring attention to the interesting and important work RTI does.
Our team has strong ties to UNC and significant experience in higher education website design, so we were thrilled to work on the redesign and build of UNC Kenan-Flagler's website! The school is comprised of five programs, all of which are content-rich and require unqie elements to convey information to current and potential students. We created a unique templating system for the school that gives them an infinite number of layout possibilities so each page meets the needs of the content. We also used large ambient videos throughout the site to help visually portray the many ways UNC Kenan-Flagler helps their students to succeed.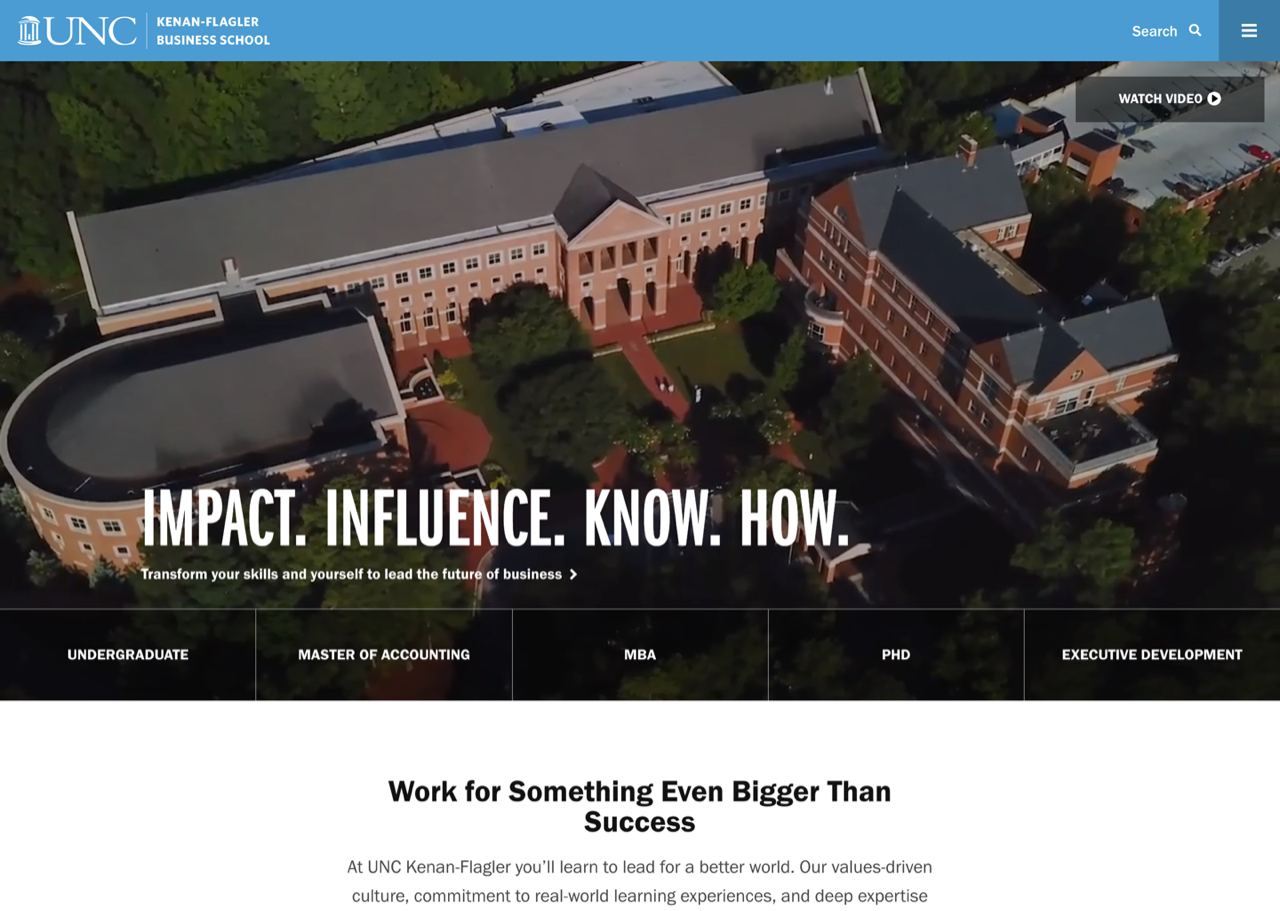 We worked with this Atlanta nonprofit focused on restoring the city's tree canopy on a complete brand strategy and design process, and later redesigned their website. Branding this organization was a fun one, and we created a full system of logos and marks along with a color and typography palette, and illustration guidelines. This branding package has allowed them to easily create t-shirts, banners, presentations, brochures, and many other marketing materials that are consistent, convey their brand message, and stand out among the other organizations in Atlanta. We carried their new brand into their site redesign, were we included lots of bright colors and bold elements to help appeal to the younger market they are trying to reach, and lots of large imagery throughout the site to showcase the beautiful work they're doing.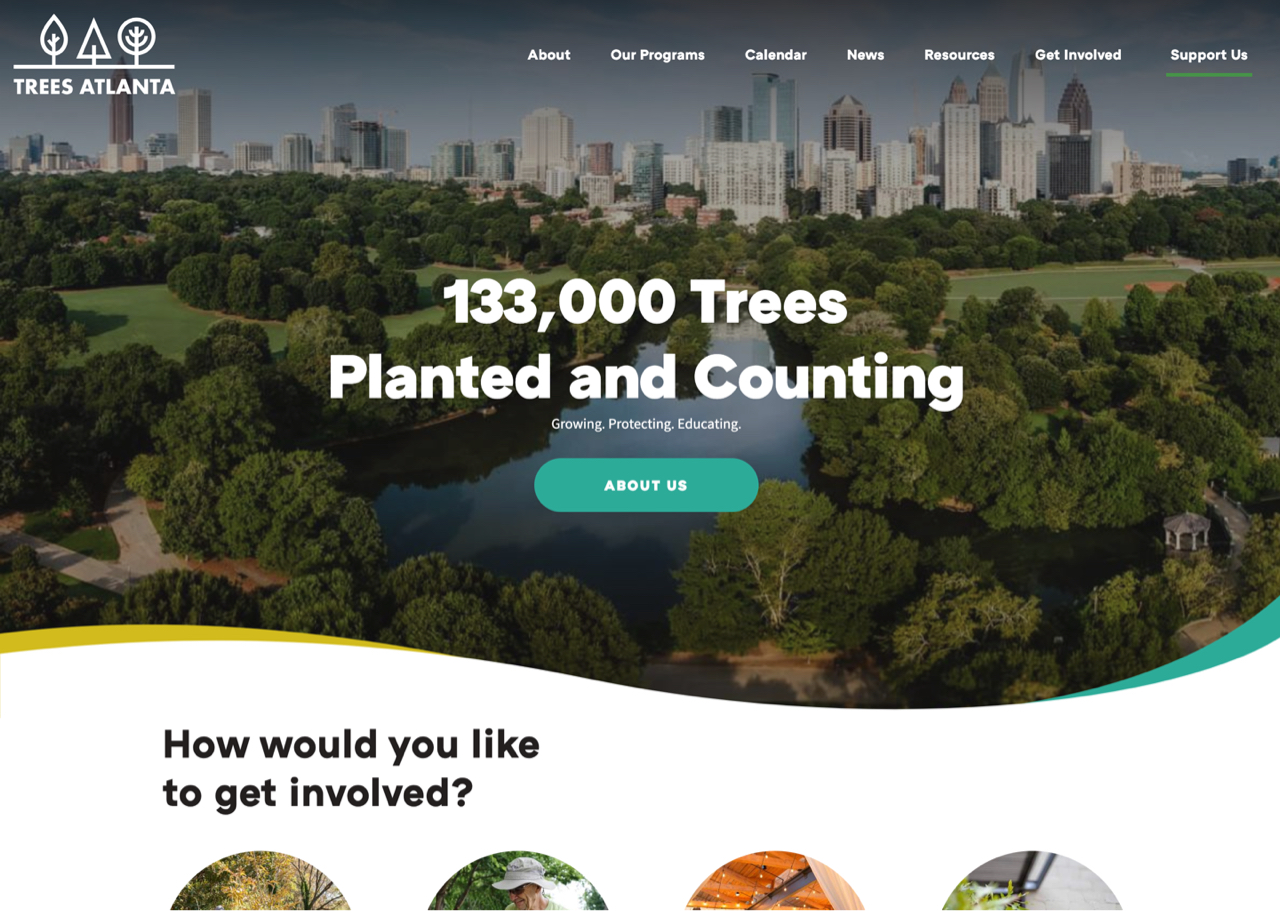 Living Goods aims to save lives by supporting digitally empowered community health workers, making it easy for families in Kenya, Uganda, and Myanmar to get the care that they need. We helped them create a site that shows all that they do by using a block design system to build pages that are content heavy yet easy to digest and engaging to read. Large photographs drive home the good that they are doing in their communities.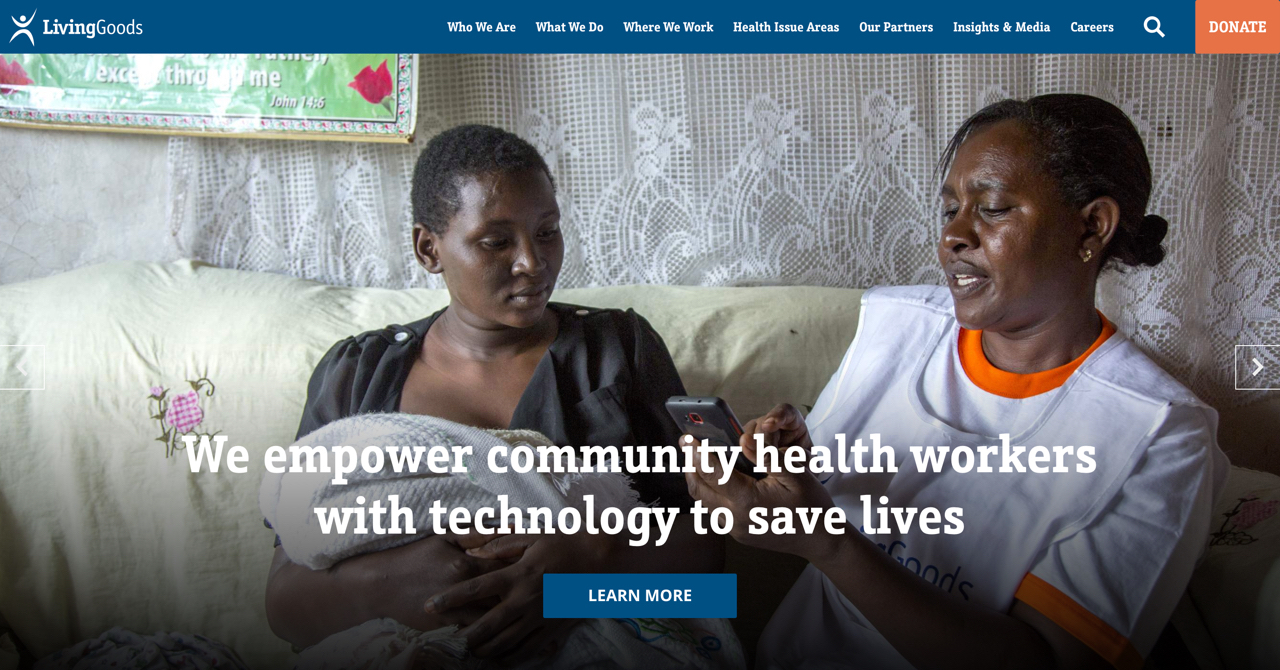 This organization is a new division in the town of Chapel Hill aiming to better promote creativity, community and culture. We helped showcase this in their new website through large imagery and bold graphic elements. Chapel Hill Community Arts is in charge of many of the festivals and programming residents look forward to each year, so we highlighted that on the site with a visual and easy to navigate events feed.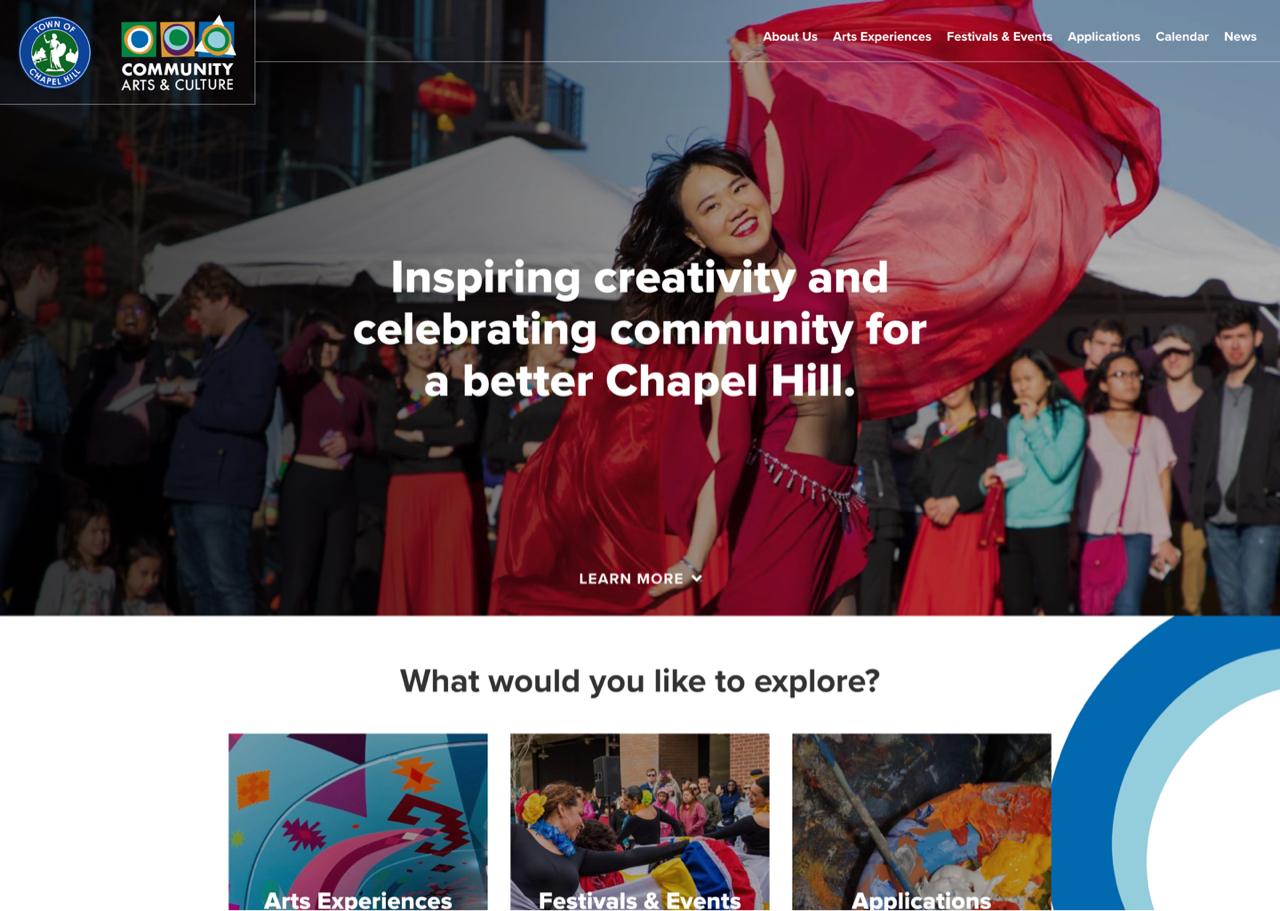 Oswald is one of the nation's largest independent brokerage and risk management firms. We helped them update their web presence with a site that highlights their knowledge through news and blog and showcases their services. Modern touches include a full screen main menu overlay, large video, and shareable pages.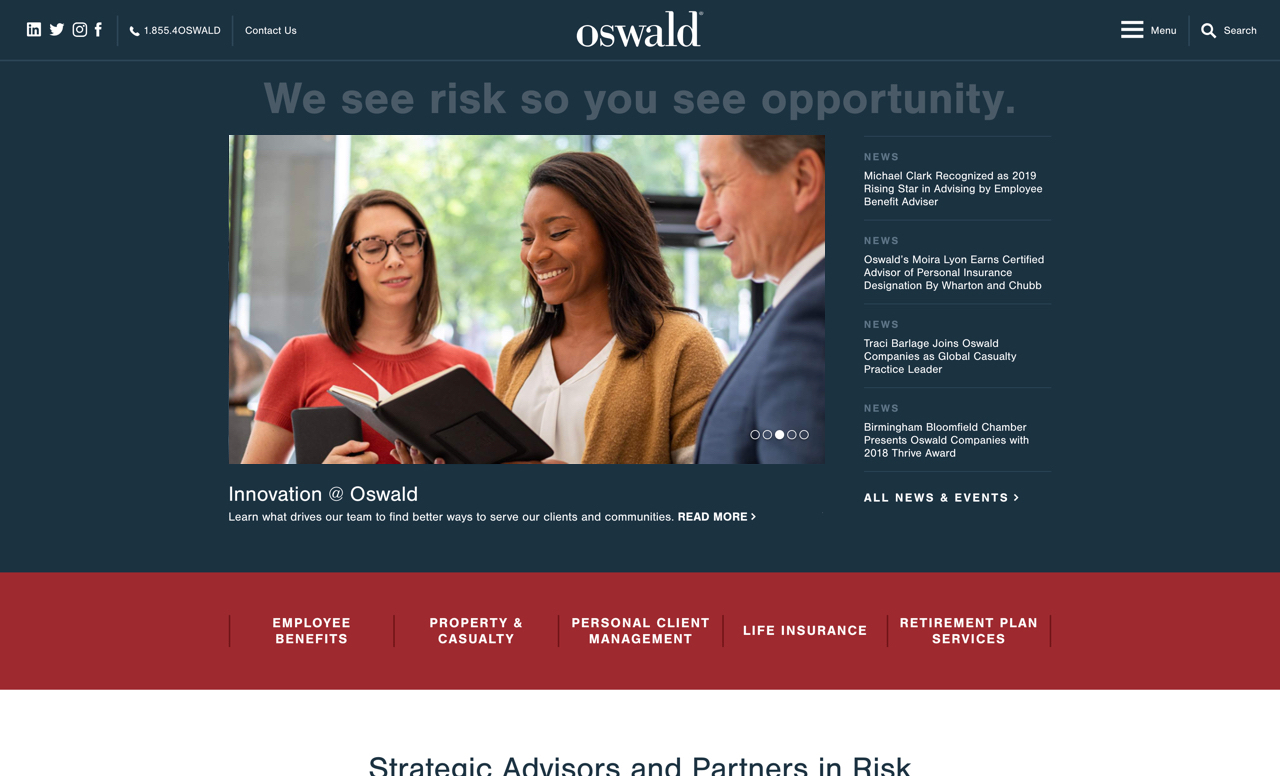 We designed a sleek site for Zencos, a technology company that helps businesses with a wide array of services like modernization, analytics, and data management. The design uses a bold color scheme, unique graphics elements, and engaging animations to show the companies forward thinking and progressive services.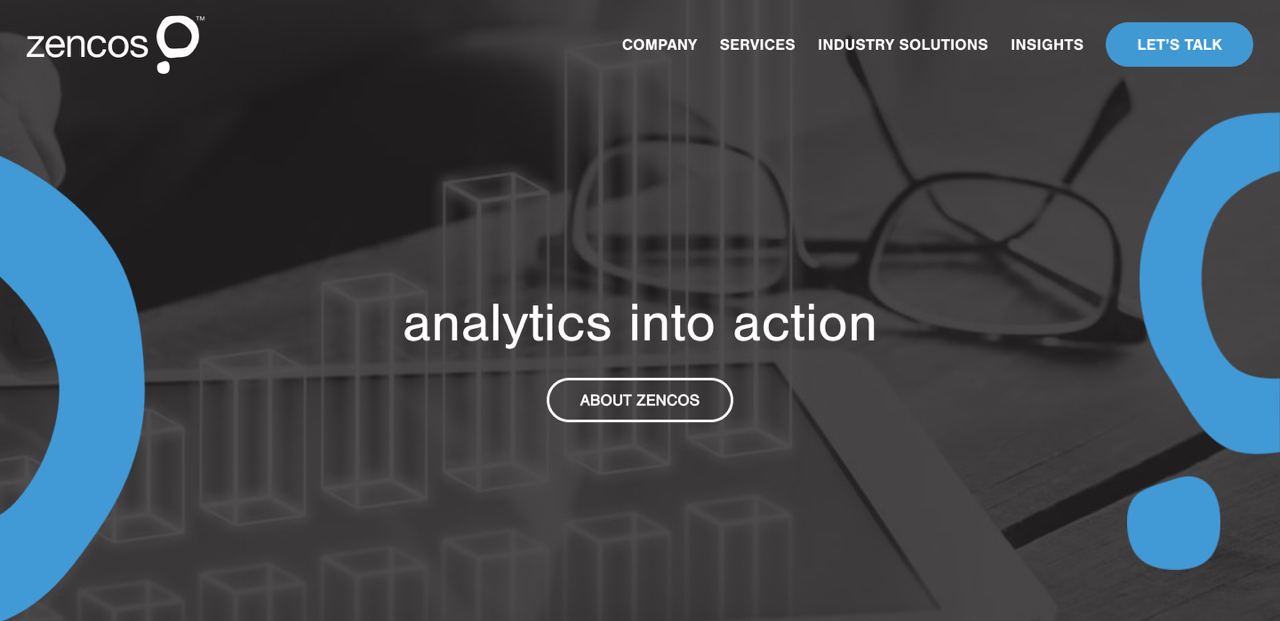 We worked with longtime client NC Electric Cooperatives on a new site for their initiative to promote electric vehicles in North Carolina. The site includes interactive elements that help a user compare their car to an electric vehicle to see how much they could save in gas, help the environment, and other features that may be appealing to them. The site also features maps showcasing all of the charging stations at their co-ops across the state.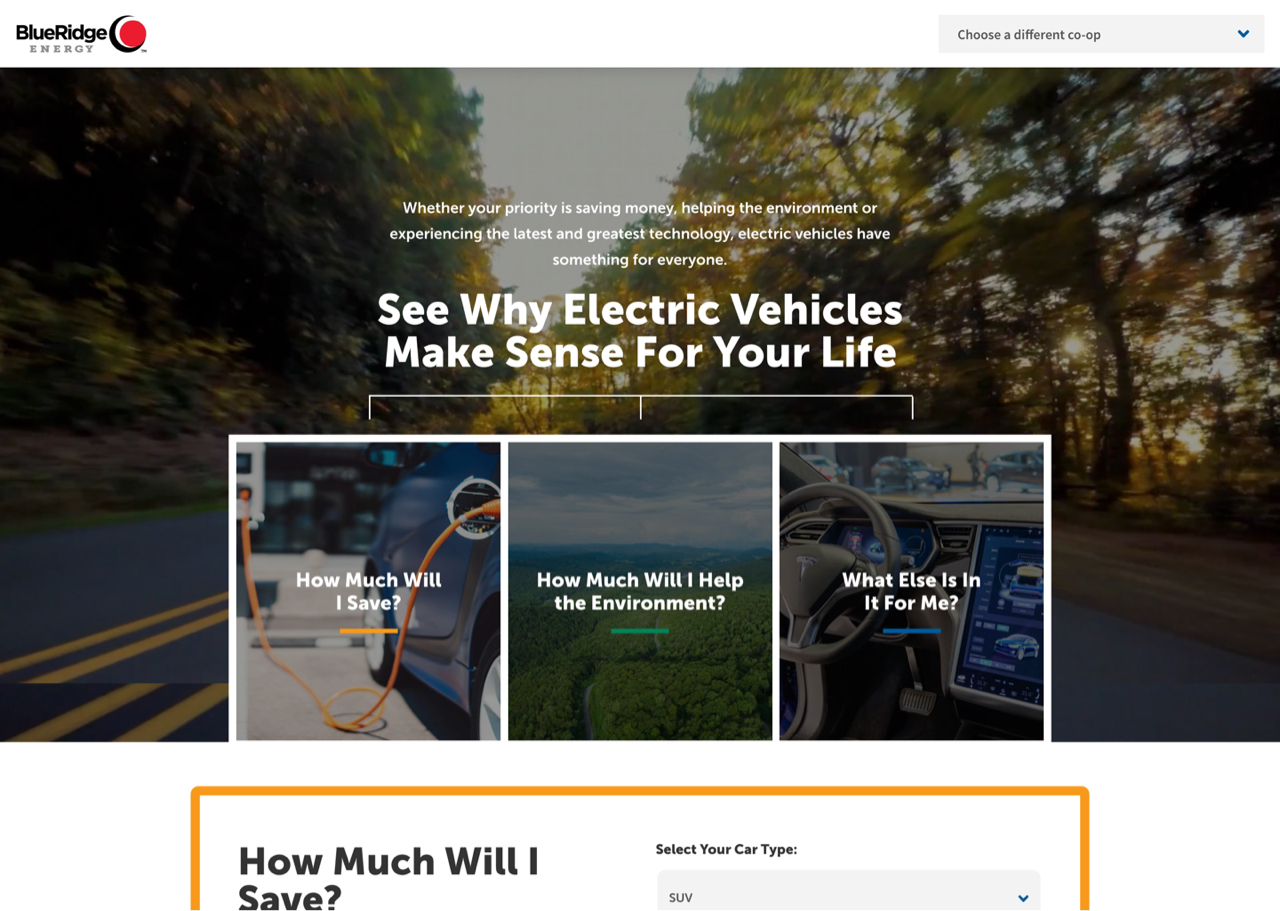 Novaquest manages more than $3.0 billion in investor capital for healthcare and life sciences companies. We helped highlight their success through a new B2B website design that proimently features their brand, ambient video, and a filterable portfolio.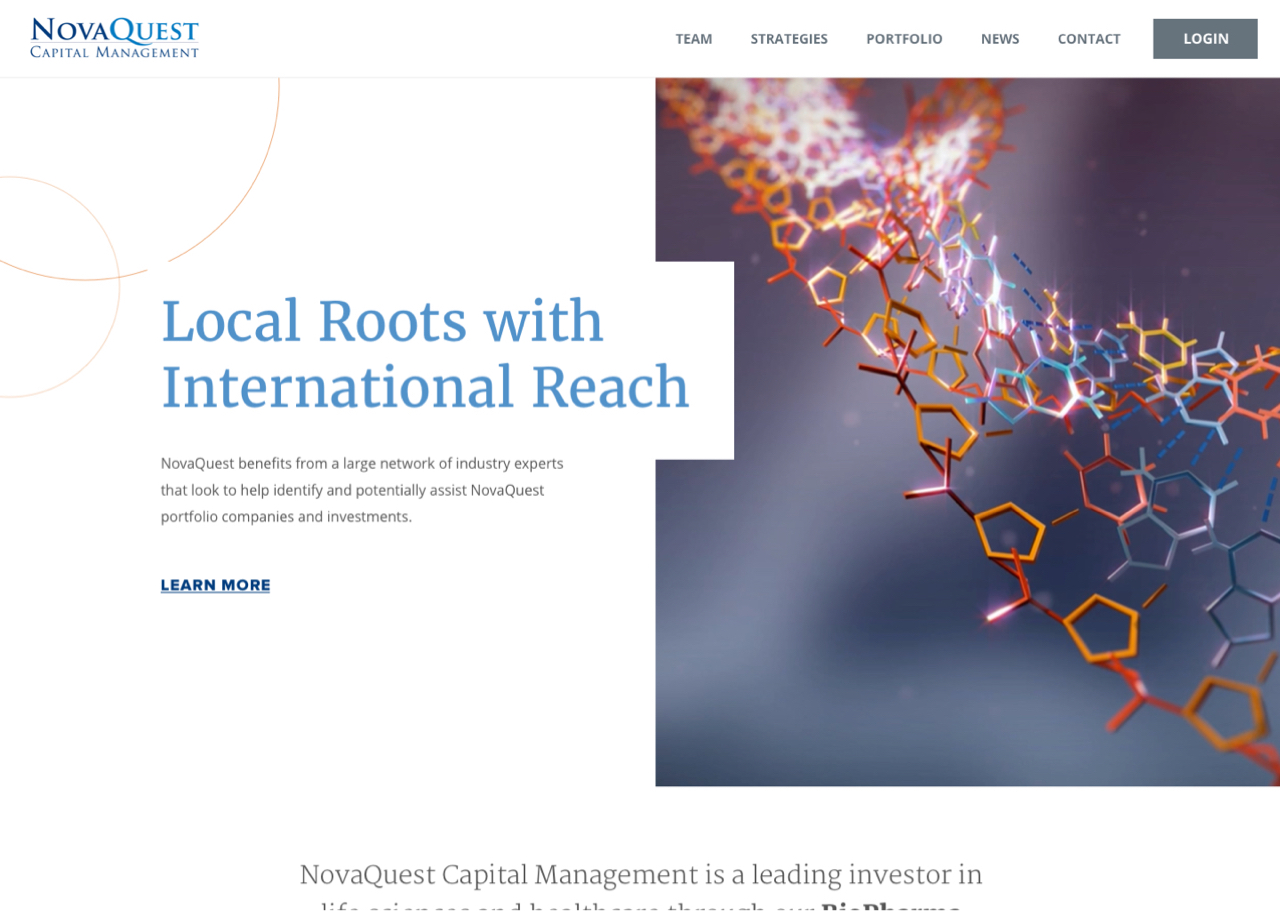 Bashyam Shah, a local immigration law firm, has dedicated their careers to helping people immigrate to the United States. We worked with them on their new law firm website design so that resources critical to helping their clients with immigration needs are easy to access. The site features many resources, including articles, videos, and podcasts.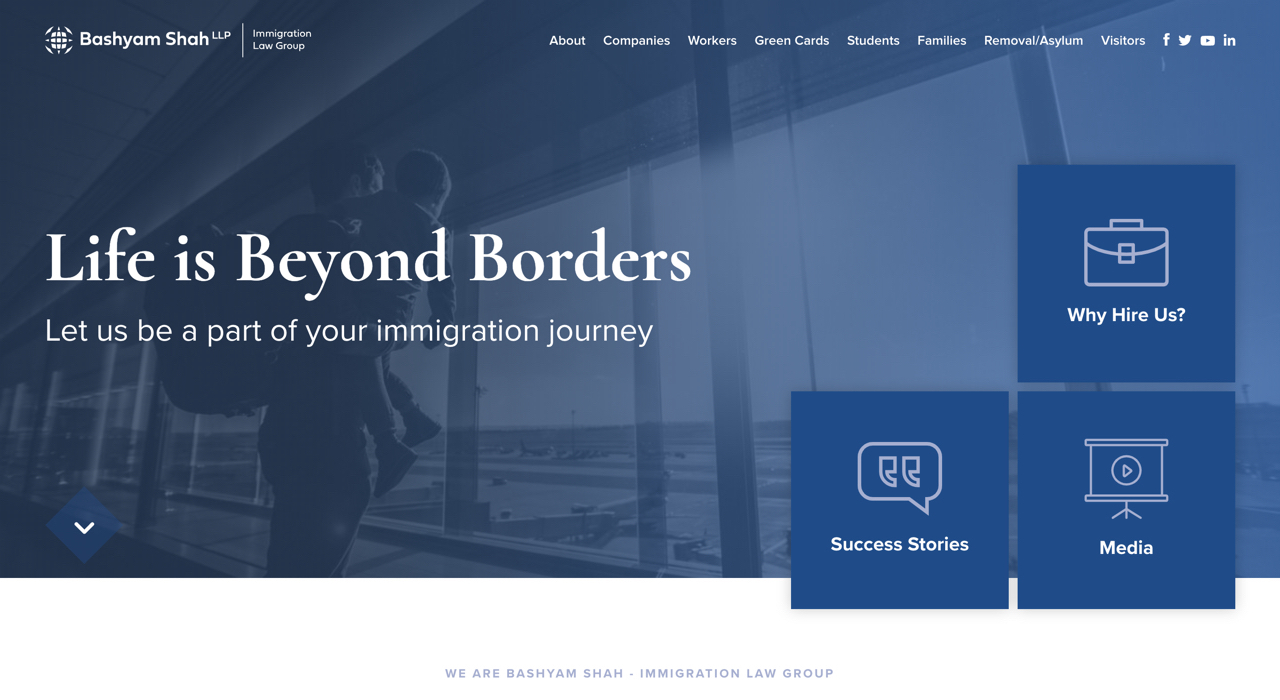 Another law firm web design and development client, Montgomery Jonson, is a multi-disciplinary litigation law firm out of Ohio. We helped them create a site that puts their practice areas and recent news at the forefront. The site features a full screen main menu overlay and a grid layout to showcase their practice areas for a modern look.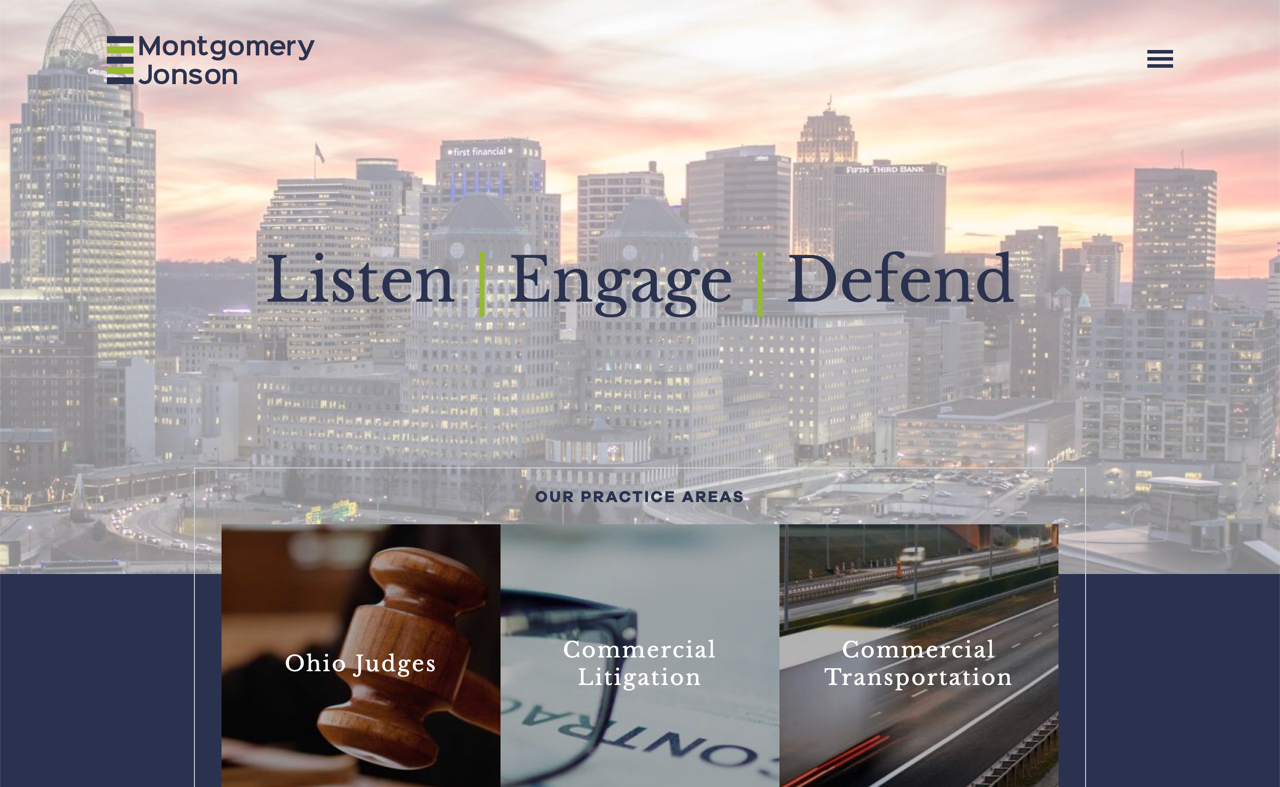 Hancock Estabrook came to us to modernize their online presence. We used their logo as a launching point for the design, incorporating the colors and logo icon as a unique graphic element throughout the site. The layout for the practice area/industry pages extensively cover each topic along with related content and services, and the ability to share the page.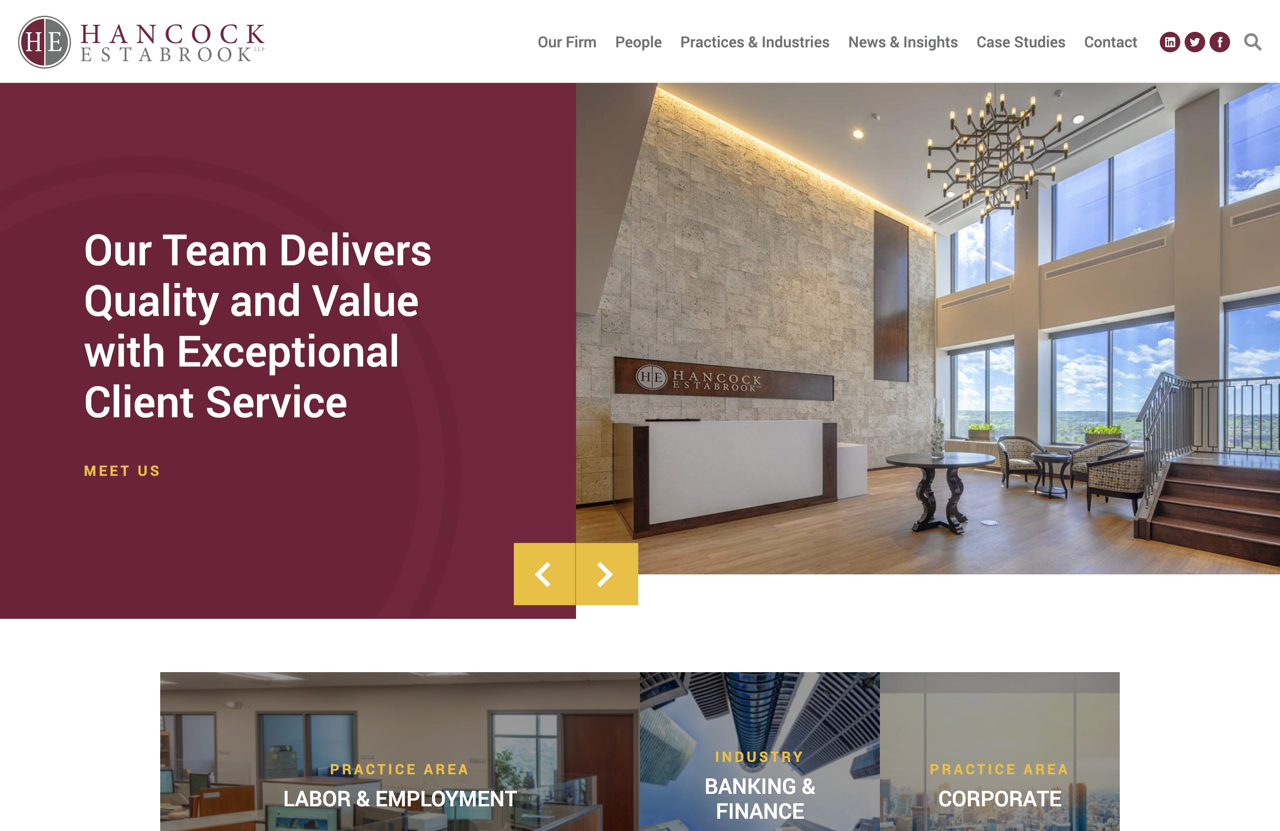 Cal Cunningham is an Iraq and Afghanistan veteran and former legislator now running for U.S. Senate in North Carolina. We wanted to highlight his longtime service through lots of large imagery across the site. We also helped to highlight donation and email signups through a sticky header, sticky tabs that follow users on the side, and a bold signup form and calls to action on the homepage. The site also has a unique feature where they can set a message or news item to show in an alert bar at the top of every page.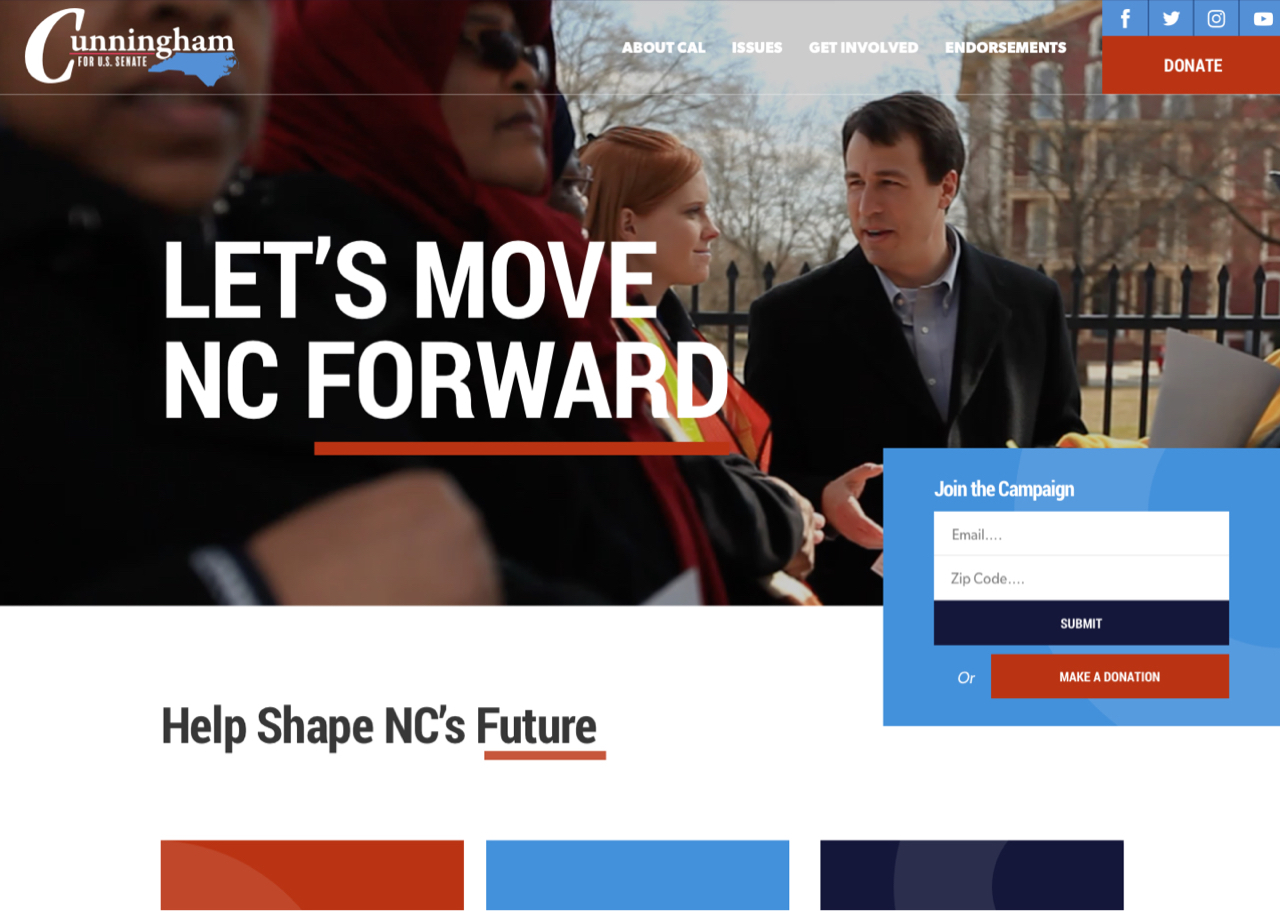 Chief Justice Beasley is running for reelection in 2020. An accomplished leader in NC and the first African American woman to hold the Chief Justice position in North Carolina, we wanted to create a campaign site that highlighted all she's done. The site utilizes large imagery of her at work, a prominent donation button, and a sleek, clean design that showcases the issues she pushes for and details her acheivements.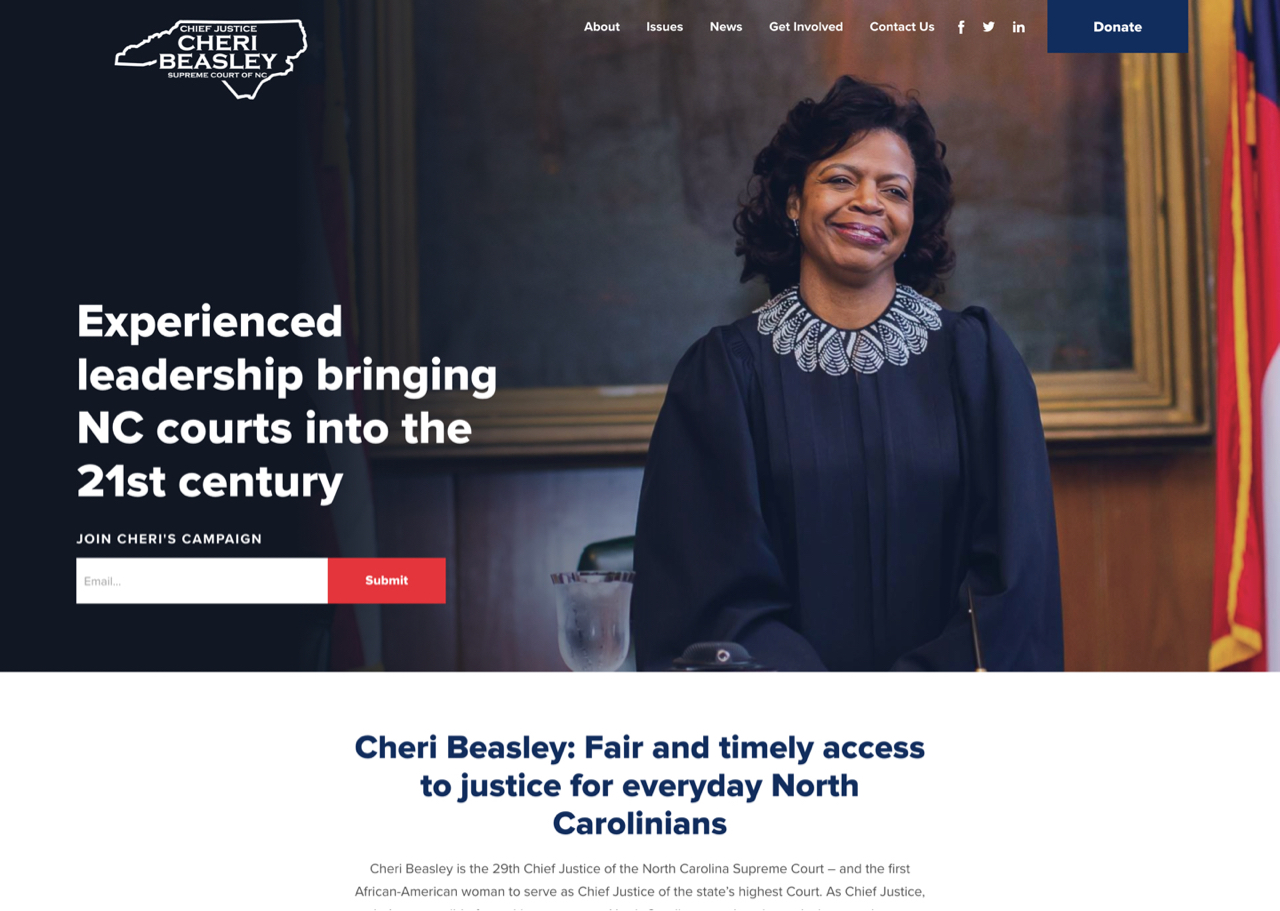 Buta Biberaj is running for Commonwealth's Attorney-Elect for Loudoun County, Virginia. With experience as a defense attorney, substitute judge, and former President of the Loudon County Bar Association we wanted to design a website that would show her dedication to justice and her local community. The site uses large images and calls to action to highlight her experience and priorities.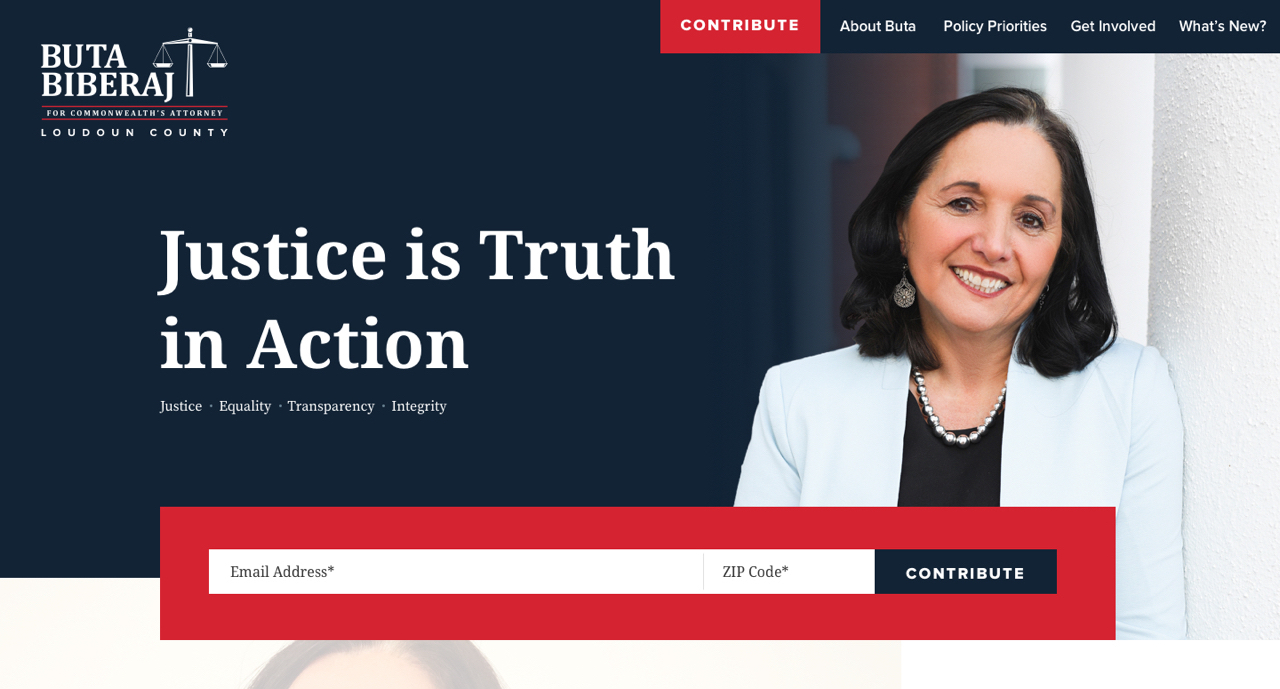 Prysm is a new capital management firm with some veteran partners. We helped them create a sleek new marketing site to help showcase their experience and knowledge in the industry.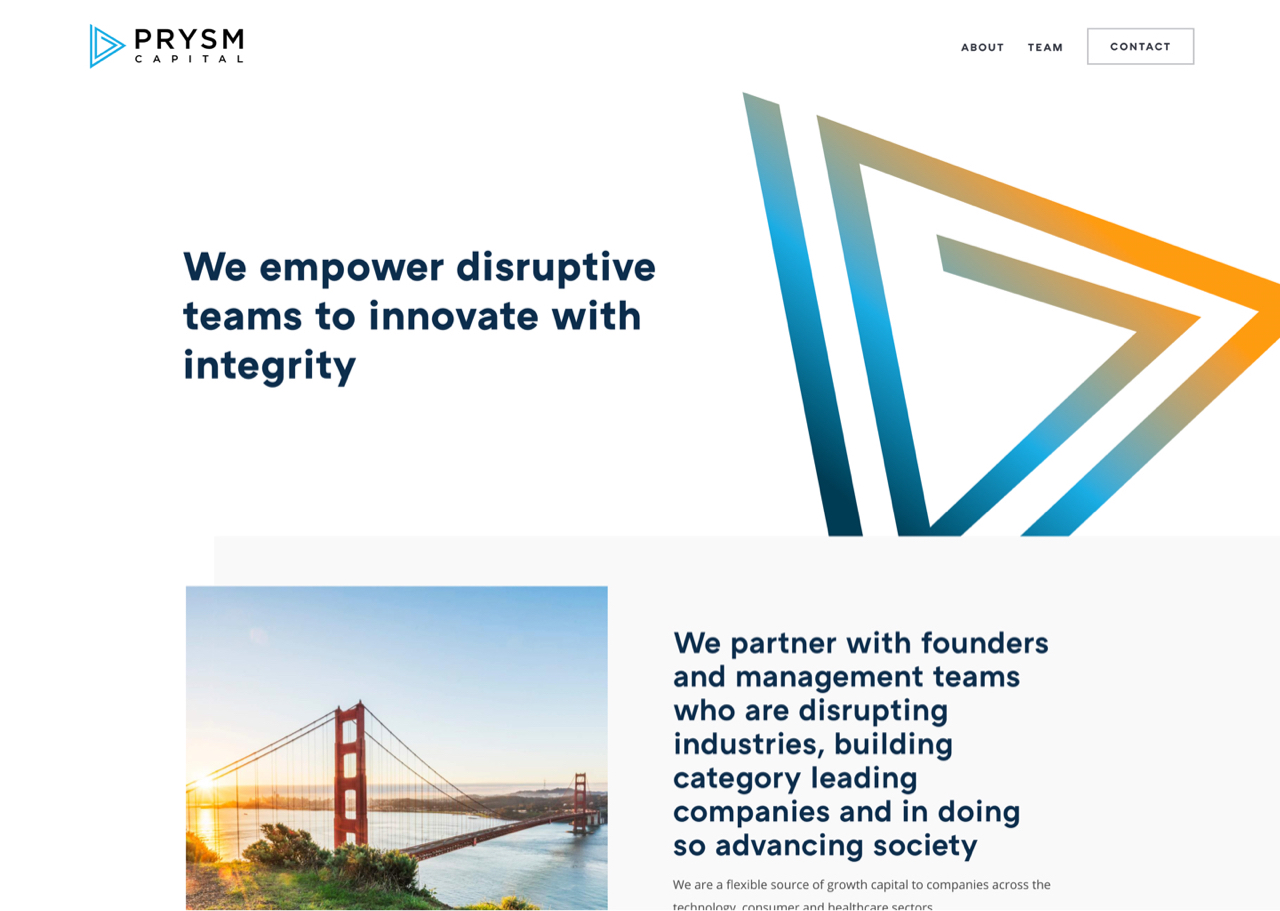 None on Record is an organization committed to telling stories of queer Africans through high-quality digital media and storytelling. We designed their site to showcase those stories and other initiatives through engaging photography and video.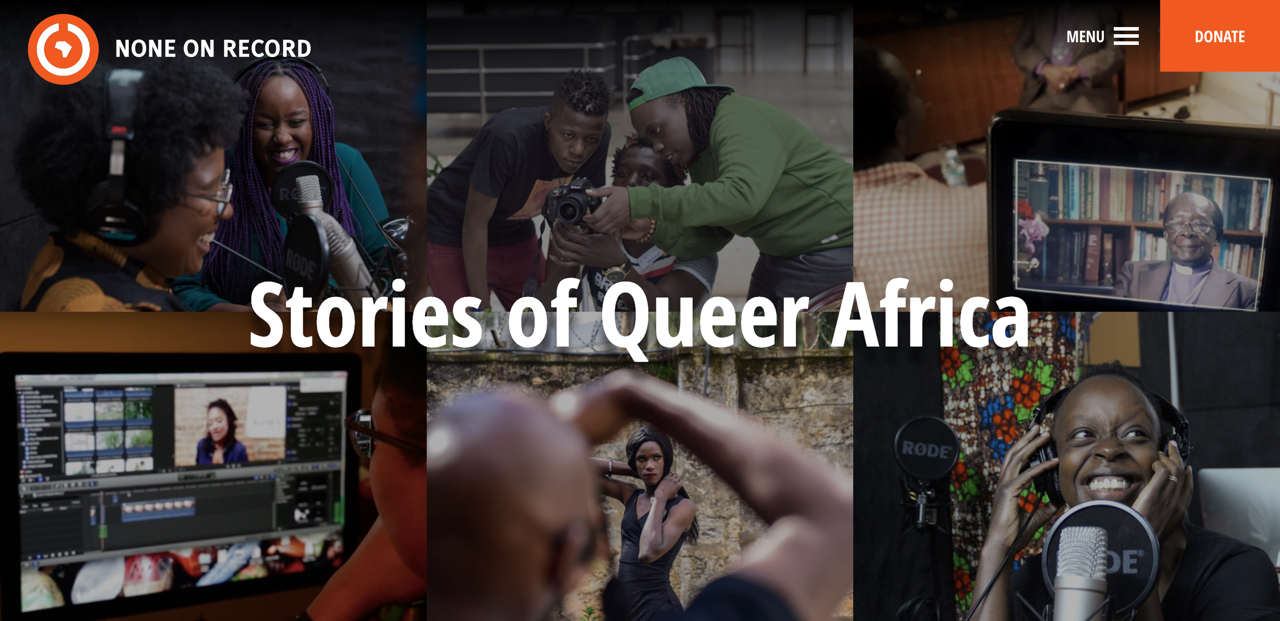 NC Early Education Coaltion is an organization lobbying on issues that effect the quality and affordability of care and education of young children in the state. We helped them create a new site that helps showcase the issues they are fighting for, encourage users to help support them or join them at an event, and provide resources and research on these topics.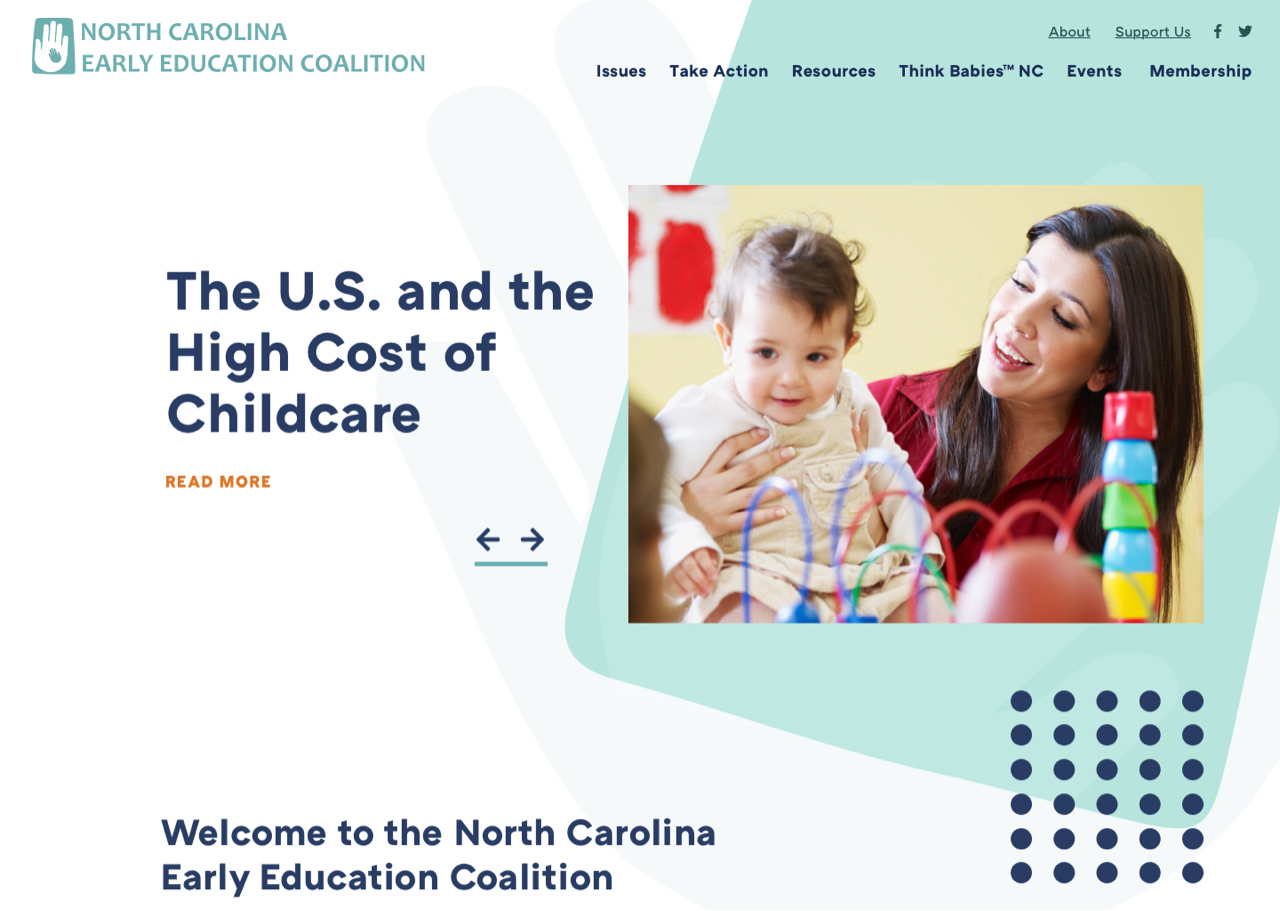 We loved working with TABLE, a nonprofit web design client located right in our community that provides hunger relief and nutrition education programs to children in Orange County, NC. The site showcases the organizations impact and has many calls to action throughout the site to make it easy for users to get involved. To bring a friendly look to the site we used fun patterns and bright colors in the design.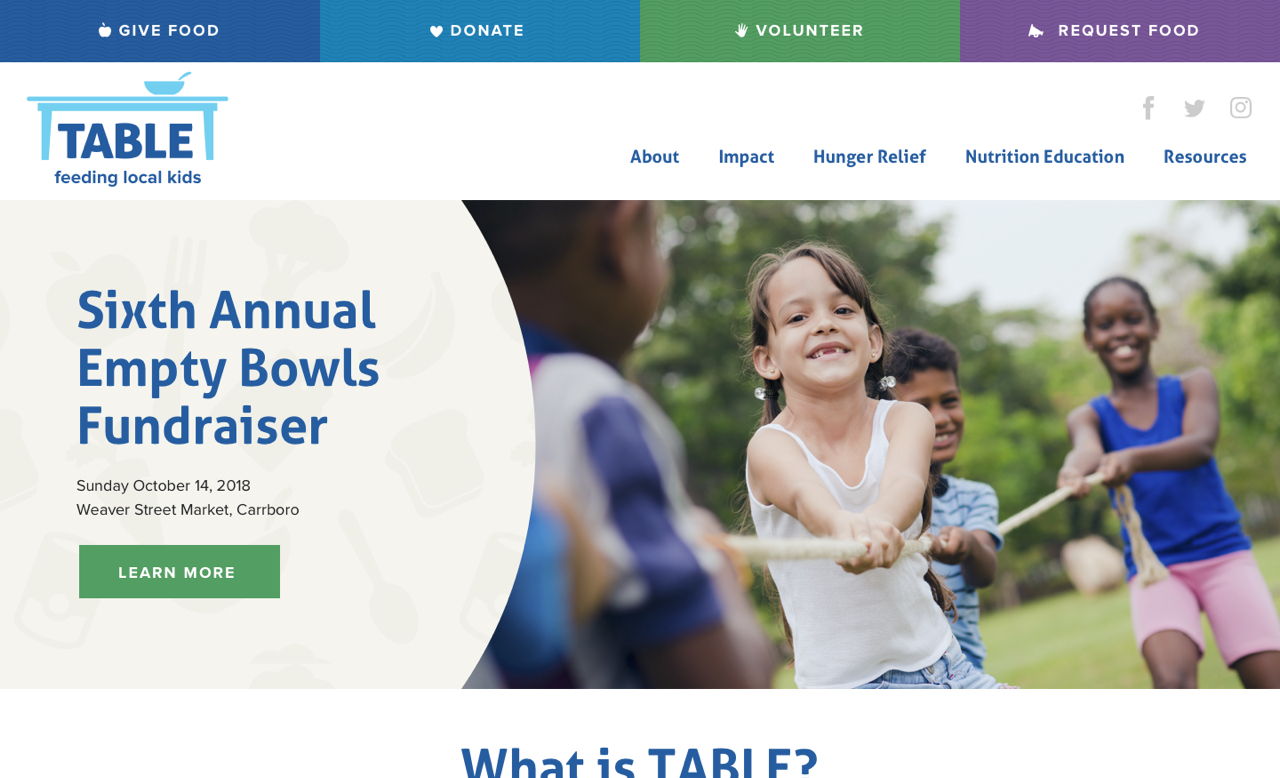 CCFH is a nonprofit located in Durham, NC that provides services to help families treat and prevent childhood trauma. We designed a site for them that is friendly and approachable for it's clients in need by using cheerful photos and bright colors. The individual audience and service layouts feature important information, contact information, FAQs, and more, all accessed by a fixed sub-navigation bar so that important information is easy to find and organized.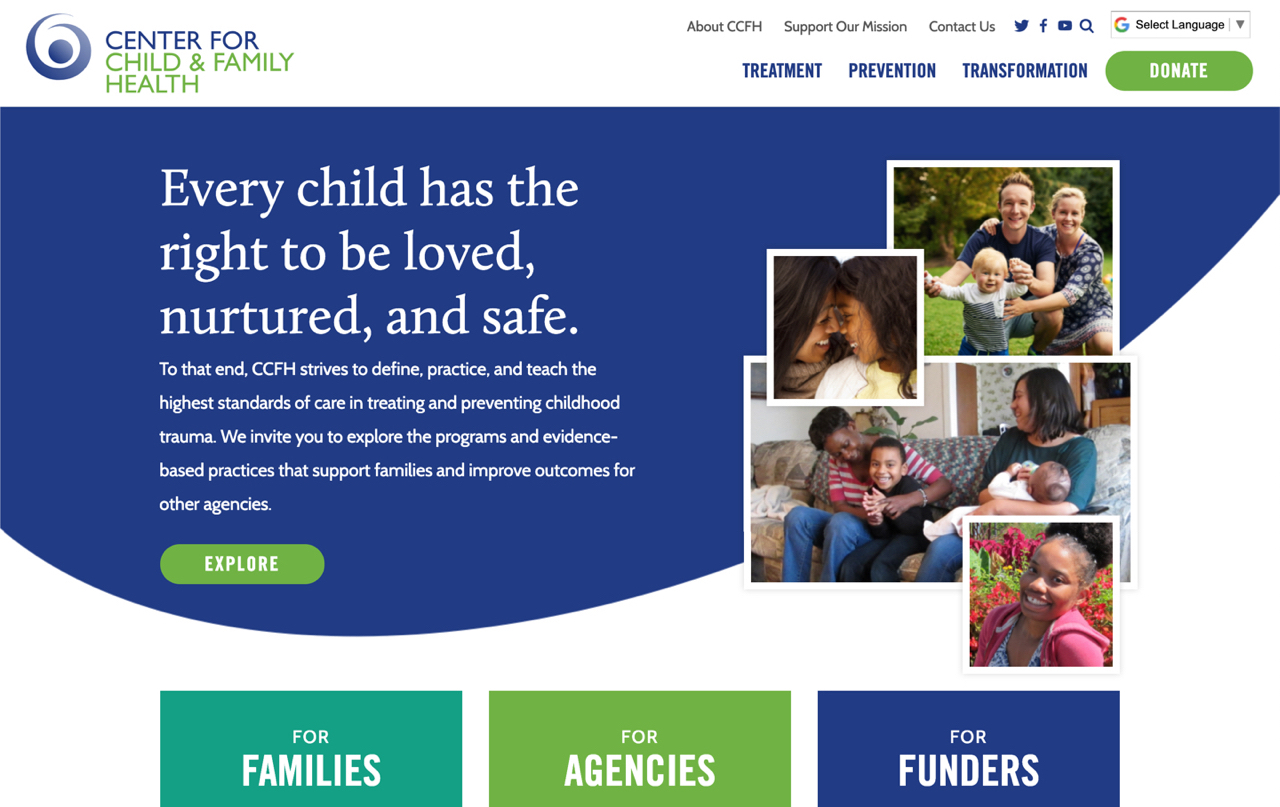 A subsect of the Center for Child and Family Health, NC CTP helps to train mental health providers on addressing childhood trauma and behavior. We helped design a clean, modern website that showcases their programs, their impact, and latest news.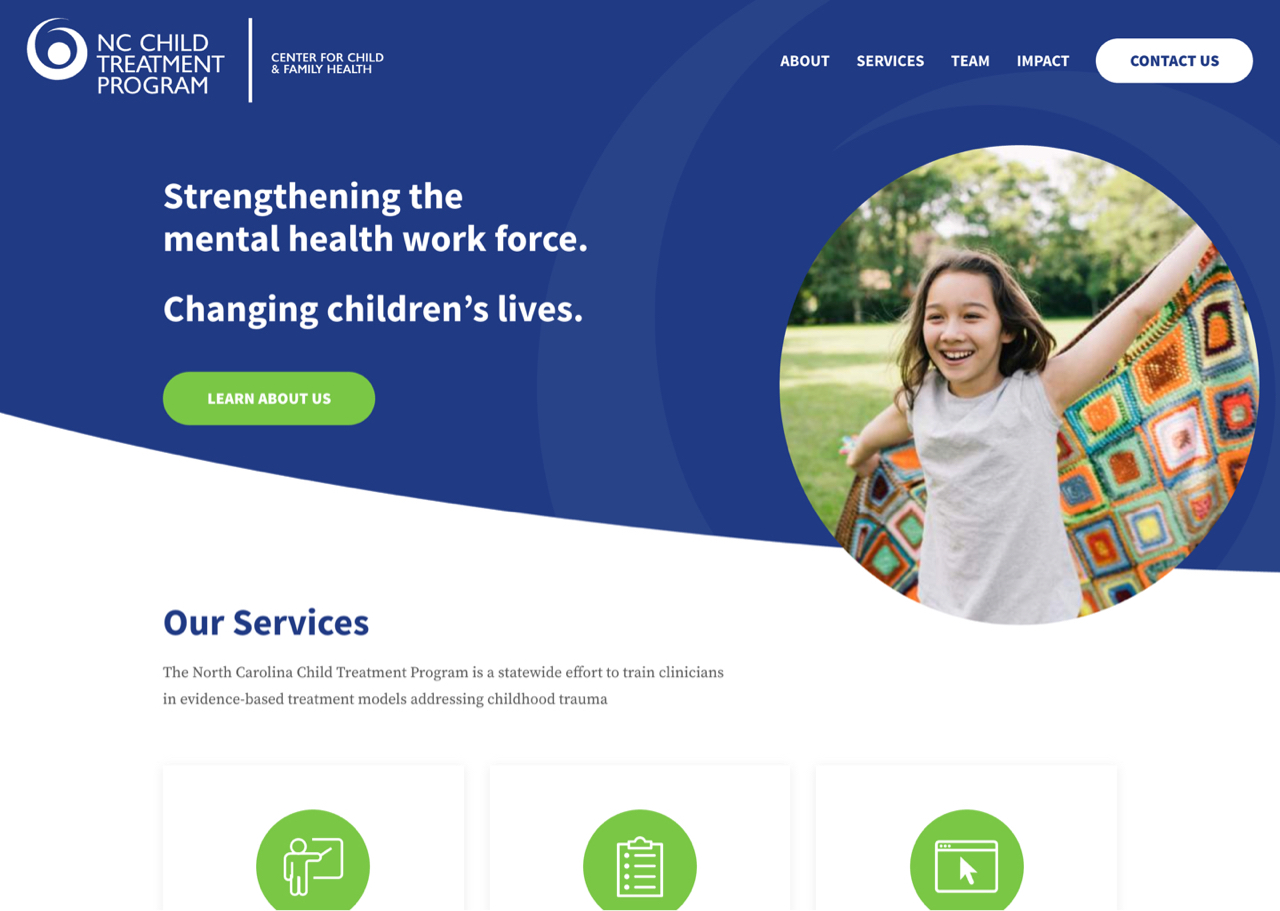 This project was a fun one where the leadership wanted to have a very unique look in the world of scientific and opioid research. For that reason, they enlisted a local graphic designer to build out a set of custom illustrations to represent the work they're doing. This project is quickly growing and expanding, and its built on a flexible WordPress setup to allow the group to continue scaling the site as the number of projects, research, and teammembers grows.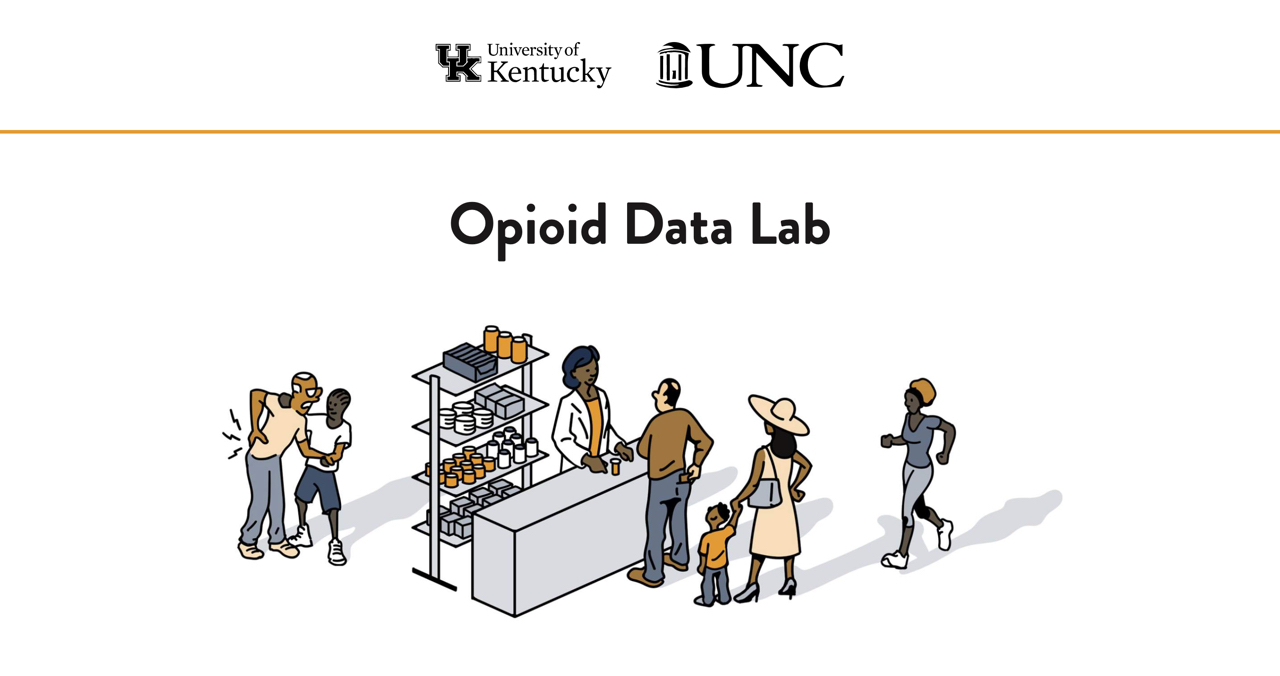 Field First LLC is a progressive consulting firm focused on winning elections, passing legislation, and building movements from the bottom up. We designed an impactful website that highlights their services and proof of their successes shown through case studies. This site has many fun interactive elements, hover effects, and scroll effects that keep the user engaged.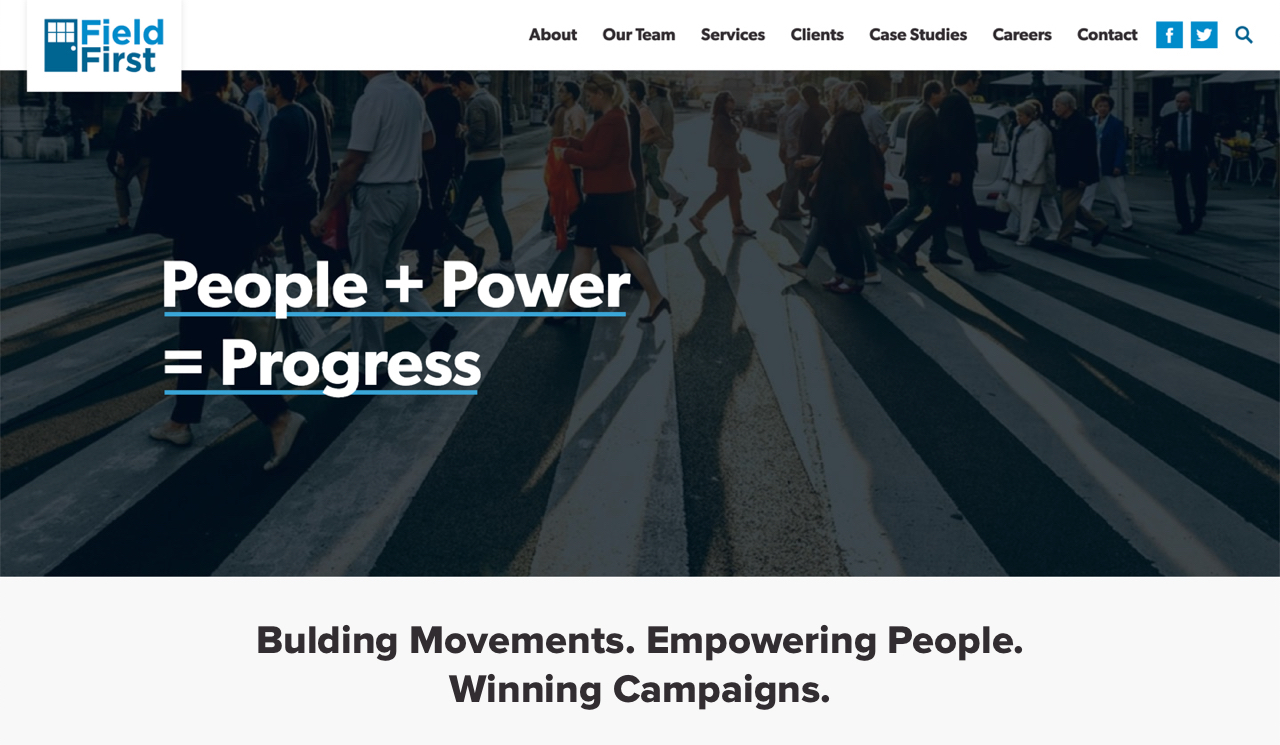 Tuggle Duggins is an international, multi-disciplinary law firm based in Greensboro, NC. We helped create a site for them that that speaks to their legacy and 45+ years of experience by using a serif typeface and traditional color palette. The clean layouts and ease of navigation throughout pages make it easy for potential clients to find the information they need.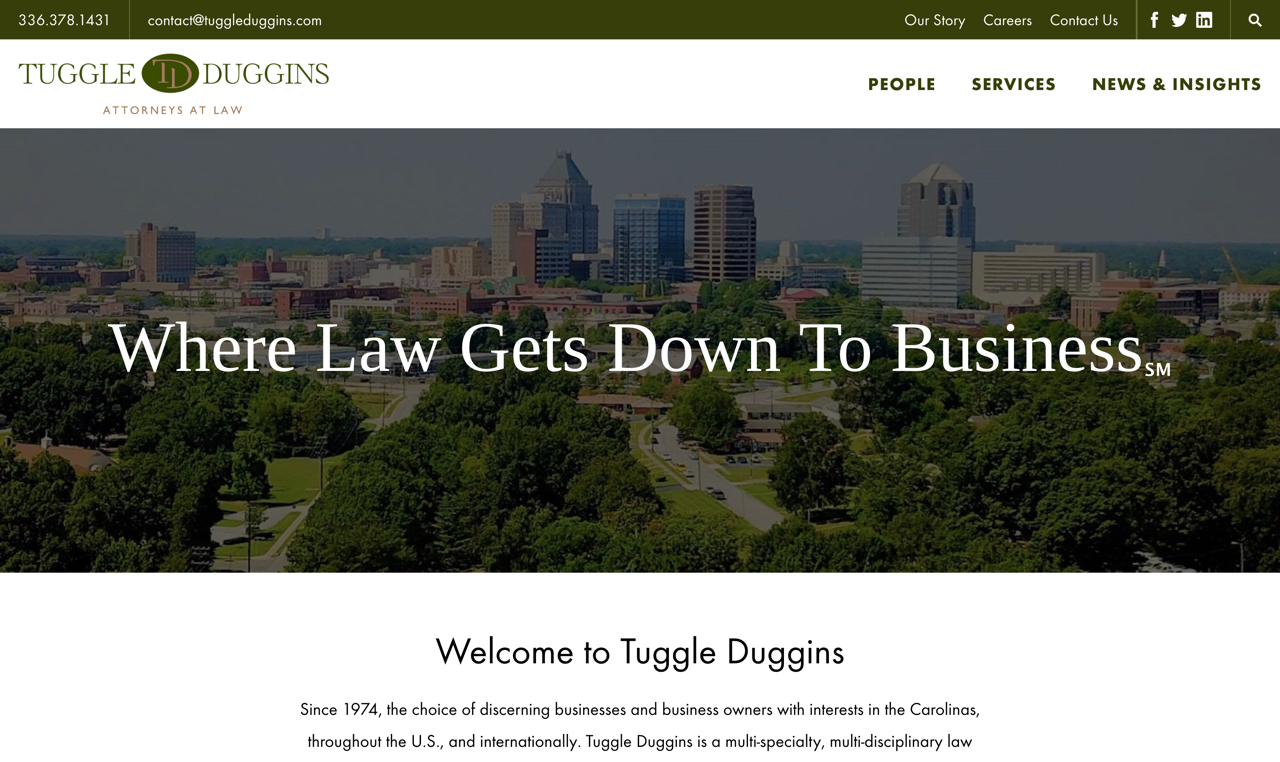 B2B agency is a specialist in B2B brand strategy and development that does amazing work for a range of clients. We created a website for them that uses big, bold typography to speak to the impact that they have on their clients. The site includes expansive case studies that highlight their work. Subtle on-scroll effects give the site a progressive experience.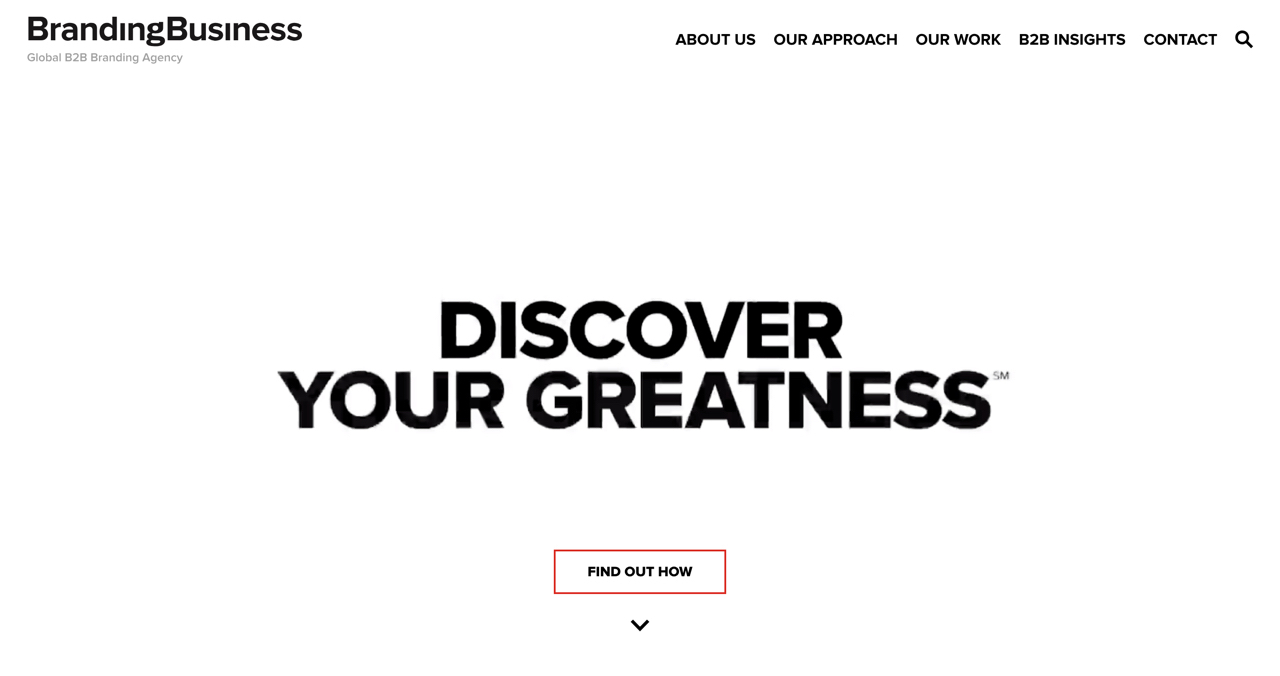 We designed and developed a modern start-up like microsite to promote Farragut's worker's compensation software solutions. The site features a component library that Farragut can configure to create unique templates to breakdown and explain each of their software platforms. We utilized bold colors, subtle animations, and large imagery to help promote trust and reliability in their products.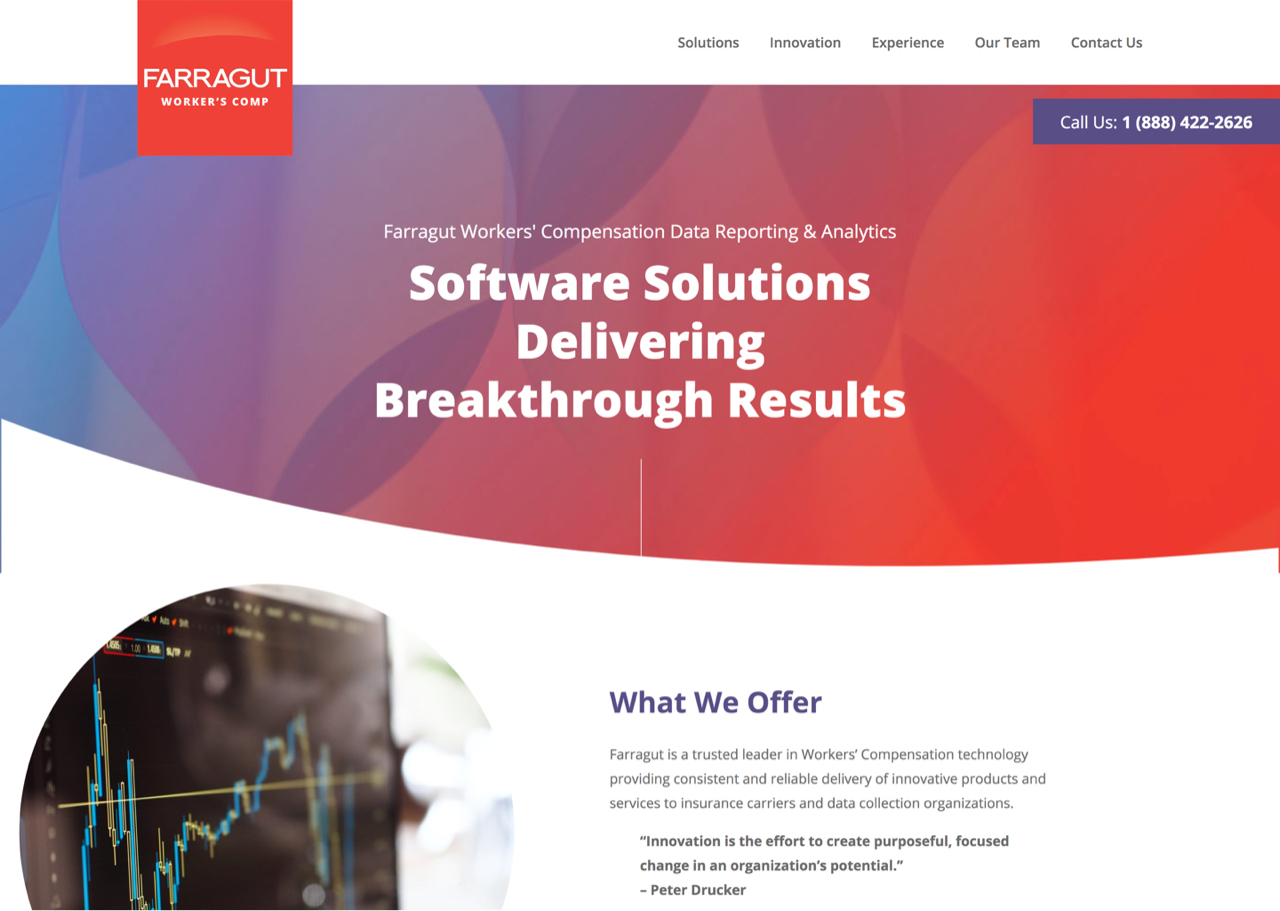 An offshoot of Lawyers Mutual NC, Lawyers Mutual Consulting provides a variety of services to NC law firms. We helped to create a sleek modern site for them that easily describes their offerings, resources and events, and makes contacting them a simple task.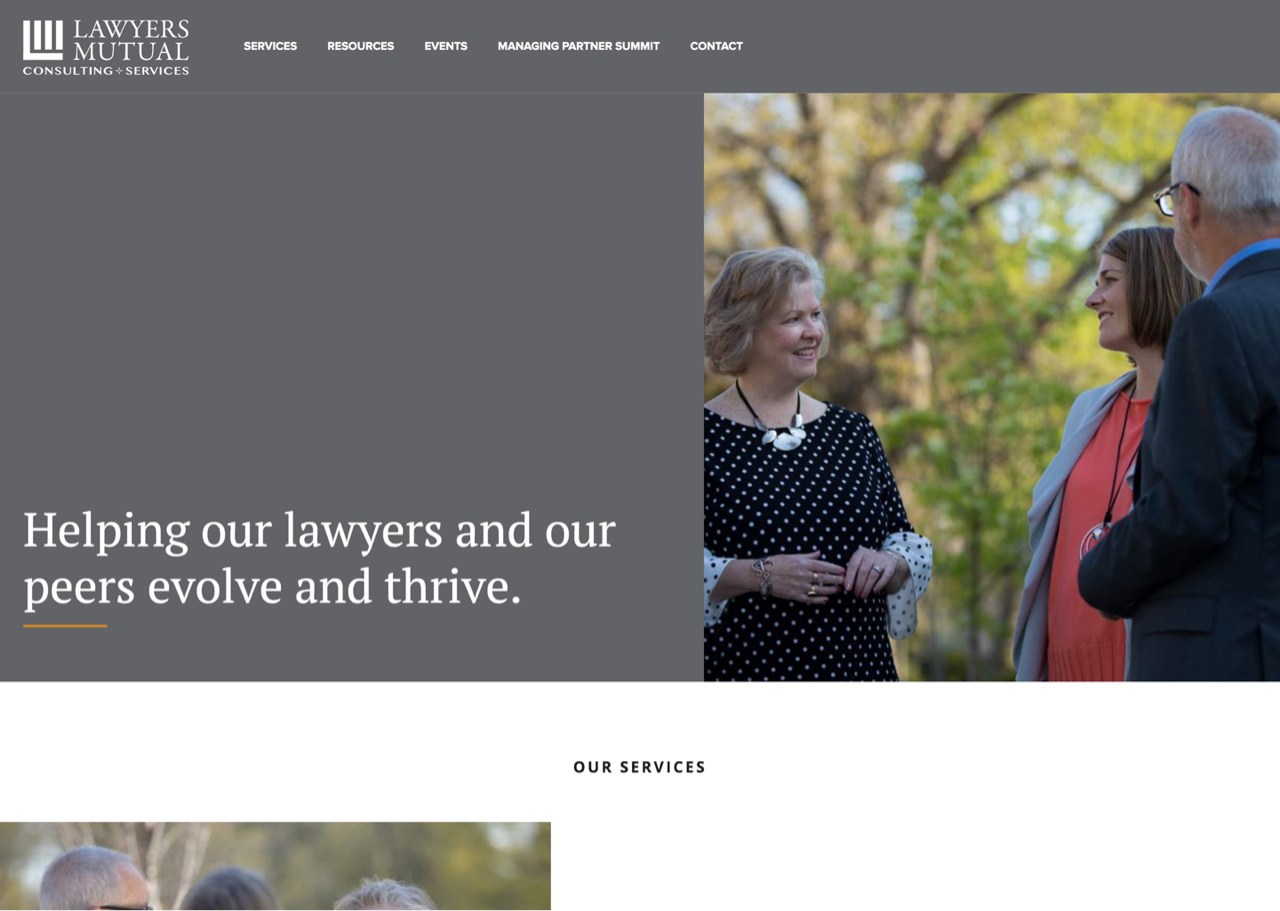 Bosch Packaging Services sells after-sales services for Bosch packaging equipment. They needed a unique way to organize the many categories of their services, so we designed a visual grid to illlustrate the different cartegories and types of services that they offer. Another one of their offerings is used equipment, which each have their own product pages that detail information about the equipment and and how to get in touch and get quotes.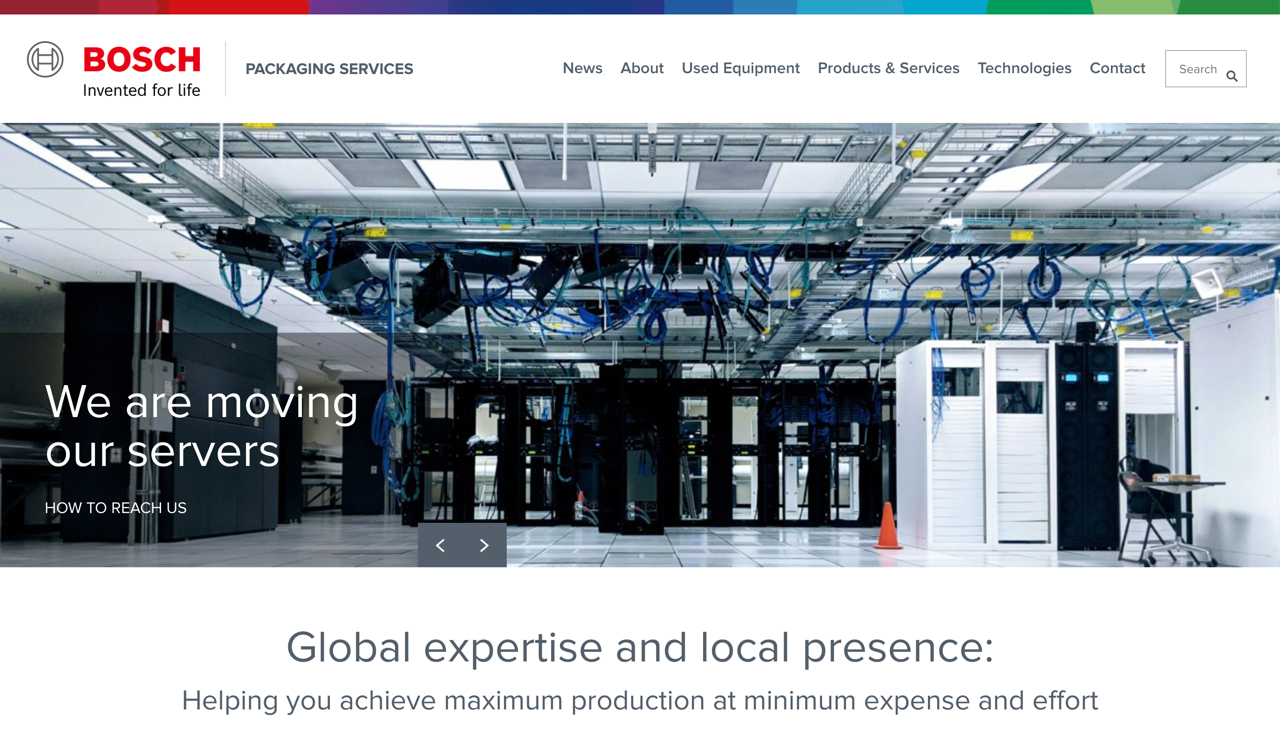 Retail Voodoo is a branding agency that helps clients from top 10 retailers to top privately-held manufacturers take their brand to the next level. Their new site puts their services at the forefront and shows off results in case studies. The extensive case study pages highlights their work with large imagery, results, and related content.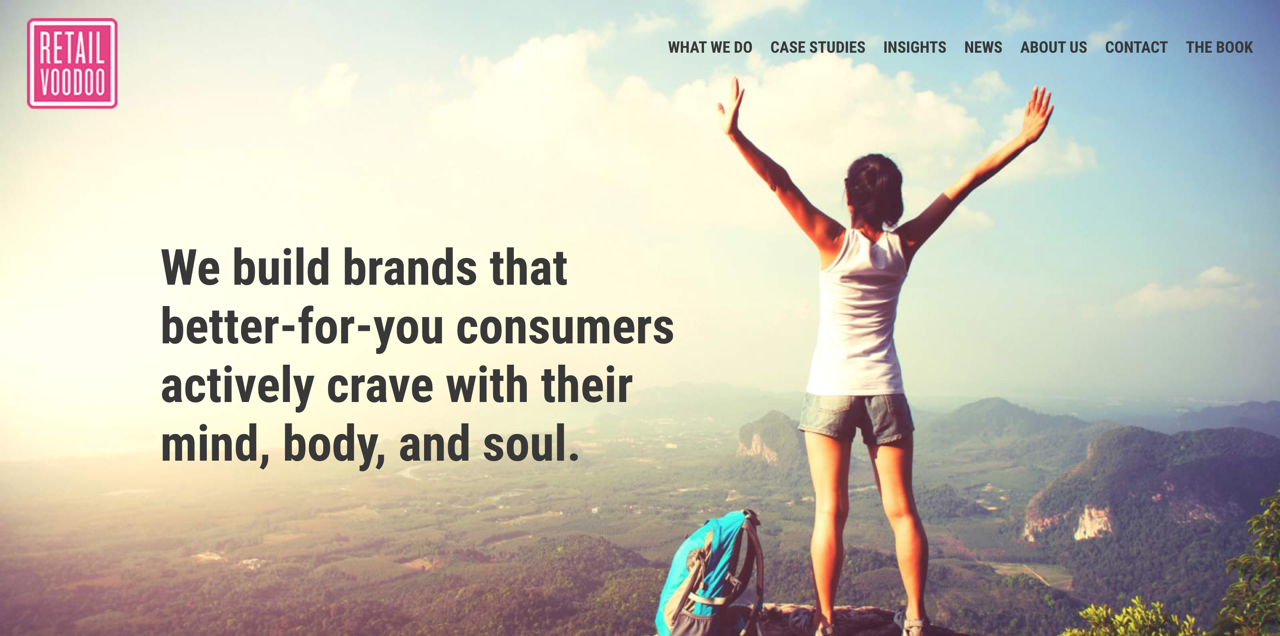 Invest in Nursing is a new partnership between the UNC School of Nursing and Piedmont health to help provide better training to nurses in underserved areas of North Carolina. We developed their logo and online brand before creating a sleek marketing site that helps explain their impact and provides resources to students, nurses, and faculty.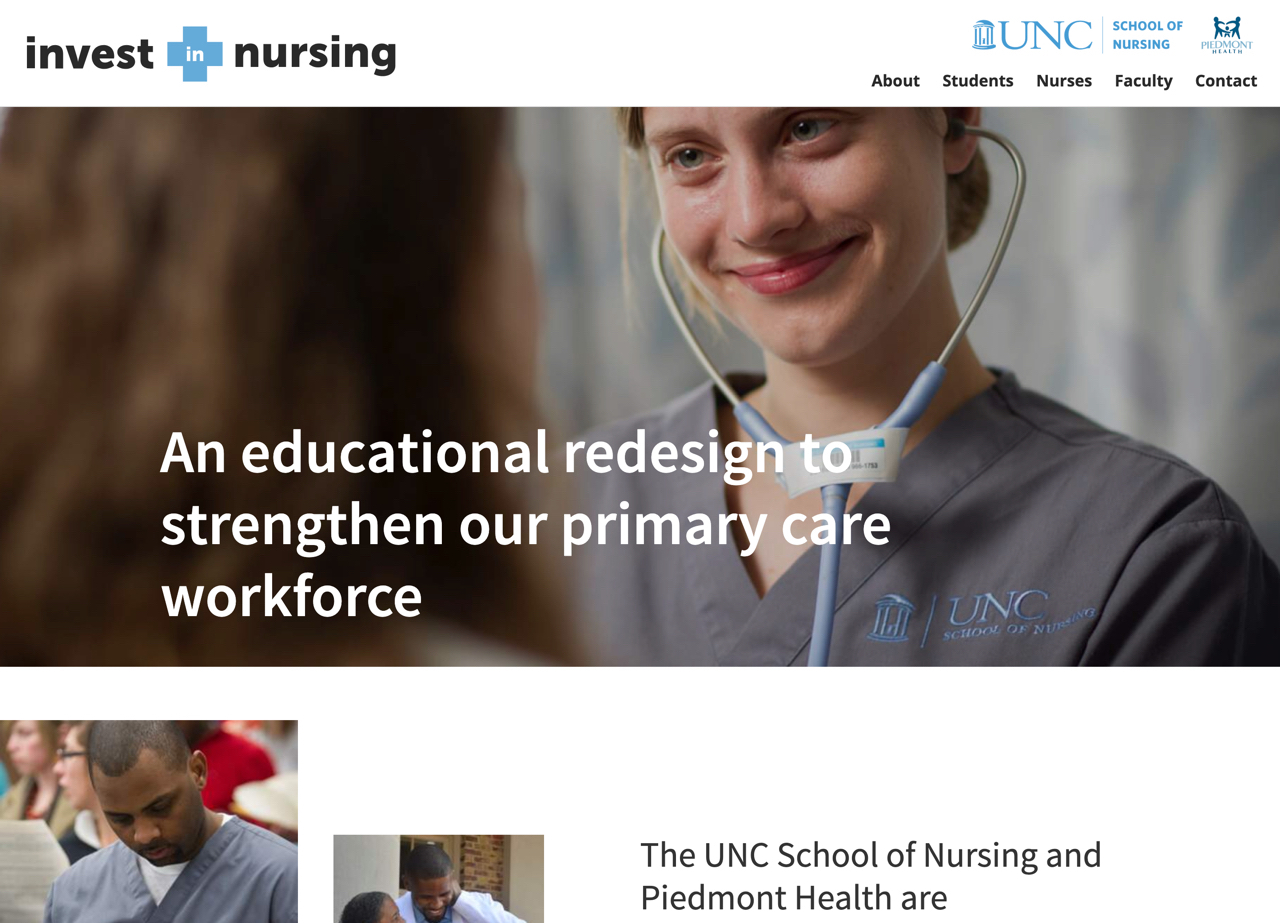 HERM is a full-service law firm that has been serving northeastern North Carolina for over 100 years. With that kind of history, they needed a website that nodded to their legacy, but gave them a modern presence on the web. We balanced those two needs by showcasing their breadth of practices areas on clean layouts with large imagery and easy to digest content.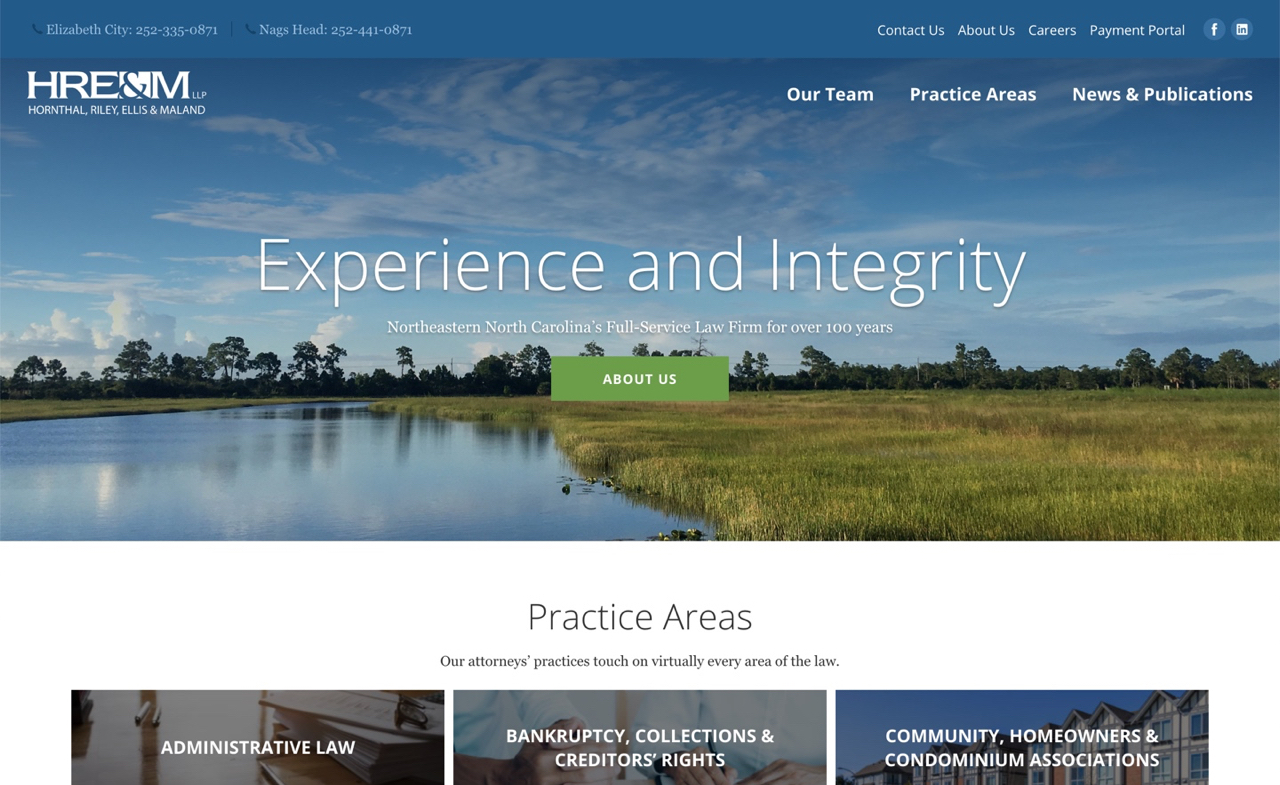 We designed a modern new site for this D.C. and New York based law firm focused on employee benefits. The site helps to easily promote their practice areas to users through a clean layout, lots of whitespace, and large imagery.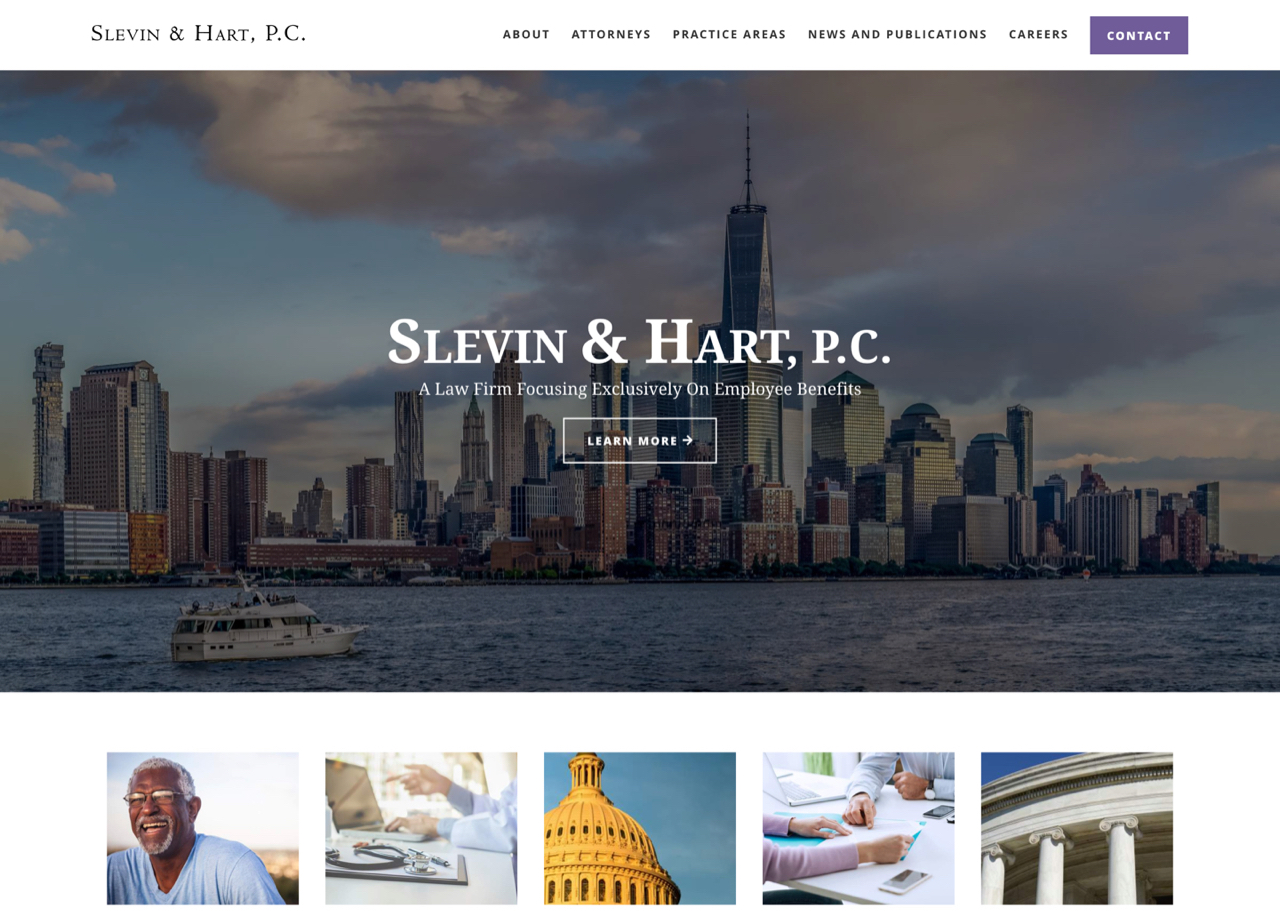 We partnered with our longtime friends Liaison Design on this economic development website design. The goal of the site is to demonstrate the quick growth, bountiful opportunties, and dynamic workforce of Johnston County. The site uses ambient video, a custom interactive map, and more to help engage and educate visitors. It is built on WordPress to make it easy to manage and grow over time.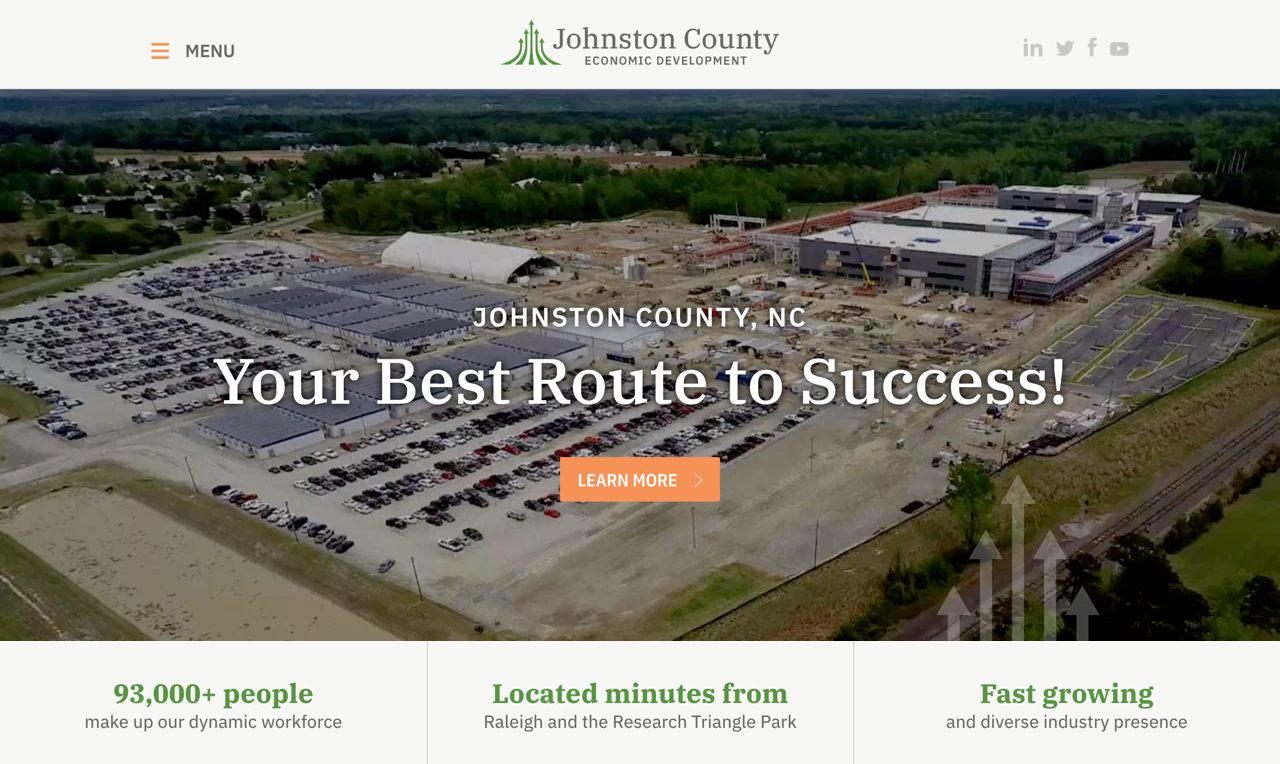 We've worked with the team at Lenovo on a number of projects managed by the Lenovo Software team, and LanSchool Air was a new entrant this year. A cloud based solution to help guide classroom learning and promote collaboration for educators, the site aims to put a friendly and welcoming face on the product.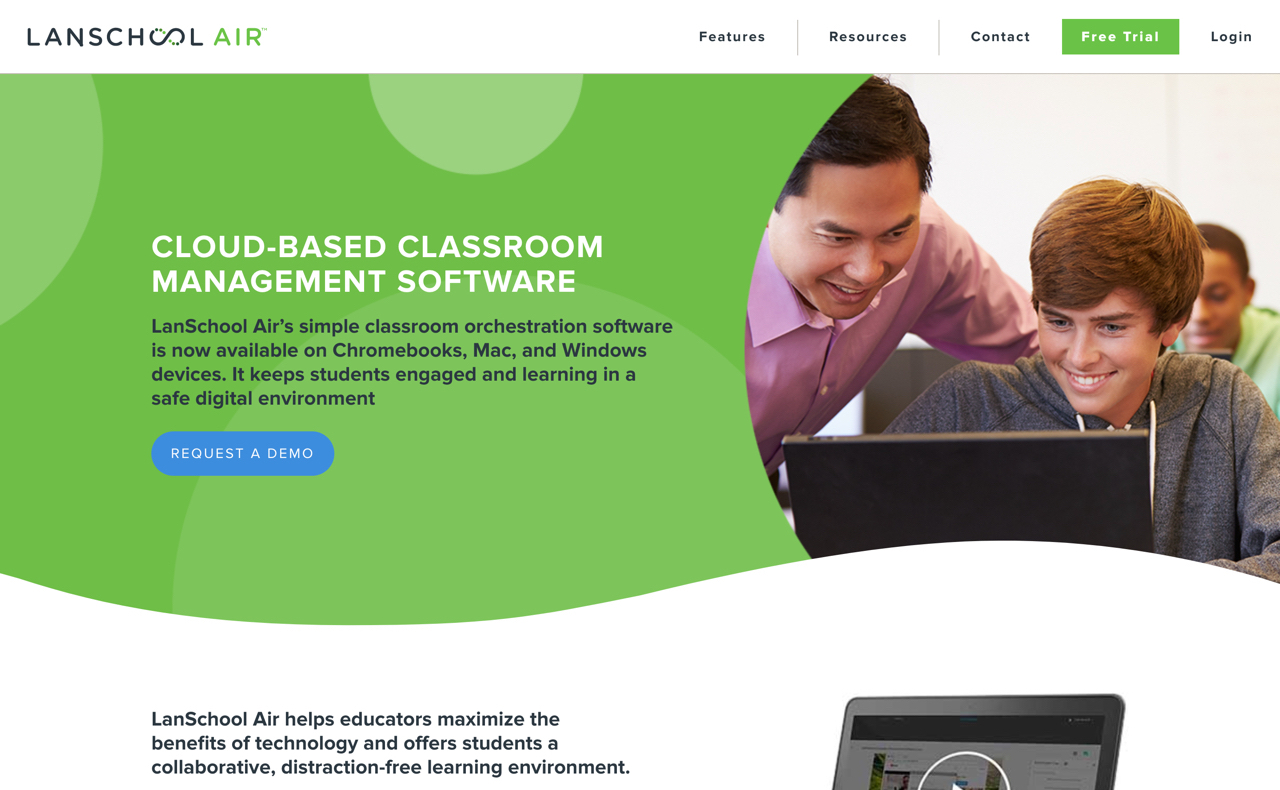 Glover Construction, a full service mass excavation company with 65 years of experience, needed a website that would showcase their expertise. They tackle big jobs so we used big photography, strong typefaces, and bold colors throughout the design to show just that. High level statistics are highlighted on many pages to show potential clients what makes them a great partner.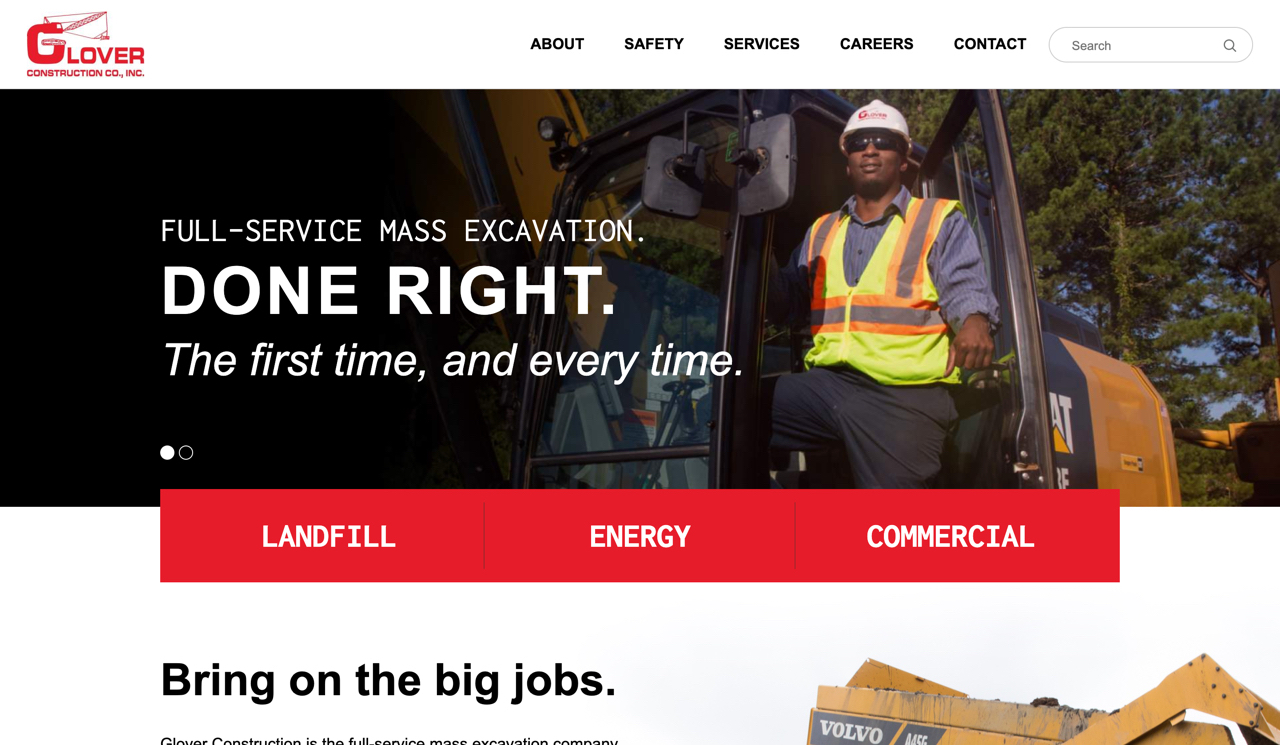 We have worked with longtime client Aramark on providing templates to for many of their campus dining halls across the nation. This year we created an updated and more robust template used by East Carolina University's dining program. The program could select which features they'd like to include across the site including a "What's Open Now?" feature that shows which dining locations are open currently, full width calls to action, and video blocks.