Earth to McDonalds.com: It's 2009
Last night I had an urge for a delicious caramel Sunday from McDonalds. Where better to find nutritional facts about MickyD's than McDonalds.com? So I visited and Ba da bum bum bum... I'm *not* loving it.
Surgeon General's Warning: The McDonalds.com home page may induce nausea and a loss of appetite. In other words, you might be seeing that Happy Meal again...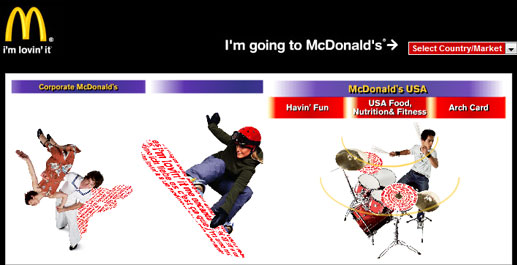 McDonalds.com Ingredients: a flash landing page, fixed-width tables used for layout, low-quality images, and a navigation bar outclassed by most homemade DVD menus.
@McDonalds:
It's 2009. Not 1999. Your website is as fashionable as trans fats and you are losing value because of it.
You're #17 in the world with ad spending. The world. 1.7 billion dollars on advertising a year. You're #1 amongst quick-serve restaurants in online marketing spending. That's 10 million display ads a day. These are impressive numbers.
Your website gets over a million unique visitors each month and you greet your visitors with a severely outdated, aesthetically nauseating, dysfunctional website. Your web strategy is lacking balance: extravagant ad spending is driving traffic to a website that tarnishes your brand when it should be polishing it. Large online ad buys demand a well designed website.
Let's try and put this in perspective. Imagine your monumental restaurant that opened on Times Square some 7 years ago. Sure, this isn't your busiest location in the world, but even if it were, it would see less visitors in a month than your website. Now imagine the owners of the Times Square location refused to clean or maintain it since it opened. This is what your website is doing for your brand.
Here are some quick ideas to improve your internet marketing strategy:
As we move into a new year, @McDonalds, consider bringing your website along for the ride. The internet is quite nice in 2009. With an improved site you'll see million of people a month smile... and we all know that's what you love.