A nonprofit's website is the center of the organization's online presence. The site serves as the organization's online hub of information; it's where visitors go for content about the nonprofit, where search engines direct visitors, where most email blasts lead to, and the result of most social media posts. With all of this traffic and attention, many nonprofits still don't prioritize their appearance and functionality on mobile devices. This oversight is a mistake that can lead to the organization inadvertently neglecting potential donors and volunteers.
Here are a few notable stats from the Pew Internet Project's research related to mobile technology that demonstrate the growing role of mobile for all of us:
44% of cell owners have slept with their phone next to their bed because they wanted to make sure they didn't miss any calls, text messages, or other updates during the night.
More than a third of cell phone users go online mostly using their phones, and not using a desktop or laptop computer
9% of adults have texted a charitable donation from their mobile phone
Most importantly, though, these numbers are growing.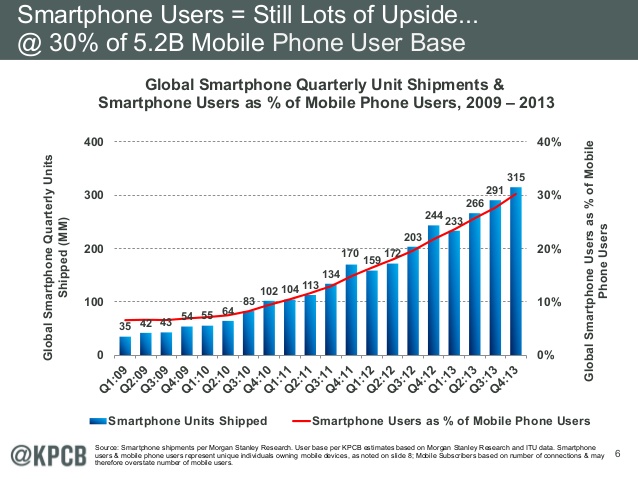 Here are five reasons why nonprofit website design needs to include being mobile friendly:
---
1) Mobile Optimized Sites Are Better For A Nonprofit's SEO
This one is pretty straightforward. 60% of people use search engines on a daily basis. Showing up in relevant search results is hugely important for every organization, but especially for nonprofits that may not be able to afford more traditional marketing campaigns to get in front of their advocates.
Google has indicated that they show mobile-optimized websites higher on mobile searches and 42% of people use mobile exclusively as their primary research tool. Having a mobile-optimized website can give your organization an SEO advantage over your non-mobile competition.
---
2) Email is opened more frequently on mobile devices than on a desktop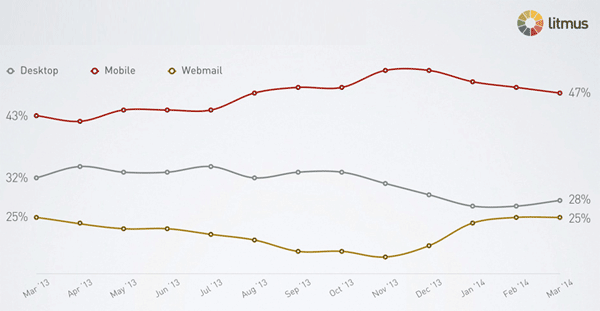 If your organization uses any kind of email marketing, the recipients are more likely to open the email on their phone than in front of their computer. And when they click on a link in your email blasts, they're going to be directed to your website.
Email accounts for 33% of online fundraising revenue and in order to capture that email fundraising opportunity, it's crucial for your organization's website to be optimized for mobile devices.
---
3) Social Media Traffic increasingly comes from mobile devices
More than half of Facebook referrals for publishers now comes from mobile devices; mobile drives more than 80% of Twitter's traffic, and Twitter is often where donations are promoted through the use of hashtags like #givingtuesday or #SocialGood. If you're sharing your website links on social media, asking people to give on social media, or encouraging other people to share your content on social media, they're most likely doing so on a phone or tablet.
The next time you click on Facebook or Twitter links on your phone, take note of the websites that are optimized for mobile and compare them to the ones that aren't. Make sure your organization's website is on par with the ones you find are easy and enjoyable to browse and read.
---
4) At events, people access the internet from their phones
The importance of in-person events for NPOs continues to grow because of their ability to attract new advocates, enhance existing relationships and improve brand awareness. Events like NTEN and NCTech4Good are also fantastic opportunities for nonprofits to get together and learn how they can better promote their mission.
When individuals are introduced to a nonprofit at these events, any research they do on that organization is likely going to be on a mobile device and that means their first impression of the organization is their mobile website. First impressions matter, especially when that impression could lead to a new advocate for your nonprofit so make sure your nonprofit's mobile site leaves a good one.
---
5) Your donors have gone mobile and so should you
I mentioned at the top that 9% of adults have already texted a donation from their phone, but more importantly, future generations of donors are increasingly willing to give through mobile devices.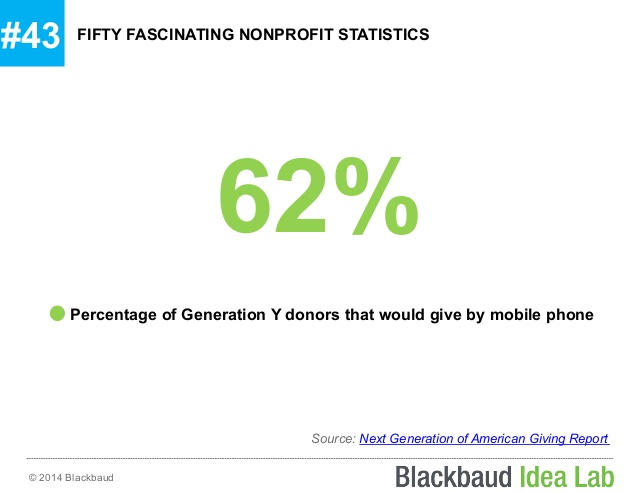 eCommerce sites are also increasingly seeing their site traffic come from mobile devices. In 2013, 30% of web traffic on eCommerce sites came from mobile. Users are more and more willing to give money over their phones and nonprofits need to be ready for that shift.
---
If you're still not sold on why a mobile-optimized website is important for your nonprofit, take a look at your analytics and see for yourself. If you use Google Analytics, go to the Audience > Mobile > Overview and see how many visitors are seeing a version of your site that's not optimized for their device. And if you have any other reasons that you feel like a mobile or responsive design is crucial for NPOs, let me know in the comments!