We work with dozens of nonprofit organizations every year to help them improve their online presence. One way that we help is to assist in strategically managing their social media presences. When we analyze the original online landscape for those organizations, a few common mistakes are made when it comes to building and expanding an effective and engaging Facebook presence.
---
1) Adding keywords and descriptions to page titles for SEO
While it may seem like a good idea to add keywords to your Facebook Page name (like "Community Institute – Helping families get the resources they need"), search engines and Facebook may actually penalize your page for trying to trick the system. Additionally, visitors are less likely to engage with your organization if the name looks spammy.
The goal of your Facebook Page should be to give an authentic representation of your organization. Your Facebook Page name should just be your organization's name. Leave the explanations of what you do to the 'about' area.
---
2) Not promoting the Facebook Page
This seems like an obvious one, but too many organizations set up their Facebook page and then don't cross-promote it on their other online presences. A nonprofit's website is the easiest way to cross-promote an organization's Facebook page. Adding a Facebook icon, Like buttons, Embedded Posts and Activity Feeds are super easy to do through Facebook plugins.
If you're not sure how to set these up, you should reach out to your nonprofit's web design/development firm and they will be able to help you add the integration to your site.
In addition to promoting your Facebook Page on your website, nonprofits should also use other online marketing, like email blasts, and offline marketing materials to cross-promote the Facebook page.
---
3) Using the same language from other social networks
While it's important to cross-promote the actual Facebook Page and post updates about your organization on your various social networks, it's important not to repurpose the specific content in posts on different platforms. Each social media platform has its own audience, lingo and optimization strategies. With Twitter, you're limited to 140 characters, whereas your Facebook posts can essentially be as long as you want. There's no reason to post the same update on Facebook and limit yourself to that same character count (although according to Facebook, posts that are under 250 characters typically get more engagement).
While Twitter is taking steps to make images more prominent in their feeds, adding images to Facebook posts has already shown to increase engagement, so finding images to go with your Facebook posts may be more important than it is on Twitter.
---
4) Pushing out too much content without contributing to the conversation
Too many organizations spend the majority of their time on social media promoting their recent work and initiatives. Facebook is about relationships and just like in a real-life conversation, it's just as important to listen as it is to tell your opinion. Instead of only posting updates about your organization, most of your organization's posts on Facebook should be things like:
Asking questions and soliciting feedback
Taking polls and gathering opinions
Commenting on other posts in your industry to promote conversation
Replying to visitors' comments
Sharing resources that were not written by your organization
Once visitors are invested in your organization because of your variety of engaging content, you're more likely to move them up the ladder of engagement.
---
5) Not creating a content schedule
The easiest way to make sure you're not talking too much or listening to your audience enough is to create a content schedule. There will be times when a time-sensitive post takes precedence over a scheduled post, but setting up a schedule makes sure that you're both posting regularly and also that you're posting a balanced variety of content. The content schedule might look something like:
Monday – Question/Poll
Tuesday – Share external resource
Wednesday – Promote latest organization news
Thursday – Comment on another organization's post
Friday – Share external resource
Weekend – Live updates for weekend event
You can use a spreadsheet with columns for the date, type of post and what you want to say in that post and create a bunch of posts at once and spread them out over the near future. Services like Buffer also make it easy to automatically post content at the optimal time of the day.
---
6) Not keeping a close eye on Facebook Insights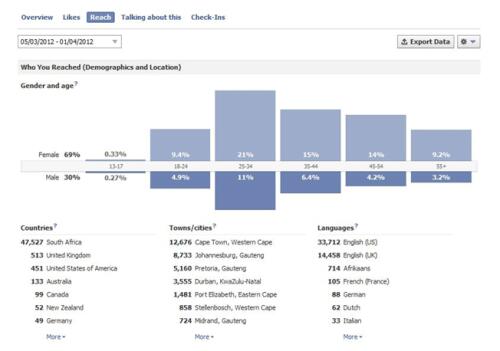 Facebook Insights is Facebook's analytics on how engaging your posts are. Consistently looking at the analytics and adjusting your strategy to increase the type of posts that perform best (and minimize the types that are not performing as well) is one of the best ways to continually improve your Facebook presence.
There's a lot of information in Facebook Insights so here are a few resources to help you best understand the information there:
---
7) Not Customizing the Default Tabs on Your Facebook Page
The tabs to the right of your nonprofit's 'about' content are customizable, prominently placed on the page, and ripe for optimization. There a wide variety of 'apps' that you can place in those tabs to make your Facebook page more flexible. A few that we've used on nonprofit pages in the past are:
This app simply places an external link in a Facebook tab. This will likely be an easy and obvious place to link to your organization's website.
Causes is a great organization that provides a place for people to discover and support nonprofits around the world. If your organization doesn't have a presence on Causes, you should consider joining. If you already have one, you should definitely add the Causes tab to your Facebook Page, which makes it easy for visitors to support your organization.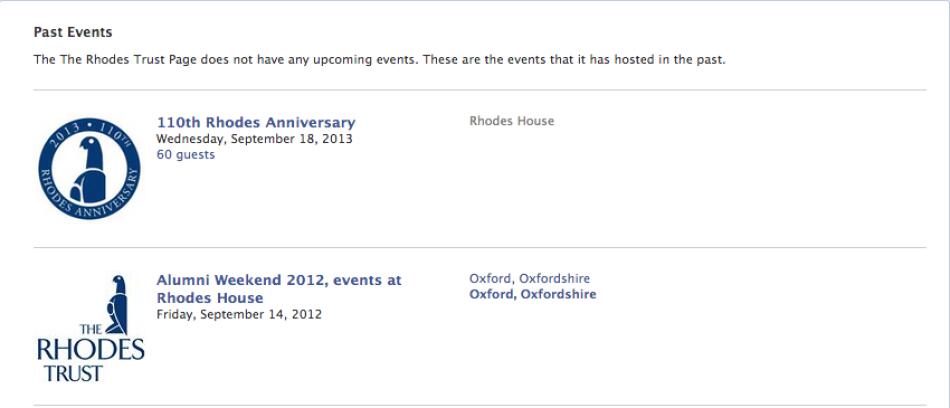 This app adds a tab where you can link to a feed of your Facebook events so that visitors to your Facebook Page can get a quick overview of what the organization has done recently and is doing in the near future and also learn more about individual events.
Videos are a powerful way to show the work and impact of your organization. If your organization has a lot of good video content on YouTube, it probably makes sense to cross-promote the videos as a tab on your Facebook Page. There are also apps for most other social networks, like Twitter and Pinterest, if you want to promote those as well.
You can create a fully custom tabs on Facebook to best suit your needs, but you'll need some coding knowledge to build out a custom tab. If that's something you're interested in, I'd encourage you to reach out to us and we'll be happy to help!
---
8) Leaving a Shared Link in your Status
When you copy and paste a link into a Facebook update, a preview of that link page displays automatically. Now that there's a large call to action to click on your link through the page preview, you can delete the link you actually copied in because it will only clutter your Facebook post. It's a small trick, but one that can clean up your Facebook posts without sacrificing the quality of the posts.
---
9) Not taking advantage of the huge real estate for the main banner image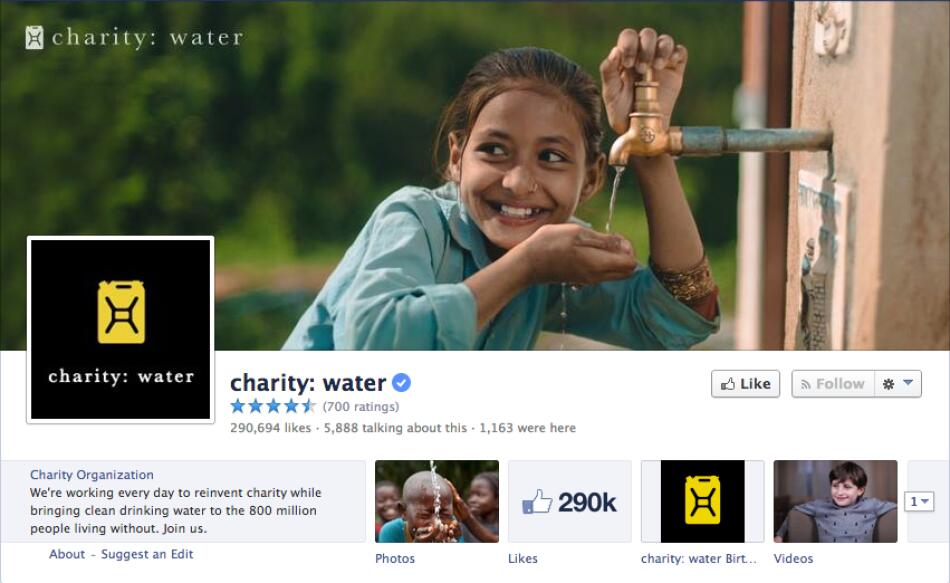 The first thing visitors see on your Facebook page is a full-width image. It's worth spending the time to create a custom image that best visually demonstrates the purpose and impact of your organization. You should also consider placing a tagline overlaying the image to prominently send a message to visitors of your Facebook page.
The ideal dimensions for a the cover photo are 851px by 315px. If you're not sure how to crop images, there's a great free online tool for cropping images at Pixlr. Here's a quick how-to guide for using Pixlr to crop images:
Go to pixlr.com
Click 'Open Photo editor'
Click 'Open image from computer' to upload the image you want to crop from your computer.
Press 'c' to go to the Crop tool (you can also press the 'crop' icon in the upper left-hand corner of the toolbox.
Change the 'Constraint:' field from 'No restriction' to 'Output size'
Input the image width and height that you want to crop the image to
Click and drag your mouse across the image to select that output size from the image.
Press enter
Go to File -> Save and save your new cropped image
---
10) Not considering Facebook Ads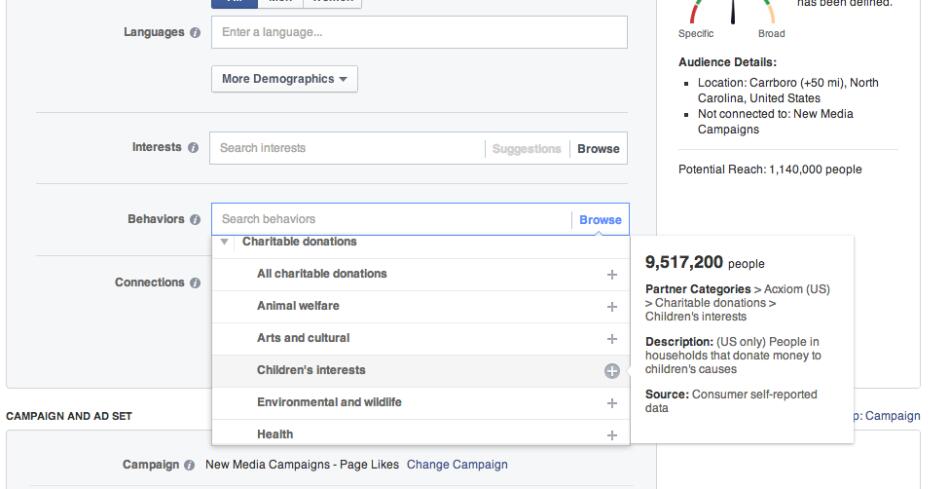 While nonprofits are often on a tight budget, Facebook ads can be a cost-friendly way to quickly expand your audience and increase the reach of your Facebook posts. Facebook Ads can be especially helpful for nonprofits that don't have a large collection of followers when they first create their Facebook Page.
The process for creating ads is extremely intuitive and you can easily optimize your ads for increased engagement, page likes, clicks to your website or website conversions.
You can also hone in your target audience and filter your ads by things like:
Location
Age
Gender
Demographics

Education
Work place
Financial Status
Home
Ethnic Affinity
Household Composition
Political Affiliation
and more

Interests

Fitness
Family and relationships
Arts and music
Politics and social issues
and more

Behaviors

Charitable donations
Purchase Behavior
Travel
and more
The simple targeting flexibility makes Facebook Ads really effective at reaching people who may not know about your organization, but are a really good fit to become an advocate!
---
What are some other ways that nonprofits can better take advantage of Facebook for their organization? I'd love to hear what I missed!