NCTech4Good is one of my favorite conferences because it's a fantastic resource for Nonprofit Organizations (NPOs) to stay up to date on the latest trends in marketing and technology and the conference is located right down the street in Chapel Hill!
The majority of the conference's attendees are forward-thinking and tech-savvy nonprofit staff members. Because we build so many nonprofit websites, the conference is a great opportunity to learn, from the NPOs' perspective, what their most common issues and problems are.
Like at most marketing conferences, social media was a common presentation topic. During those presentations, one of the most frequent talking points was how to convince upper management how important, easy, and effective it is to use social media on an individual basis to market an organization.
Because New Media Campaigns is a marketing firm, using social media to promote our work is second nature to every employee, whether they're a partner or an intern. Social media is part of our nature. It was even a running joke in the office when Josh's PHP Standards Guide got enough fame that he overtook Clay in Twitter followers.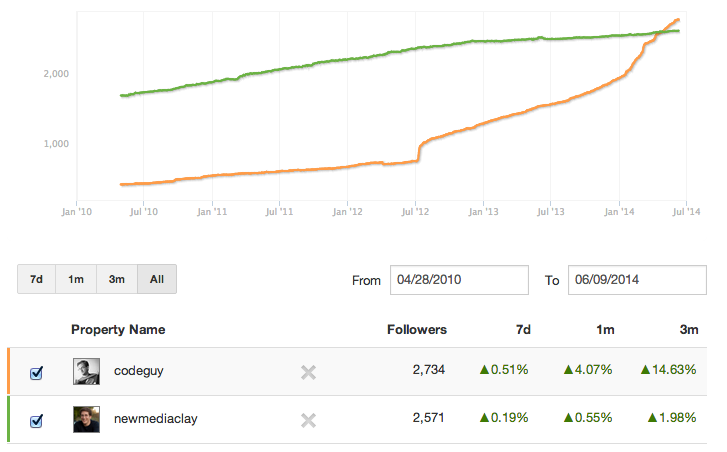 During the conference, however, many attendees voiced their challenge to get coworkers to dedicate their (scarce) time to helping promote their organization through their personal social media accounts. Fortunately, the presenters (Beth Kanter in particular) did a fantastic job of outlining ways to convince your coworkers that using their personal social media account is extremely valuable to the organization.
1) Employees of NPOs are often some of the most passionate advocates of the NPO's mission
While not every employee is a fierce advocate for their company, at nonprofit organizations, employees are typically some of the organization's biggest proponents. Social media is a fantastic tool for promoting issues that you're involved with and believe in and so it's a natural fit for nonprofit staff members.
2) Use Twiangulate to Show the Advantages of Promoting through Individual Twitter Accounts
A Twitter account's follower count isn't always the best indicator of how influential that account is. Services like Twiangulate for Twitter and Fanpage Karma for Facebook easily compare the influence of two social media accounts, instead of simply their follower counts. In many cases, an individual's following is more influential than the brand account.

Even if the individual's social media influence isn't more than the brand's account, these charts can also demonstrate the different audiences that each account reaches. In the case of Clay (a project manager) and Josh (a developer), there is very little overlap in their Twitter audiences and by both staff members Tweeting company updates, they almost double the post's reach. The ability to leverage different individual networks to reach new audiences for your NPO is an incredibly powerful proposition for your coworkers.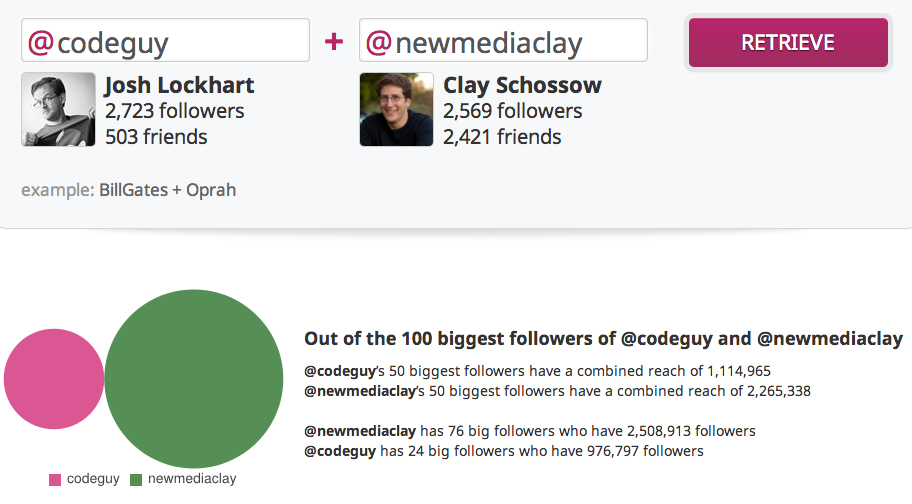 3) Anyone with a smartphone has time to contribute to the conversation
Set reasonable expectations for your coworkers and make it clear that you're not expecting him or her to spend an hour a day live-tweeting the organization's activities. All you want is for them to follow the conversation on their smartphone while waiting in line and contribute when they're feeling inspired or when they're participating in a current initiative. It's important that any organizational promotions feel natural and personal.
4) Set Guidelines that are Simple to Understand
Once you've convinced each staff member that using their personal social media account to help promote the organization is a worthwhile use of their time and energy, it's important to have an easy-to-follow guideline for what kinds of information to post.
TNT is a great example of what your organization's guidelines can look like. They break down the basics and then have a well-designed chart of DOs and DONTs.
None of the guidelines are complicated and most are really just common sense, but guidelines can be helpful for people, from interns to upper-management who may not be as comfortable using social media, so that they have a reference for when they're not sure whether something is appropriate or encouraged.
---
Has your organization had success in having all employees promote the organization on social media? I would love to hear about any examples (or counterexamples) in the comments!