From law firms to breweries, NMC strives to support each client with cutting-edge features and technologies that are relevant in their industry. For a local brewery, this could be a custom developed location finder tool that locates their retail stores on an interactive map. For law firms, a specialized PDF generation tool is something included on many of our projects. The feature helps firms to win new clients by offering easy access to downloadable content and streamlining their experience online.
In this post, we'll discuss the benefits of PDF generators, how we build them, and the unique process that sets them apart from a typical web design project.
How a PDF Generator Benefits a Law Firm Website
For many of our custom law firm website design clients, PDF generators are a must-have feature. Because the tool makes it easy to create and download PDFs straight from site content, it has valuable applications for both client and firm use.
PDF generators are most often seen on practice area pages and attorney bios. For clients, the ability to download PDFs of this information is helpful because it ensures consistency when gathering and internally sharing the content. PDFs can be circulated via email, saved to your own computer, and printed more reliably than most standard webpages.
On the firm side, PDF generators simplify the process for producing proposals and other materials for clients. Attorneys and staff members can quickly go online, retrieve the required PDFs, and pull them together in preparation for meetings and presentations. Here again, the PDFs can be made available electronically or in print without risking unexpected changes in format or content.
Building Our Website PDF Generator Tool
Here at NMC, we've built a PDF generator that's used by several of our law firm clients to let visitors easily save a page as a PDF. The tool allows us to create a custom design that translates the most important elements of the webpage into a downloadable document. The PDF design is customized to lay out the content exactly how the client has envisioned it.
You can see our PDF generator in action on a law firm site that we designed for Brown & James, a midwestern law firm with a number of regional offices. On each bio page, site visitors have the option to "Print Bio PDF." Clicking the button immediately generates a PDF of the content that maintains the formatting seen on the site and includes the attorney's headshot photo and all contact information.
The tool works similarly when used for practice areas. On the site we designed and developed for Hancock Estabrook, the firm opted to use the PDF generator tool on each of their practice area pages. For their Banking & Finance group, clicking on the "Print" icon generates a PDF version of the page that outlines related services and recent cases.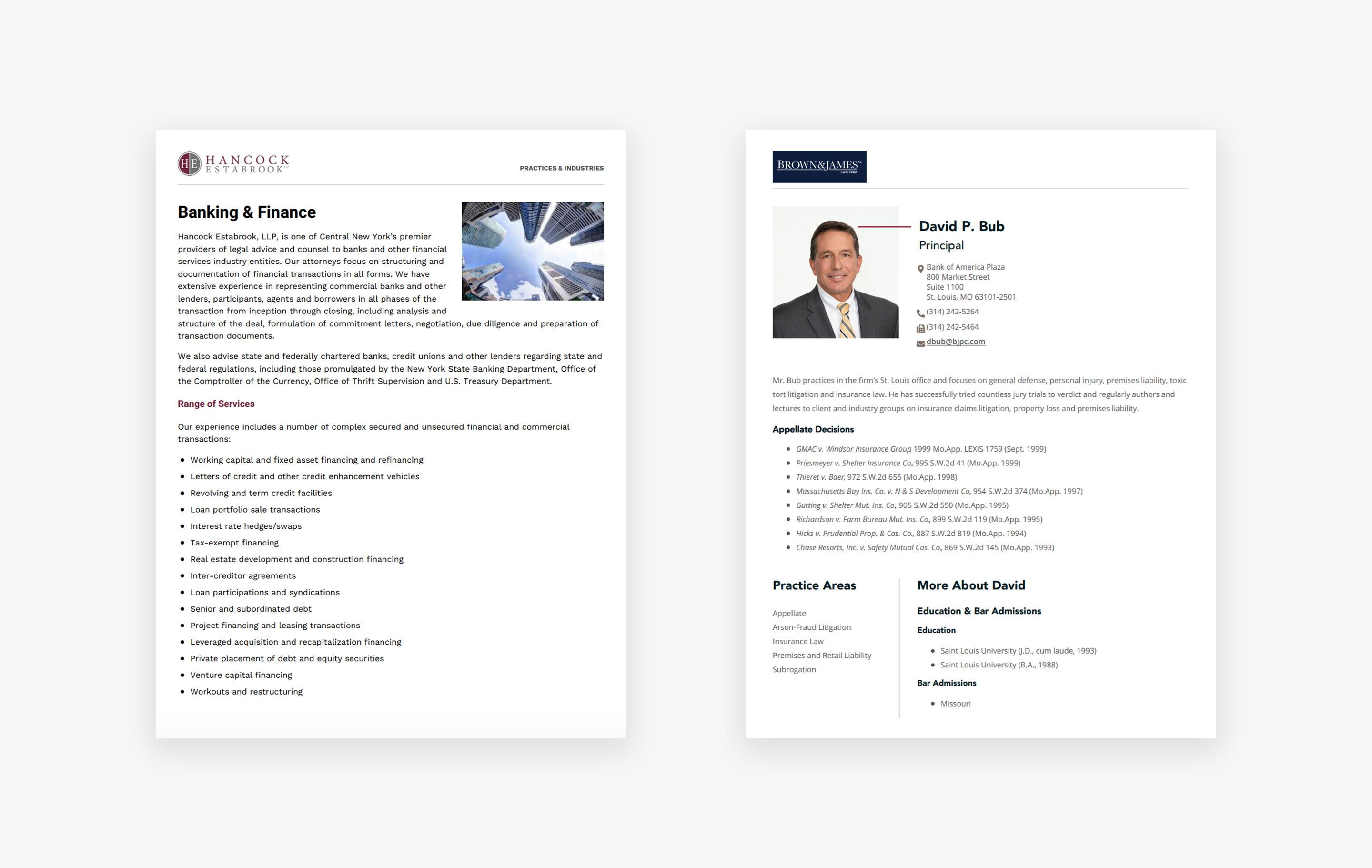 Custom Layout and Detail Oriented Design
Each client's PDF Generator is the product of a comprehensive design process that takes place before it's built out. For each client, we create a custom style sheet that allows the firm to engage with every stage of the design process. Inspired by the site design, our team collaborates with the firm to make sure that the layout includes key information while remaining consistent with the rest of the brand. This leads to a PDF that both fits in with the website design and takes on its own distinctive feel.
For Brown & James, the PDFs pull in design elements like strong lines, bulleted lists, and the firm's signature shades of maroon and navy blue. While this aesthetic presents throughout the site, the PDFs optimize the design for print by removing the background color, expanding the tab organization, and creating helpful section distinctions with lines and headings.
Conclusion
For law firms, PDF generators are a great tool that can boost client engagement and internal productivity. We've seen the feature becoming more and more popular over the years, so it may be something to consider if your firm is looking to enhance your site and keep pace with current trends and best practice features.
Aside from law firm use, PDF generators could also be implemented to present spec sheets on products, overviews for programs, easy exports of content-heavy information (like demographics for economic development websites), or other types of content that site visitors may want to print and share easily.
Does your company use a PDF generator? Have you found it to be helpful for your clients? We'd love to hear from you in the comments below!