NMC Develops Site for North Carolina's Southeast
Liaison Design Group worked with New Media Campaigns to develop a new site for North Carolina's Southeast economic development group. The collaboration was a part of NMC's comittment to acting as a web development partner for design firms. NCSE needed an updated site to more effectively present the many assets of North Carolina's Southeast region in order to attract more business and industry to the region. The new site features current best practices, innovative tools, and an attractive and functional design that entices potential businesses to learn more.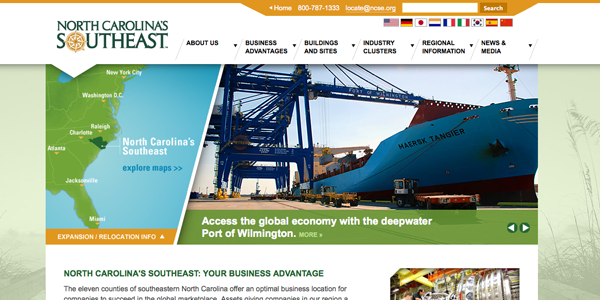 When visitors dig a little deeper, the integrated tools help them analyze maps of the area, search available buildings and sites, and even compile customized reports about industry, demographics, quality of life, and other important metrics relevant to their particular industry. Reflecting the needs of businesses in a global economy, the site is translatable into nine different languages via Google translate. The maps, written in Javascript and powered by HiFi, provide pertinent information on virtually any scale, from a global perspective down to the individual counties that comprise NC's Southeast region. The buildings and sites finder leverages real-time information from the state's database to ensure that availability is current. The reports enable business to create reports with as much or as little information as they want, all organized and presented as a downloadable PDF file or for print.
The website for the NCSE is a great example of the power of HiFi and the design boundaries it destroys. Because it is a Content Management System that is very flexible and customizable, Liaison was able to design the site as dictated by their vision and the needs of the clients, without worrying about what the CMS might or might not be able to do. NMC then developed the site according to that design, automatically simplifying URLs, ensuring search engine optimization, and seamlessly integrating the various tools and features of the site.
The resulting site is a great showcase of the region and the assets it has to offer, from defense contracting with Fort Bragg to leisure time at the beach, and everything in between. This project marks more than 20 economic development and municipal websites that NMC and Liaison have partnered on together. As a North Carolina based business, New Media Campaigns is happy to support industry and the economy of our home state.