NMC Launches New County Economic Development Website for Columbus County
NMC has further built on its niche as an economic development website design firm by launching a new site for Columbus County's Economic Development Commission. Columbus County is located near the coast of North Carolina and boasts an enticing balance of quality of life, infrastructure, and cost of living to encourage firms to do business in the county. The mission of the new site is to promote all of the benefits associated with being located in the county and to encourage interested businesses and individuals to get in touch with the county about relocating there.
The new site was designed by Liaison Design Group, marking more than 20 sites that Liasion has used NMC for as the firm's web development partner. Liaison put together a truly beautiful design that elegantly integrates the Commission's branding with the nautical imagery and themes prevalent in the county. The site also prominently features a map that of the county's location, offering a constant reminder to visitors about the county's proximity to the ocean and its intersection with several nationally important highways.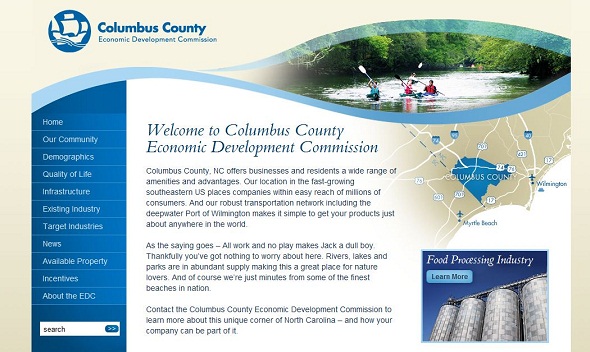 Throughout the design, there are also graphic buttons that encourage visitors to click through and delve deeper into the site to learn more about the county and its offerings. These buttons can be effective at convincing a casual site visitor to more deeply explore the site and perhaps lead to a contact submission by the visitor. Within the banner of interior pages, there are Columbus County images that give the site a personality and also convey the high quality of living experienced by the citizens of Columbus County.
Liaison had NMC develop the site on HiFi CMS, giving them and the client the ability to easily update and manage the content throughout the site. With HiFi, the county staff can easily add new content and images to the site and is using the system to publish positive news about the county.
The design and CMS are the perfect combination to help Columbus County take their online marketing efforts to the next level by attracting, engaging, and retaining businesses interested in a potential move.