The Affordable Care Act's Online Push to Enrollment Day
Today is the final day to enroll for health care through HealthCare.Gov without facing potential fines. Much attention has been paid to the rapidly increasing rate of enrollment over the past two months. While much of that momentum can likely be attributed to people feeling pressure with the deadline, the government has also ramped up its marketing efforts, including many online and social tactics.
One of the key demographics avoiding coverage were young, healthy workers, and the government took to the web to try and engage this target and get them to sign up. President Obama has always been successful at leveraging social media in political campaigns, and it was refreshing to see his team apply some of those unique outreach strategies to this advocacy effort. Below are a few of the smart online tactics that caught our eye -- let us know if you found any others.
Between Two Ferns Appearance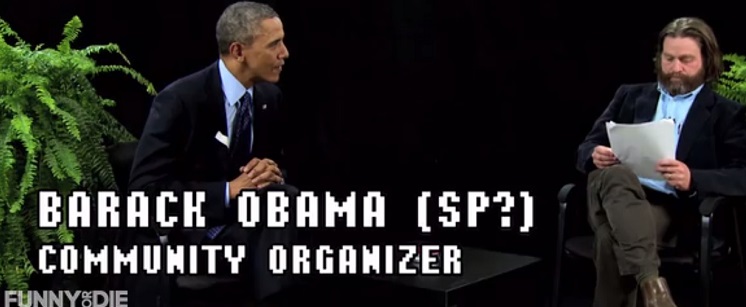 Between Two Ferns is fake interview web show hosted by comedian Zach Galifianakis in which he interviews and befuddles celebrities. The show is immensely popular among millenials and others engaged on the web. The President made an appearance and succumbed to Zach's silly questions, and returned with some sharp wit, for several minutes before launching into a full pitch for viewers of the show to go signup for healthcare before the deadline.
The interview immediately got shared around the web with more than 30,000 Twitter shares and was picked up by many mainstream outlets. The video ended up becoming the #1 referrer of traffic to HealthCare.gov for the day, sending more than 30,000 visits, with about 95% of the visitors from the video being first-time visitors. That definitely seems like a bigger success than a simple primetime news plug.
President Obama Answering Questions on Quora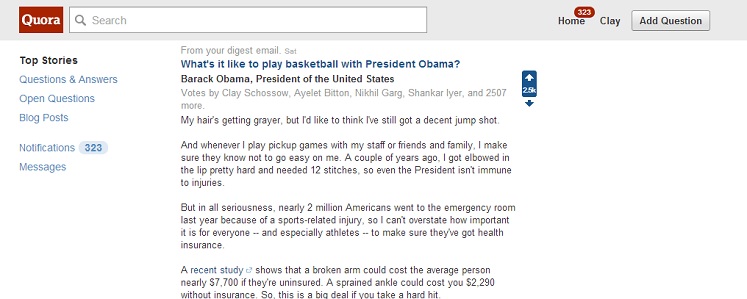 A social network with an increasing presence is the question and answer site Quora. Users ask questions to a community hoping for helpful and insightful answers. One of the unique things about Quora is that many well known individuals, ranging from Jeremy Lin to JJ Abrams, answer questions on the site that are relevant to them. This unique insight allows people to hear answers straight from the source and engage directly with VIPs in a way that typically doesn't happen.
Last week, the President took to Quora to answer a few questions relevant to him, including what it's like to play basketball against the President. His answers followed a similar format to the Between Two Ferns appearance where the President honored the format for about half of the interaction and then hopped into his pitch for enrolling in the ACA. Quora is aimed at young people in the technology community, exactly the type of folks who may find themselves invincible and don't need health insurance, and by engaging in the space, the President is getting in front of an audience that is very hard to reach in a traditional manner.
HealthCare.Gov Celebrity YouTube Videos and Ads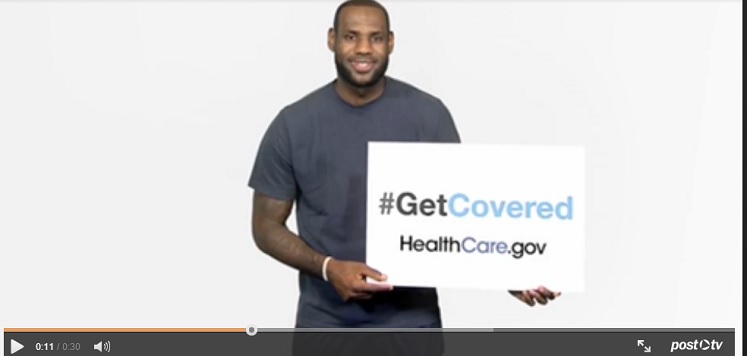 The enrollment campaign has been running ads on traditional TV for several months, but in the run up to enrollment day, they started publishing special YouTube videos to their channel and seeding them across the web. One big rollout was the new ad by Lebron James (as a native Clevelander, it pains me to admit that this was a significant event). Lebron joined others, including the moms of several celebrities, that made quick videos to promote the law.
Videos featuring celebrities are much more likely to get shared across social media, and each video was posted to the HealthCare.gov's YouTube page to help increase visibility of the effort. Furthermore, in addition to the natural sharing and search results of the videos, HealthCare.gov has seeded them as ads across sites like ESPN.com and others. Being able to turn around these quick videos and get them in front of hundreds of thousands of people allows the campaign to continue gaining momentum. The Lebron video was posted on March 14 and had received nearly 200,000 views on YouTube alone by March 31.
Increased Facebook Activity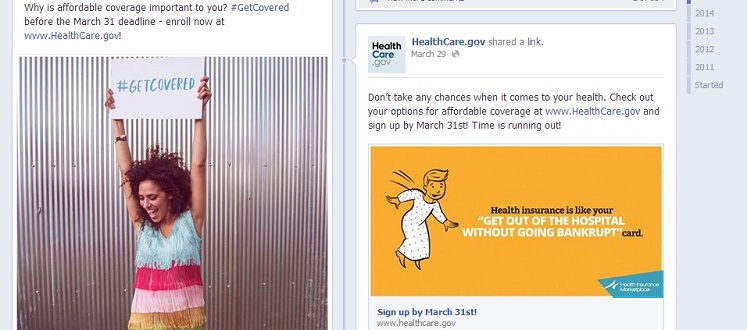 In February and the beginning of March, HealthCare.gov was consistently posting one update per day to their Facebook page, which is a healthy amount for an organization. Since the push has entered the final two weeks, the organization is now posting 2-4 times per day to their page. This increased activity represents the extra urgency followers should feel to get covered and it also raises the likelihood that posts will actually be seen by followers of the organization. Furthermore, to make the posts even more visible and shareable, the organization has begun associating images with almost every post and is using a hashtag #GetCovered, which both increases the likelihood of posts being discovered and shared. The increased presence on Facebook complements the rest of the online campaign nicely and pushes Facebook fans to get involved.
While the trials of HealthCare.gov have been well chronicled and critiqued, the organization has used impressively leveraged online marketing in the weeks before launch to build momentum and gain signups. It has been especially innovative in using completely new channels, such as Between Two Ferns and Quora, to reach an important demographic. If you've seen any other good online marketing from HealthCare.Gov, feel free to share it, and we'll update the post.