WPI Survey Shows Big Agencies Must Adjust to the Times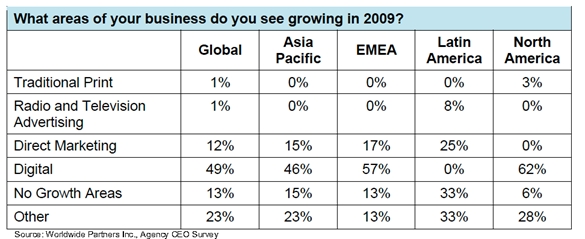 Even in the midst of the recession, Marketing Vox released an article today based on the latest Agency CEO Survey by Worldwide Partners that predicts online spending should continue growing through 2009. 62% of North American Ad Agency CEOs anticipate that their digital spending will grow over the next year.
This survey continues to reinforce a change in the classic agency model of media buys and markups. With increased online spending, clients are seeking more measurable and cost-effective methods to market themselves.
The predicted change in the agency model doesn't just stop at this medium shift. The survey also says that a majority of agencies now are operating on a "pay-as-you-go" model with their clients. This model is popular in emerging markets, but is a new addition to the North American advertising market. The model gives clients more control over their budgets, demands more measurable results from agencies, and replaces blanket annual budgets.
The economic downturn is forcing big, bloated agencies to catch up to the times and function more like small boutiques that do not have the luxury of huge guaranteed multi-year contracts. Agencies are now going to have to embrace new media in a smart, measurable, and effective way, and they will have to prove their value with every project.
This new report coincides with what we've wrote over the past months about how smaller agencies are great partners in a tough economy and how agencies need web development partners to correctly prepare for the digital explosion. Our team works with many small and medium sized agencies that we've seen do a great job of adjusting to the times and truly embracing new media; however, big agencies seem to only be doing it in name and not truly living in the space; this can be best exhibited by the huge, innavigable Flash sites that large agencies regularly churn out for their clients.
These changes will most likely lead to larger clients looking to smaller agencies and specialty shops that can better and more affordably serve their needs.