Twitter for Business - Monitoring and Contributing to the Conversation (Part 2)
As a new media web design firm, we're often asked by clients how they can improve their online presence. As part of the solution, we almost always advise that clients begin or more effectively utilize Twitter as an online marketing resource. But what does that really mean? This post is the second in a 3-part series that takes businesses through a variety of methods and tools that will help improve their presence in the Twitter universe.
If you're not a Twitter newbie but aren't exactly sure how to take advantace of the service and benefit your business, this post covers:
Part 1 of the series discusses the very basics of Twitter. For strategy on how to efficiently manage the increasing amount of information coming into your Twitter feed, stay tuned to our internet marketing RSS feed for part 3.
Twitter Search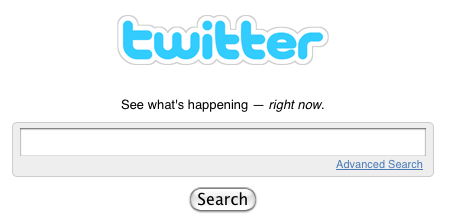 Just this week, both Microsoft and Google partnered with Twitter to incorporate real-time search into their results, proving the increasing importance of Twitter Search. Real-time search is here to stay with it are several opportunities for your business.
You can and should be monitoring what people are saying about your brand (and your competitors) in real time. The real advantage of search on Twitter is not seeing what people are saying about you, but is being able to build a relationship with them by answering concerns and showing appreciation for praise.
The Twitter community is very vocal about the brands with whom they use and interact because they know that many compaies are listening. If you can quickly respond to or explain a bad experience with your company, you may be able to turn a critic into a fan. (If that's not valueable, I don't know what is.)
Also, if someone is happy with your product or service, showing them that you're listening will further build trust towards your brand. A simple direct message or @mention saying "thanks for the comment, we love the support" can make a big difference.
Be a Thought Leader
The best way to increase your number of followers is to consistently create and share interesting, relevant information. Hopefully, that includes exciting things you're doing with your own products or service but your tweets should also include industry news, recommendations, facts, questions, answers and anything else that shows you know what's going on right now in your field.
Your goal should be for people to use your Twitter feed as a human RSS feed for real-time information on your industry.
Even though it has nothing to do with our company, as a Raleigh Web Design Firm, many of our followers would find the above tweet by @newmediaclay extremely useful. By providing followers with valuable information, a company can use Twitter to become a resource and build trust towards the brand.
Encourage Conversation
Twitter is categorized as a social network because at its core, it's designed to be social. Since relationships on Twitter oftentimes don't exist in the offline world, encouraging conversation is a great way to nurture those relationships and can turn your followers into fans. There are a few easy ways to encourage conversation:
Ask questions: If you're not sure what to do in an upcoming situation, curious what the public thinks about a current issue, or want to know how your opinion compares to others, you should ask your Twitter followers! If you're using Twitter correctly, your followers should represent a nice sample of your target audience. And if that's the case, knowing their opinion will be very helpful when anticipating how your entire audience will think.
Answer other people's questions: While it's easy to use Twitter to get information, because you want to your followers to benefit from your Tweets, it's important to give back as well. Answer other people's questions, remark on their tweets, retweet them, support them and they'll do the same. Build your community by giving and not just taking. It'll benefit you in the long run.
Listen and Learn
There are many businesses that, just like you, are trying to be a thought leader and encourage conversation. Don't use Twitter only as a means to market your business, use it as a resource too. Click on the links of the people you follow, read their blog posts, and expand your knowledge base. You're on Twitter to provide value by spreading information and expanding trust in your brand. Let other people teach you too. Twitter has spread so rapidly in the last few years because it can be useful. Take advantage of its utility in addition to molding it into your own marketing tool.
What other ways are you using Twitter to help your business? What have you seen other businesses do? Let me know in the comments and be sure to stay tuned for part 3.