Social Media is Not a Strategy
Photo Credit: The Brand Builder
With the onset of every new technology and business tactic unqualified vendors are born, each trying to make a quick buck through the gratuitous use of buzz words and confusion. One large scale example is the Dot Com Bubble where unqualified entrepreneurs were able to raise millions and millions of capital, but had no business plan except for the Internet.
Social media is the latest strategy to fall victim to this abuse.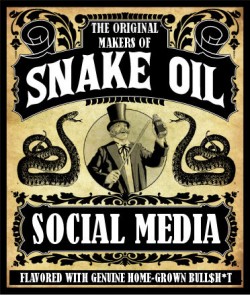 Many companies, large and small, have been somewhat sideswiped by the whole social media phenomenon and have gotten lost in the fog. This slip is understandable as it is fairly new and confusing, and the space is much different from what decision makers have seen in the past. However, it's inexcusable that so many firms and individuals ride in on a social media strategy flying carpet and promise magic.
Executives should not be fooled, they should recognize the fact that: Social media is not a strategy; it's a vehicle with which to enact your strategy.
As Facebook crossed more traffic milestones and Twitter brought millions in revenue to large companies, more and more agencies started touting social media as the silver bullet that would increase your company's revenues and your clients' happiness. I mean the only reason that Zappos had a near-billion dollar acquisition was because they tweeted, right?
However, it's not that companies tweet or post photos to flickr that is behind their success; it's the fact that these efforts further their overall strategy of content creation, customer acquisition, and product positioning. Southwest would still be a very successful airline without Twitter, but a core tenet of their business is service and responsiveness, and social media allows them to carry this ethos through more channels.
Too many firms haven't done their research and convince potential clients that just being in the space is the entire battle. I'm warning you that your overall marketing is the battle and social media is simply another weapon in your arsenal to help win it. Don't miss the forest for the trees and allow a blind investment into social media that results in participation but no interaction or measurement.
Don't get me wrong, I love social media (dorkiest sentence I've ever typed). It has paid dividends for our firm through inbound marketing, client relations, new business, and in countless other ways. Furthermore, I think there are tons of great firms out there that do social media the right way, such as our partner PR 20/20 and social media firm SHIFT.
These firms understand that it's about an integrated online marketing strategy and there are a lot of steps before and after social media to have a truly successful campaign. However, it seems that for every firm that gets it, there are a half dozen impostors faking their way to invoices.
So, the next time someone comes to you promising the moon based simply on social media, ask some hard questions, review their metrics, and then look elsewhere.