Should You Build Your Own Private Social Network?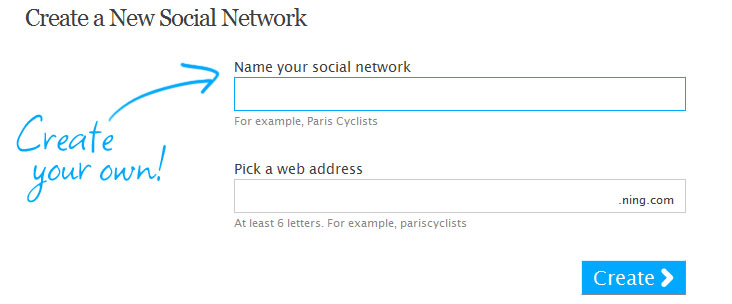 As social media have become more popular, organizations have frequently wanted to create a more branded and controlled experience for their target. A common (and expensive) solution to this problem has been to build a private social network aimed at connecting your users with one another while bypassing the "distractions" in other networks.
These attempts range from a few wildly successful cases such as MyBo and Pickens Plan to many failures that just turned into virtual ghost towns.
The successful private networks are definitely the exception and not the rule. You'll notice all the successful cases were supported by organizations with really, really deep pockets. It's very difficult and nearly impossible to start a private, niche, network that organically takes off.
However, the very popular and high profile cases catch a lot of headlines and thus lead people to consider launching one for their own organization. I frequently speak with great non-profits, corporations, and individuals who are toying with the idea of launching their own network.
My answer is almost invariably no.
Save Resources and Go To Where Your Audience Already Is
Even though services like Ning have reduced the dollar amount to almost nothing to build a private network, the cost is still too high. The true cost is your time and resources devoted to attracting and engaging users on a new network when they're already herded and conversing on others, such as Facebook, Twitter, LinkedIn, and more.
Your audience has already set up shop in their desired social media, and to convince them to leave and spend the time to launch another presence is a nearly impossible task. Rather than building your own space from the ground up, you should focus on leveraging the organizing tools in place on popular social networks that your target already inhabits.
From Facebook Fan pages to LinkedIn groups (read more on using LinkedIn for business) to Twitter discussion, rather than trying to slowly build an audience from scratch and then engage them, you have the power to immediately connect with them in a space they're already accustomed to.
Making Sure It's the Right Decision for Your Organization
Before you build your own network, you have to be able to answer the following questions with a definitive yes:
Have you already built a formidable community (I'm talking thousands and thousands of folks) through other social media?
Do you have the available resources to support and promote the new network with other media?
Has your brand cultivated an audience that is passionate enough to sustain its own community?
If the answers to those three is yes, I congratulate you on having a great organization and taking advantage of social media. However, it still doesn't mean you're ready to launch your own presence. You then must be able to pledge your continued and persistence efforts to the following:
Creating loads of content that provides valuable information and fodder for discussion to educate and engage the community.
Continually interact in the community by answering questions, greeting new members, posting content, and encouraging interaction.
Progressively upgrade the network with exciting new features, offers, and opportunities.
As I stated above and these checklists demonstrate, it's very very rare that it's appropriate for an organization to build its own social network, it's even more rare for that intiative to actually succeed.
Your resources would be best utilized to engage your target on their ground and terms rather than trying to dictate a new gameplan. Have you seen other organizations that don't fit this mold successfully build their own networks? Have you been a part of a winning private network?