Nonprofit Online Fundraising Strategies from NPR
About 40% of NPR's $174 million annual budget comes from individual donations. That makes them one of the most consistently successful organizations at grassroots fundraising from individuals who are supportive and passionate about their mission. Public Radio listeners are familiar with the NPR Pledge Drives that will dominate a member station for a week at a time, encouraging people to call in with donations or give online. In addition to leveraging their on-air talent, the nonprofit does a great job of cultivating donations online. Below are several things they're doing really well that can be adopted by any other organization who wants to raise money online from their network of supporters.
Recurring Donation Options
This is an easy one that most organizations seem to miss. Rather than working to close donors over and over again, make it easy to for someone to only go through the gifting process once but choose an option keep giving into the future. NPR calls these folks Sustainers, and they make it easy for any donor to make a monthly pledge. Almost every popular online donation service includes the option to publish a recurring option for donors (e.g., Network for Good Recurring, PayPal Recurring, etc.).
While you only will have to close these donors once, you'll still want to keep in frequent contact with them and offer them periodic perks so they see the value in their continued giving. A recurring option is an easy way to increase the lifetime value of a donor but only have to do the work once.
Gifts Associated With Different Donation Levels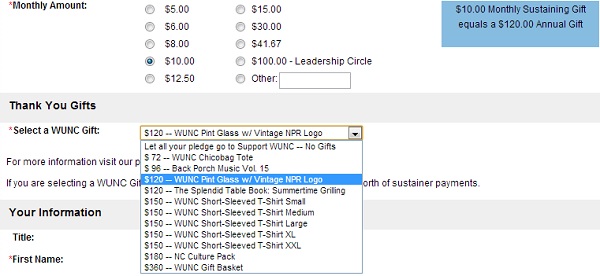 First, just offering a gift in exchange for a donation is a great tactic. Psychologically, people love to get something in return for their charity; you're now not only giving them a nice feeling, but they're also getting some swag that advertises their support of an organization they believe in.
NPR also takes it a step farther by not only offering a gift option, but by having a wide array of gift options at relatively close amounts. Having multiple options will tempt someone to go up a level to get a better item. It's worth it to give the extra $24 to get a pint glass or tee shirt instead of a CD (options at our local WUNC), because these options will let you become more closely associated with the gift.
By having these multiple options, NPR just tempted a donor to give an extra $24 that they wouldn't have given if there were no associated gifts. Take it from someone who gave extra to get a mug instead of a tote, different options will inspire a donor to reach a little deeper into their pocket with their gift.
Give Unexpected Periodic Perks
Whether it's the chef stopping by your table at dinner, your favorite barista giving you an extra shot of espresso for free, or your realtor bringing you a housewarming gift, an unexpected perk makes you want to continue doing business with that group.
It's critical that you don't forget about your donors after their donation. This is especially true when people are parting with their money toward a nonprofit. It's easier to get an existing donor to give again than it is to convince a new donor to give the first time. Keep your contributors in the fold with perks that make them feel special.
NPR does this in a few ways. First, any sustainer is entered into every future pledge week drawing, which typically features prizes like trips to Paris or iPads. Once you've become a sustainer, they'll automatically make sure you have a chance to win a future prize. They advertise this on their site, so it's not totally unexpected, but a nice perk. However, they also will send emails to sustainers with offers to free tapings of shows, free musical performances, and more. The events have a fee for nondonors or sometimes are only open to donors. Even if you don't attend the event, having the offer of a couple free tickets reinforces that you're getting something in return for your donation and also likely makes you a more ardent supporter. You're competing for a limited amount of dollars, so make donors feel special and they'll likely return the favor.
Be Willing to Try New Platforms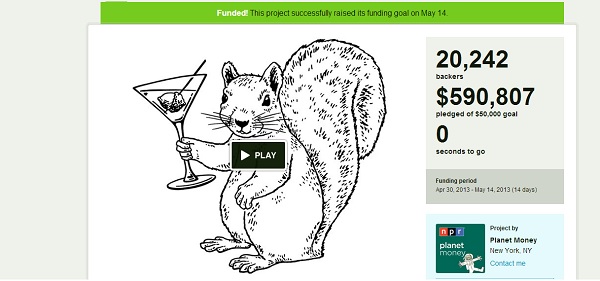 It's impossible to keep track of every new technology or service on the web for nonprofits, but it's clear when one has hit a tipping point and become relevant to mainstream America. As a nonprofit it was fine if you weren't in the first 1,000 Twitter or Facebook users, but once your audience had adopted these networks, it was important for you be there and join the conversation.
The same is true of fundraising platforms. One that has rapidly grown in the past year is Kickstarter. The company started in 2009, but has really entered the mainstream consciousness this year. Seeing that their audience was there and their dollars had followed, NPR wisely decided to experiment with their own Planet Money Kickstarter to raise funds for a special report on how t-shirt manufacturing represents the global economy. They set a goal of $50,000 and ended up raising more than $590,000. While their success is obviously unique, their willingness to try a new platform to fund one of their projects shouldn't be.
Your nonprofit can try out these new platforms to demonstrate to donors and stakeholders that you're digitally relevant and progressive, and they can also help you capitalize on the huge built-in networks that these services have. Give it a shot and you might be surprised at how successful you are.
As a firm who specializes in nonprofit web design and political campaign websites, we understand the intense competition for donor dollars, but with by implementing the tactics above, you could immediately raise the sophistication of your online fundraising efforts.