Looking forward to the NCTech4Good Conference in Chapel Hill
Because we're located in Carrboro, NC, I am especially excited about attending the 4th Annual NCTech4Good Conference, which is right around the corner in Chapel Hill. The conference is designed to bring together professionals, volunteers and business owners and focus on technological challenges for non-profits like fundraising, social media, and communication and advocacy tools.
I work with many of our non-profit web design clients so I eagerly accepted the offer to attend the conference after I saw some of the scheduled sessions including:
Session: Responsive Design: What is it? How do we do it? How much will it cost?
The increasing usage of mobile and tablet devices to browse the web has made responsive design a must for modern websites. Recent research shows that almost 40% of time on the Internet is now on mobile devices. As a result, we now include building websites in a responsive manner or with a custom mobile design in our basic website package for clients. Take a look at some of our recent responsive websites below. If you're viewing the sites on your desktop, you can expand and decrease your browser's width to see how the design adjusts to match the size of your browser.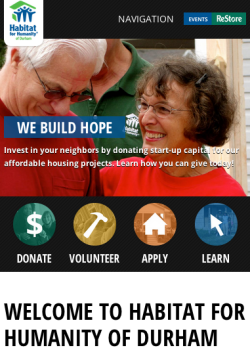 Responsive sites build by New Media Campaigns
The responsive design session will be a great opportunity to see what responsive techniques other firms are using and how we can make our responsive layouts more effective for our clients in the future!
Session: Salesforce for Nonprofits
Salesforce is an extremely powerful CRM that greatly facilitates the process of connecting and building stronger relationships with your site visitors. For non-profits, that might mean:
Collecting donations
Sharing volunteer opportunities
Engaging a supporter base
Growing your email subscription list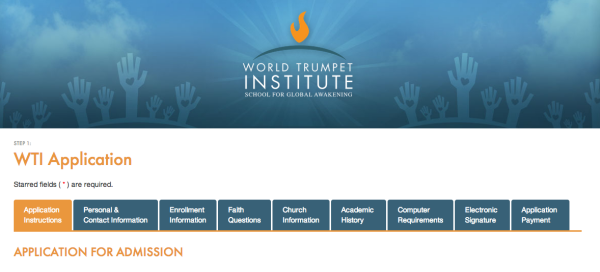 We've integrated Salesforce with many of our clients' websites including recently building a custom enrollment application for the World Trumpet Institute. I'm looking forward to learning new ways that we can use Salesforce's many platforms to make connecting with and assisting the community easier for our non-profit clients.
Session: How to Measure Your Social Media Efforts
I've written before about the importance of using social media for non-profits and we're always looking for better ways to measure your online traffic through tools like Google Analytics so I'm hoping this session will outline specific tools that will allow our clients to better track their social media efforts.
Managing and assisting with social media is a big part of our online retainer package and we've had a lot of success using social media to extend the life of our clients' posts and making social media a larger portion of our clients' inbound traffic. Being able to better measure our efforts will not only allow us to improve our initial social media strategy, but better tweak the approaches that we already have in place.
How to Make the Most of Google Grants and Free Ad Dollars
Google Grants is a great program where Google gives $10,000/month in in-kind Adwords advertisements to deserving non-profits. We have several clients that have been awarded the grant and work with them to build landing pages with inviting calls to action to compliment their ad campaigns and better convert on people that click on the ads.
Additionally, we often use Google Adwords as part of our online marketing campaigns for non-profits, political campaigns and businesses. I handle many of those campaigns so I'm really looking forward to learning how to better take advantage of Adwords' powerful ad interface.
Going to the conference? Let me know!
If you're attending the conference or have any questions about the sessions I'll be attending, I highly encourage you to shoot me an email or reach out to me on Twitter @pomer.