The Andrew Goodman Foundation was established in 1966 to support and educate young activists who fight injustice through enthusiastic civic engagement. We built their original nonprofit website design in 2016, and have since expanded the platform to include a dynamic system that supports the foundation's Vote Everywhere movement.
The foundation and its efforts were featured in a well-circulated New York Times article on voting in the era of Covid-19. Read on for a closer look at the Vote Everywhere program and how the custom WordPress setup is shaping the future of digital organizing.
About Andrew Goodman Vote Everywhere
Driven by Andy's pursuit of democracy, Vote Everywhere is a nonpartisan movement that registers students to vote and encourages on-campus social justice activism. The program has a network of chapters at 63+ universities, and has registered more than 99,000 voters since its launch in 2014.
Unlike other voting organizations, Vote Everywhere is present on campuses year round – even after elections have occurred and before it's time to start drumming up enthusiasm again. In the "off-season," student ambassadors organize community events, take part in trainings, and raise awareness for a range of voting-adjacent causes.
A big part of the Vote Everywhere program is its unique online portal system. Wondering how it works? We'll get to that next.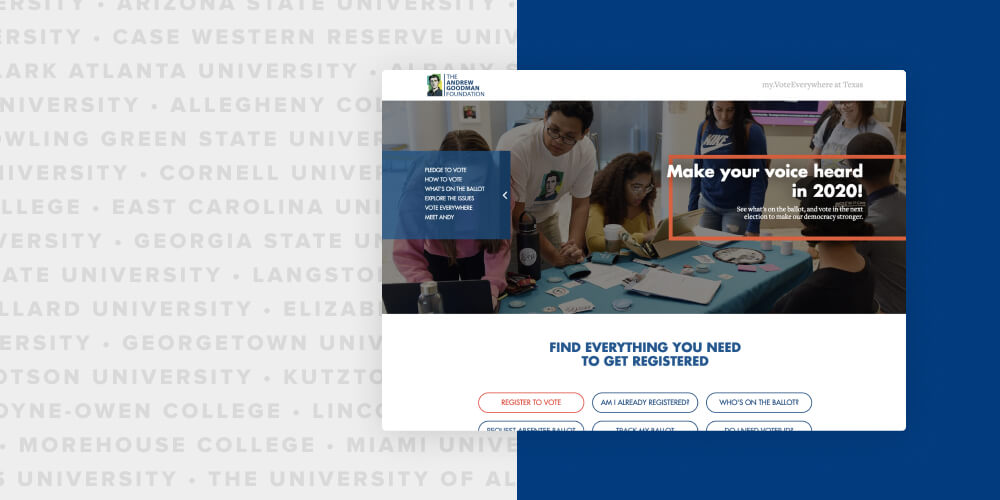 Managing Vote Everywhere in WordPress
When a school partners with the Andrew Goodman Foundation, they're given access to a my.VoteEverywhere portal where student ambassadors can add university-specific content like local election dates and registration information. The portals are technically webpages that live on the main Andrew Goodman Foundation site – notice the URL structure in andrewgoodman.org/myvoteeverywhere/baylor-university – but they're completely customizable to the needs of each individual Vote Everywhere chapter.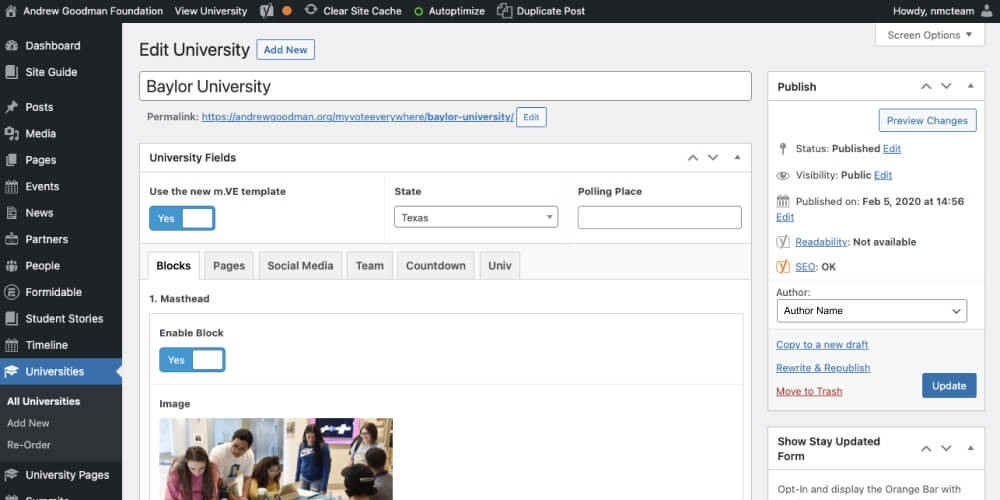 To put the portal pages together, student ambassadors log into the main WordPress content management system and find their school's designated page. Here they can add relevant dates and identify campus Vote Everywhere contacts.
When they're ready to customize the portal's interior pages (that link to the buttons), ambassadors can add content as the specific "University Pages" post type. Numerous schools are involved, so these are all labeled to reflect whether they're specific or applicable to all chapters.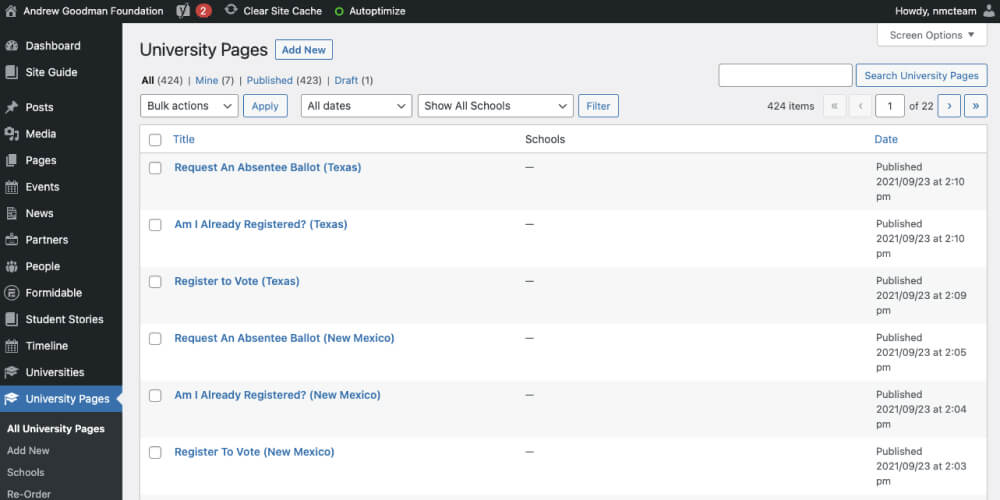 Once the right pages are added, ambassadors can go back to their school's page and pull in the content that they created. We made this easy by building in a search feature where the students can easily pull up the content that they're looking for. Once they select their pages, the buttons will update to link to the new content.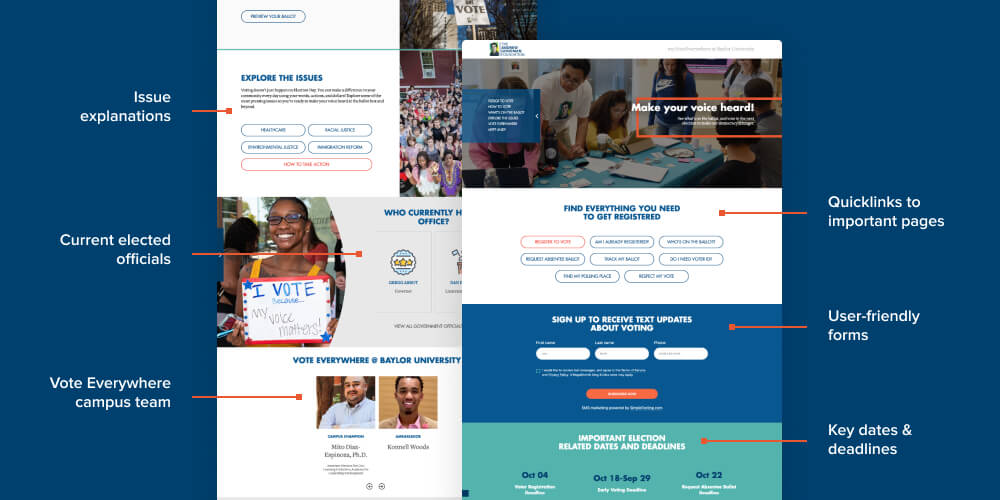 To manage larger-scale information, each state has a one-stop section in the CMS where an admin can enter statewide details like registration dates and deadlines, elected officials, and a list of participating universities. Edits to statewide information will populate throughout the Vote Everywhere system, making it exceptionally easy to keep everything up-to-date year after year.
Benefits of the Vote Everywhere Portal System
We set up the Vote Everywhere system to center on several key benefits. First, it streamlines the process for adding new member schools. Whenever a new campus joins Vote Everywhere, the Andrew Goodman Foundation simply logs onto their site and creates a new page for the school in question. No confusing processes or technical support required.
Second, the portal system allows student ambassadors to quickly and easily create new content. The WordPress CMS is designed to be intuitive, so users don't need to have any specialized training before diving into the management of their page. Built-in layouts and flexible content blocks mean that students can focus completely on their information – we've already taken care of the rest.
Third, the portals are uniquely set up so that ambassadors can pull in both general and specific pages that exist in the CMS. This is helpful because much of the information at the national and state level can be used by multiple Vote Everywhere chapters. When creating the school's portal page in WordPress, students just search through a list of content pages until they find the ones that they need.
Managing Data With a Salsa Integration
Considering that Vote Everywhere reaches so many students, it was clear that the Andrew Goodman Foundation would need a reliable plan for organizing contact information and managing communications. A lot goes into choosing a nonprofit fundraising tool, so we worked closely with their team to select Salsa, a powerful CRM software that efficiently handles data for thousands of prominent nonprofits.
In order to connect Vote Everywhere to the foundation's Salsa setup, we started by building a custom form to match the site's look and feel. Once the form was ready to go, we used Salsa's API to bring the two pieces together.
All of this comes into play when students log into their my.VoteEverywhere portal. On the login screen, students are asked for their name, email address, university name, and graduation year. If they check the box below the Submit button ("I want voting information"), their contact details will make their way into Salsa where they can be accessed by the Andrew Goodman Foundation.
The foundation uses the form data to contact groups of students with relevant and specific information. This could be as narrow as an email that lists polling places in a particular town or as broad as voting deadlines for an entire state. The best part? Students stop receiving location-specific emails after their graduation year has passed.
Future Directions
With the Vote Everywhere system in place, the Andrew Goodman Foundation is poised to continue activating student voters for years to come. The system's scalable CMS, adaptable layouts, and modern look have already made it possible to grow the movement and build excitement around the voting process.
Even in an off-cycle year, Vote Everywhere continues to serve as a crucial tool for campus organizing. University partners are already hard at work gathering volunteers and educating voters in preparation for next year's midterm elections.
Interested in reading more about our work with the Andrew Goodman Foundation? Check out the case study for details about the project and the start of our partnership.