For many of our nonprofit web design clients, attracting and collecting donations is an essential function of a successful website. But with so many great fundraising tools on the market – think Blackbaud, Salsa, NetworkforGood – it can sometimes be difficult to determine which program will best serve your organization's goals.
We recently launched an awesome new site for MiracleFeet, a nonprofit that works internationally to provide medical care for children with clubfoot. MiracleFeet collects a lot of donations online, so it was really important for their website to support an attractive and user-friendly donation platform.
In the end we settled on Stripe and Wufoo, two great services that were the perfect fit for what MiracleFeet was looking for. Read on for an explanation of what made this a good match and how to implement a similar setup on your own site.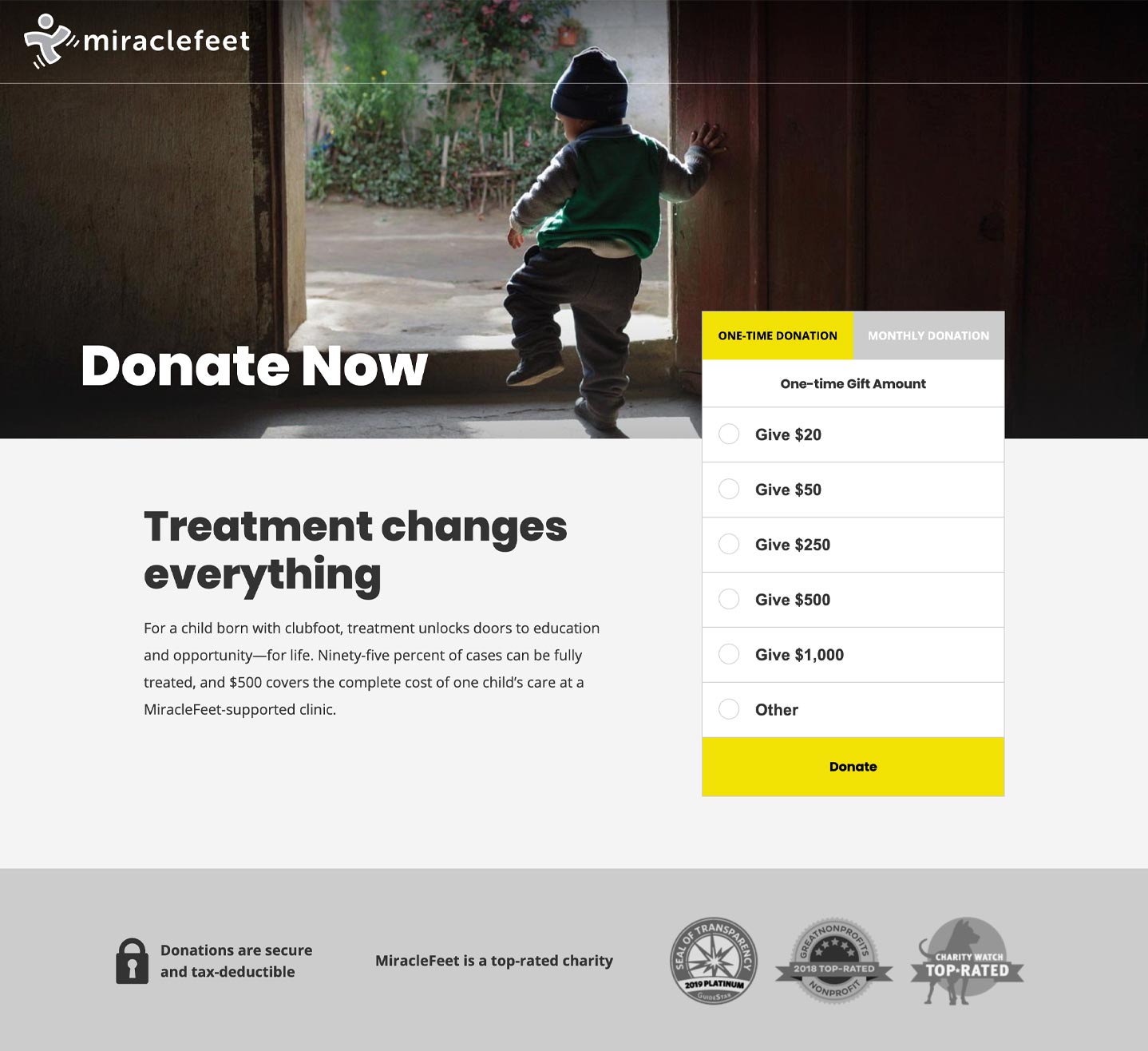 Why Stripe and Wufoo for Donation Forms
Before the launch of the new site, MiracleFeet had been using Blackbaud to manage all of their online donations. Blackbaud was serving its purpose well, but it didn't allow for the amount of customization that MiracleFeet hoped to have over their new donation page. They wanted a look and feel that was entirely their own – something that would match seamlessly with design elements from the rest of the site.
To bring this vision to life, we began by using Wufoo to design a custom form that could serve as a foundation for our own design elements. When the form was in place, we used Wufoo's Stripe integration to incorporate payment processing.

Stripe is strictly a processor, so it's important to note that it doesn't include supporting tools like email marketing or tracking. These are things that would be better handled by a full software suite like Blackbaud or Salsa. But with Stripe, one major advantage is that clients can create something custom quickly and easily -- and be charged an industry-low transaction fee. For MiracleFeet, this was an ideal solution for the initial launch.
How We Did It
Luckily for us (and you!), Wufoo is set up to integrate smoothly with a number of different tools and payment processors. And one of those is Stripe! Follow along with the steps below to bring the Stripe/Wufoo combo to your own site.
Create a Stripe Account
1. Register for Stripe at https://dashboard.stripe.com/register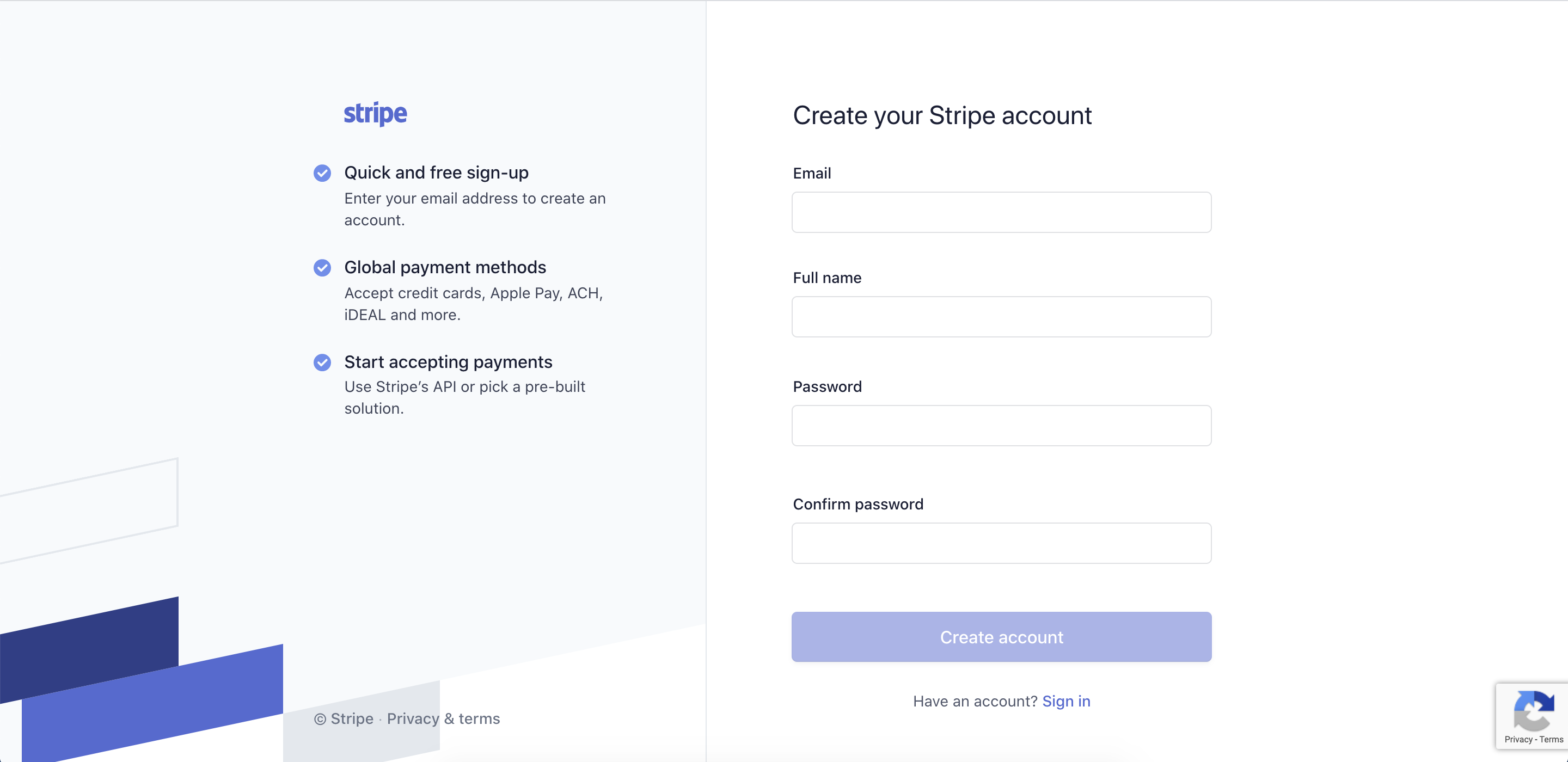 2. Walk yourself through the sign-up process. It's easy, we promise!
3. Verify your email address
4. Activate your account. This is an important step, so you should have all of the following information ready to go: your company's contact information, business address, industry and business description, Employer Identification Number (EIN), and banking information
Once your Stripe account is up and running, you can set up features like recurring donations. To do this, log into Stripe and create a new item under "Products." The "product" will allow your site visitors to automatically donate a certain amount every month, if they're interested. You'll need to create a new one for each amount you'd like to have as an option.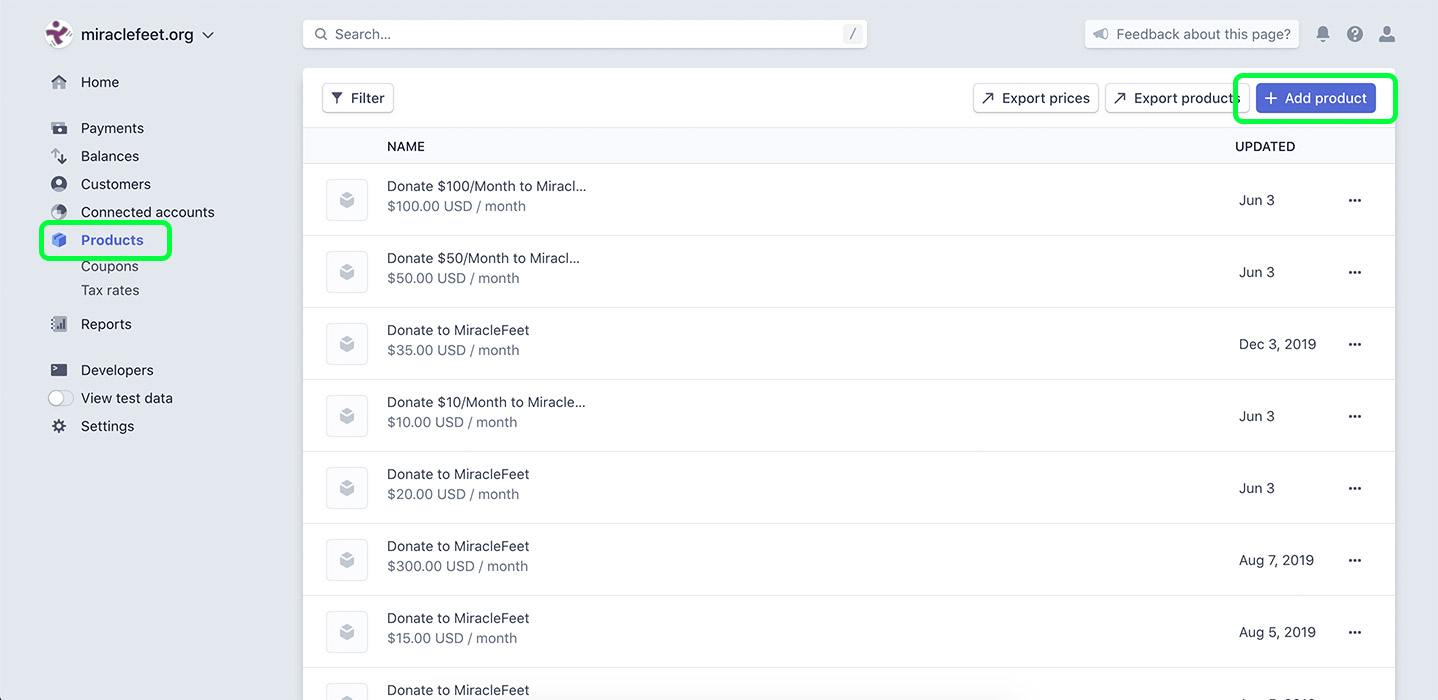 Create Wufoo Account
The next step is to set up your Wufoo account. MiracleFeet already had an account with Wufoo, so this part was pretty straightforward for them. If you're new to the service, you can select a plan on the Pricing page. Note that you must have the Professional plan to collect payments.
1. Select a plan on https://www.wufoo.com/pricing/. The Professional plan allows you to collect payments and create an unlimited number of forms.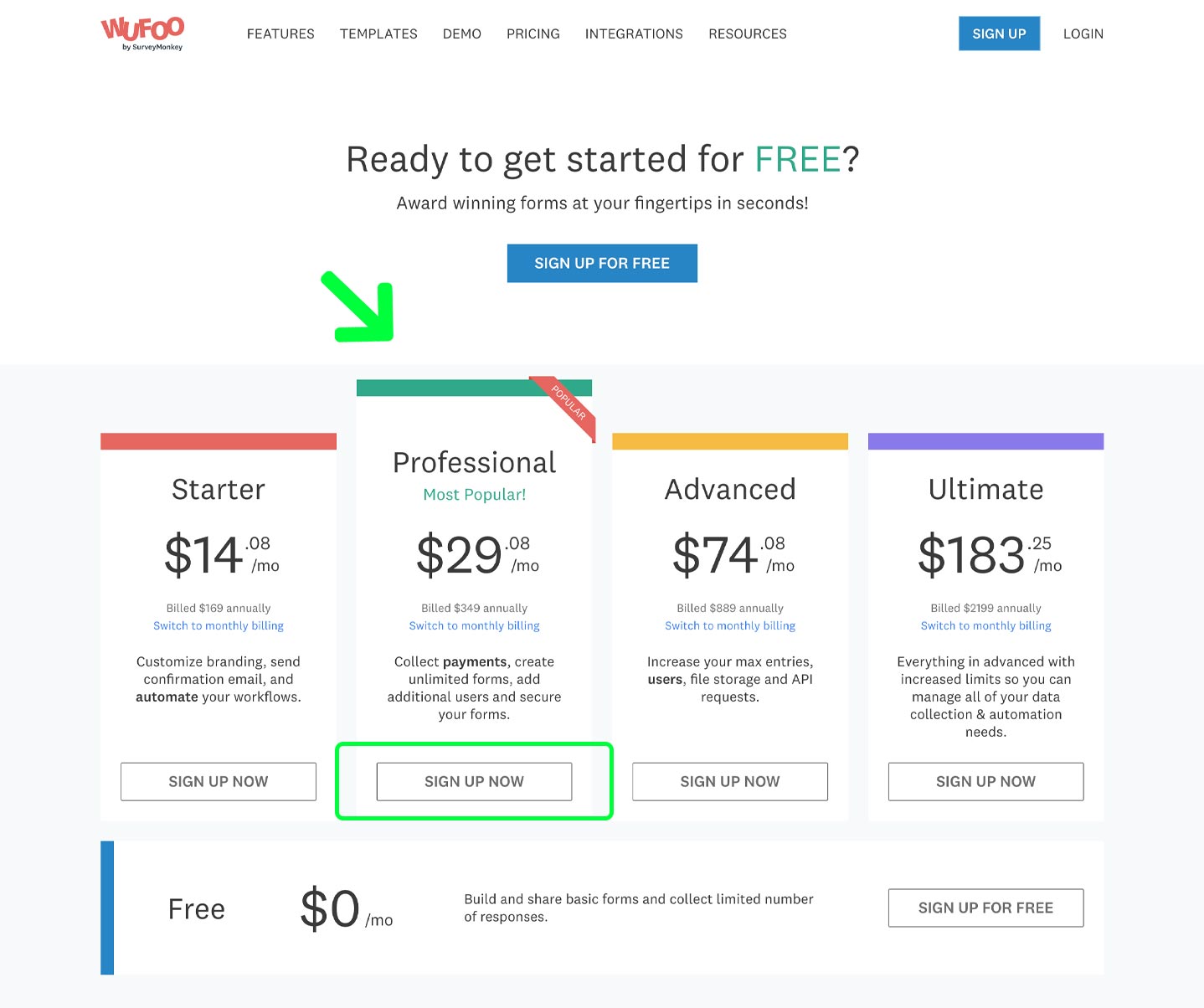 2. Click "Sign Up Now" and walk through the registration process.
3. Once you're logged into your account, click "Create a New Form." You'll have the option to add fields that users type into, multiple choice answers, etc.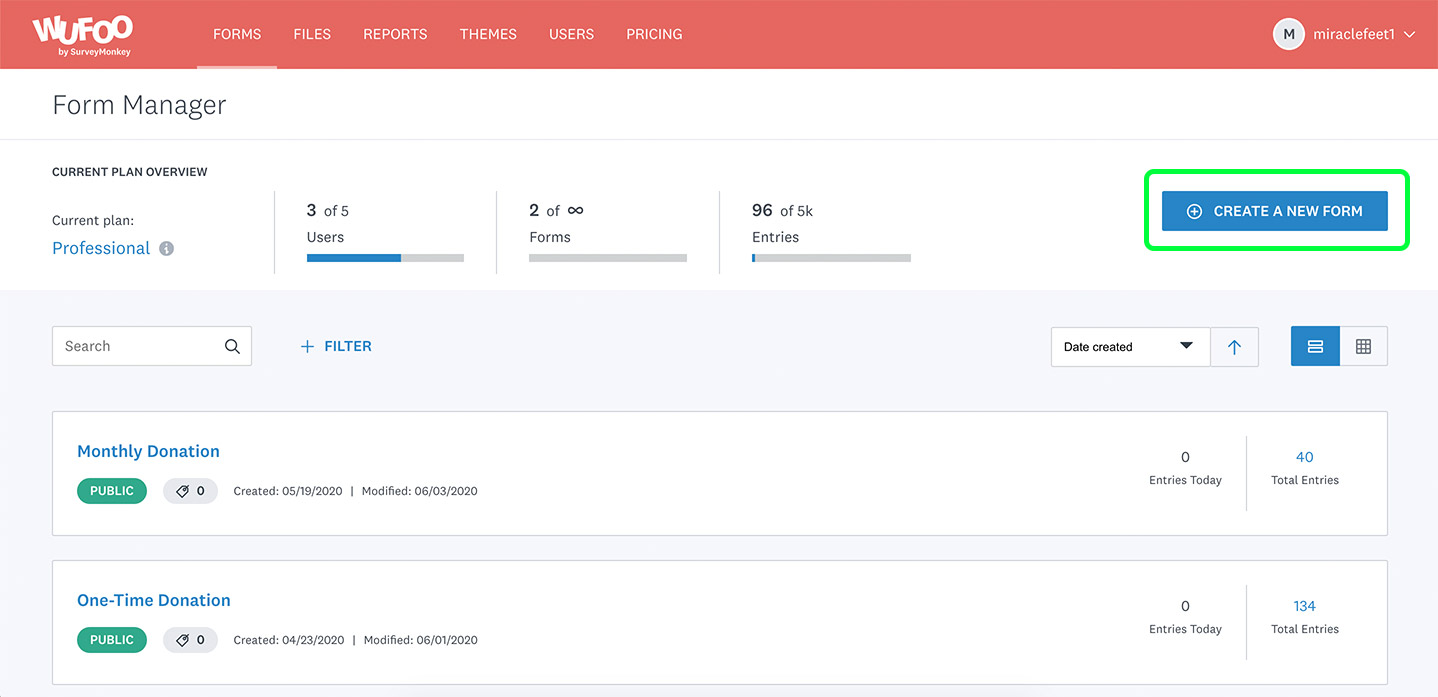 4. Under "Field Settings," you can use CSS from the Theme Designer to style the form to match your brand.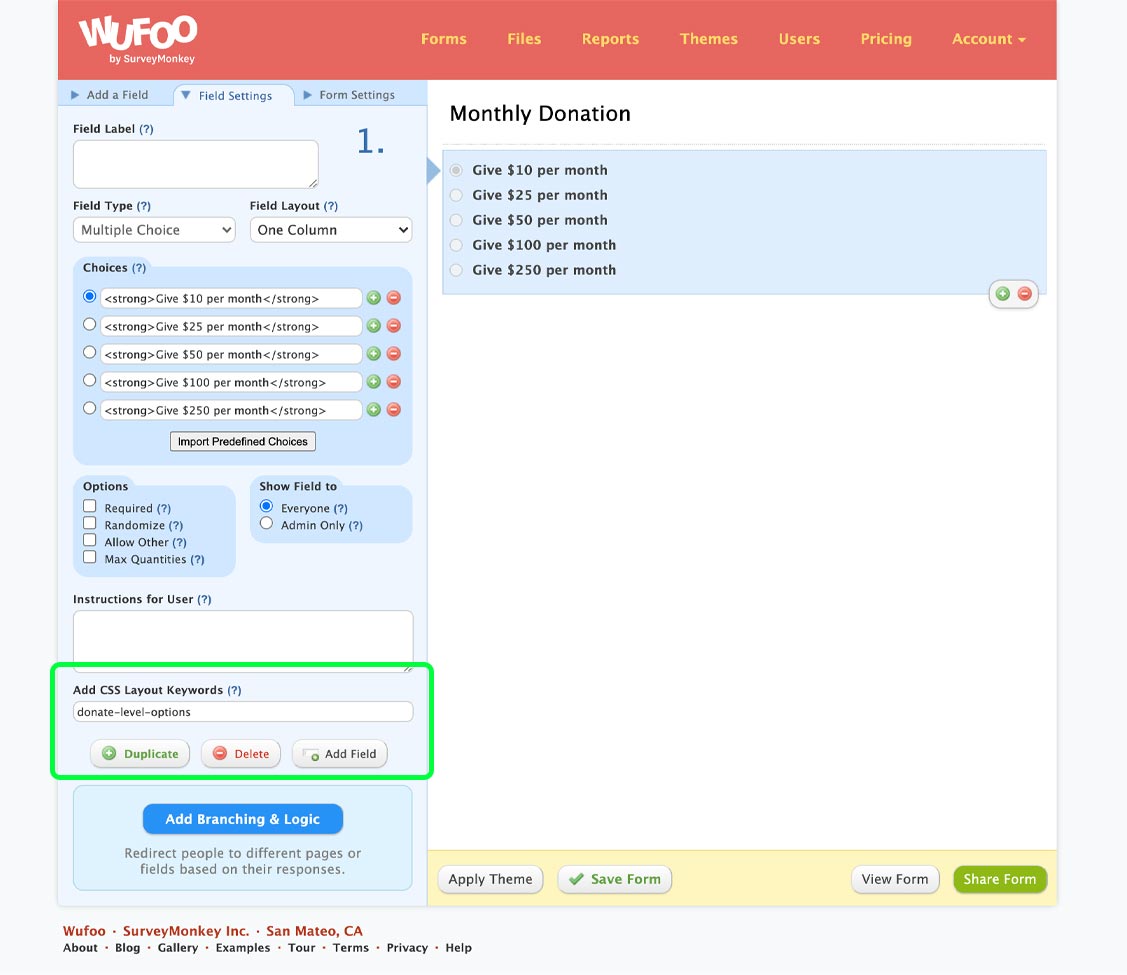 Integrate the Accounts
After you've set up your Stripe and Wufoo accounts, it's time to bring them together so your forms can accept payments. To do this, start by logging into your Wufoo account. Next, move on to the steps below:
1. Hover over your form and click the "View Payments" icon. It's a small shopping cart.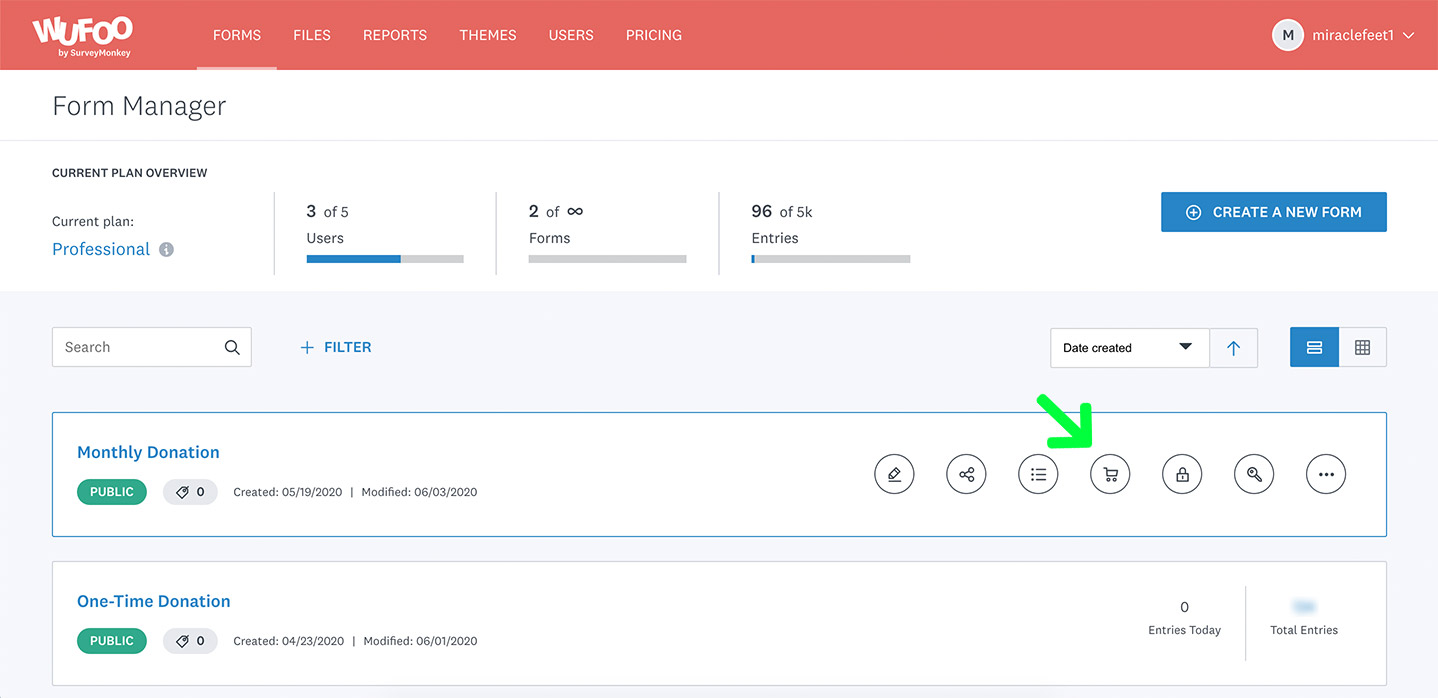 2. For recurring payments: Under the "Select a Merchant" dropdown, select "Stripe Subscription"
3. For one-time payments: Under the "Select a Merchant" dropdown, select "Stripe"
4. Choose your payment options (currency and settings). We recommend checking the box for "Email Receipt to User."
If you choose to have Wufoo send a receipt to each donor, you can click on "Customize Receipt Email" to control what information is included in the "Thank You" message. Here, you can enter your company's name, a reply-to email address, message content, and a footer (often used to house your company's contact info or physical address). Customizing your receipt email is a great way to show gratitude to your donors and confirm that their donation was processed.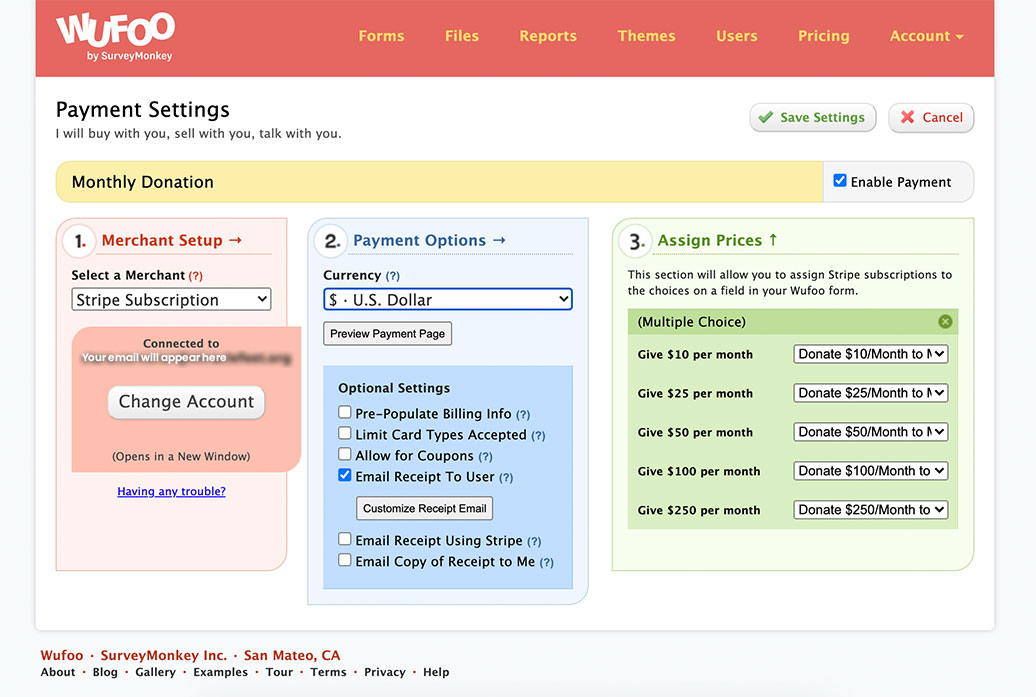 5. From there, if you set up a recurring payment form, you'll "Assign Prices" based on the Stripe products you previously created.
6. If you're just collecting one-time payments, you'll just add that price/amount in the open fields.
Make sure to save your changes when you're finished. After following these steps, your Wufoo form should be ready to accept payments from your site visitors!
PRO TIP: Stripe also provides instructions and test cards so you can test your payment portals and make sure that they're working properly.
Donation Form Success
For MiracleFeet, the Wufoo and Stripe combination was the perfect way to build a quick and custom donation platform for their site. It looks great, it's easy to use, and it does exactly what it's meant to do. And in the week since launch, the new Donate page has already proven its value by attracting several new contributions! You can read more about how it rounds out the site in our full-length case study on MiracleFeet's new website.
While Stripe and Wufoo were a great fit for this project, it's important to note that every organization has different needs and priorities when it comes to payment processing. To that end, we work with a variety of vendors and can almost certainly find a solution to fit your goals, even if that means something other than the process we discussed in this post. If you're interested in talking through some different options, we're always happy to offer our advice!