Between working with clients and managing ongoing business operations, running a solo law practice can be a difficult undertaking. And for attorneys with a lot on their plate, maintaining a website or crafting a digital marketing strategy is often low on the priority list.
But in these increasingly digital times, a sophisticated law firm website design is an essential tool for attracting new clients and building a solid reputation online. A website provides a central location for outlining your track record and expertise, and also communicates your commitment to remaining relevant in a tech-savvy professional world.
In addition to incorporating typical law firm website best practices like clear navigation paths and responsive mobile layouts, solo law firm websites should differentiate themselves by highlighting the benefits of a smaller firm's personal touch. In this post, we'll cover the best approach along with a handful of other best practices that come into play.
Skip Ahead:
---
Create a Local Brand
Because most solo practitioners focus on a single geographic area, they're well positioned to build a brand and reputation based on local connections and expertise. This is easy to translate to a website and can go a long way in setting your practice apart from larger firms or those that lack local knowledge.
One way to cultivate a local feel is to use visuals, graphics, and colors that nod to your region. That could mean including images of your city or office location (if you have one), tying in your state's silhouette as a background texture, and writing about your local roots on the site's About page.
Another big piece of this is your own personal brand. As a solo practitioner, you already know the value of first impressions and relationships. But site visitors likely haven't met you in person yet, so you'll want your website to communicate a little bit about yourself through the design aesthetic along with the written copy. A more traditional attorney may select muted colors and straightforward layouts, while someone with an unconventional approach might choose bright colors and playful icons that reflect their personality.
Our client Rania Combs creates a distinctive brand by incorporating a professional headshot on her homepage and prominently mentioning her connections to Texas (where she practices) throughout her website. Even her site's URL – texaswillsandtrustslaw.com – includes her state and focus. Thanks to these features, site visitors instantly get an idea of who she is and where she works.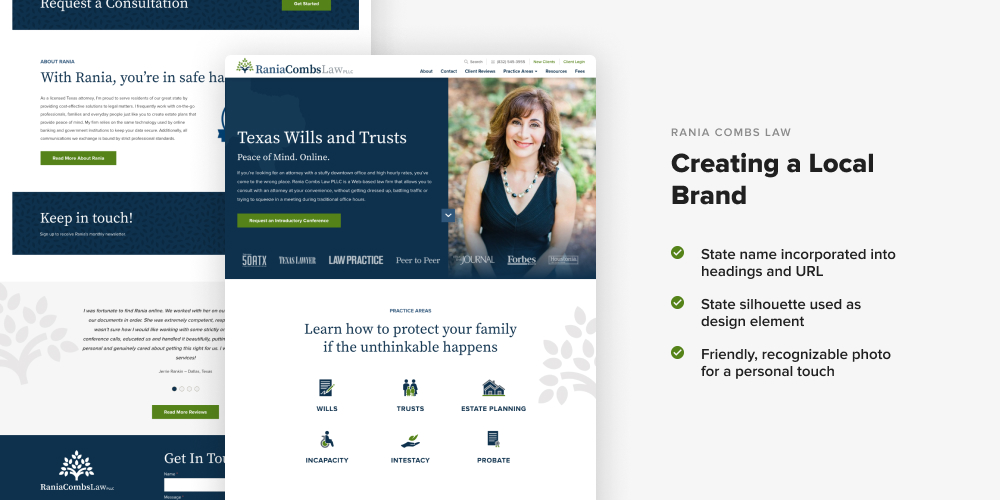 Prioritize Practice Areas
This goes for all law firms, but for solo practitioners with niche specialties, it's especially important to call out practice areas and services up front. This way, site visitors can quickly evaluate your offerings and decide whether or not you're a fit for their needs.
The homepage is a great place to position practice area information. Our client Bonnie Green maximizes the space by immediately mentioning her specialty (litigation), and listing out her four specific practice areas in an interactive block further down on the page.
Additionally, she includes a tab for Practice Areas in her site's main nav, making it easy for visitors to return to these core pages no matter where they are on the site. A solo practitioner with fewer specialties could even list each area as a main nav item.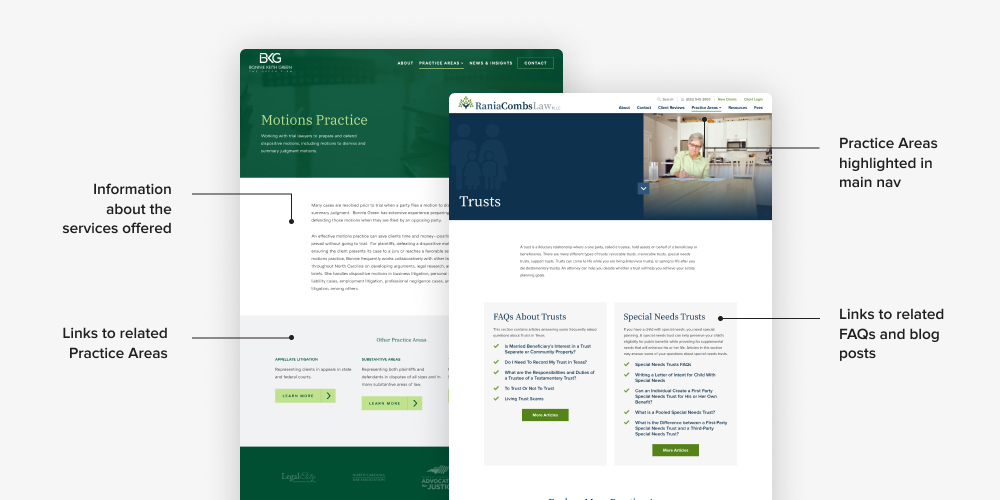 Publish Helpful & Timely Content
To show value immediately, solo practitioners should consider enriching their websites with helpful free content like blog posts or guides. These pieces don't have to be long or overly complex, but they should include useful information that reflects deep knowledge in the space. Many attorneys approach content creation by answering common questions that they receive from clients or responding to current events or legal decisions.
Having informative content on your site serves two important purposes. First, to help clients and prospective clients gather information. This piece is just as straightforward as it seems – your website is a more valuable resource if it includes content beyond your contact information and practice area listings.
Second, including helpful content can boost your site's search engine performance. Search Engine Optimization (SEO) is the process of helping your site rank better on search engines like Google. Posting new, high quality content regularly helps to build your site's authority and tells Google that you may be a reliable source worth ranking for particular queries. Skip ahead for more about SEO.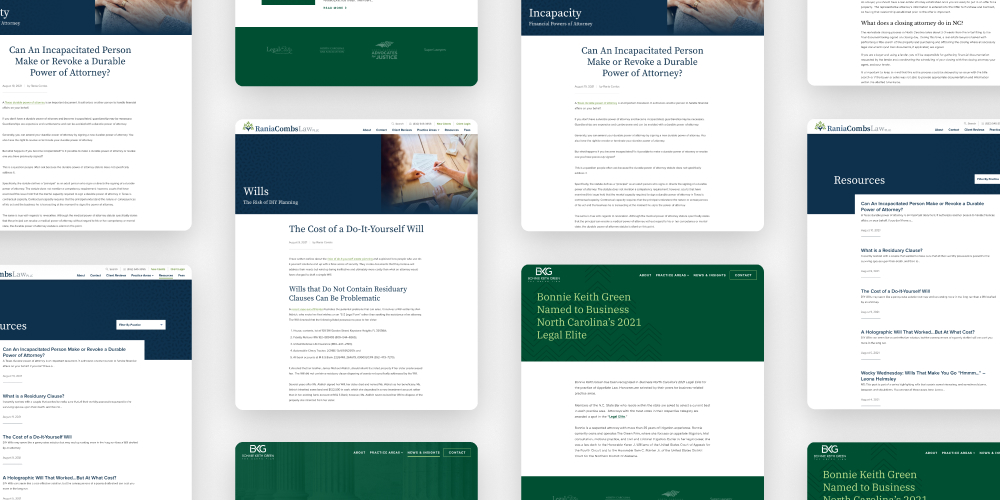 Feature Client Testimonials
Your website likely already includes standard skill indicators like rankings from groups like Super Lawyers or Best Lawyers. Take this a step further by featuring feedback from an even more important group – your clients.
Your clients can speak to your strengths while explaining exactly what it's like to work with you. No matter how many successful outcomes you list on your site, client testimonials will always add a unique dimension that proves your reputation and highlights your work ethic.
Visually, testimonials can be shown in a rotating carousel, as a featured block, or as blockquotes. Our client Rania Combs even includes an entire Reviews page dedicated to client feedback.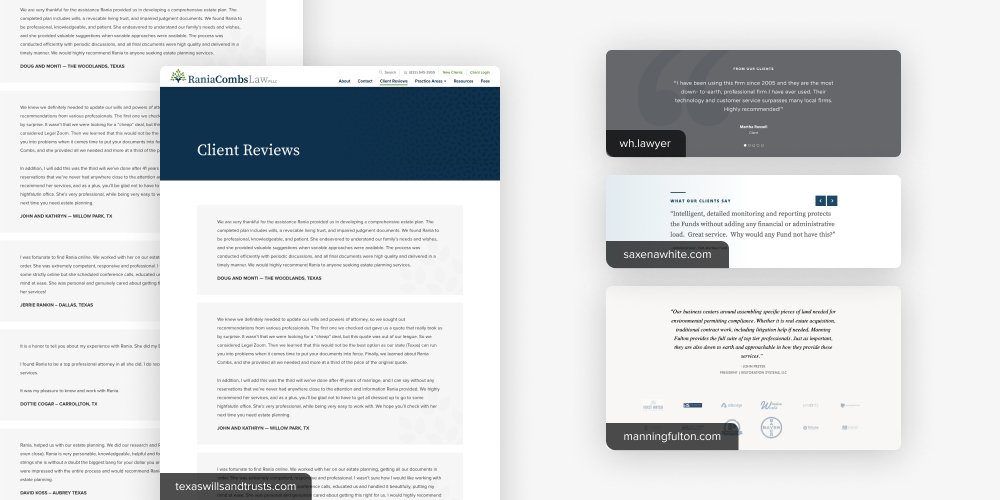 Consider SEO
As we mentioned above, SEO is the process of strategizing around content and site features that will help your pages to rank better on search engines. It's a big topic – too big for this post, so we'll cover a few key tips that are particularly relevant to solo law firms, and then point you towards additional resources for deeper explanations.
Target Keywords Strategically – Small, solo law firms often have less name recognition than the industry giants, so users may not know to search for your firm by name. Instead, they may be searching for things like "best divorce attorney" or "affordable estate planning lawyer near me." These are known as keywords. When writing for your site, you can target keywords by incorporating them into your pages and surrounding them with authoritative content.

Instead of targeting broad keywords like "best divorce attorney," however, you'll want to set your sights on narrower, "long tail" phrases like "best divorce attorney raleigh nc" or "questions to ask my divorce lawyer." Local keywords (that include your city or state name) are especially great for solo law firms that work in specific regions. These will be less competitive and easier to rank well for.

A tool like SEM Rush can help you to quickly identify which keywords are worth targeting and which ones may be out of reach.


Content, Content, Content! – Content and SEO go hand in hand. Once you select a few keywords to target, you'll want to write high quality content that (depending on the phrase) answers the question or elaborates on the topic. The content can live on your blog, your practice area pages, your about page, or any others. Good content demonstrates your authority and knowledge, encouraging Google to place your pages higher up in search results.

To maximize the content that you're creating, make sure to link to it throughout your site. For example, an estate planning lawyer might bolster their Wills practice area page with links to blog posts on what to include in a will and when to have one prepared. If you're active on social media, you can also share your best content there to drive people back to your site.


Update Google My Business – Google My Business is a free service that allows you to claim and update the business profile that Google sometimes brings up when compiling local search results. You'll want to make sure that your firm's information is up-to-date (including a link to your website!) and that you've filled out the profile with a description that accurately describes who you are and what you do.

Although this is more of a website-adjacent SEO tip, having a correct and complete GMB profile will create another way for searchers to find your firm and visit your website.

For more information about SEO for law firms, check out the following blog posts:
Conclusion
Solo law practitioners have a lot to offer in terms of specialization, locality, and personal connection. But unless you're thinking strategically about your firm's online presence, it's easy for a solo practice to get lost in the digital mix.
If you're starting a new web project, we hope these best practices will help to point you in the right direction. And if your existing website needs improvements, feel free to reach out to us and we can work together to fine tune whatever you're working with.