We don't actively seek out awards - we do good work for good work's sake and success for our clients is award enough. However, we'd be lying if we said it didn't feel nice when we win awards and accolades from third-party groups. It felt even nicer to win an award in a vertical in which we do a lot of work, economic development and tourism website development.
We recently learned that Moore Alive, a marketing and talent recruitment website and online marketing campaign to promote the local assets, amenities and quality of life in Moore County, NC, won the Platinum (First Place) award for web-based marketing initiative by the Destination Marketing Association of North Carolina. We couldn't be more proud of the project, the team at Moore County (specifically Moore County's Convention & Visitors Bureau and Moore County Partners In Progress), or our partners at Liaison Design Group for the role everyone played in helping win the award.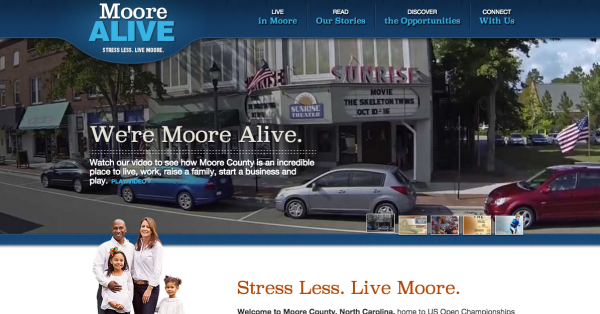 The Moore Alive campaign is a holistic approach to educating people about the exciting opportunities in Moore County, and it uses different media channels to advance its message with a pulse around the 2014 U.S. Open Championships at Pinehurst. While the campaign always wanted to engage people both online and offline, the web was always desired to be a focal point.
With that in mind, we began working with the campaign in January of 2014 to build an online presence from scratch, including a new website and social media profiles. The website, which is the foundation of the campaign, serves as a clearinghouse of information about Moore County, including topics such as its the 11 incorporated towns in Moore County, Moore County businesses and industries, Moore County employment opportunities, and recreational activities in Moore. Since the website launched in March of 2014, New Media Campaigns and Liaison Design Group have worked together to support Moore Alive's online goals and keep the website and social media accounts active and thriving.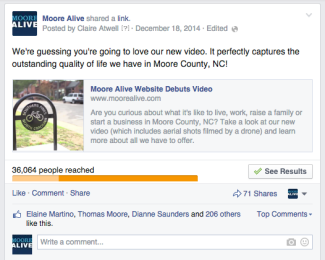 A primary component of New Media Campaign's ongoing engagement with the Moore Alive campaign has been consistent content creation to appeal to the campaign's four target markets: Relocatees, active military personnel and recently retired military who are still in the work force and others who have relocated to the area; Returnees, people who grew up in Moore County, left for college/work, and ultimately returned; Active Retirees and; Outsiders, young professionals and families who live outside of Moore County. One content creation strategy we've implemented to appeal to these markets is through resident profiles, which allow people to see how they themselves might fall in love with living in Moore County. We also develop and post Quality of Life stories that illustrate the social and cultural assets of the community and highlight the cosmopolitan lifestyle those in Moore County enjoy.
New Media Campaigns also supports the campaign with social media engagement, landing pages targeting specific search terms, and online ads. The site's Moving to Pinehurst, NC? landing page ranks organically in Google in the first five results on a number of competitive niche searches, including 'relocating to pinehurst,' and 'moving to moore county, nc.' The landing page has driven hundreds of unique, qualified visitors to the website, and search engine visitors to this page spent (on average) 15% more time on the site than the average site visitor.
The results speak for themselves; since the launch of the Moore Alive website in March:
The campaign has accumulated over 9,000 Likes on Facebook
The site has steadily built an audience, going from launch in March to getting more than 4,000 pageviews in the month of December alone
We launched a local Moore County job search that aggregates postings in the county
More than two dozen authentic and local stories have been posted to the site based on interviews with local success stories
The initiative and site has been featured in press coverage around the state
The focus since launch has been sharing the stories of Moore County to give visitors an idea of all the exciting things happening in this diverse county that is ideally located relevant to the Research Triangle. The site and content strategy have built an audience from nothing rather quickly, and it continues to grow and gain recognition. A few successful efforts from the past few months include the
'We're Moore Alive' web partnership initiative
with local businesses, and the recently launched
'Stress Less, Live Moore' video
. This award from the Destination Marketing Association is just further proof that Moore County has a story worth telling.