WebKit Team Admits Error, Downplays Importance, Re: 'Unacceptable Browser HTTP Accept Headers'

On Friday we published a post describing the HTTP Accept header and WebKit's unfortunate use of it. Using the Accept header the browser can indicate to the server its Content-Type preferences.
Maciej Stochowiak of Apple's WebKit team responded to our post, admitting WebKit's error:
Most WebKit-based browsers (and Safari in particular) would probably do a better job rendering HTML than XHTML or generic XML, if only because the code paths are much better tested. So the Accept header is somewhat in error...
The latest versions of WebKit, and thus Safari and Chrome, prefer XML over HTML in the Accept header. If a server is following the HTTP spec and serving a resource that can be represented as XML or HTML, it will respond with HTML to Firefox and XML to Safari.
We set up a quick demo of a tweet that can be represented as HTML, XML, JSON, and for fun, a JPG. Try opening http://recessframework.org/demo/content-negotiation/tweet in Firefox and then Safari/Chrome. You'll get just what each browser's Accept header asked for (pictured below). (Aside: For fun, try it in IE and you'll get a JPG. Then hit refresh and you'll get the HTML. Here's why.) (Demo built using the latest GitHub version of Recess, a RESTful PHP Framework. Source code here.)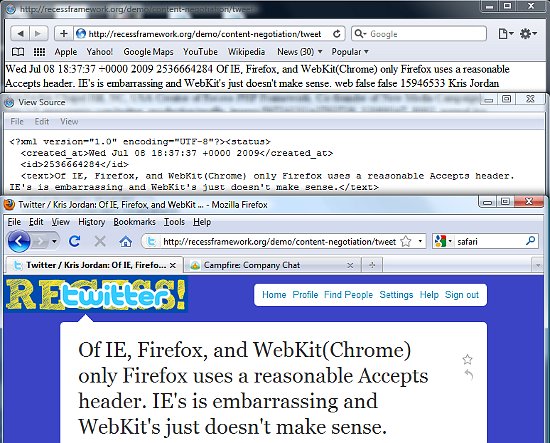 Why does WebKit's Accept preference of XML over HTML matter?
Maciej of Apple's WebKit team goes on in his response to downplay the chosen Accept header's importance:
On the other hand, this isn't a hugely important bug, [...] since content negotiation is not really used much in the wild.
Maciej, your transparency and admission of the error is appreciated, but your assesment of WebKit's Accept header importance is wrong. Content-type negotiation has not seen used much in the wild for two reasons:
Server-side software working against the grain of the HTTP spec made it historically difficult.
Web browsers improperly using the Accept header made it historically worthless.
On point 1, HTTP 1.1 is now 10 years old and in the past couple of years Fielding's REST movement has gained momentum. Server-side implementation is no longer a hard problem: most servers and frameworks can handle content-negotiation just fine.
On point 2, of modern browsers WebKit is the last one blocking the primary use case for content-type negotiation that today's web apps have: representing resources as either HTML or XML. Even though Internet Explorer's Accept header is full of garbage, its sins result in wasted resources and a performance penalty, not incorrectness. WebKit's Accept header results in web developers choosing between HTTP incorrectness or a bad user experience. Follow the HTTP spec and your users will get XML dumps as demo'd, or do not follow the HTTP spec and roll your own one-off content-negotiation protocol. The choice is usually simple: user experience is more valuable than developer experience and adherence to the web's most important RFC.
Why does WebKit use this Accept header?
The final pieces to Maciej's response identify the origin of WebKit's Accept header as Firefox's old Accept header:
...we design our Accept header mainly to give the best compatibility on Web sites [...] Our current header was copied from an old version of Firefox.
Firefox 3.0 and 3.5, tested in our previous post, have reasonable Accept headers. Maciej is right, though, Firefox 2.0 looks to have had a particularly bad Accept header:
text/xml,application/xml,application/xhtml+xml,
text/html;q=0.9,text/plain;q=0.8,image/png,*/*;q=0.5

Just like WebKit's, Firefox 2.0 prefers XML, XHTML, and PNG, over HTML. WebKit must have copied Firefox's Accept header on multiple occasions, judging from this year old commit which removes the antiquated 'text/xml' type from WebKit's list.
Firefox 2 sent "text/xml" but in an acceptable order for the web server. And Firefox 3 doesn't send "text/xml" at all in the Accept header since it is being deprecated in favor of "application/xml". We decided that the best solution is to match Firefox 3 and stop sending "text/xml" in the Accept header.
In all this copying of Firefox's Accept header the WebKit team missed the forest for the trees. WebKit's team knows quite well it "would probably do a better job rendering HTML than XHTML or generic XML, if only because the code paths are much better tested" but failed to express this in its Accept header. Fortunately, it's an easy fix.
The Fix: Change this String at Line 200 of FrameLoader.cpp
On line 200 of WebCore/loader/FrameLoader.cpp resides the string that causes this pain:
static const char defaultAcceptHeader[] = 
  "application/xml,application/xhtml+xml,text/html;q=0.9,text/plain;q=0.8,image/png,*/*;q=0.5";

WebKit could make amends with web developers wanting to use HTTP content-negotiation to provide XML and HTML representations of their resources without crippling the end-user experience by changing their default Accept header in one of two ways:
Keep up the status quo and copy Firefox 3.5's reasonable Accept header:
text/html,application/xhtml+xml,application/xml;q=0.9,*/*;q=0.8
Live a little, give preference to your browser's kick ass HTML abilities, and save some bandwidth:
text/html,*/*
The error has been entered to WebKit's Bugzilla tracker here. I will post updates to this blog (RSS feed) regarding the status of WebKit's fix as they come. We can only hope that, in time, we'll be able to use the Accept header as it is specified and make the internet a slightly happier, more RESTfullier place.