We continue to hope everyone is staying safe and taking care of themselves and their loved ones during this difficult time. There's a lot going on and while there are bigger issues at play around the world, we're continuing to try to help people effectively navigate this period from a website marketing and analysis perspective.
COVID-19 is deservedly dominating the attention of the world, which is causing search traffic to drop for a lot of organizations as the public is spending their time focused on the virus. Because there's such a huge demand for content related to the virus, however, there's also an opportunity for nimble and forward-thinking organizations to update their website with helpful Covid-19 content to ensure that their website is a valuable resource for the public in this time of uncertainty and change.
Once you have created a collection of COVID-19 related resources on your website and updated your general content, it's important to measure how well it's doing and try to discover insights about what is working well, what's not and then adjust your future content accordingly. Below is an overview for how we recommend using Google Analytics and Google Search Console to quickly and effectively evaluate the impact of your COVID-19 content.
Installing and Accessing Google Analytics (GA) and Google Search Console (GSC)
Before you can use GA and GSC, they both need to be set up on your site. Both tools are added by simply dropping a short script into the <head> of your website template. If you aren't sure how to do that, reach out to your development team and they should be able to get it in place quickly. If you have access to your website templates, you can also follow the instructions at the links below:
Once GA and GSC are set up on your site, you can access them at:
You probably already have GA on your site, which is good because GA's data is not retroactive - you only get data from after the date that code was placed on your site. GSC's data, however, does show historical data, which is great since it's less likely to be installed on your site.
Using Google Analytics to check the traffic sources of the different pages
When looking at analytics, the first thing I like to look at is the trend of the top COVID-19 pages, based on traffic from search engines, from March 1st to today. To do that, you'll want to log into GA and:
1) Go to the Behavior > Site Content > All Pages View in the left-hand column

This gets you to a list of the top pages on your site ranked by pageview. This is the first view I typically go to when evaluating a site in GA for most things.
2) Change the date range in the upper, right-hand corner to March 1, 2020 - [Today's Date]
I like to start with March 1st because for most companies, the pandemic really started affecting their traffic during the week of March 9th or March 16th so this view gives us a general sense of overall traffic before and after the pandemic while also reducing the effects of normal seasonal changes to traffic.
Once I've looked at March 1st - Today's Date, the other two time frames I usually look at are :
Jan 1, 2020 - Today's Date
March/April of 2020 compared with March/April of 2019
3) Add a segment to view only Organic Traffic to the site

This is an extremely useful segment regardless of whether or not you're reviewing COVID-19 content. To add an Organic Traffic segment:
Click on the + Add Segment box to the let of the date range
On the right-hand side of the panel that just surfaced, type "Organic Traffic" into the "Search segments" field. Organic Traffic is a built-in segment so everyone should have it.
Check the box to the left of Organic Traffic
Click the blue 'Apply' button in the bottom, left of the panel
You now have a view of the organic traffic to your site since March 1st. You will likely see a shift in the organic traffic in the middle of the month. I usually compare organic traffic on each of the Mondays in March to get a baseline for how a site's traffic was impacted as the pandemic spread across the country.
4) Apply a URL filter to only show your COVID-19 related content
This step will vary a bit depending on your website's URL structure and what you've titled your COVID-19 content. We recommend having a single COVID-19 landing page with all your related content set up as children under that landing page.
If you don't have either 'covid-19' or 'coronavirus' in the URL of your COVID-19 related content, go ahead and update the URLs of those pages now (don't forget to set up redirects) so that you can more easily measure the information in the future.
For the sake of this example, let's assume you have a landing page at yourdomain.com/covid-19/ and all the other COVID-19 content on your site includes 'covid' in the URL.
Filter your COVID-19 content by:
Putting 'covid' in the search field on the right hand side of the page below the chart and above the list of pages.
Clicking the search icon
You now have a view of the top COVID-19 pages on your site from March 1st - today that came from search engines. Make a note of the pages that garnered the most traffic as you'll want to reference those in Google Search Console.
You can quickly see which pages were most effective, whether they've ramped up or down since they were initially posted, and the difference in organic traffic and all traffic to those posts. If there's a big distinction between Organic and All Traffic, try changing the segment from Organic Traffic to something like Email Traffic to see what the other source was that was driving traffic to this new content.
Using Google Search Console to explore the search queries and ranking positions
Once you have a sense for which COVID-19 content is generating the most traffic, it's time to:
Evaluate how the current content is doing in search
Look for keywords to optimize for by seeing for which queries your pages are already ranking
Look for the queries ripe for quick improvement with solid upside – usually moving from the top of page 2 to the first page of Google Search Results
Make a plan for updating or creating new content to try to make the jump to page 1.
To do that, log into GSC, and:
1) Go to Performance > Search Results
This is where you're able to review how many people saw and clicked on your content in Google's search results as well as what queries they used to find the content and the position of that content in the rankings.
If you've never used GSC before, this is an amazing view for exploring how your website's content is performing on Google.
2) Change the date range filter at the top of the page to March 1, 2020 - [Today's Date]
Once again, we're looking to view the results trend from just before the pandemic captured the attention of the country through today.
3) Click the '+ New' button and apply a filter for URLs containing 'covid' (or whatever word captures the most content on your site about coronavirus)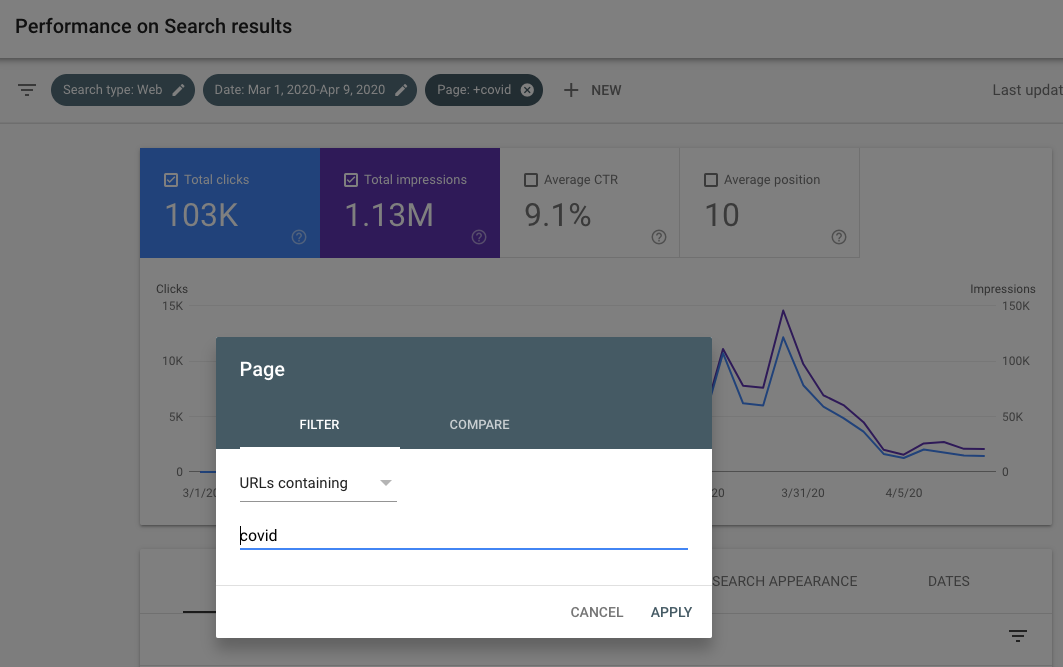 We now have a view of the content you've created on your site about the pandemic and we can see which Queries are getting the most clicks and impressions.
4) Toggle on the Average position graph
Generally speaking, the better the position, the more impressions and clicks you're going to get. There's also a big drop if you're not on the first page of results. A 2019 analysis showed that less than 1% of people click on a search result that is not on page 1.
We also can see that in practice in the screenshot below. There is a big drop in clicks and impressions when the content fell from an average position of 9th on page 1 to page 2.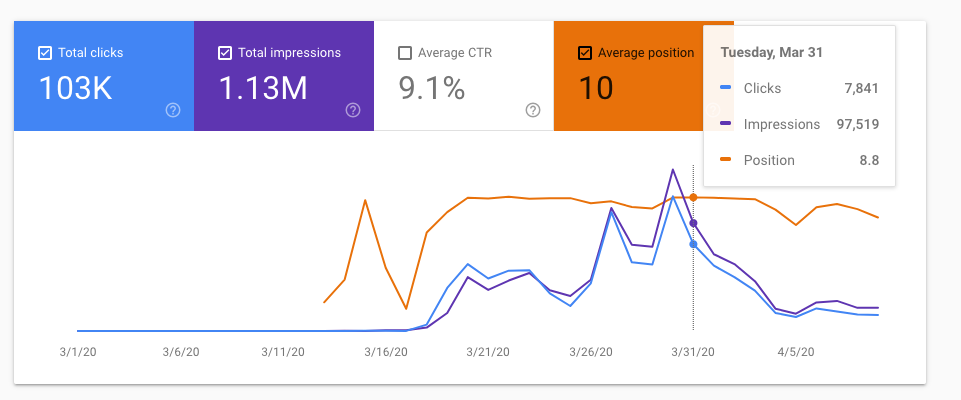 5) Try toggling on and off the different filter options and try to find queries where specific pieces of content rank on page 2 or 3.
Once you've identified the queries and the pages, try:
Adjusting the headings (h2, h3, etc.) on the page to better match the queries that have the most impressions
Adjusting the URL slugs to better match the queries that have the most impressions (once again, don't forget to set up redirects)
Brainstorming new content pieces that are relevant to the queries where you have some traction, but aren't yet getting a ton of visibility for
Another tactic to try in GSC is, instead of filtering your content by URLs on your site that have 'covid' in them, try doing a query filter for terms that include "covid" or "coronavirus" so you can see what subset of COVID-queries you're ranking for.
Keep creating content and planning for what's next
We're in a unique time where everyone is paying close attention to COVID-19 and the way it impacts their life. If your company can create valuable content for the public related to the virus and its impact, there is an opportunity to better position your company as we all go through this. You can also keep on top of your progress and traffic by setting up weekly automated email reports from Google Analytics.
There are substantial societal, economical and legal changes happening quickly as the virus' impact unfolds. As you're evaluating your current content's traffic and visibility, also be thinking about what content you can create once social distancing measures begin to be lifted and the country starts recovering.