The second year of Hopscotch Design Festival brought five of us to downtown Raleigh [read one location], a rare thing since NMC embraces letting everyone work remotely and Ashley is based in Charlotte. This time away from our day to day responsibilities helped us learn more about each other and explore the ever-evolving field of design. This year's festival covered more design-related topics than we each could keep up. From the birth of a brand to one local musician's journey to becoming a restaurant owner, there was something for each of us to sink our teeth into. Read on to get each team member's response to the conference below.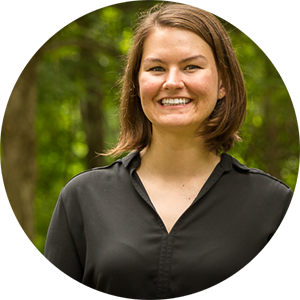 Chesley
Keynoter Austin Kleon rallied the audience to incorporate an analog workstation into their workflow. My grasp of the overall theme was that while digital tools can greatly aid in creating a final product, relying on them during the entire design process can stifle creativity. He shared this quote with us, "Don't start with the computer — end with the computer. There are too many opportunities to hit the delete key." Working in an increasingy digital world, starting with a computer and completely bypassing pen and paper is rather easy. As a writer, I personally prefer a more analog approach to the process, but often do not have adequate time to fully write and edit by hand. To incorporate this concept while also being mindful of time, at a minimum I want to plan and outline with pen and paper. As a next step, I'd like to incorporate a timed session of free writing to help guide the first draft.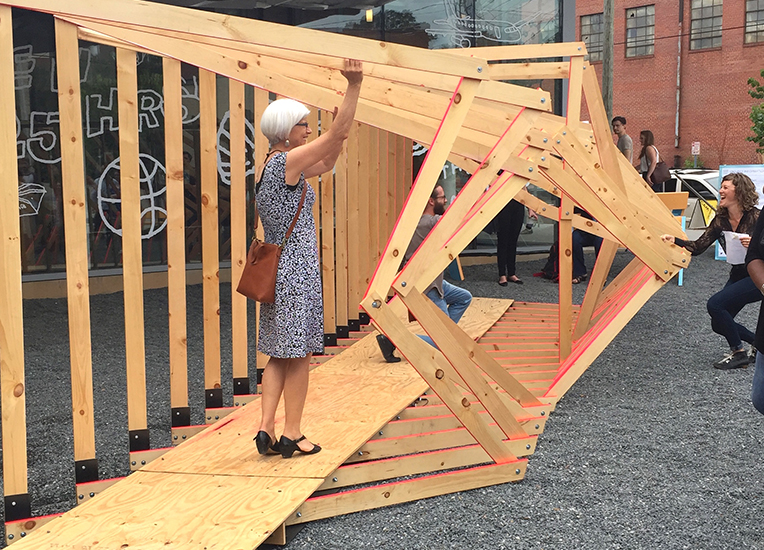 The photo above was taken during the interactive Our City talk. Our City is a new nonprofit organization that empowers residents to imagine and build the future of their communities. The group does this by helping governments, cultural institutions, and individuals make their cities better together through imaginative public design festivals, workshops, and installation.
Our City collaborated with local designers before the festival to create three projects with city blocks and urban spaces in mind. Pictured is a moveable, transformable pavillion. People inside and outside the structure can move its limbs and change the shape. It's a really beautiful thing to experience in person, and could be a cool addition to a city plaza. Public art can be overlooked by residents, so adding an interactive element is a really cool concept. Other projects showcased were a vertical garden with composting capabilities, and lightweight brightly-colored wooden benches that could be easily moved to accomodate users' needs.
While viewing these three projects, we took part in a "Yes, and..." exercise as a way to give feedback about each structure. By saying "Yes, and [our thoughts and opinion]", we acknowledge the creator's design while providing ideas to improve it. For example with the pavillion, "Yes! And each limb could be painted to create a cool visual effect!" It's a more constructive way to share ideas for improvement; saying "No, but [really it should be done this way]..." is an approach that can only break down ideas.
"I can look at it now and say, 'Wow, it's so cool and great!', and I almost forget how exhausting it was to create."
Cheetie Kumar had a great line in her talk: "I can look at it now and say, 'Wow, it's so cool and great!', and I almost forget how exhausting it was to create." Living life out through design and creating impact through it will be exhausting — collectively, I think any designer can resonate with the feeling of joy in seeing the lasting impact of their design (and almost forgetting the hours and coffee that went into making it happen).
---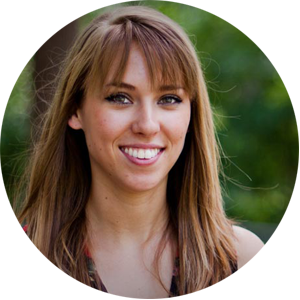 Ashley
One recurring theme I heard from the speakers was how they found inspiration for their digital work through side projects and analog activies. Illustrator Maria Fabrizio has a blog where she illustrates daily news headlines. Steve FrykHolm, VP of Creative Design at Herman Miller, designed and screenprinted the company's annual picnic flyers and photographed wildflowers around his home. Both mentioned how these side projects not only helped spur creativity, but also led to more client work or recognition. We're no stranger to how fun and beneficial side projects can be to our full-time work – just check out our Work page. However, in the day-to-day busyness it can be easy to focus solely on client work and forget that we need to be doing those fun projects as well. These talks helped me realize I need to make time in my schedule to work on internal design work, tools, or projects that I just do for plain ol' fun.

Above is a shot from David Baldwin's talk on how they branded Ponysaurus – a local brewery he also co-founded. This became my favorite talk because we got to walk through the entire process of branding a brewery – oh and of course because we got free beer to sample.
My absolute favorite part of this conference was getting to compete in Ink Wars alongside Niki at the conference after party. If you haven't heard of Ink Wars, it's an hour-long drawing competition where we illustrate a mystery theme (only made known when the competition begins) on 8-foot-tall canvases. I'd watched this event twice before at other conferences and never thought it would be something I could do. Thankfully Lenny hosted the event and roped me into it. I had a blast and seriously upped my drawing game while preparing for the competition.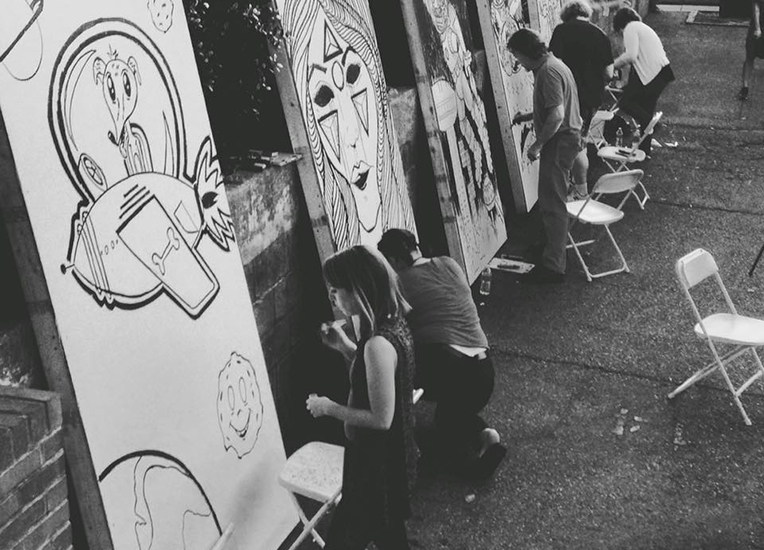 Mid-competition Niki (right) and I (left) making it happen during Ink Wars, Picture by Kristin McPeak
---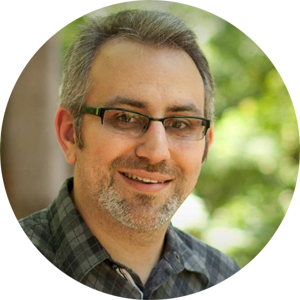 Lenny
"You never know who you are going to meet that could change your life 5 years from now." - Helena Price
Helena talked about the power of relationship building. Not networking. Taking the time to invest in the people you meet. Let them know you are interested in them. Not what they can do for you. People are more than a business card. I loathe the term networking. Get rid of it. It feels fake and dirty to me. Get out there and make friends, give yourself to others with no expectations and the return ends up being so much more than you ever expected!
We as creatives have a unique ability to power our own ideas into reality. I have been sitting on some things that I have decided to push forward on in a big way. And having spent the last few years building and cultivating relationships in the community both local and across the country I feel I have real advantage in getting what I want to do out to more people.
There is no reason not to move forward on an idea. Even the smallest step forward is still just that: a step forward.
---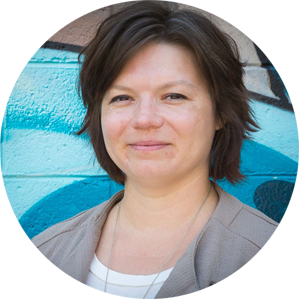 Niki
"Challenge. Change. Champion."- Antionette Carroll
Antionette Carroll, founder of
Creative Reaction Lab
, started her talk by asking if we thought design could change the world. I know it can. From the interactive touch displays Philadelphia firm
Blue Cadet
creates and installs in museums to the Raleigh Design Panel's discussion of the width of a city side walk. Our everyday lives are steeped in the work of designers.
Design is driving the way we interact with the world around us. What an extraordinary opportunity is that? In my mind, that is power and with that kind of power comes responsibility. What are we doing with that power? Are we asking the right questions? Who is touching our work? Are we giving all our audiences an experience that will bring them back to our products? Are we empowering them?
So the question I've been asking myself since the conference ended: What am I doing with my design abilities to make my community a better place? A question that I plan to report back on soon.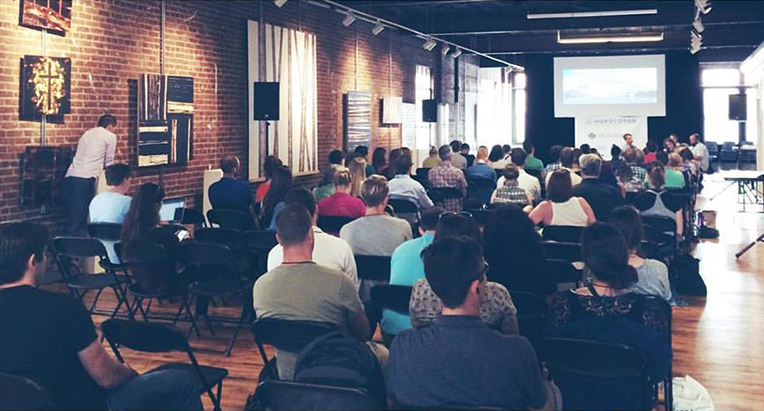 The Raleigh Design Panel talks about the importance of well designed cities on day 2 of Hopscotch Design Fest
---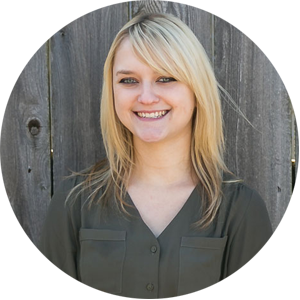 Shannon
Almost all speakers I saw touched on one thing: to get out and do something, something unrelated to your field of work. If you're a web designer you could illustrate in your free time. If you're a developer you could start a videography project. Developing a hobby or fun personal project that requires different thinking will lead to fresh ideas in your day to day work. You never know what will inspire your next project.
Moving forward from this great expierence, I plan to start a personal project and stay active in the local design community.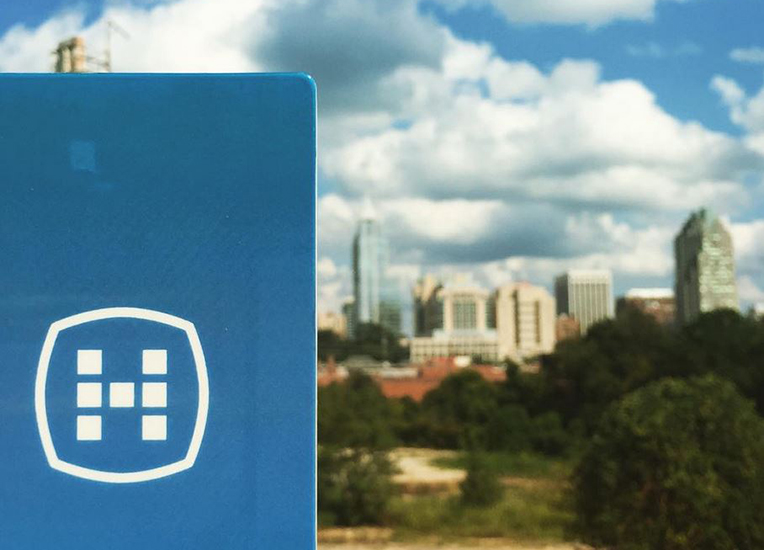 This photo is a conclusion photo taken after the festival in retrospect. It represents the great design community we have in the triangle and how fun and inspiring it was to be surrounded by so many my fellow designers.