Each year, I write a recap post on Creative South talking about several of the lessons I took away from the conference. This year, I have just one: Push yourself, stick to your goals, and you'll achieve anything you want.
I only have one lesson this year, not because I didn't learn anything (I did, and every talk I heard was amazing), but because this year I was able to see how sticking to that lesson can drastically change things.
When Lenny and I traveled to our first Creative South in April 2013, we'd never even been to a design conference before.
I had just started designing full-time at NMC (I was previously a front-end developer) and had little confidence in what I was doing. Lenny himself told me on the car ride there that he had been unhappy with the work he was producing and was ready for a change. We knew no one at the conference, and stayed attached at the hip. We hung out on the sidelines of the room and only grabbed meals with each other rather than trying to network with the other designers.
Thankfully, something clicked for us after that conference. We were so inspired after hearing those talks that year. I began practicing new techniques, blogging about my work, and sharing things I'd done and was proud of. Lenny started drawing daily, taught himself to screenprint, started making connections and building up a design community in the Triangle.
For Creative South 2014 we came a day early and stayed a day later. I made tons of connections and wasn't afraid to plop next to one of my design heroes at a meal and ask them questions. And Lenny, I really have to brag about Lenny. He threw himself into everything, becoming a conference sponsor, playing guitar at the kick-off party, and selling all of his awesome newly-screenprinted goods at a vendor table.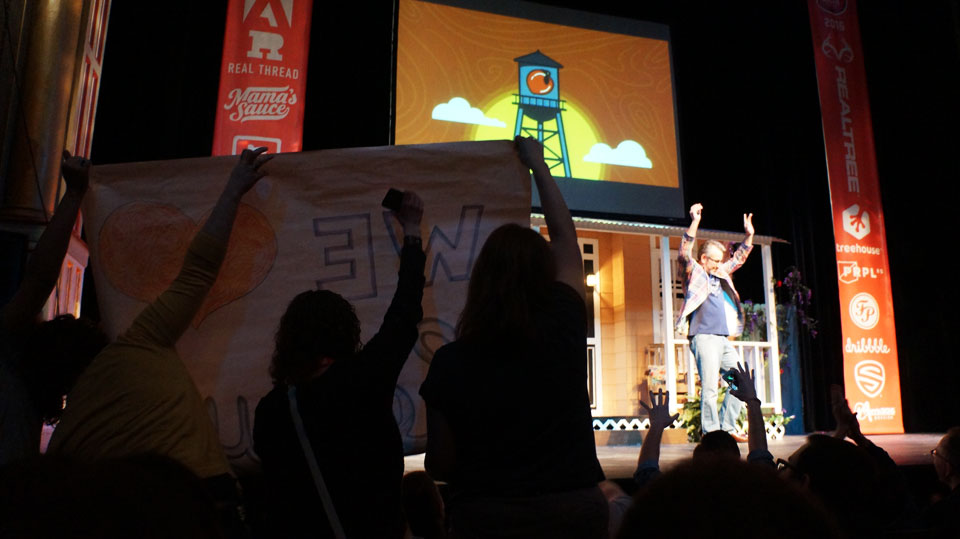 What a difference just a couple of years can make. This year's conference was completely different from years before. I was greeted with so many hugs from friends I've made there over the years. People knew about NMC and things I was working on, and I knew the same about them. I felt comfortable enough to go up to speakers and attendees alike and talk about work, life and everything in between.
The coolest thing about this year though was that Lenny was a speaker. He got up in front of a room of more than 500 to talk about his failures, and how he turned it around in the last three years. Attendees chanted "Lenny!" as he ran out on stage, cried and laughed during his talk, and gave him a standing ovation (the only one I saw for any speaker!). It was truly a surreal and awesome moment after thinking back to our first year at this conference.

So what has Creative South taught me? Push yourself. Push yourself out of comfort zone to attend meetups and conferences (we hear Creative South is good). Push yourself to make real-life connections with others in your field or even clients you only ever speak to online. Stick to your goals of drawing more, sharing more work, talking to designers you look up to, and working on projects that matter to you. You may just end up speaking at the very conference that inspired you in the first place.
I already can't wait to apply this lesson to my own life and share what I've done at Creative South 2016. Did you attend Creative South this year? What did you learn?