My favorite thing about attending conferences is the amount of excitement they spark for your work. It's been over a week since I returned from Creative South 2014, and my twitter feed is still abuzz from the attendees and I'm still teeming with ideas for new techniques and projects to get started on.
If you haven't heard of it, Creative South is a small conference in Columbus, GA that brings together designers of all disciplines for talks about everything from handling money to insights on sports logo design. Fellow NMC-er Lenny and I attended last year's conference and enjoyed it so much, we knew we'd have to return. I labeled it as the one design conference you should attend in 2014. This year did not disappoint as we enjoyed printmaking workshops, live hand lettering and illustration battles, and an amazing speaker line up including names like Allan Peters, Von Glitschka, Elle Luna, and Jim Sherraden from Hatch Show Print.
In case you couldn't make it this year, here's my takeaway from the event that's got me so creatively recharged:
Don't let outside factors define your success
This is one of the sentiments I heard the most throughout the weekend. Working in the web industry it's easy to get absorbed in how many followers we have, how many 'likes' we get rather than the actual success of our projects or needs of a client. As illustrator Justin Mezzell put it in his talk, you must "guard yourself against the like machine". Define what it is that will make you happy and feel successful. Create concrete action steps to achieve that success rather than focusing on the fleeting feeling of success from social media.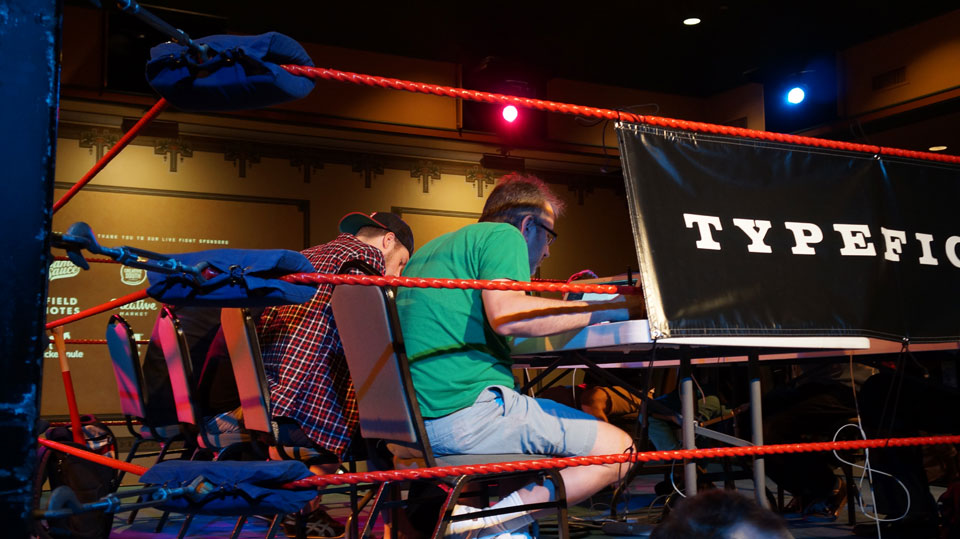 Lenny concentrating on his hand-lettering during the live Typefight. And yes, it was held in a real boxing ring
Creativity takes effort
One of my favorite quotes from the conference was from letterer Mary Kate McDevitt's talk: "Creativity is magical, not magic". It's easy to become overwhelmed seeing the work of others you view as creatively successful (especially after returning from a conference), but it's nice to be reminded that no one got there without a hard effort. In order to get our creativity flowing, designer Von Glitschka said we need to break our routine in his talk. Drive a different way to work, head outside for ideation, collaborate with friends, or take a break to doodle are some of the suggestions he mentioned that I can't wait to start using when I get in a creative slump.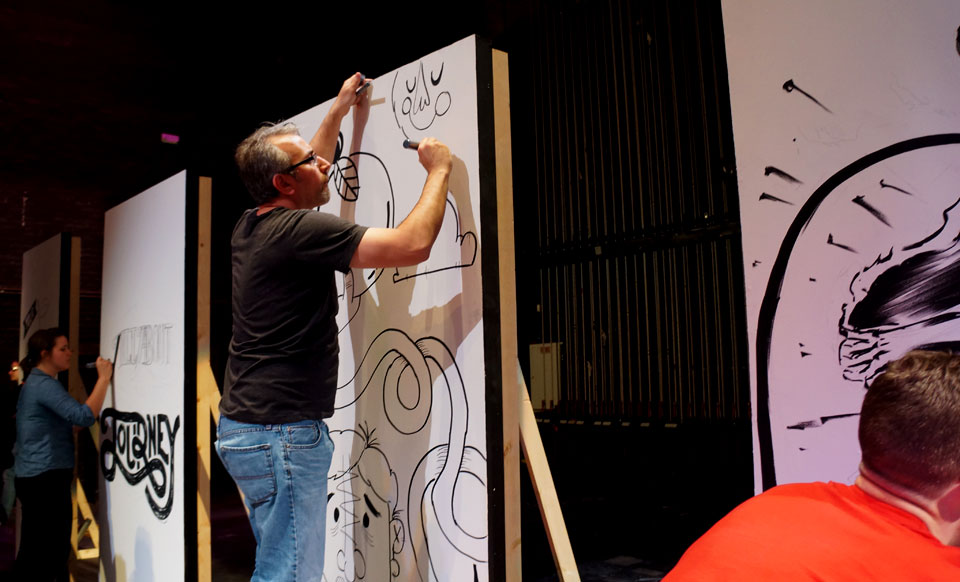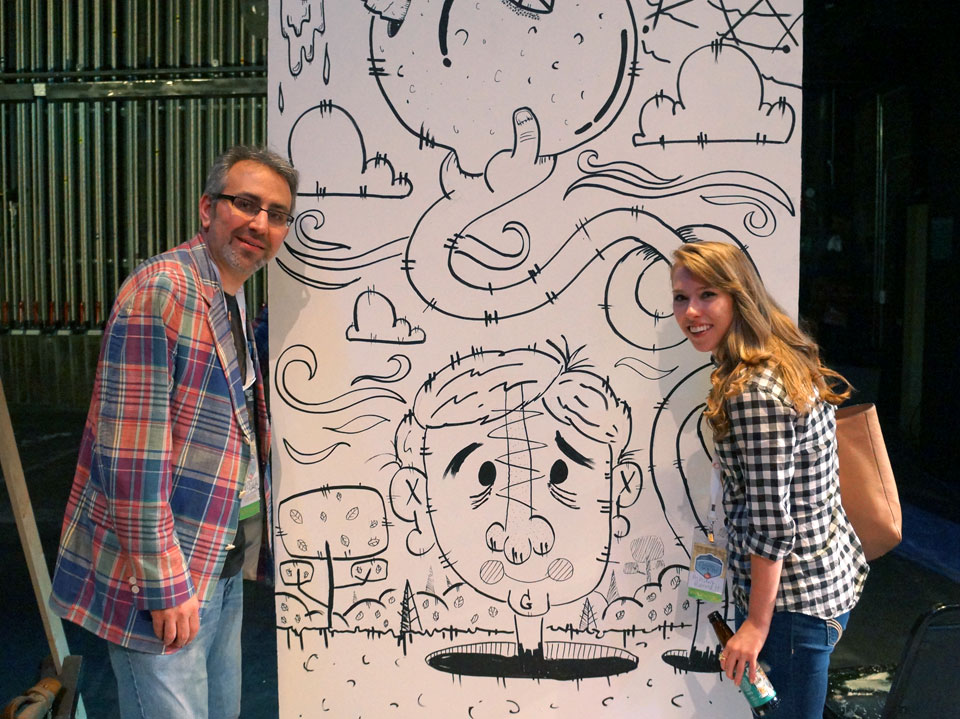 Lenny was pulled in last minute to compete in the conference's Ink Wars - a battle between 8 illustrators to see who can draw the best themed drawing in an hour. We were super proud of his James and the Giant Peach-themed canvas!
Find what's missing
Some of the talks I heard on this topic were extreme examples. For instance, one speaker wasn't happy with her job, so she left. Another realized he was missing a significant other in his life to make him happy. Regardless, I think it's something we can all put into practice. While we try to evaluate ourselves and our projects a couple times a year at NMC, I hope to take a deeper look at my process and projects more frequently, so we end up working on more projects we find worthwhile, and don't end up with the feeling that something is "missing" at the end of the year.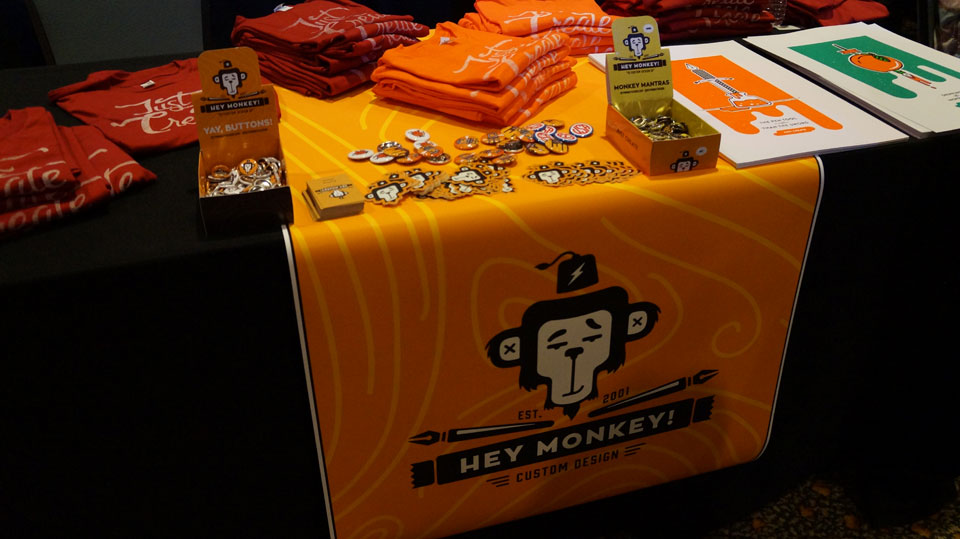 Lenny's merch table perfectly matched his new site we helped him launch a few weeks ago
Community is key
This wasn't something I heard in any particular talk, but rather from spending time talking to speakers and other attendees. One of the greatest things about this conference is it's ability to bring somehow bring together 400+ designers from all levels of expertise so we can all bond over common failures and successes. In the age of the internet, it's easy to get sucked into your own work. But it's a necessity to surround yourself with others doing what you do in order to grow. My takeaway? Start a chat group with other conference attendees, collaborate with another designer, or become more active in local design events. You'll become a better designer for it.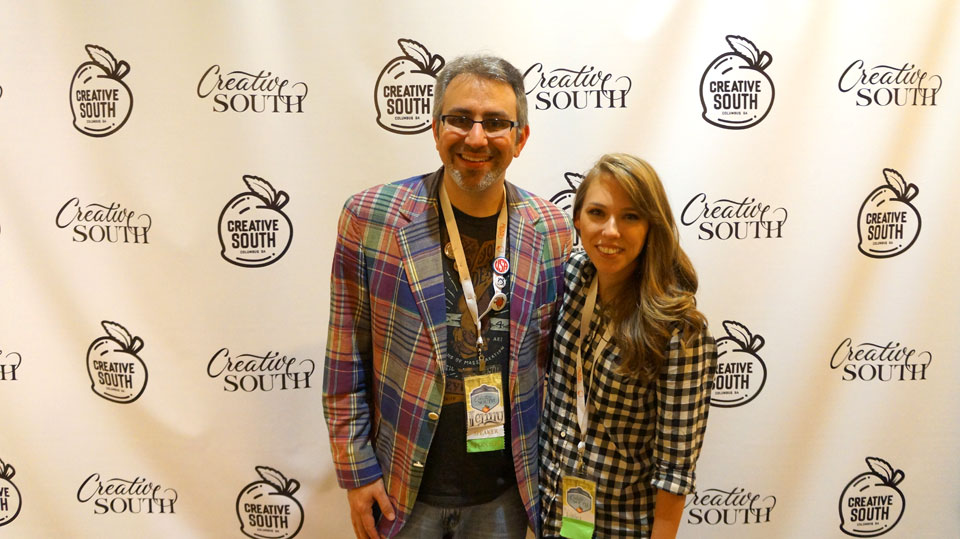 I hope this recap gives you the tiniest sliver of inspiration that I gained from this conference. These lessons have been refreshing to hear and I can't wait to start applying them to my projects.
If you attended CS14, I'd love to know what your favorite talks were and what messages you took away from them. Till next year Creative South!