Based right here in Carrboro, Fleet Feet is an iconic local brand with a strong community presence. Among other things, the run-specialty retailer outfits countless runners and walkers, leads a number of lively training groups, and puts on popular events that define the area's fitness scene.
They're known best, perhaps, for their expert customer service and highly personalized shoe fitting process. This approach to retail has been honed and perfected over the course of decades in the business, and remains strikingly consistent at each of the company's 180+ locations throughout the United States. Needless to say, Fleet Feet's hands-on style has been deeply affected by the COVID-19 pandemic and the subsequent move away from in-person shopping.
Having guided the retailer – our longtime client and friend – through a national eCommerce launch in 2015, New Media Campaigns was well positioned to support them again as they adapted their business to meet changing customer needs. Working closely with the Fleet Feet team, we were able to quickly implement an efficient curbside pickup program that has allowed Fleet Feet to take the transition in stride – so much so that they've even chosen to maintain the feature after the gradual return to in-person retail. But more on that later on.
A Unique Approach to eCommerce
Since the beginning, Fleet Feet's eCommerce system has been unique because all orders are fulfilled by the company's network of franchise locations. Thanks to this strategic choice, Fleet Feet's eCommerce customers reap several key benefits:
Access. Together, Fleet Feet's nearly 200 locations build a national inventory with a broad range of running shoes, apparel, and other products. Customers are not limited by a single store's selection or stocking decisions.
In-Person Service. Since Fleet Feet's brick-and-mortar stores are located in towns and cities across the U.S, eCommerce customers have the option of returning or exchanging products in-person. Aside from convenience, the benefit here is that the stores are staffed by trained experts who can assist with identifying and securing an appropriate replacement.
Brand Exclusives. Fleet Feet routinely partners with industry leaders to produce exclusive items, technologies, and deals. Since orders are fulfilled by the franchises, eCommerce customers have access to all of these brand exclusives – even if their local store has sold through the items or chose not to stock them in the first place.
Supporting local businesses. Although eCommerce customers are shopping online, Fleet Feet's unique community retail fulfilment model means that the purchases still support individual stores and communities. It's a win-win – customers can feel great about shopping local from home and the local Fleet Feet stores earn business and support.
Without a doubt, Fleet Feet's already-strong eCommerce setup paved the way for a swift increase in the platform's use and capabilities.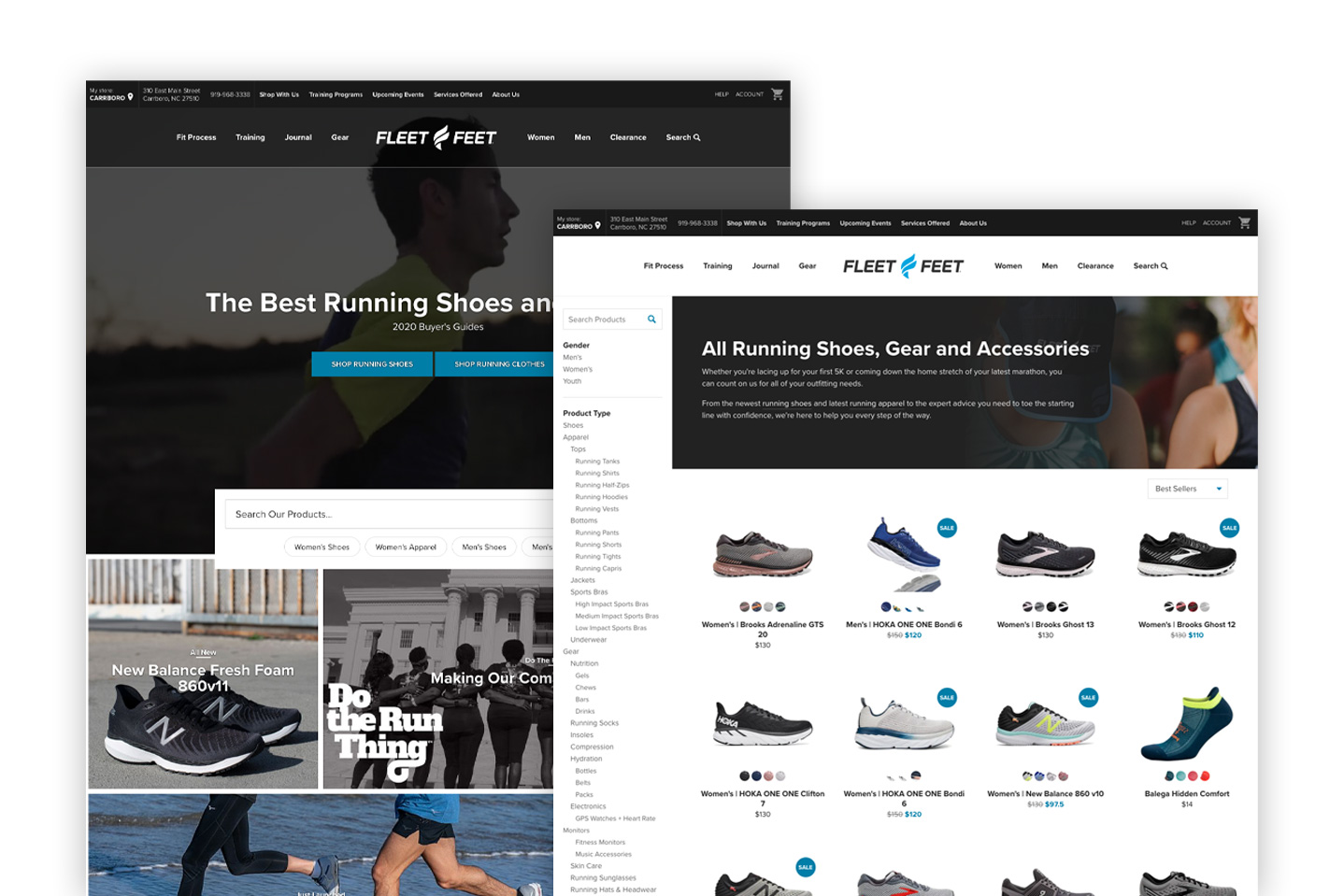 Responding to COVID Shopping Needs
In response to local guidelines and restrictions, Fleet Feet temporarily closed their doors in March. But without missing a beat, the retailer turned to online solutions to continue serving customers with safety and efficiency in mind. We helped them to do this by expanding their existing eCommerce platform to accommodate an essential new feature: curbside pickup.
Curbside Pickup Explained
Pre-COVID, ship-to-store and store pickup options were only gradually gaining traction. They were seen primarily at grocery chains and big-box stores, and were marketed as convenience amenities and time-savers for busy shoppers.
Once the pandemic set in, retailers, restaurants, and other businesses were quick to transform these types of services into curbside pickup offerings. Curbside pickup meant safe, distanced access to food, household products, clothing, and more, and has become a necessity in an environment defined by reducing contact whenever possible.
For Fleet Feet, curbside pickup was a natural step to appeal to customers who were still regularly exercising and wearing through running shoes and gear – if not more than usual. Let's take a closer look and how Fleet Feet's curbside pickup process unfolds behind the scenes.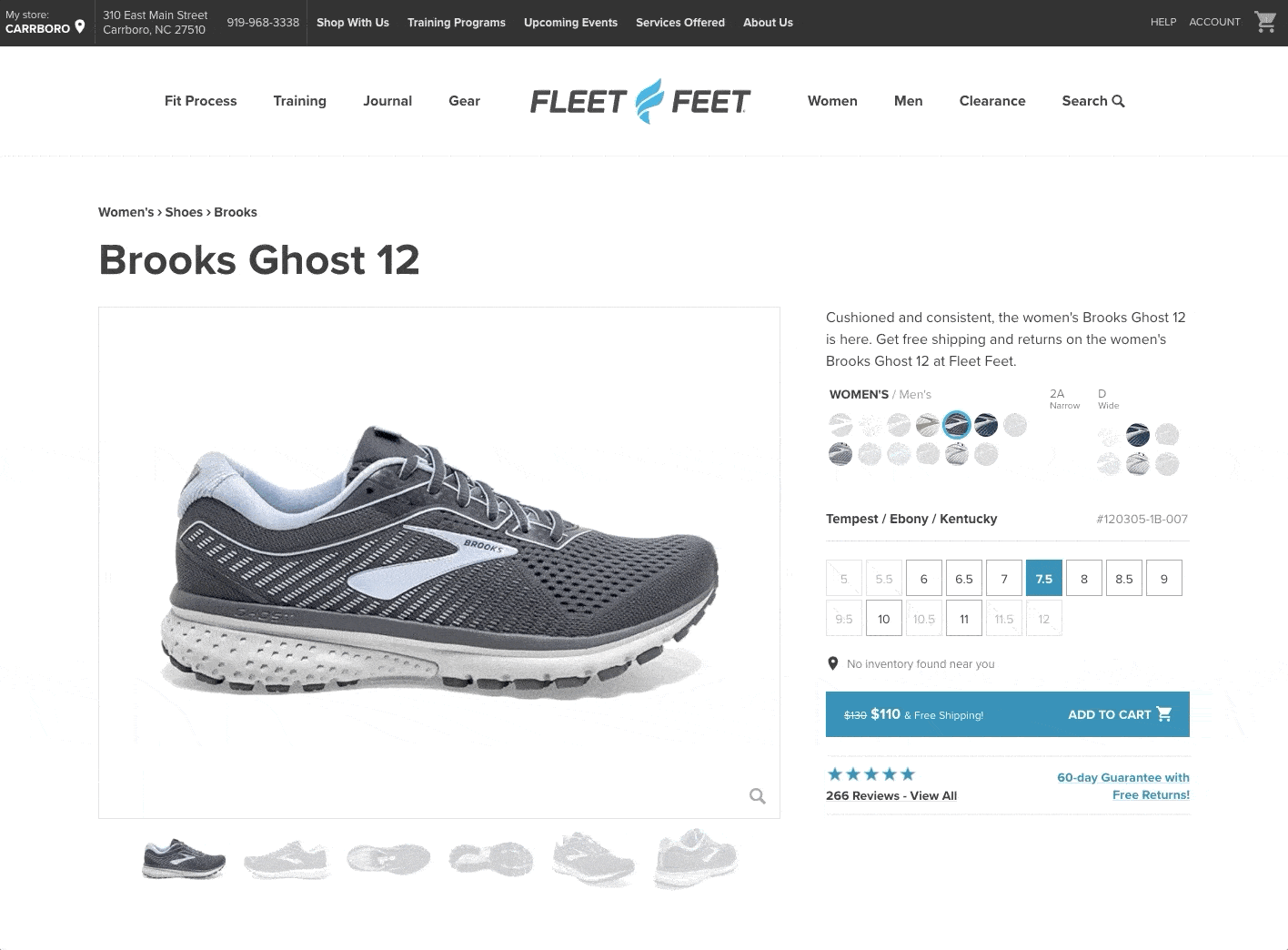 Data. It all begins with the information and numbers that power the eCommerce stock tracking system. Relevant data is added on a per-store basis, ensuring that the website will provide accurate information about availability at any given Fleet Feet location.
Geo-location. Once a visitor lands on Fleet Feet's website, the site automatically geo-locates them to their nearest store. With that location plugged in from the start, visitors can easily browse the site knowing that they'll be able to check inventory at a location close to them.
Local options. When a visitor selects a particular item, the local inventory data is blended with data from the nearest Fleet Feet stores (thanks to the automatic geo-location!) to surface all local options for the item and size that the customer has chosen. If the item is in stock in multiple locations, the customer can choose which store they'd prefer to pick up from.
Pickup. After checking out online, the Fleet Feet store receives the order, prepares the product(s), and notifies the customer that their order is ready. And once the pickup time and date have been confirmed, the customer can stop by the store and retrieve their new gear!
Fleet Feet's curbside pickup program has been a great success over the past few months, and we're proud to have played a role in its initial implementation and setup.
Conclusion
For now, at least, it seems like curbside pickup and similar eCommerce strategies are here to stay. They're convenient for customers, beneficial to business, and they prioritize safety for staff and shoppers alike.
Questions about eCommerce or curbside pickup systems? Wondering how to develop a similar plan for your own business? We're here to help. Reach out to us directly or leave your thoughts in the comments below. We'd love to hear from you!