Building a Mobile Site with Clever Navigation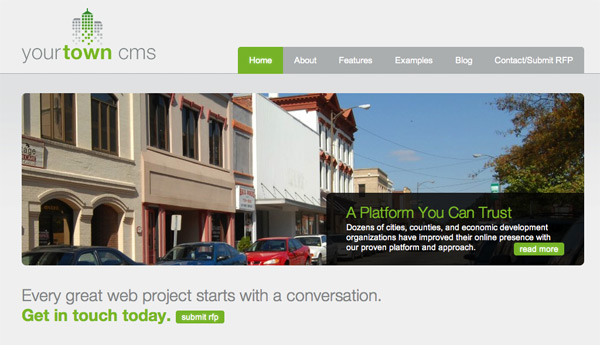 We recently built a mobile website for YourTown CMS in partnership with Liaison Design Group. We've had increasing demand for mobile web development lately, and we're particularly excited to show off our success on the YourTown CMS mobile website.
Mobile-Friendly Navigation
We were inspired by an example we saw in "Mobile First Web Design" recently released by Luke Wroblewski through A Book Apart. A simple "Navigation" hyperlink resides at the top right corner of each page. When you click the link, the page whooshes upwards revealing the site navigation. The navigation links allow you to jump to another page or return to the current page. It's a simple but effective — and really cool — way to implement mobile website navigation while still keeping content front and center.
Screenshots
Here are a few screenshots of the YourTown CMS mobile website.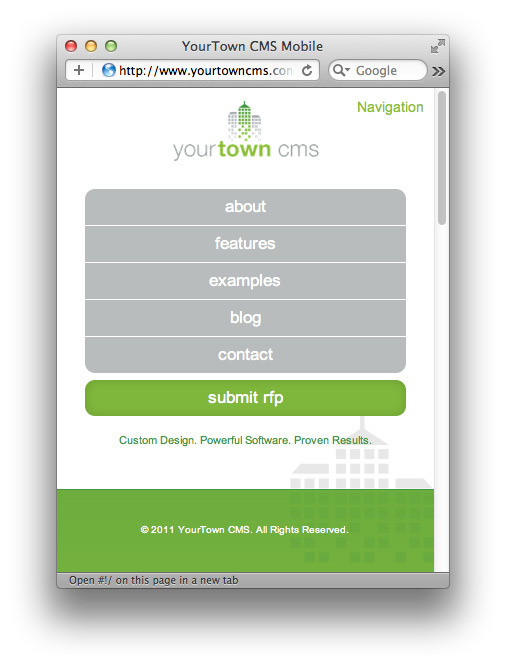 Mobile Javascript Framework
The website is driven by a simple, light-weight Javascript mobile framework created by our own Joel Sutherland. The framework routes hash-bang paths to appropriate jQuery templates populated with data pulled down from the HiFi API. It's a brilliant bit of code and is still getting some polish before it's public release. Look for this soon.