NMC Client Mark Herring Wins Closest Statewide Race in Virginia History
Typically, the morning after election night brings a lot of closure for our team. After spending months, and sometimes years, working with our clients, we're able to see who won and who lost, offer congrats and consolation, and plan next steps for their website and overall online campaign. This year was distinctly different as the Virginia Attorney General's race remained too close to call on November 6th and wouldn't have an official result until just yesterday.
After much back and forth, Twitter-fueled vote tally inspections, and both campaigns thinking they won, Mark Herring was finally certified the victor on November 25th, three weeks after voters originally went to the polls. However, the decision was quickly questioned again and went to a recount. More than a month after election day, we received the news we had all been waiting for yesterday. Mark Herring is officially the next Attorney General of Virginia, in what is now the closest statewide election in VA's history. Herring won by 907 votes.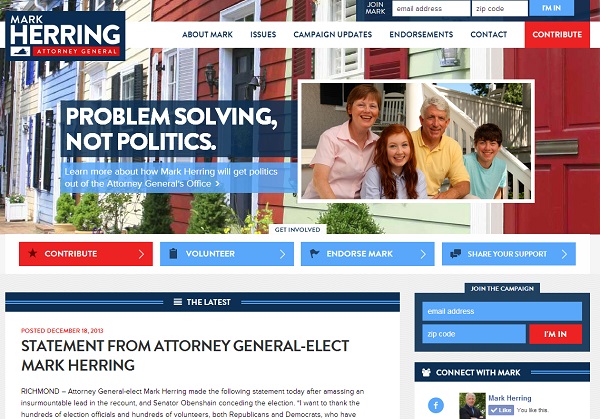 We were proud to work with Herring's wonderful team from start to finish. We originally designed a splash page before completing the full campaign website. Additionally, we placed online ads to support the campaign's initial announcement and get a nice online bounce. We continued supporting the campaign through the race and recount process, creating custom splash pages and landing pages to win signups and donations. It was a great team effort that never slowed down, and we couldn't be more pleased with the outcome.
We're always excited when any of our political campaign websites helps get someone elected, but this one will certainly hold a special place as it's the closest statewide election we have been a part of. Congrats to the whole team!