NMC Builds Campaign Website for Special Election Winner, Mark Critz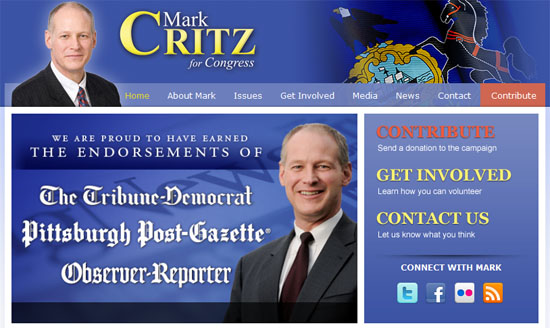 At the very end of March, the DCCC reached out to us with an exciting and urgent project. Mark Critz, the Democratic candidate in the special election for the late John Murtha's seat, needed a solid online campaign and he needed it quickly.
While we had been involved in special elections before, this one brought added intensity, as political pundits viewed the campaign as a litmus test on Democrats' vulnerability in the 2010 cycle – the same way they had viewed the Brown-Coakley race in Massachusetts. We eagerly accepted the opportunity and got to work.
The speed and importance of these special elections raise a set of issues that are largely absent in a normal campaigns where you can have months and months to build and leverage your online campaign. Here are some of the unique challenges presented by a Special election and how we navigated them in the Critz race.
1. Speed is of the Essence. Understand that your typical creative and development process need to be majorly adjusted to get the site up as quickly as possible. We normally promise campaigns that they'll see a first, static design within 7-10 days of hiring us – in this campaign, that was the total timeframe that we designed, developed and launched the site. We had to internally adjust our workflow and change some priorities, but we knew that the election was less than 60 days away when we were first brought in, so everyday without a website was a huge liability for Critz.
2. Embrace a "Rolling Launch." When we launched the site, it had about 60% of the normal content for a completed site, lacked a splash page to gather data, had a simple link to an outside donation service, and had no multimedia. However, rather than take the extra days to round out the remaining 40% of the site, we advocated for a "rolling launch" where we would continue building out advanced features while the site was live. This strategy helped us get the site launched very quickly, and it also demonstrated to visitors and voters that the site and campaign were scaling and that there would always be new information with each new visit.
3. You Can't Email Too Much. With a typical campaign, you have to walk the thin line of emailing calls to action to supporter and spamming them. With a special election, the cycle is so short and need for resources is so high that this conventional wisdom goes out the window. The Critz campaign and the DCCC were emailing supporters as many as three times per week and that was totally fine. The emails keep the election top of mind for voters unaware of the unique circumstances, conveys the urgency of the campaign, and helps define the candidate and opponent in such a short period of time. These benefits are well worth any unsubscribes from the list.
4. Coordinating With a Number of Stakeholders. Usually there is a pretty defined central point of contact between our team and the campaign. However, in a Special election, everyone is bouncing to so many different projects that it is typical to work with a number of different stakeholders on projects that would normally be headed up by a single point of contact. It was perfectly normal for us to work on projects with the DCCC, the direct mail firm, and the campaign manager all in the same day. They were all helping fill holes opened by people getting pulled in a hundred directions at once, and it was our job to work with each of these stakeholders to accomplish their goals while maintaining the consistency and quality of the overall online campaign.
5. Content Management System for Quick Reactions. If you haven't noticed yet, speed is important in special elections. For that reason, it's critical to have an easy-to-use Content Management System that campaign team members can use without taking the time to contact the web developers. The Critz team did a great job of changing the images and calls to action in the site's main feature area, uploading new multimedia, adding press releases, and even added the victory video at midnight last night. A CMS was key in them being able to add content whenever and wherever they needed, allowing the site to be a scalable element of the campaign
We're extremely proud of our role in this pivotal race and are happy to have helped such an amazing candidate. We were supported and welcomed by the campaign and other stakeholders, making our job much easier, and we worked with the above goals in mind to make their jobs as easy as possible.
It's shaping up to be an exciting year of campaigning and campaign websites will be at the forefront of much of the action. Congrats to Team Critz and to the new Congressman-elect.