Using New Technologies in Politics
As a web design firm that does a lot of political campaign websites, we consistently push our clients to take advantage of new technologies and help them stay on the cutting edge of the web. Part of staying up to date with today's technology though is not just being content with participating in what everyone is doing, but pushing the envelope and looking for what's next.
Facebook and Twitter are old news for politicians
In the last election cycle, using social media tools in politics has gone from being new and innovative to being essentially required because of its ability to bring politicians closer to their consituents. Politicians can update their followers about what they do on a daily basis through Twitter, customize their Facebook page to post campaign or relevant news updates, and show their speeches and announcements on YouTube.
But if candidates and elected officials aren't using these basic tools by now, they're behind and likely aren't even looking to keep up with the changing times. Some candidates however, are both taking advantage of today's social media tools and also looking for tomorrow's.
Mobile updates and geo-location are ripe for government interaction
The latest movement in social media has been the rise of geolocation-specific services like Foursquare and Gowalla, which allow users to post updates that are connected with their geographic location using their cell phones. Natually, because of the success of these geolocation-specific services, other tools have been developed to utilize collective location-based updates, some of which are perfect for politicians.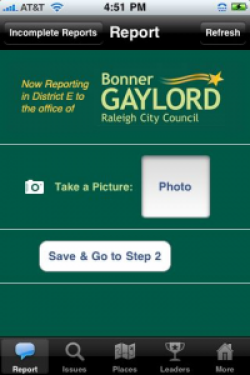 Bonner Gaylord, a recently elected City Councilor in Raleigh and one of our clients, announced earlier this week that he was incorporating SeeClickFix, a location-based mobile citizen reporting software onto his city council website. SeeClickFix allows users with either an iPhone, Android or BlackBerry to download an app and report non-emergency city issues, like potholes and graffiti, to elected officials.
Citizens can see a map of issues in the surrounding area, as well as which of those issues have already been addressed and which are still open. City Councilor Gaylord is one of the first adopters of this type of technology at his level of government but he's still looking to the future.
"I would like to see an App adopted by [Raleigh] that allows citizens to weigh in on big issues that are before the council," said Mr. Gaylord. "A one-stop App that provides the details of an issue with the ability for each citizen to comment and even vote... would be a great way to involve more citizens in the decision-making process."
We love having such an early adopter as one of our clients. What kinds of new technologies are your local politicians using? Do you have any suggestions for them?