Integrating Event Marketing and Social Media
We've written before that social media is not a strategy, it's a vehicle with which to enact your strategy. An important part of many companies' marketing strategy is event marketing, which focuses on face-to-face interaction by attending, sponsoring and speaking at trade shows, industry meet-ups, etc. But even though the focus is face-to-face interaction, events are also a great opportunity to extend the lifetime value of the event by correctly integrating social media. Here are three ways that you can easily incorporate social media into event marketing:
Utilize Hashtags on Twitter
Hashtags are a favorite tool of conferences and event organizers, they enable Tweets about the conference or event to be organized and searchable. When an event has a hashtag, use it, follow it, and get in on the conversation. By establishing yourself as a thought leader, you will gain valuable followers who will spread your ideas and content in the future.
Health Decisions, a clinical research organization (and one of our clients!) took hashtags one step further last week when they attended Biotech 2010, a conference to unite the Southeast life science comnunity. They changed their website for the event to include a Twitter feed of Tweets with the conference's designated hashtag (#biotech10).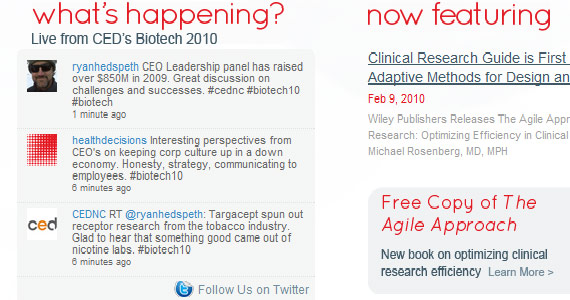 Health Decisions turned their website into a destination for people at the conference by converting their website into an aggregator of relevant conversation, while making it simple for visitors to begin following them on Twitter. The website update also let normal visitors and prospects of the site know that Health Decisions was at the conference and what was going on at the conference at that time.
Blog about the event
Just because the event is over doesn't mean the conversation is. A well-written and opinionated blog post can move the post-event conversation to your website. After the Internet Summit in Raleigh this past fall, we wrote a blog post recapping the ups and downs of the summit. The post had several positive results including:
1) It garnered over 225 views, meaning that even though we did not sponsor or present at the summit, we got the eyeballs equivalent to a keynote speaker.
2) It established us as not just attendees of the summit, but also knowledgeable and analytical listeners of those who did present.
3) Arguably most importantly, we still have an SERP rank of 3 for "Internet Summit in Raleigh", which is great for long tail and could be really helpful during the summit next year.
Contribute to others' social media early and often
Social media is at its best when it is social. Well before you even get to the event, read and comment on other attendees' blogs and websites, start following people who Tweet about the event, and begin conversations on the event's Facebook page. Think of it as pre-networking networking.
By doing these things, in addition to showing knowledge and interest in the industry, you'll have something concrete and engaging to talk about when you meet these people in real life and get to put a face on that Twitter profile pic.
What others ways could you integrate social media into event marketing? What's worked well and what didn't?