Scott Hazelrigg saw a growing issue in Omaha, Nebrasaka: a huge lack of before and after school programs for the young males in North Omaha. Fewer than half of all youth participated in such a program and Omaha currently has the largest percentage of African American children living in poverty in the nation. So in 2007 he launched the NorthStar Foundation, a 501 (c)(3) organization dedicated to addressing this problem.
By 2009 NorthStar had formed a partnership with Outward Bound and launched an urban-based ropes course in Omaha. It has continued to grow and will be launching a new 14-acre campus in the late spring to run its programs. We have been fascinated with the way the program has grown over the years and from the way that it has continued to use online marketing to stay connected with its constituents and donors so we put together an interview with Hazelrigg about how the program has grown.

NorthStar facility under construction this winter.
Could you give us an overview of NorthStar Foundation?
The NorthStar Foundation was created to focus on the critical, unmet needs of North Omaha's young men, beginning in fifth grade, with the goal of helping them grow into healthy, educated, employed contributors to the community. In 2011, the State of Nebraska had a black homicide rate of 34.4 per 100,000 people, double the national black homicide rate. Omaha, and particularly its black neighborhoods in the deprived northern and northeastern parts of the city, accounted for almost half of all recorded homicides in Nebraska.
NorthStar will be the only boys only, single sex after-school program in Greater Omaha. NorthStar's mission is to change lives through programming that supports, challenges, inspires, and instills a life rooted in education, self-discipline and service to the community.
Currently, NorthStar's three principal organizational initiatives are the ongoing capital construction of the NorthStar facility, scaling of after-school program infrastructure, and the delivery of services through its program partner; Outward Bound Omaha.
How did you start the organization?
NorthStar originated from conversations I had with Omaha area philanthropists regarding the lack of a national or local single sex, boys' after-school program model. Across the country, there are established co-ed models like Boys & Girls Clubs, and single sex, girls models including; Girls Inc.
I left my previous role, and NorthStar operated with a laptop, cell phone and from area coffee houses for the first 9 months. NorthStar's first physical office opened in 2008, in space in downtown Omaha that could only be accessed up a fire escape from a back alley.
How early did you launch your email newsletter and website?
We launched the website about 12 months after forming the organization; our newsletter began about 6 months after the website was live. Originally, it was developed to provide information for potential donors and investors in the project exclusively.
In 2012, when we began to grade the building site of the new 14 acre NorthStar campus, we launched a new website to reach a broader audience who might include future clients, parents, community partners and new donors.
What are the main goals for your online marketing efforts?
As a nonprofit, we are always conscious to stay connected to our community
As a nonprofit, we are always conscious to stay connected to our community. Those who receive our e-blast have self-selected to be part of our email list. These are individuals who have asked to be kept informed! Our primary goal through our online marketing efforts is to ensure that our supporters, program partners and the community are updated on the progress of our capital campaign as we move toward opening the new campus and program facility in May 2014.
As we bring new staff on board to lead various areas of our programming, we want to introduce them to our constituencies so that individuals begin to feel connected to our staff and our mission.
What return have you seen from them?
Having stakeholders who are informed about the capital and program growth we are experiencing helps them to be better able to ask questions of myself and our team members and to share that information with others. We look at our e-blasts as a way to equip our supporters with information they can share with others around the water cooler, in the elevator or when at a party.
As a young organization, being able to inspire casual conversations about our work is essential to building a broader base of understanding of how to answer the question: "What is NorthStar?"
How much time do your or your staff spend doing online marketing each week?
About 1-3 hours, depending on what events and announcements we have upcoming.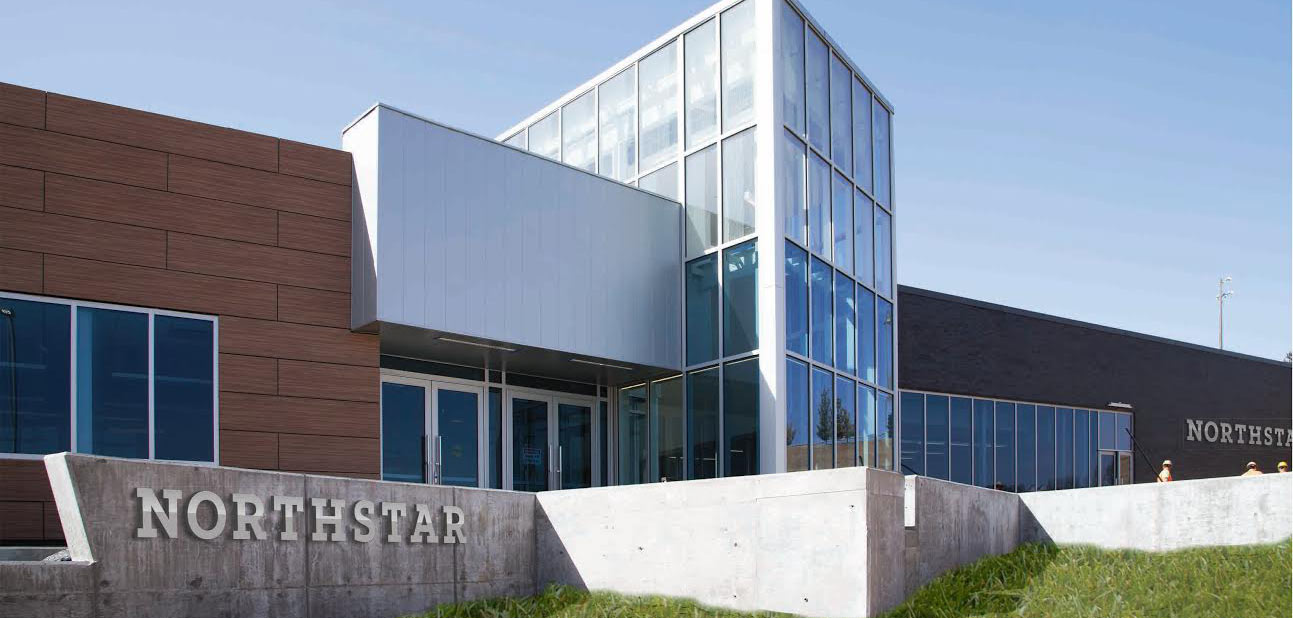 Exterior of the nearly finished NorthStar facility.
What exciting things are on the horizon for NorthStar?
The new 35,000 square foot program facility is slated to open May 8th followed by the implementation of our primary program delivery in late summer 2014.
Do you have any advice for other nonprofit organizations that are starting up?
Social media is a must for startup nonprofits looking for an affordable and easy online marketing strategy
Develop and establish a consistent social media plan. Social media is absolutely free to use and can connect you with a diverse cross section of individuals and businesses to build brand awareness, generate leads, and cultivate relationships within your community.
Using sites such as Facebook, Twitter, LinkedIn, & Vine etc., and consistently sending an e-newsletter will help you convey your organization's message, as well as market any events you may have. Social media can also be used to highlight program partners, followed by the donors, and staff members.
These websites also give others the opportunity for those who have used your services to give testimonials to first hand experiences with your organization.
Social media is a must for startup nonprofits looking for an affordable and easy online marketing strategy.