NMC Launches New Colorado Law Firm Website Design
New Media Campaigns has developed a new website for the law offices of Loomis & Greene in Loveland Colorado. The firm was looking for a simple, elegant site that offered visitors with information about the firm and also provided them specific resources and answers to frequently asked questions about bankruptcy.
The new site is a part of a larger rebranding effort led by North Carolina design agency Eydo. The agency worked with Loomis & Greene to help them create an identity for the firm and then design a site that was consistent with the overall messaging of the firm and its supporting materials. Eydo then turned to NMC as web developer partner to execute the new site design a build it onto our Content Management System for designers, HiFi.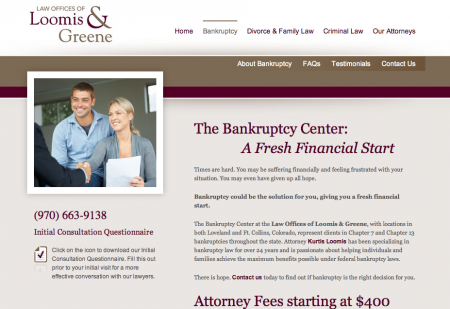 NMC worked closely with both Eydo and the law firm to not only translate the design to code, but also to make sure that the site is optimized for search engines. Eydo and NMC worked with the firm to identify popular and attainable search terms around Loomis & Greene's target and then incorporated those terms into the site copy, title tags, URLs, and links. The clean markup also allows the site to load quickly and be easily indexed by search engines. The SEO campaign is a part of the overall branding and marking efforts that Eydo and NMC are spearheading for the new firm.
The new site and CMS have allowed the firm to engage clients around the state with helpful resources and educate visitors on the firm's niche as Colorado bankruptcy attorneys. With this project, NMC has now worked with several law firms around the country to help them not only build an attractive online presence but also wage a full online marketing campaign to attract and retain new clients.