NMC Launches New Website for Law Firm Whitfield, Bryson, and Mason
New Media Campaigns has recently launched a new website for Whitfield, Bryson, and Mason, LLP, a new firm formed by the namesake partners and featuring a wide variety of legal specialties. With offices in Raleigh, Washington, DC, and Kentucky, the new firm needed a site that showcased their history of accomplishments and made it easy for visitors to find the needed type of litigation and/or the attorney(s) that specialize in that litigation. Coordinating the effort with local designer Rick Binger, NMC took Rick's designs and built a site to launch alongside of print and TV campaigns introducing the new firm.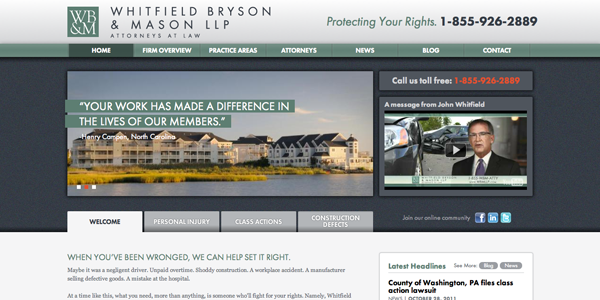 Even though the firm is newly formed this year, the attorneys involved are no rookies to law practice. It was therefore very important to build a site that exudes credibility and showcases the attorneys' rich history of past success. The site features recent settlements at the bottom of the homepage, and clicking the Verdicts and Settlements button takes visitors to more detailed information about the various cases. A tabbed menu on the homepage makes finding information about the firm's several specialties easy, and directs visitors to relevant parts of the site.
Because the firm's attorney's are spread out amongst three offices, contact information is important, and an Attorneys tab takes visitors to bios of each attorney, along with contact information, and attorney-specific news and current cases in a sidebar, making it easy to find all relevant information about a particular attorney. A key strength of the HiFi Content Management System is that it allows this information to be controlled from a few central locations--whenever a news article or information about a case is added to those sections, it will also automatically show up on the relevant attorney's page.
The site features a blog that can be sorted by both author and category and articles are shareable on Twitter and Facebook, and a news section highlighting the firm's activities.
Alongside the print and TV campaigns, the new website for Whitfield, Bryson, and Mason will help the new firm start out confidently in its new venture and continue their history of success. With HiFi, a hosted Content Management System, powering the site, they won't miss a beat as they add and modify content going forward.