How a Tweet Led to Us Working With Our Alma Mater
All of New Media Campaigns' founders went to UNC Chapel Hill, we're located in Carrboro, NC and the company got its start through a program for startups that is put on by UNC's Entrepreneurship Minor. It's no surprise then, that the majority of our team are big fans of UNC Sports and as a result, follow UNC Sports accounts on Twitter.
That's why when we saw that Tar Heel Monthly (THM) tweeted about offering basketball tickets in exchange for a new website, we jumped at the opportunity!

We knew we'd be a great fit to work with THM because we've worked with so many UNC-related organizations and we personally fit into THM's target audience so we could really hone in on what UNC fans would want out of THM's website.
@TarHeelMonthly We're local, we're alums, and we would be excited to help.

— New Media Campaigns (@nmcteam) October 19, 2011
Soon after replying to THM's initial Tweet, we got an email to our sales team from Adam Lucas and began discussing how THM could improve upon their current site, which existed primarily as a place where you could order subscriptions online to THM. As you can see, there was a lot of room for improvement!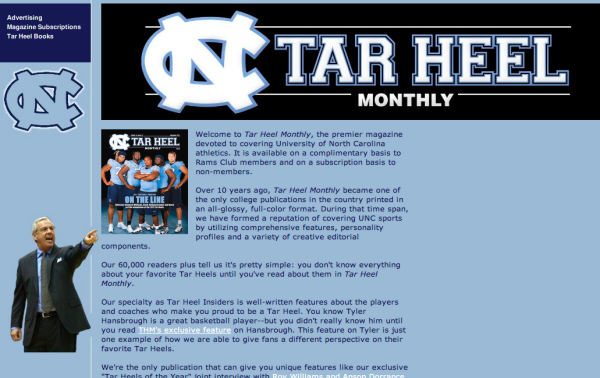 THM wanted a place where they could post older issues of their magazine and also a place that UNC fans would go during games, whether they were at home, in a bar or at the stadium. We were definitely up to the challenge, agreed to work together, and immediately went to work brainstorming ways that we could transform their current site into something UNC fans would want to go to on a regular basis.
The New Tar Heel Monthly Website Design: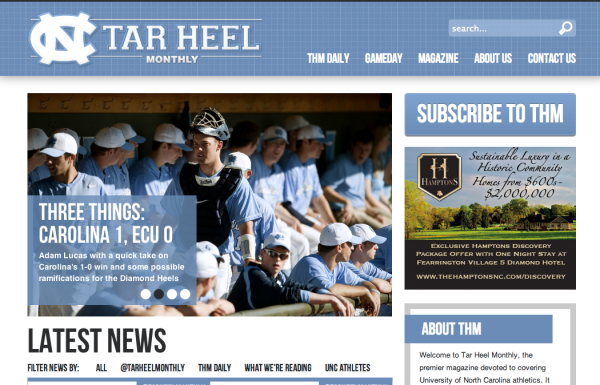 A newsfeed to keep visitors returning to the site frequently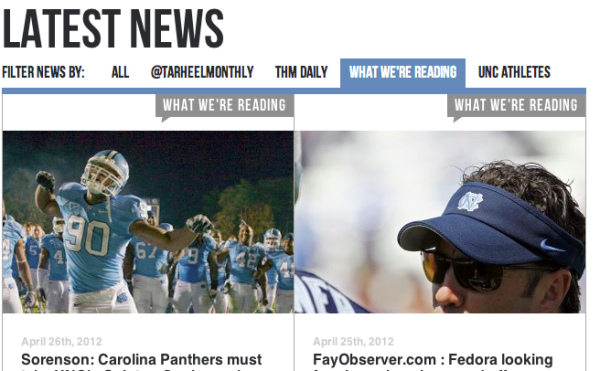 Fans want to know all about what their sports teams are up to so we needed a news feed that covered many different aspects of news about UNC sports. The homepage features a filterable news feed of the following different types of UNC news:
Tweets from @TarHeelMonthly
Stories from THM Daily, the new blog of Tar Heel Monthly
What We're Reading, a feed of articles across the web that the THM staff is reading
Tweets from a select group of UNC Athletes so visitors can get a better feel for the personalities of UNC athletes
What We're Reading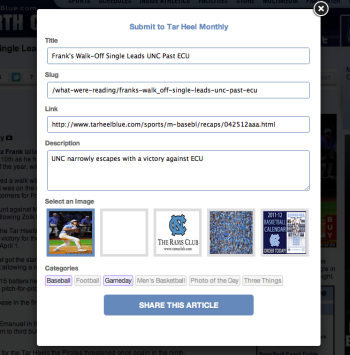 We built a custom tool so that the THM staff can install a bookmarket in their browser and any time they're reading an interesting article online about UNC spots, they can click the bookmarklet, add a short description of the article, click share, and the article is sent directly to the new THM homepage newsfeed, sidebar feed, and Gameday page.
We liked the feature so much that we decided to create a What We're Reading for our own site to share articles relating to web design!
The Gameday Page
As UNC fans, we knew that on the day of big games is when we read the most about UNC sports so we decided to build an area of the new site specifically dedicated to what's going on across the web about that day's game. The Gameday page features:
A feed of stories that the THM staff is reading on the day of the game
A feed of tweets with the hashtag #uncgameday
A form where visitors can suggest questions for THM writers to ask to players in post-game interviews.
Tar Heel Monthly Daily Blog
THM may be a monthly print magazine but we wanted the new site to be a destination that visitors want to visit every day. The old THM site was very stagnant and there wasn't a good place for the writers to display their talents. The THM Daily blog gives the staff another venue to ensure the site is updated frequently, which gives search engines more content to index and will greatly help with search engine rankings in the long term. The style of the blog was kept simple, similar to ESPN's Grantland, to keep the focus on the content.
A Responsive Design
Because the site was built to be enjoyed wherever UNC fans are, whether that's on their desktop at work, their iPad on the couch, or their phone on the go, we knew the new site would need to be optimized for a variety of screen sizes. As a result, we built a responsive design so that visitors get the information they're looking for, no matter where they're viewing the site.
Online Advertising
A site with the potential to be a major news source for UNC athletics will drive enough traffic to make advertising on the site a nice way to generate some additional revenue. The site was built so that THM staff can easily control up to four banner ad placements on the site through the content management system.
A Call to Action to Subscribe
While we kept the site's audience in mind throughout the entire design process, we never forgot what the purpose of the site is, to encourage people to subscribe to the print magazine. There's a readily available subscribe button on every page of the site so anyone who comes to the site to enjoy any of its other features is always just one click away from beginning the subscription process.
The Results
The site just launched but on its first day, the site had twice as many visitors as it typically gets in an average month. The majority of that traffic was to articles on the blog so as THM continues to write new posts, the traffic should continue to increase.
In addition to putting together a great website for THM, we also got to collaborate with a staff whose work we admire (and read regularly) and they were an absolute joy to work with.
Take a second and have a look at the new website and if you have a cool story about how you got to work with an especially fun client through social media, we'd love to hear your story in the comments!