Relaunched Site for UNC Entrepreneurship Minor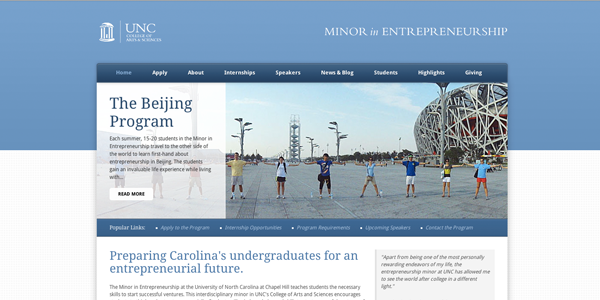 New Media Campaigns originally designed and launched a website for the University of North Carolina's Entrepreneurship minor in 2009, and served the program well as the minor continued to grow and garner interest. However, entrepreneurship demands innovation, creativity, and the invention of new processes and methods--time marches on, as they say. In this spirit, we have recently relaunched the site using more modern technology, most notably building the site with HiFi, our homegrown Content Management System, which has both notably increased site performance and also preserves the user-friendliness and usability of other available content mangement systems.
The new site preserves the information and ease of navigation of the old site, and also enables the minor to easily update information as needed. As the centerpiece program of UNC's entrepreneurship efforts, the minor's site had to reflect its emphasis on innovation, leading edge ideas, and modern technology. The secret of the site's performance is our use of HiFi, which has many built in efficiencies that help the site run smoother, faster, and more reliably. Importantly, the UNC staff can update information easily and regularly and then HiFi will implement it efficiently and compactly.
The new site is easily searchable, with an emphasis on current best SEO practices. It features a big panel with photos to announce current trends, programs, and relevant news. From there, visitors can learn more about the minor, can read about entrepreneurship, or find out how to enroll. News and Highlights tabs highlight the accomplishments of the program and its students, and other drop down menus make it easy to navigate to the blog or information on internship opportunities.
As entrepreneurs ourselves, New Media Campaigns was excited to have the opportunity to launch the website originally. Now, we are happy to show off our expertise again with what we've learned, designed, and built in the last two years.