A title tag is the main text that describes a web page, providing users and search engines with quick, useful information about the page. Title tags are one of the most important opportunities you have to tell search engines what a page is about, and with limited real estate, writing them effectively is a crucial component of optimizing your website.
You don't need to be a webmaster or SEO expert to get the most out of the title tags on your site. Curious if your title tags are contributing positively to your site's rankings? Take a look through these tips for writing effective title tags to learn more!
1. Utilize relevant keywords
The first step in optimizing your site's title tags is making sure each one includes a keyword (or multiple keywords) relevant to that page. Keywords in the title tag not only help contribute to the page ranking well for those terms, but they are also bolded in search engine results pages when they match terms from the original search. Position your target keyword as the first word or early on for maximum impact.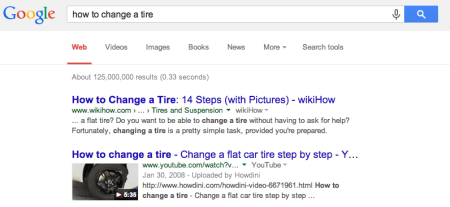 Not sure what to use as a keyword? There are a lot of different options for researching the best word or phrase to target (check out these keyword research strategies from our blog and a more recent post on using Google's Keyword Planner.) If you don't have a lot of time to go through the steps for really concrete keyword research (although I'd recommend it), you can start by asking yourself "If someone were searching for this page in Google, what keyword phrase would they enter?"
2. Keep Title Tags under 70 characters
The visible portion of the title tag in search results extends to 70 characters, after which it is truncated by search engines or replaced with other text from the page. It's recommended that you keep your titles to less than 70 characters to ensure that visitors see the full title and to avoid replacement text that may not provide the same incentive to click as a custom-written tag.
3. Be specific
Text contained in title tags appears at the top of your browser, in search results pages and on third-party websites (particularly Facebook and other social media.) Relevant, descriptive text is more likely to be clicked on.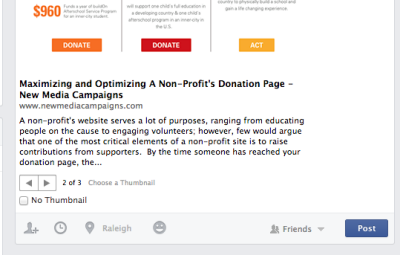 One way you can add specificity to your titles tags is by including a location keyword. For example, you can spruce up the title tag 'Todd's Flight School' by changing it to 'Raleigh, NC Private Flight Lessons - Todd's Flight School'
Remember, on-page SEO requires appealing to human readers and search engines at the same time. When it comes to title tags and search engines, it's important to remember Google doesn't laugh. A funny or clever headline that's automatically generated as the title tag could go unrecognized by search engines and be a detriment to your blog posts' rankings.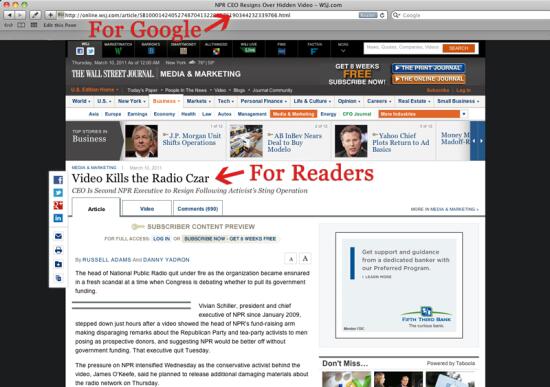 One of my favorite examples to illustrate this point (used in a previous post on blogging for SEO) is how the Wall Street Journal optimizes their headlines and page titles for SEO. "Video Killed the Radio Czar" is a fun play on words for readers, but the more specific page title "NPR CEO Resigns Over Hidden Video" appeals to search engines.
4. Don't duplicate
You want to use unique titles for your various pages to ensure they describe each page individually without competing with each other for keyword relevance. Google can mistake duplicate title tags as duplicate content, which can adversely affect page rank. As tempting as it might be to just copy and paste title tags from one page or another, there's a better way to accomplish the goal, such as using a formula.
5. Use a formula
A quick and easy way to improve the interior page title tags is to create a default title tag structure for all pages that don't have a custom tag written. For example, the default title tag structure could be :Page Title: - :Site Title:
In that case, the default title tag for a page on the fictional Pascale's Pies website with the headline 'Perfect Pumpkin Pies' would be "Perfect Pumpkin Pies - Pascale's Pies" It's short, relevant and optimized for people searching the web for those pies.
If you have multiple product pages on your site, you can take the formula approach one step further. An example of this would be:
:Type of shoe:, :Brand of shoe: - Running Shoe Store
This formula would be particularly useful for an ecommerce website.
One of the most important keyword elements for search engines is your page title. It should be a short, relevant title for the post with your primary keyword somewhere in the mix, and preferably early on. If you follow these easy steps, you should have no trouble optimizing your title tags and ranking better for your targeted terms.