Once you have your newly designed website full of great content, your online marketing efforts have really only just begun. You'll want to promote and publicize your site through a number of different approaches; one of the most common ways our clients try to drive traffic to their new sites is through social media promotion. To get the most of your social media effort, it's important that your post is optimized with an engaging image, enticing preview text, and clear action.
This post is about the importance of making sure your site looks good on social and also giving you access to tools that allow you to preview how it'll look on Facebook, Twitter, and LinkedIn. These are helpful tools we use all the time, and they'll help you better test and optimize your own site.
You likely already know that on each page of your site, you should input a title tag and meta description for Search Engine Optimization purposes. If you didn't, here's a quick primer on effective title tags and one on meta descriptions.
What many people don't always realize is that you can specifically customize the social sharing content. Many sites just pull in the title tags and meta descriptions, which is a fine approach, but it's important to know that you can customize the content if desired and should absolutely have some content in there. On WordPress sites, this can be done through various plugins like Yoast SEO, Twitter Cards, and more.
Similar to the meta tags that tell programmatic robots about the pages on your site, social bots will scan the page associated with the link you are sharing to determine what information should be displayed with it in a newsfeed. If the bots cannot find anything, they take their best guess to determine what needs to be displayed, and it's usually not accurate. By utilizing these plugins, you can control the social meta tags to accurately determine the title, description, and image that gets displayed. At NMC, we implement both Open Graph and Twitter Cards, which are two of the main types of tags needed to maximize your social efforts, to ensure that our clients are always attracting new site visitors and improving their overall social metrics.
By making sure your social previews are optimized, it will help boost overall social engagement, leading to improved improved click-through rates and traffic to your site. Thankfully, social platforms have created various tools that help web developers and social media marketers preview their content on social platforms to ensure that it displays correctly and that users will interact with it once displayed in a feed.
Below are three of our favorite free tools that we not only use in-house but recommend to clients as well, to ensure that their site's content is accurately displayed when shared through social media.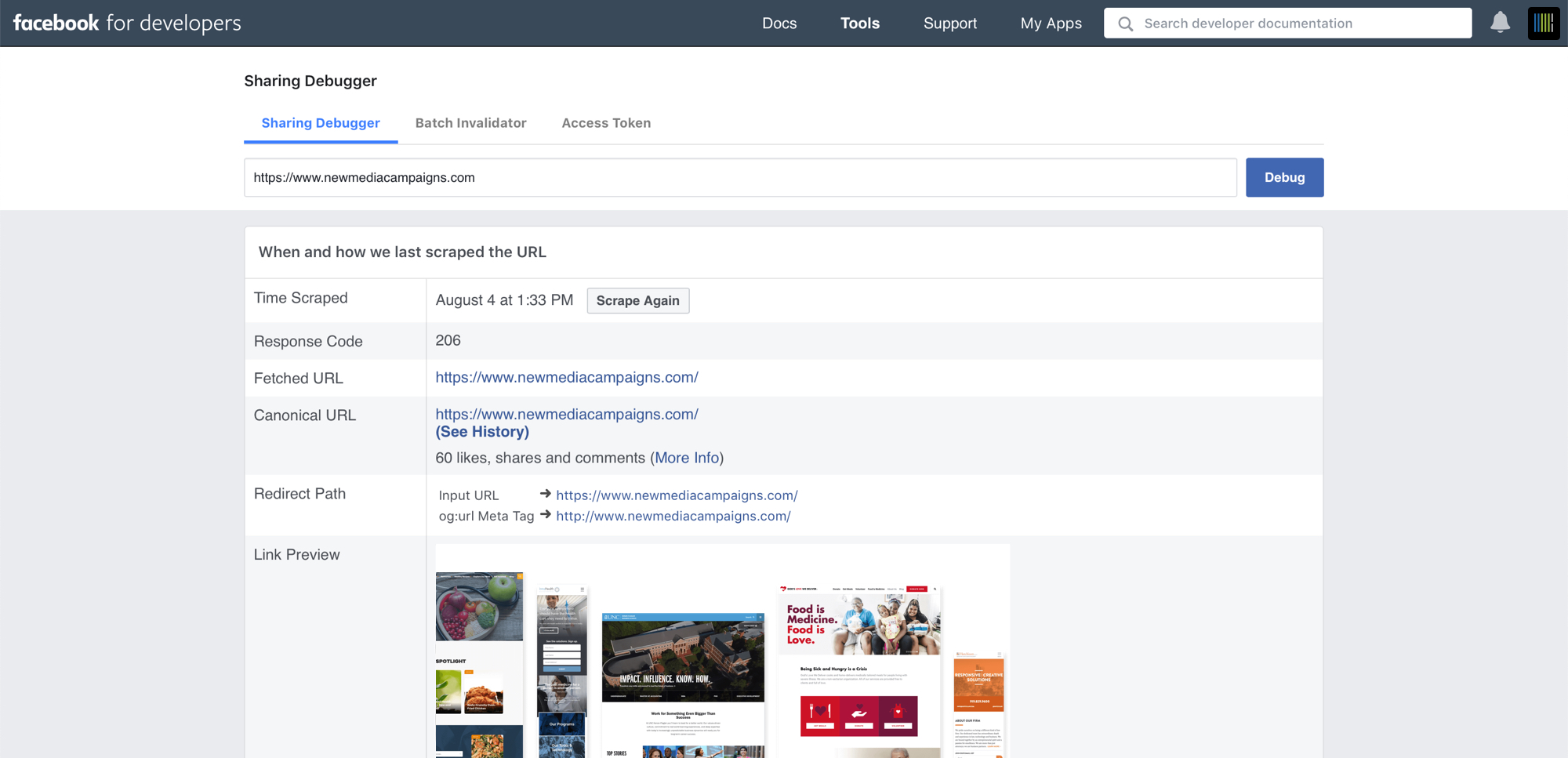 Facebook Debugger is a great tool to utilize to ensure that you never have to delete another Facebook post again, simply because it didn't look good. The Facebook Debugger tool lets you check to see what information Facebook is pulling from each page on your site. If you have just recently updated the featured image for a particular page or blog post, copy and paste your URL into the free Sharing Debugger search field.
From there, you can see all of the information that Facebook is pulling that is associated with that page, like when it last scraped your page. If your new image and preview text are not displaying, simply click the "Scrape Again" once or twice for Facebook to gather your updated information!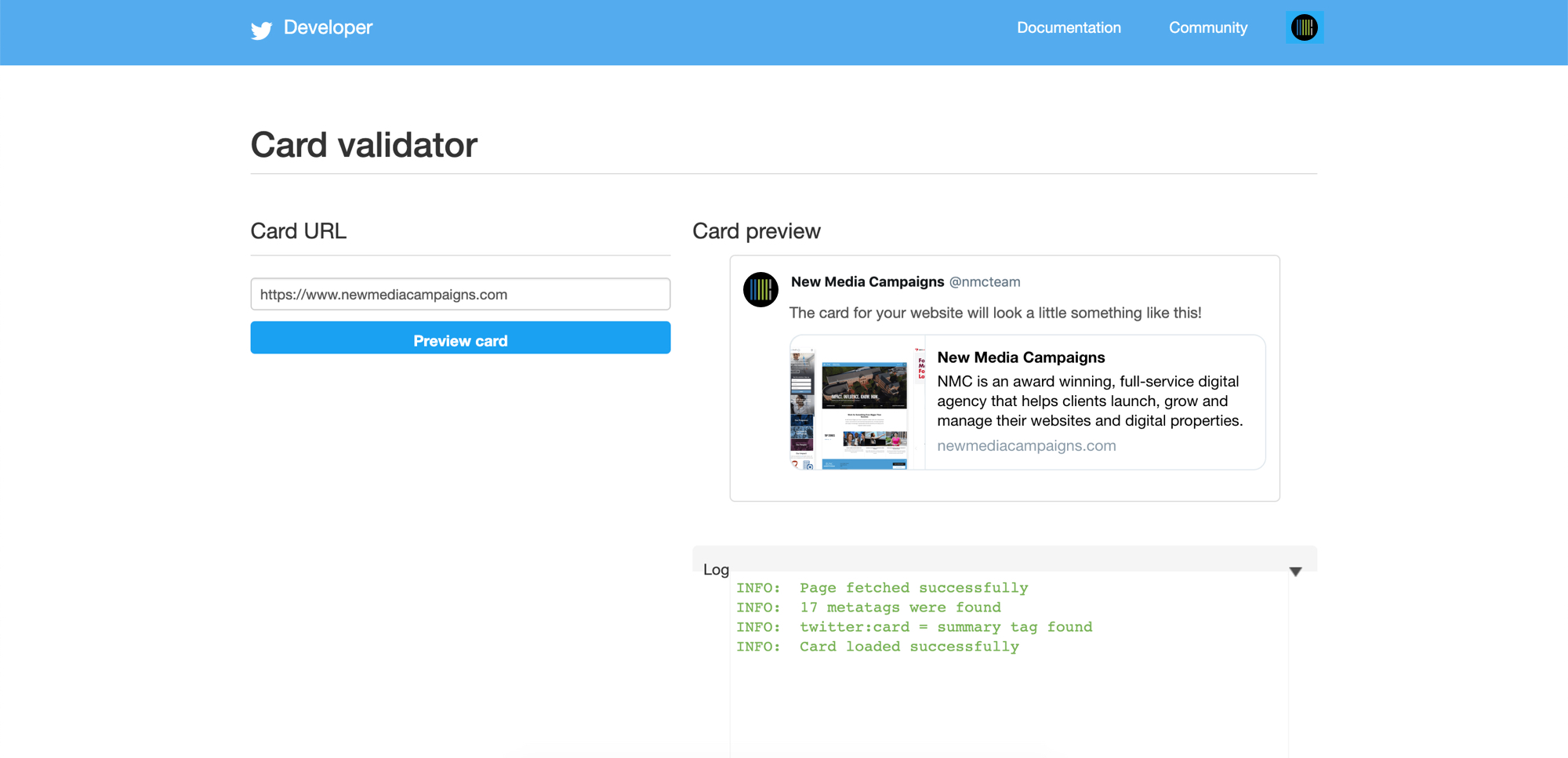 There are various types of Twitter Cards that could be installed on your site depending on your products and services. There is a Summary Card, Summary card with Image, Player Card (encourages users to watch a video or listen to a podcast), and an App Card (drives users to install a particular mobile application through their phone's app store).
If you update the Twitter Card tags for a page, you'll want to use the Twitter Card validator to force Twitter to do a fresh scrape of page's URL. Just like the Sharing Debugger, this will cause Twitter to pull the new social meta tag data to ensure that the most recent, accurate information is shared. Otherwise, it might pull from a cache instead of your updated tags.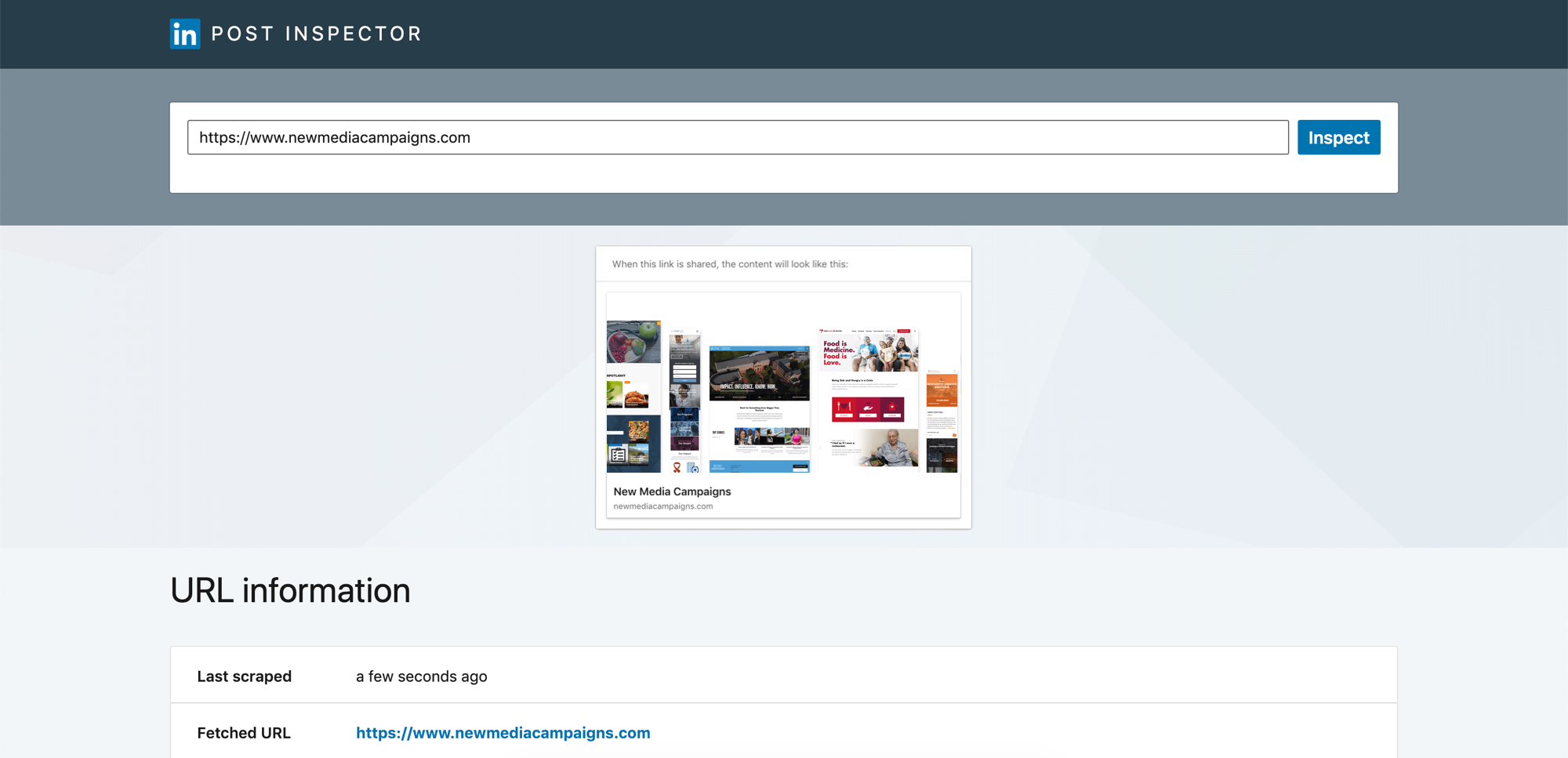 The LinkedIn Post Inspector works just like the Sharing Debugger and the Card Validator. Simply paste the URL you are wanting to share into the search field and select "Inspect". This will pull all of the same Metadata information that Facebook's tool gathered in addition to showing you what your future post will look like when published.
The key to maximizing your social presence is to properly manage your content and how it is displayed in feeds rather than letting Facebook, Twitter, LinkedIn, and other social platforms determine what content from the page is pulled and displayed for you. By optimizing the meta tags that control social media content and validating the accuracy of your content in how it's displayed through the tools above, you can curate content specifically for each audience you have on different social channels.