Introducing FriendtheVote.com: A new online tool to encourage voter participation this election through Facebook
Today New Media Campaigns is excited to announce the release of FriendtheVote.com, a new online tool to encourage voting this election through Facebook.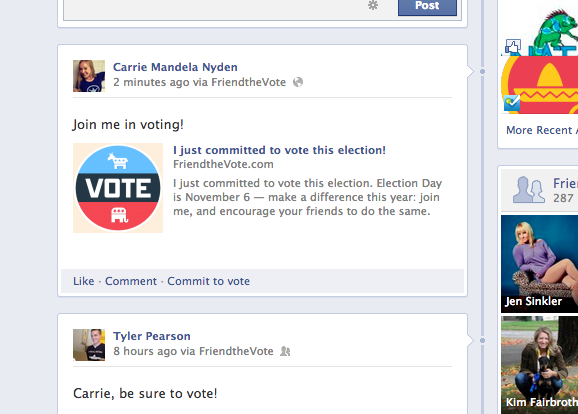 Similar tools have released by the Obama and Romney campaigns, but this is the first tool that is available for anyone to use without the attachment of a particular candidate. In short, the primary purpose of this site is to promote voting -- not just voting for a candidate.
First users select a state where their friends are located. Secondly, the user is prompted to post a message to their Facebook profile that that they have committed to vote this election. Lastly, the user will see a list of Facebook friends located in the state and can select individual friends to share a message with. Each state's page includes info on early voting dates and absentee voting.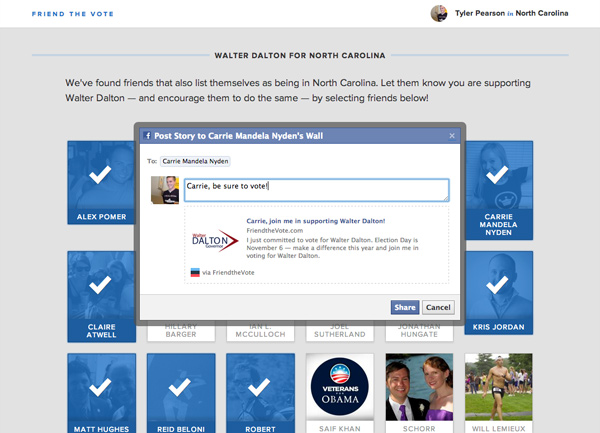 As an additional bonus, political campaigns can sign up for free to use this tool as an online approach to get-out-the-vote during these crucial last two weeks leading up to Election Day. The message and image can be customized for the campaign to encourage voting for the particular candidate. Over 50 campaigns are already listed and more will be added over the upcoming days.
FriendtheVote.com builds off of research by the University of California earlier this year that concluded get-out-the-vote efforts on Facebook can have a measurable, real-world effect on turnout and involvement. 
A separate study by Pew Internet released last week stated that that over a third of social media users have used social media to encourage people to vote. FriendtheVote.com will make this even easier to do so.
[Update 10/24] Additionally, a new study covered in Campaigns and Elections discovered that for people 18-29 years old, a message on Facebook is the preferred form of reminder to vote.
Be sure to check out FriendtheVote.com, publicly commit to vote this election, and encourage your friends to do the same!