Having worked previously with New Media Campaigns on his Congressional campaign website, Joe Donnelly called upon us once again to design and build the website for his US Senate bid. We were excited to extend our relationship with the campaign and help them design and build a site for this statewide campaign. The new site features eye-catching graphics and design, an extremely intuitive menu layout, and easily discoverable calls to action.
When a visitor first comes to the site, they are directed to a splashpage encouraging them to sign up and get involved with Donnelly's campaign. In addition to the signup form, the splashpage integrates video (via Youtube) and popular social media buttons. After reviewing analytics and A/B tests, it becomes clear that splash pages dramatically increase signups while not having any averse effects on site engagement. The videos give the visitor a preview of the candidate and the site, while the social media buttons give them several options with which to participate in the campaign.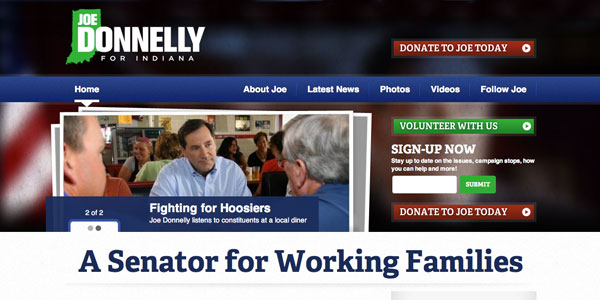 Continuing on to the homepage, the visitor is presented with graphics that effectively drive home the campaign's message and give them a variety of ways to engage with the campaign and learn more about Donnelly. Prominent call to action buttons encourage visitors to donate to or volunteer for the campaign, or to sign-up for regular updates.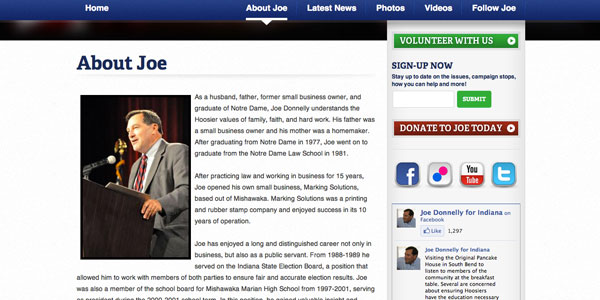 Rounding out the homepage are recent news items, testimonials from supporters, and a sidebar with social media links and Mr. Donnelly's most recent Facebook update. And just in case the visitor has missed the donate and volunteer buttons at the top of the page, they are also featured at the bottom of the page, encouraging the now-fully-informed visitor to become an active participant in the campaign.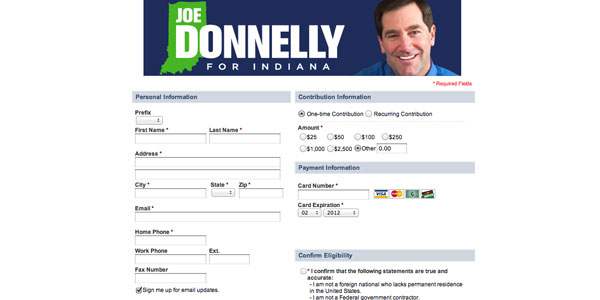 As with many of our political website designs, Mr. Donnelly's site leverages the NGP API, allowing visitors to donate to the campaign without taking them away from the site. Additionally, the site integrates a Google Maps API that allows visitors to see Mr. Donnelly's scheduled campaign trail stops. Clicking on the graphic for each stop brings up a window with a brief description with event-specific details.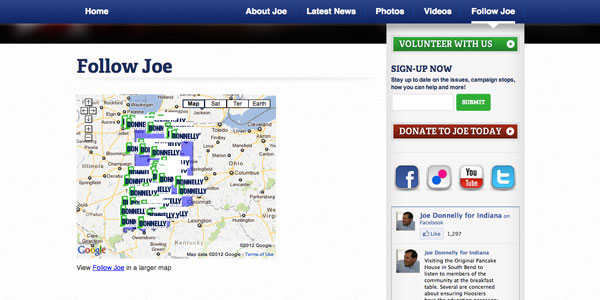 Other helpful features of the site include Photos, Videos, and dedicated About Joe and Latest News pages. The use of HiFi as a platform for the site ensures smooth and speedy site performance and allows campaign workers flexibility and usability on the back-end, making it easy to keep the site up-to-date and relevant. Combined with campaign drives in other media, we think Mr. Donnelly's website will be an effective podium on his quest for a US Senate seat.