Harvell and Collins, P.A., a law firm based in Morehead City, North Carolina, has evolved from a solo practice to a team of lawyers and legal professionals. The firm has amassed decades of experience as a general practice law firm with a focus in Estate Planning, Elder Law, and Litigation.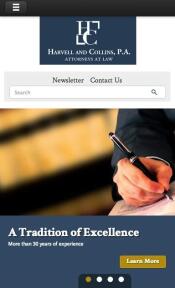 Harvell and Collins approached New Media Campaigns with the task of building a site with a modern and clean design. NMC created a professional site that highlighted many of the law firm's practice areas, and ventures. The firm wanted to move away from their former Flash-driven design to accommodate visitors who accessed the site on mobile devices. NMC built a responsive site with a great mobile navigation.

Cecil Harvell and Wes Collins of Harvell and Collins, P.A. host a weekly radio show called "Let's Talk Legal." The radio show is featured in the interior sidebar of the site, and on the homepage. Visitors can stream and download past shows on the site. Also, the firm's main practice areas are highlighted in the main navigation of the site.

Built on the HiFi Content Management System, the site is easy to navigate, and maintain. NMC is proud of to have worked with Harvell and Collins, and we believe that the site will serve as a great profile for the company.