NMC always loves an opportunity to work on a new website design for a local non-profit organization and we knew immediately that redesigning the Habitat for Humanity of Orange County (HHOC) website was going to be a stand-out project. From the design to the depths of the CMS, this project presented a unique opportunity to test the limits of our products and services.
It Takes A Village
Habitat for Humanity of Orange County's mission is simple, bold and life-changing; to help families in need build and own affordable homes in safe and supportive communities. When you begin to break it down you see all the various moving parts of their mission. You see an entire community coming together to provide safe shelter and autonomy for a family in need. Every step of their process involves bringing people together. Every step is a chapter in a larger book. Every volunteer is a character and every character has a story.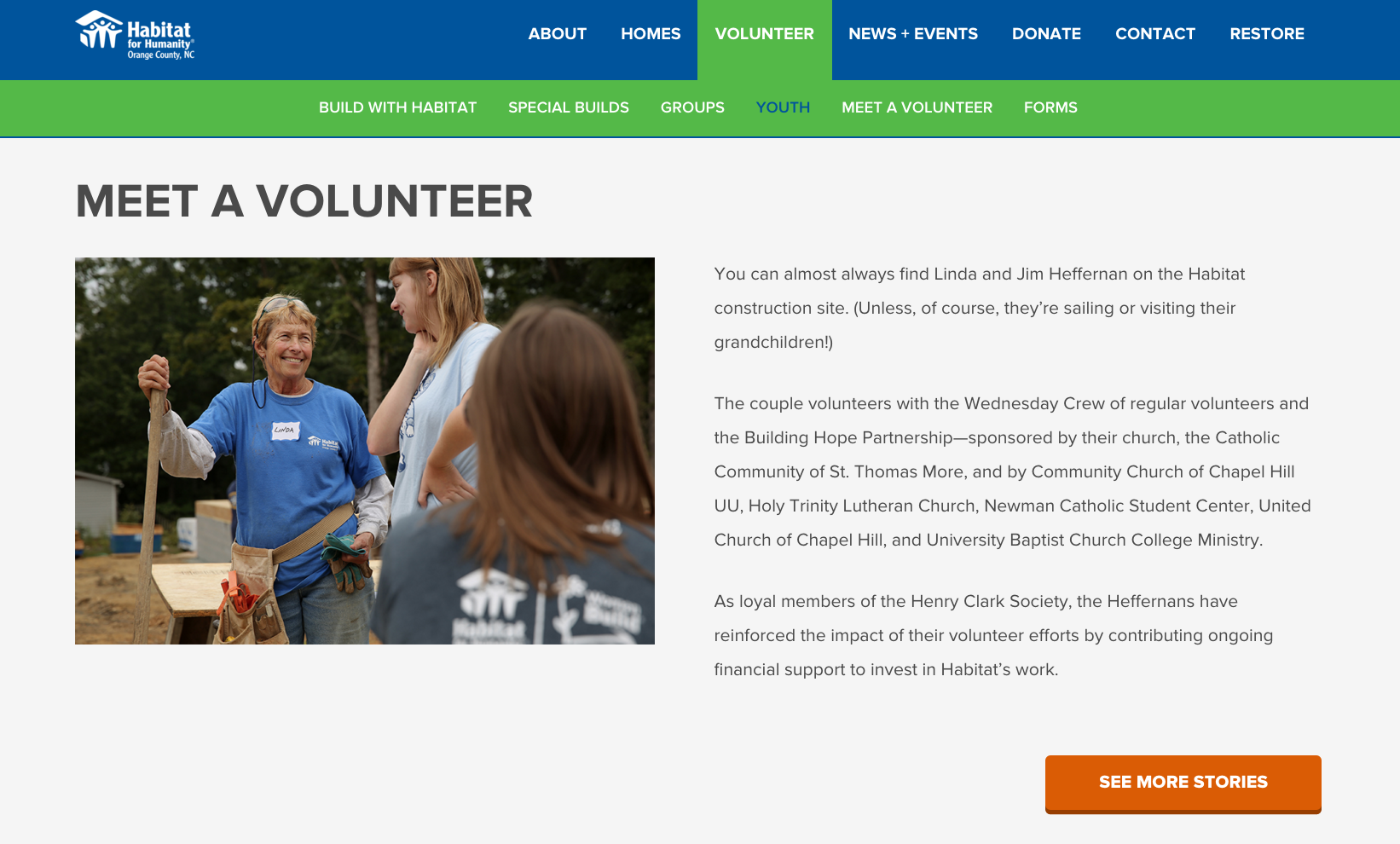 Storytelling Is In The Design
We wanted HHOC's stories to take the lead for their new design. Our talented designers created a beautiful, image driven design to help our client tell their story. From the home page image slide show and the unique hexagon windows for the individual stories to the subtle building materials textures woven through the site motif, no detail was overlooked.
Our staff worked closely with HHOC staff to create a custom layout for each page in the main navigation. The NMC staff utilized data collected by the organization to drive design decisions resulting in a clean and smart design that still allowed for an uncommon amount of flexabilty on the back end.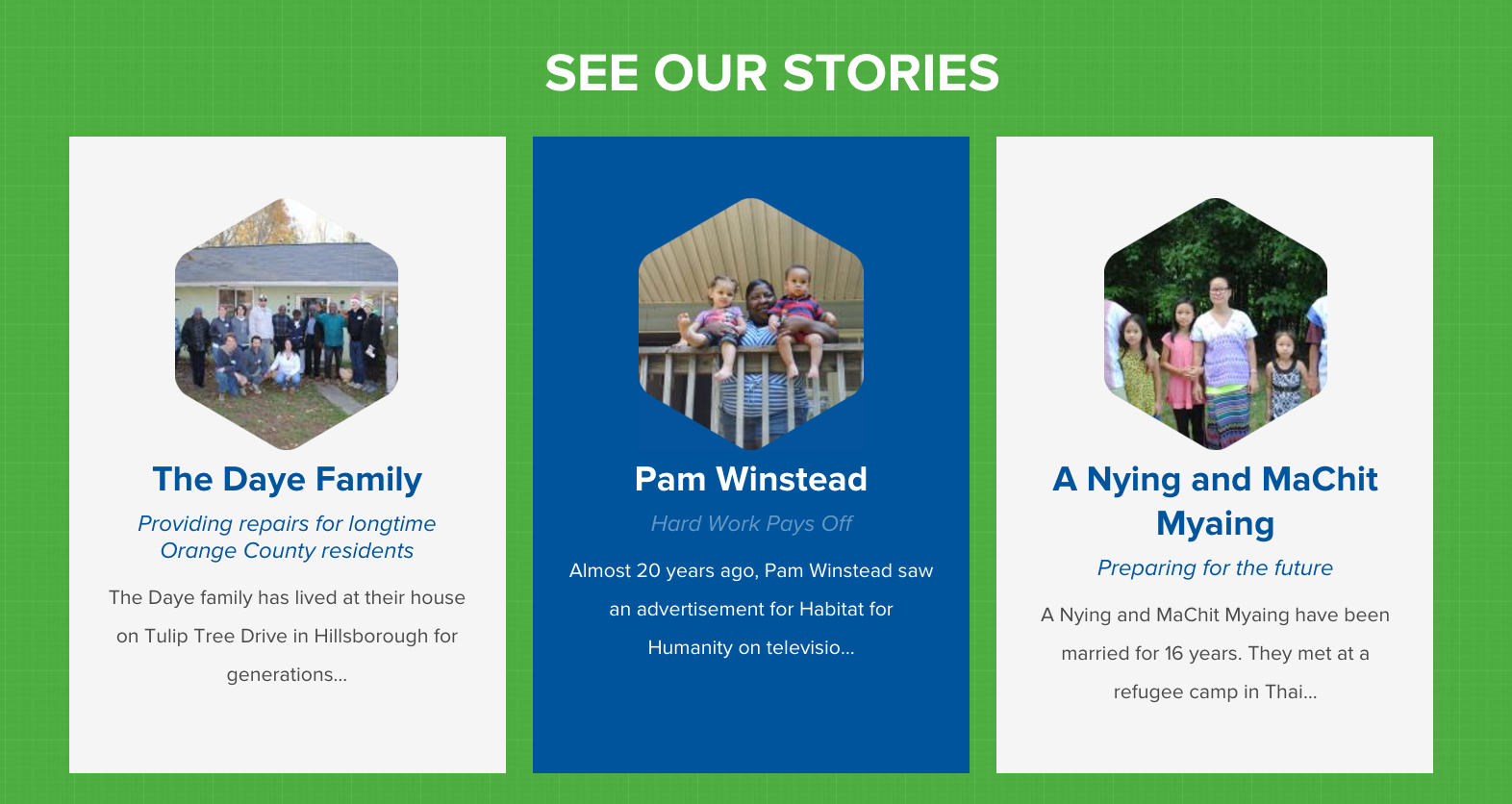 Easy to Use Content Management System with An Uncommon Flexibility
This website was built using NMC's HiFi content management system. While other CMS are easy to use, many lack the flexibility to give the client much autonomy.
We established a highly customizable website template without forcing the client to create any additions or changes to the code. Our developers built custom features into the CMS that allowed our client to make choices about details of the site such as whether or not they want to turn off a banner or change the position of a button.
Navigating Dontations
Donations are a crucial part of the life of a non-profit organization. To that point, HHOC is no different. But how many organizations do you know accept donations ranging from furniture to appreciated stock? Part of our objective, in addition to integration with HHOC's dontation vendor, was to highlight the nine other ways you can make donations to HHOC. We created a custom illustration for each dontation method. From there, each is given its own panel where staff can provide further information and contact information.
Details like this are important. By making improvements to the interface of the donation page, we have made a positive impact of the ease of use for site visitors which could increase the number of donations the organization receives.
This was also a great opportunity to present information that previously was not made clear to site visitors, resulting in fewer phone calls and emails.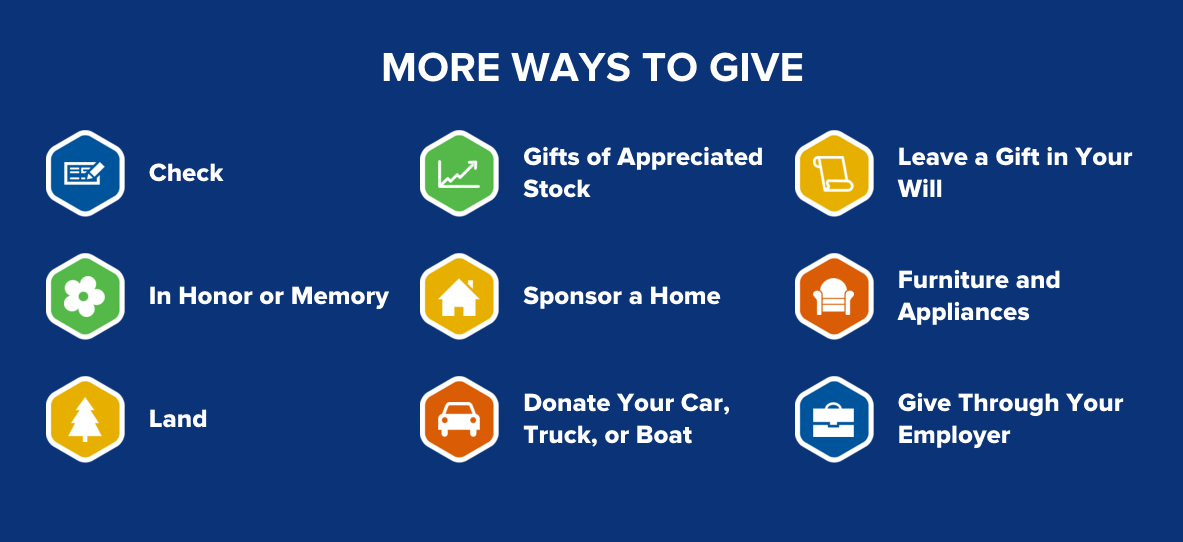 Staying in Touch
With so many moving parts at HHOC, the Contact Us page was yet another opportunity to head off questions that previously ate up precious staff time.
We added ingegrated Google maps of the relevant brick and mortor locations for the organization that linked to their registered Google information. Combined with a clean grid view of staff headshots, social media links and current construction site locations, site visitors begin to see all the spokes of the organization. Most importantly, HHOC's audience now has expanded access to the organization.
The end result is a fresh and modern, responsive website that can grow to tell the inspiring stories that are yet to come for Habitat for Humanity of Orange County.