A New Site for a New Department
The Duke Molecular Physiology Institute (DMPI) is a brand new department at Duke that combines a few research units at Duke: the Stedman Nutrition and Metabolism Center, the Center for Human Genetics, and a group of clinical translational investigators. Founded in the summer of 2013, the new department's goal is to analyze biological systems at the molecular level and, together with strong clinical research methods, develop new ways of detecting and treating disease. Which is a giant mouthful, to be sure. But it means a lot of clever minds are putting Duke's substantial resources toward improving chronic illnesses from the microscopic level.
As a new department, DMPI did not have an existing web site to redesign so New Media Campaigns designed and developed one from scratch. We worked closely with the client to identify objectives, clarify the content and messaging, design a distinct aesthetic, code the site to be fast and responsive to different device sizes, and integrate a content management system to keep the site up to date.
DMPI had several basic communications needs:
Organize and architect the main content
Describe its 5 principal areas of research
Maintain a current, accurate faculty list
Provide basic background information on the department
Publish recurring content like news, events, and internships
NMC built the DMPI site on Drupal, a software management framework that makes it easy for site administrators to manage content and plays nice with Duke's internal web hosting infrastructure. We're exceedingly pleased with how it turned out — and the client is, too:
"You just can't believe all the positive feedback on the site. Jill said she tells everyone to look at us and gave quite a few shout-outs to our successful launch in a recent communicators' meeting."
Custom Illustration for Complex Topics
The DMPI's 5 principal research areas are Basic Cellular, Metabolomics, Genetics, Computational Biology, and Clinical Translation. If those aren't enough syllabus to give you a headache, then there's a chance you work in a biological science field. But it was important for DMPI that, despite its strongly academic focus, visitors to the site found the overall mission and purpose relatively accessible.
To accomplish this, our team sketched custom illustrations to represent these different types of research and services. We showed them showed similar work for another college site to which they instantly replied, "We want that!" Custom illustration goes a long way toward adding some much-needed visual interest and vitality to an otherwise, shall we say, clinical subject.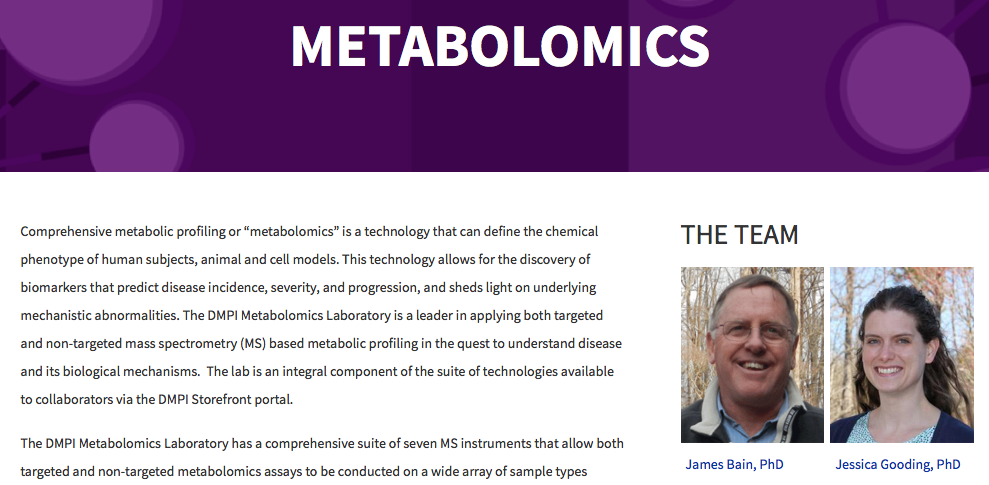 Visitors see them on the home page, underneath each principal research topic, as well as in the main banner across each interior detail page. They are color-coded to reflect the section which aids the visitor to navigate her way through the site. This unique design aspect distinguishes DMPI from other scientific organizations and reflected a trusting partnership.
Content That's Easy to Manage
Each faculty member has her own page on the site so that visitors don't have to leave the site to get the important information. These profiles include has tabbed options to show visitors get more information about that faculty member, right on the spot. The Publications tab pulls information in real time from scholars@duke to make sure that it always reflects the latest research published and without any extra work. Finally, recently published content such as news items, upcoming events, internships, post-doctoral positions, and software downloads are all an important, recurring part of the site's content strategy.
NMC Hearts Duke
Yes, though we're based in Tar Heel country, New Media Campaigns is still a Duke fan. The DMPI site is our 3rd site for the university after the Nicholas and Global Health institutes (also powered by Drupal). The client gave our team a lot of leeway and in trusting us to explore some unconventional ideas, resulting in an unconventonal site, delivered on time. A new, first-class department should have a new, first-class web site and NMC was obliged.