Speaking with the Legal Marketing Association
Recently, Clay and I had the opportunity to speak with the local chapter of the Legal Marketing Association (LMA) during their monthly meeting. LMA is a well-established national nonprofit organization made up of marketing and business development professionals within the legal industry.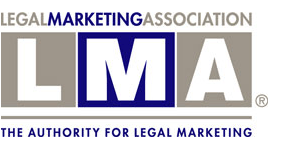 Our talk was titled "Tackling Social Media and Making the Most of Your Online Marketing Efforts." As you might imagine, we covered things like Twitter, Facebook, LinkedIn and also topics like SEO, Blogging and other methods of Inbound Marketing. For each, we tried to share first-hand examples from our own experience with legal websites, best practices, and sample outlines or gameplans for getting started. We also discussed some of the tools and techniques to manage the workflow associated with these activities and how to make the most of your time without getting completely overwhelmed. Needless to say, it was a lot to try and cover in an hour! The slide deck wasn't meant to stand alone, but I'd be happy to share it with you -- just leave a comment below with your information or email me at jonathan@newmediacampaigns.com.
I was a member of LMA when working with Hutchison Law Group and found it to be a very valuable resource, both from a learning perspective and also because of the sharing and collaboration that takes place. It's a group full of skilled marketers and if you work in the industry, I would highly recommend getting involved.